Long gone are the days, when people would meet someone special in the park, cafe, parties. The internet has empowered traditional methods of people finding love through an online dating app. It's now all captured in the dynamic world, where people rely on the internet for almost everything.
The youth of our world are firm believers in online dating; where they won't have to go hunting for their soulmates, or a temporary relationship. This makes a great opportunity for marketers to charm the masses by getting dating app development. Let's move ahead to make this idea a concrete one.
Now the traditional methods are beginning to dissipate with the increasing number of people who are socially accepting online dating as their medium to find their partner. Although there are many people who are not comfortable with this method of discovering their life-partner with the help of internet match-making, but it has stolen abundant hearts to keep on throbbing in the near future.
We understand that online dating doesn't exactly feel like building a natural relationship, but in the digital era there are renowned apps like Tinder. It is a leading brand in the world of online match-making and establishing its reputation on the market, it has ranked first on global monthly downloads for both android and iOS with over 1 Billion downloads by 2020.
Business Marketer can take this situation to their advantage. In the age of the Internet, there is always a rising opportunity waiting for them. For the millennials, they can create online dating mobile application for users who are interested(which is quite an impressive number!). This is going to boost the revenue of your business since the online dating market is expected to grow revenue by 4.3%.
To withstand that online dating application could be a success, we are throwing in some graphs to depict the scenario of the present and a few future predictions: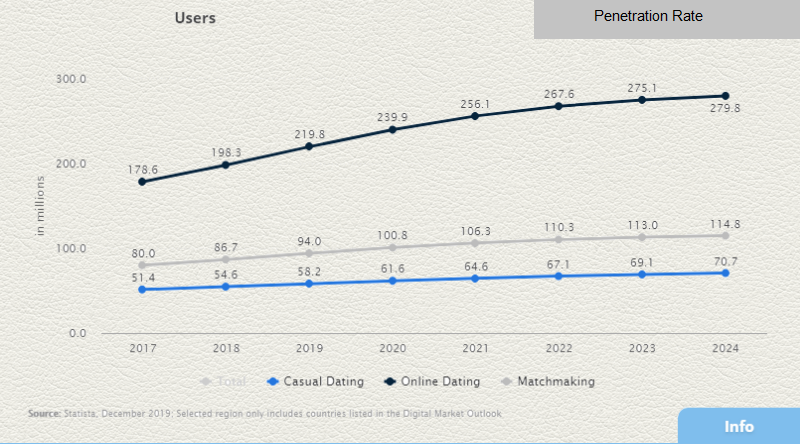 As you can see in the above chart by Statista, the online dating industry is going in one direction and that looks prospering for you. The numbers are going nowhere but up. This indicates that it would be a good investment, to build an online dating mobile application. With
The penetration rate is 3.22% and expected to hit 3.6% by 2024 according to our source, it gives us more foundation on the idea to make a business in this market.
Let's move ahead and see how you will create a prospering app like Tinder:
Your First Interaction Could Be The Last Interaction!
They won't look twice if your app won't charm at first glance.
Yes, we all understand the significance of first interactions. Similar to the real-life incidences of meeting someone new, the first interaction with your target audience would hold the first-date-like importance. Therefore, it would be great if you could provide a short tutorial of what your app offers to the customers. If we see at pioneers of the online dating app industry, we can observe that they leave no chance to impress their audience. Yes, you got the hint. There should be no spot left when presented in front of the right audience. There should be a simple yet interactive tutorial, to make users fall in love with your app before they become prey to your cupid.
Looking For Online Dating App Development Services
Contact Us
The Tech-stack You'll Need
No App will Rock Market Without A Pinch of Impeccable Tech-savvy Features
Now that you have users ready to sail in your ship to discover their Mr. or Miss. Right, you need to pass the test of providing them a way to find the best match. It is a critical process to match users according to the different round of questions you've asked them about themselves, and what qualities they are looking for from their partner. But don't stress too much because this is where your tech-stack will ease up your work.
Let's explore some of the matching techniques that are used by online dating apps:
Geo-location:
Everyone would like the thought of dating the boy/girl next door. Making acquaintance with someone who lives with or close to your area is preferable to many. With geographic proximity, this can be possible. With the implementations of GPS components in the matching algorithm of your dating app, your users would have a list ready of nearby fellow users. The customers can choose according to their preferences. Bumble and Tinder run on the operatives.
Mathematical Analytics:
With this technology, we can connect people by detecting the similarities in the answers given by the same asked questions. Next, an analysis will be made, based on the compatibility percentage of these answers. The complexity of these questions can be separated from one another. For instance, the kind of answer you gave and what you expect from the partner. These could also be seen as a replicate version of "old-school" or traditional matching apps. One of the renowned apps that run on this algorithm is OkCupid.
Personality based
There are questions that one would like to know about their partner and certain choices that one tells about themselves. These questions are solely taken into account while searching for a match. The results are based on their personal preferences on survey information. This is how eHarmony matches profiles.
Advanced Algorithms
As we are living in this era of digitalization, we should take into account the technological advancements that are increasing rapidly. These upgraded technologies have not left dating platforms. These are high-tech advances like Artificial Intelligence(AI), VR & AR, and more, have thrown their influence to the world of online dating apps evolution.
The data that is stored in social networking and other media are critically analyzed and structured, which helps in easier user engagement but also in making predictions and efficient recommendations. Similarly, with the help of facial recognition, GPS and biological data, used together with a backbone of AI, matching algorithms are undoubtedly going to get improved.
In order for this to work, social profiles of the users should be connected to the online dating app, as we have shown in the below example: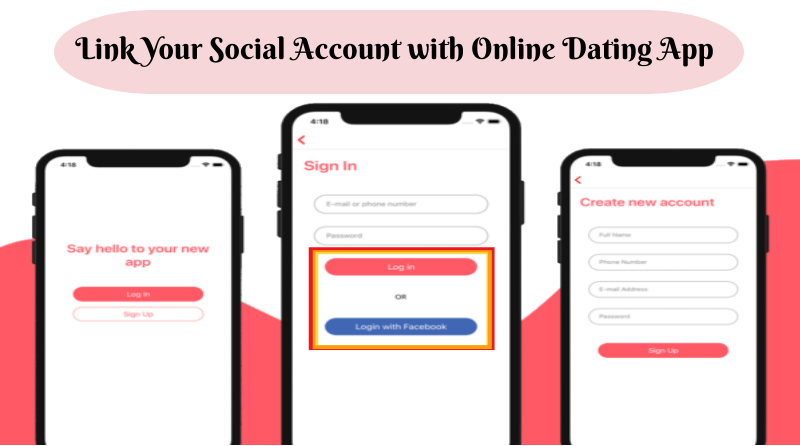 With the help of social media linked to the dating app, users can easily login with any hassle and it offers information pre-provided, inherited from the stored data of social media accounts.
Now that you know all the tech-stack required for building an efficient online dating app, but how will you make money with the app?
Anyone who is investing in a business should be clear about the market of that niche. As far as the online dating app is considered, it's only going to take you to new heights of success. At the beginning of this blog, we have shared a graph proving this. But,
How Will You Make Money?
No Business Can Grow Without an Increased Revenue
Let's briefly discuss the opportunities you can use with these applications to make money:
Subscription:
We all have heard it! Every social networking or media platform is tailing its users to buy a subscription. This is what earns them money. In dating apps as well, there could create a free version and a paid version featuring advance features to offer your clients. Make sure they get real beneficiary features in the subscribing version. For instance, they can see who watches their profile, unrestricted swipes and more.
Looking For Online Dating App Development Services
Contact Us
Ads:
Ads work the best! You can run ad campaigns while luring customers with a limited period of free-trial to the subscription versions of your app. You can also include gifts, coupons, giveaways and more.
Special appearance:
The client with a subscription can be featured, where they will gain opportunities to appear at the top of the list. This will increase their probability of getting swiped by more users, which contributes to more prominent visibility of their profile.
Now that you know how you can earn from an online dating app, let's see
How Much This App Will Cost You?
Every Good Thing Comes With A Cost
Cost is an integral part of app development for both investor and developer. The platform makes no considerable difference in the cost of development in iOS and Android. Below, we have mentioned a table of approx hours that developers will be spending; although this can fluctuate in accordance to tailor-made options you choose for the unique online dating app, we'd create for you:
Social Networking sign-in – 14-27 hours (min-max)
User profile – 46-68 hours
Geolocation – 5-9 hours
Matching – 65-95 hours
Chatting – 120-170 hours
Push notifications – 15-25 hours
Swiping – 10-13 hours
Settings – 18-29 hours
Admin panel – 20-35 hours
The hours that developers would spend to create a tailor-made online dating app for you, will determine the final cost. Apart from this, if the investor has additional features like Smart ice-breakers(automatic catchy notifications), or status updates; it will have further added to the making cost.
Now you are one step closer to developing an online dating app like Tinder. All you have to do is to contact Sparx IT Solutions, to aid you with our profound App development services. We have professionals working with us who would love you to be on board on our team. Our extensive experience in the mobile app and web development services will not leave unimpressed. Call us today for a NO-OBLIGATION consultation.