Streamlining the operational activities of the healthcare industry is the basis of technological advancements. In this regard, the incorporation of medicare management systems adds additional value. Proportionate to the growing significance of tech interventions in healthcare, the demand for enterprise-level pharmacy management software is reportedly upsurging. This can be witnessed in the global capital of this vertical, estimated to reach around USD 35.21 billion by the next couple of years.
To validate why pharmacy management solutions have become the forefront of the healthcare segment, the observations in addressing the issue of low-cost ownership to integrating the barcode system and pill image establish a systematic approach and workflow productivity.
In addition to systematizing industrial operations, this wave of transformation renders automated management systems and eliminates any probability of human error. Secondary merits of implementing solutions like a dedicated pharmacy management portal include enhanced customer satisfaction and organized in-store activities.
What is a Pharmacy Software?
Pharmacy software is an online tool that enables systematics and well-maintained records and supplies. Not only do they help in maintaining the records of medicines, but can be integrated into the computers of physicians to provide the concerned departments with real-time medicinal updates. The pharmacy software solutions provide the feasibility to maintain sales records, manage stock, and ensure error-free medical accounting and invoice generation. Pharmacies move towards futuristic solutions to incorporate intelligent technologies and smoothen day-to-day tasks with precision and accuracy by bringing software in pharmaceutical industry. Automated pharmacy system in the pharmaceutical industry brings efficient organizational functioning and increased staff productivity.
Market Overview of Pharmacy Management Store
The huge influx in demand for pharmacy management systems has boosted the global market value to the utmost peak. From $15.6 billion USD in 2020, the world observed a growth of 14%, expecting it to rise to $ 35.21 billion USD in 2026.
Salesforce surveyed that 4.45 billion prescriptions are given out to the masses of the United States yearly, while 73% of patients were prescribed medication within the last year. The growing need for systematic pharmacy benefit management software is revolutionizing the viewpoint of the healthcare industry.
With a HIPPA compliance consulting company, multiple hospitals and pharmacies are establishing secure patient information histories with their protected management tools to offer streamlined functioning.
Pharmacy Software Systems and Modules
Many modules combine and integrate to make one system functional pharmacy software system. One of the few important software modules that bring efficient functioning to the forefront of the industry is as follows.
B2B pharmacies find our healthcare app development services beneficial in regard to the integration of essential modules.
1. Integration of ERP
Instead of building a new ERP software, the other aspects of optimizing your management software could be with the setting up and upgradation of your existing ERP.
2. Customer Relation Management
Customer relationship management plays a quintessential role in the context of customer feedback and future implementation. Integrating CRM into your pharmacy management systems provides a forward-thinking approach toward the needs of the users and constructing business-centric strategies.
3. Seamless Storefront
In order to upscale your business growth and retain precious clients, you must have a well-structured and developed storefront. Streamline the business's operations, like sales pitches, discounts, and checkouts, with a user-friendly interface to provide them with trust-building aspects.
Must-Have Features of Pharmacy Management Software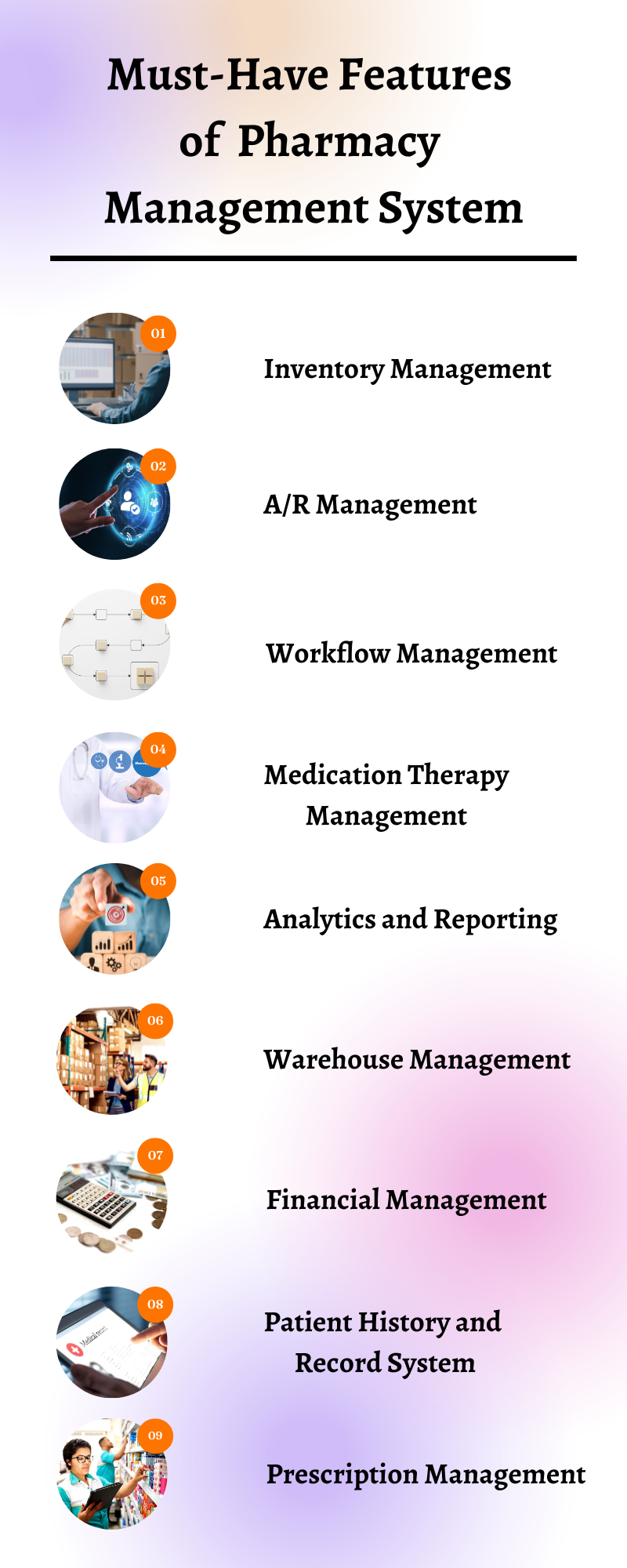 From maintaining complex records to streamlining workflow, pharmacy management software opens the horizons for pharmacies and hospitals with a multitude of resourceful features. Be it A/R management, real-time reporting and analysis, or systematic warehouse functioning, it ensures overall operational growth for the concerned departments. With a detailed analysis, now is the right time to get a conceptual understanding of all the features.
1. Inventory Management
With a pharmacy inventory management system, users can accelerate efficiency and bring a cost-effective storage option. Considering that inventory for pharmacy provides an automated approach to the system, the working staff can eliminate the need for labor-intensive operations and utilize the time for productive activities. Not only does it save time and money, but also offers medication dispensing accuracy with full control access to the staff.
2. A/R Management
The term perpetual inventory in pharmacy brings the idea of smooth and successful functioning of account receivable management to ensure fast refund backs owed by the pharmacy. With a hospital management system enabled by A/R management, pharmacies and hospitals can provide patients with fast and automated refund facilities to build trust.
3. Workflow Management
People are under the misconception that pharmacists cannot double-check the prescribed medicines. Not only can they do so, but also can analyze the previously prescribed medicines to avert future side effects. The workflow management pharmacy tools of system software enable them to access the previous records and ensure systematic functioning.
4. Medication Therapy Management
Covering all the aspects of medication must be a priority of pharmacies. For instance, ensure that your software has medication therapy management to educate the patient about medications and reduce the errors in their system.
5. Analytics and Reporting
With real-time analytics and reporting, pharmacies can make decisions regarding the medicine dispensary, track the expiration, and ensure on-time medicine supply. Be it employee-level monitoring or medical, management software updates the owners regarding all the aspects.
6. Warehouse Management
With supply chain management in pharmacy, the warehouse process tracking and updates are streamlined for enhanced management. It provides the pharmacies with real-time updates regarding the supply and receiving of medical appliances and prescriptions.
7. Financial Management
Ensure that your pharmacy has a streamlined invoice generation process that offers maintained finance statuses. With finance management, pharmacies organize their account details and maintain proper balance sheets with zero mathematical errors.
8. Patient History and Record System
Pharmacy software systems with HIPPA compliance ensure patient history and record security. A system dedicated to patient history records offers the scope for better diagnosis and future prescriptions.
9. Prescription Management
Prescription management software allows pharmacies to manage their prescription model with accuracy. From updating to generating previous invoices, the management tool provides users with easy accessibility.
Integration
1. Clinical Integration
With the clinical integration of software solutions, pharmacies can manage their clinics parallel to their pharmacies and offer their patients instant updates about the medicines.
2. POS Integration
Pharmacy POS software integration smoothens the billing and checkout to ensure fast medical order processing.
3. Online Pharmacy
Offering patients an ecommerce platform to purchase the necessary medicines brings remote functioning to the forefront of the pharmacy.
Additional Features
A pharmacy software solution also offers pharmacies immense features that help them bring productivity with user-friendly solutions for time-consuming tasks.
1. Pill Imagine
The features help prevent incorrect medication dispensing, which later goes for quality assurance checks. Not only does it help in prevention, but also helps the pharmacies find out the content in the bottle with precision in the warehouse.
2. Barcode Label
It offers help in the refill of information, scanning, and verification, and point of sale scanning to increase efficiency and ensure pharmacy product detection accuracy.
3. Data Backup
Updating data from time to time can be a laborious task, but with data backup features, automation ensures regular backup to keep the pharmacy updated.
4. Document and Data Management
Maintaining records without a streamlined system can cause data and document loss. With data management, pharmacies can maintain a well-organized system for updating and retrieval.
5. Alerts and Notifications
Get instant updates with the help of alerts and notifications regarding operational dispensing and medicine expiry in advance to ensure systematic order.
6. Multi-Store and Multi-Location Support
Pharmacies can offer their patients diverse support ranging from stores to locations. Offer the patients with multi-store and location support to ensure fast issue-resolution services.
Types of Best Pharmacy Software in the Healthcare Industry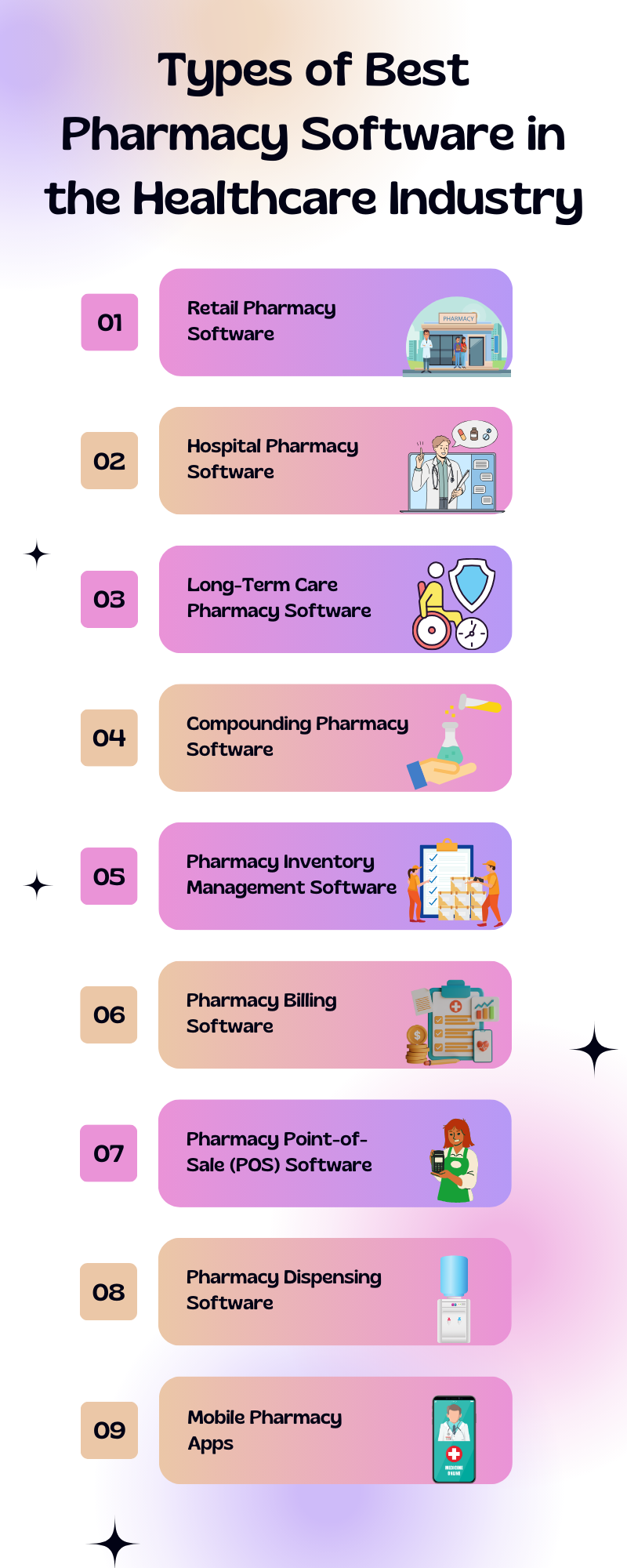 The healthcare industry combined with pharmacy is not limited to generic software solutions. The fact that there are multitudes of pharmacy software that can change the functioning of a pharmacy is bringing impeccable possibilities in the view. For instance, if you only need billing software, you can opt for specific billing and POS software. Let us find out the right fit for your pharmaceutical needs.
1. Retail Pharmacy Software
For chain and independent retail pharmacies looking for inventory management, PoS, prescription processing, and sales management, companies build customized software fit according to their needs. Pharmacy software systems for retail offer feasibility with complex day-to-day tasks.
2. Hospital Pharmacy Software
When it comes to managing the inpatient and outpatient orders of a medical institution that is connected to a pharmacy, hospital pharmacy software systems brings smooth functioning. Ensuring that the patients of the hospitals and out-prescription patients are maintained with proper individual records.
3. Long-Term Care Pharmacy Software
For long-term care facilities like nursing homes, a pharmacy maintains a record of resident patients and keeps a record of their medical needs as per the doctor's advice. They need customized pharmaceutical software that offers them an independent record-maintaining system depending on the mode and time frame of the payments.
4. Compounding Pharmacy Software
Bringing the idea of individual customization of medication opens the horizon for compounding pharmacy software that assists in ingredient tracking, quality control, and formulation. Laboratories at research and development centers process their medication with the help of this customized software.
5. Pharmacy Inventory Management Software
In order to track and optimize inventory, pharmacy inventory software comes into the limelight to reduce waste and automate restocking orders. Inventory management plays a crucial role in overall workflow functioning.
6. Pharmacy Billing Software
When it comes to streamlining business payments and insurance claims, the pharmacy billing software specifically built for the same ensures accurate functioning for the pharmacy.
7. Pharmacy Point-of-Sale (POS) Software
Considering all the industries are adopting POS for their systematic sales processing and payment processing, the pharmaceutical industry is opting for the pharmacy POS system. It offers fast payment processing and stock updation.
8. Pharmacy Dispensing Software
In order to ensure that medical appliances and medicines are dispensed in a streamlined manner, medical institutions often choose customized pharmacy dispensing software and bring productivity to their workflow.
9. Mobile Pharmacy Apps
Pharmacies and medical institutes with mobile app needs, choose app development services in order to incorporate telemedicine features. With such applications, they offer patients a user-friendly interface and medical ecommerce store.
Also Read More:- Healthcare App Development Guide
How to Develop a Pharmacy Management Software?
If, in the current digital generation, your pharmacy is not digitalized, you must be well aware of the cons of manual labor and record maintenance. It brings the store close to the susceptible human error and inaccuracy in retail, dispensing, and outpatient services. As we have mentioned, one of the main reasons why pharmacies decide to make a lateral shift toward digitalization; let us go in-depth into the process of pharmacy management software development.
(A) Gather your Requirements
Understanding your initial requirement for the pharmacy software offers clarity to your pharmacy and its development, whether you need inventory management, prescription management, or A/R account management. With better clarity regarding your pharmacy needs, you can upscale its necessary management system and bring productivity to your required processes.
(B) Analyze User Insights
As a decision-maker of your pharmacy, you will be utilizing it for data-driven decisions while the staff will be the first-hand user. With a detailed analysis of their needs, understanding, and proper functioning, you must interact with the pharmacy staff, technicians, suppliers, and prescribing doctors. In order to bridge the gap between the technology and the end-users, you should bring their concerns into consideration for efficient workflow functioning.
(C) Plan the Process
Once a clear understanding of your requirements is right in front of you for smooth future functioning, the next step is to plan the process. With a defined deadline and a better digital approach, you can decide on helpful functions and functionalities that you will require from the software solution to speed up the process.
(D) Find the Pharmacy Software Vendors
With full-fledged clarity regarding your requirements, user insights, and plausible process, the last step is to locate reliable pharmacy software vendors that are capable of offering businesses functional pharmacy software systems.
How Much Does It Cost To Build A Pharmacy Software?
The fact that pharmacy software development cost depends on multiple factors like the experience of the developer, the feature of the complexity of the software, and the location of the developer. The lowest cost can be $15,000 USD, while the highest can be $2,00,00 USD.
Features like warehouse management, inventory management, billing software, or point of sale can change the capital investment. When you hire a third party for software design and development, software testing services, and end-product deployment, the timeline and cost of the project are directly proportional to the need for software features and functionality.
Also Read More:- Healthcare App Development Cost
Why Should You Choose SparxIT For Pharmacy Management System Development?
One of the technologically advanced companies in digital transformation, SparxIT, is known for providing high-end pharmacy software development solutions. We work with medical institutes and other well-established pharmacies to create customized software solution models that increase workflow efficiency, reduce expenses, and reduce risks in a variety of departments.
Our skilled developers with diverse experience are well-versed in data analysis services to offer clients user-centric pharmacy management software. Established pharmacies and enterprise-level medical institutions use our cutting-edge software to create a staff supported by automated functions and streamlined processing, which will increase productivity while streamlining the processes.
Get in touch with our specialists to implement a thorough, technologically advanced software solution designed to satisfy your pharmaceutical demands successfully.
Frequently Asked Questions
Q1. How much does it cost to build a pharmacy management system?
The cost of building a pharmacy management system depends on factors like the experience of software developers and the systematic approach, features, and functionalities required by the client. Depending on all the above factors, the estimated development cost can be deduced.
Q2. How long does it take for pharmacy software development?
The development timeline of pharmacy software systems depends on the expertise of the developer and the product complexity. Simple software with basic features can be built in 6-7 months, while a complex software solution with advanced features and functionalities can take up to 9-10 months.
Q3. What are the most common features of pharmacy management software?
The most common features of pharmacy software are inventory management, warehouse management, billing software, A/R management, and many more.
Q4. Can you build HIPPA-compliant pharmacy software?
SparxIT is one of the forward-thinking software development companies with experts ensuring HIPPA compliance in their healthcare projects to ensure future medical growth and secure patient data.
Useful articles, updates, offers and guide boon from SparxIT Team
Categories
Thinking about getting pharmacy software developed?
Featured In