Health is a state of complete physical, mental and social well-being and not merely the absence of disease or infirmity: World Health Organization
Numerous industries are dealing with the incredible impact of digitalization and healthcare is no exception. Fitness and healthcare mobile apps have made the life of patients and doctors much easier. Mobile apps for the healthcare industry have introduced a wide array of improvements to online medical services in recent years.
Initially, the industry stayed away from adopting the digital platform to promote health facilities but with the widespread usage of online services and especially mobile technology, the healthcare industry leverages online medical services more securely and proficiently.
Market Report Highlights:
mHealth held the dominant share due to the increased adoption of mHealth technologies by healthcare professionals and patients.
There are approximately 45,478 healthcare apps on the App Store.
The global mHealth apps market size is expected to grow at a CAGR of 17.7% from 2021 to 2028.
In 2019, the mHealth domain received $13.7 billion across the globe.
Approximately 93% of physicians believe that mHealth apps can help improve a patient's health.
You will find around 43,285 apps available on the Play Store.
An Accenture survey revealed that nearly 75% of the patients understand the importance of healthcare apps.
Reportedly the telemedicine app market will reach $17.14 billion by 2026.
What's more, the mHealth app development has made the traditional relationship of patient & doctor quite obsolete. There is an anticipation of tremendous growth in online medical services.
Key benefits offered by healthcare apps:
Improve health data gathering
Increase customer loyalty and engagement
Minimize medical issues
Lower spending for patients and hospitals
Enhance communication between patients and doctors
Save time for medical staff and healthcare workers
Provide timely care and medication
Book appointments
Global Healthcare Industry After COVID-19 Outbreak!
The continuous rise in positive COVID cases is generating more demands for medical equipment and healthcare services. Many small businesses are also contributing to the fight against the pandemic by developing an app that can track COVID cases. The governments imposed the lockdown and social distancing that increases the demand for contactless services.
First time in modern history, the medical and healthcare industry has gained absolute focus. Due to the devastating impact of COVID-19, online healthcare services are being recognized even more. This change seems to continue in the future for different types of diagnosis.
Different Categories Of Apps For Health And Wellness
Mindfulness Application
Promising mindfulness applications combat anxiety, hone your focus, and provide meditation for better sleep. Such application helps people to take a break from their hectic life schedule, restlessness, and tension. With features like meditation sessions and exercise to calm your mind, and breathing techniques, such apps are helping people to stay relaxed and healthy.
On-Demand Apps
On-demand apps are revolutionizing the healthcare industry. From searching and ordering medicines to booking an ambulance, an on-demand app helps users to avail required services with a couple of clicks.
Appointment Scheduling
It allows patients to schedule an online appointment with a healthcare expert easily. patients can also schedule medical prescriptions, water consumption, calorie consumption, sleeping times, and set reminders to take their next dose of medicine.
Fitness and Wellness App
Fitness and wellness apps are primarily focused on promoting digital healthcare services. The health and wellness apps emphasize different aspects of digital healthcare that includes:
Relaxation and stress reduction
Fitness and sports activity tracking
Weight loss coaching
Pregnancy
Pharmacy
Diet and nutrition
Sleep cycle analysis
Meditation
Hospital selection and appointment management
Mental health with proper meditation
Self-Diagnosing
With the power of artificial intelligence, healthcare apps offer this feature that helps patients to diagnose themselves. From checking blood pressure, sugar level, checking symptoms, and analyzing overall medical status, patients can diagnose themselves completely.
IoT Products
IoT is the most promising technology that strengthens healthcare products to offer a personalized experience. For example, a wearable healthcare application allows the patient to continuously monitor their health. Users can track their physical activities, check their heart rate, blood sugar level, etc and pay attention to the required medication. From monitoring patients health to sending real-time alerts IoT finds its place in different areas like;
Tracking of Inventory, Staff, and Patients
Augmenting Surgeries
Pharmacy Management
Wearables for immediate and timely assistance
Remote Patient Care
Emergency Care
Virtual Monitoring of Critical Hardware
Applications For People On Regular Medication
These apps are best for senior citizens or for patients who are on regular medication. It helps patients to manage their particular medical conditions and stay in touch with practitioners. Patients can have time to communicate regarding their day-to-day health issues.
Assistants For Pregnant Women
Women get more sensitive during pregnancy and they look for complete pampering, care, and attention that supports them to deal with extreme changes. Pregnancy apps help expecting parents to follow required guidelines and take care of everything for the well-being of the baby-to-be. Pregnancy apps help expecting mothers to manage and stay organized with every change adopted by their bodies.
Let's accept it, pregnancy is stressful. Taking a deep meditation is much needed for relaxing mothers' minds and bodies, and a proficient app is the greatest helping hand for this. There are a variety of pregnancy apps available in the market:
Headspace App
Glow Nurture Pregnancy App
Sprout Pregnancy App
BabyCenter Pregnancy App
The Bump Pregnancy App
Prenatal Workout App
Full-term Contraction Timer App
Women's Health
Women's healthcare applications primarily focus on helping women to track their menstrual cycles, evaluate their mood swings, overall body health, predict ovulation, guide them to take birth control pills, and reduce the risk of unwanted pregnancy. Such applications empower women to take control of their different health issues. Robust healthcare mobility solutions provide deep insights into female bodies, understand their hormonal changes, timely diagnosis, and provide them guidelines to maintain their health.
Telemedicine
Telemedicine mobile app enables remote doctor consultation, enhances medical efficiency, and assesses the critical health condition of patients who are suffering from chronic illness. With the advent of telemedicine app development, doctors can keep track of their patients, ensure that they are following the right prescription, and check the patient's health improvements as compared to last follow-ups.
Medical Resource and Education Apps
These types of applications are equipped with instant and readily available medical guides that contain relevant and useful information. Medical students get tons of things to memorize and these apps can smoothen the process. These medical apps contain a database of formulas, classifications, scores, and scales in different specializations such as cardiovascular, anesthesiology, renal, pediatrics, fluid and electrolytes, pulmonology, and many more.
Remote Diagnosis and Monitoring
Doctors can track their patient's health condition with the complete diagnosis of their body that includes checking sugar level, blood pressure level, diabetes, celastrol, heart rate, etc. A prominent technology like RPM (Remote Patient Monitoring) enables online patient's health monitoring that increases access to healthcare from any location and reduces the healthcare service delivery costs.
Communication
As per the user's request, doctors can establish communication with their patients and suggest the required medication and proper guidelines. They can use direct chat, voice call, or video conferencing for seamless communication.
Appointment Management
Doctors can manage appointments and schedule their timings to address every patient's health issues. Appointment management enables doctors to schedule their work approach and keep things organized to address every patient properly.
Clinical Assistance
It provides easy access to patient's Electronic Medical Records (EMR) and Electronic Health Records (EHR). It allows secure sharing of electronic information among patients and clinical experts, minimizes medical errors, enables reliable prescribing, and facilitates healthcare convenience.
Inventory Management
Based on the requirements and usage, institutions can make an inventory management plan to avoid a shortage of resources and quickly avail of the required products and services.
List Of Ideal Healthcare Applications With Perfect App Ideas
8fit
8fit is the greatest innovation in the medical app development market. It is a popular fitness application or you can consider it as your personal mobile trainer. This versatile app connects you with fitness experts and nutritionists to give you a healthy and happy life. Millions of users rely on this app to lose weight, get a fit and toned body, underweight people use it to gain weight and look fit and live a sustainable lifestyle.
30 Day Fitness
The brand name says it all! This application motivates users to take a 30 days challenge and get the best version for themselves. It guides users to follow a healthy diet plan, proper exercise to drop extra KGs, get a toned body, and find the noticeable changes in 30 days.
What's Up
What's Up is an amazing application that works on two methods – CBT (Cognitive Behavioral Therapy) and ACT (Acceptance Commitment Therapy). It helps users to cope up with anger, anxiety, depression, stress, and much more. This app is available for both Android and iOS with an aesthetically modern design and easy-to-use features.
Calm
Calm is a leading mobile application for sleeping and meditation. This app is best for those who are struggling to overcome stress and anxiety. It provides a variety of calming workouts, meditation, and breathing techniques. It prevents users from lack of sleep and lowers their stress level with great mindfulness activities and exercises. Healthcare businesses can opt for mental health app development to cater to people who are dealing with restlessness and a lot of tensions.
Ovia Health
This app is specifically designed for pregnant women. It provides maternity services, allows parents to watch their baby's growth, educates them on how to deal with changes week by week, helps expecting moms to monitor their health proliferate, and provides great support to the families throughout parenthood.
OTCme
This innovative app lets you do your "over-the-counter" medicine searching. Pharmacy app development like OTC simplifies the medicine searching process by allocating the pharmacies nearby your location. Users can also find the medicines vendors who are selling medicines at the lowest prices.
One Drop Mobile
Peoples dealing with Diabetes, Prediabetes, High Cholesterol, and fluctuating blood pressure can use this application. This app is primarily focused on diabetic patients. One Drop applications syncs with other healthcare app brands and devices that allow the user to see their medical data on a single platform.
Kardia
Kardia is the most powerful application that allows people to track their heart rate at home, allow recording of EKGs, keep track of complete medical records, share heart data with the concerned professional, and offer many more benefits. Kardia is the most clinically-validated mobile EKG across the world that provides instant FDA-cleared detection of the most common heart arrhythmias.
Ada
Ada is the most popular app for the assessment of symptoms. It is an easy-to-use application that delivers accurate results for every healthcare assessment. This app understands symptoms and gets them cured by connecting users with trusted medical experts in minutes.
GoodRx
Like other medical apps, this app also creates a bridge between patients and medical professionals and establishes uninterrupted communication between them. Moreover, this app helps in saving money by comparing the prices of medicines and offers discount coupons on medication. Medicine delivery app development like GoodRX has transformed the medical industry with enhanced connectivity between clients and medical service providers.
HealthTap
This application is primarily focused on providing virtual healthcare services with 24*7 availability and accessibility. Users can connect with healthcare professionals via text or audio/video call anytime, anywhere. Users can also avail of membership on a monthly basis and get high-quality digital healthcare services.
Benefits of Healthcare Mobile Apps for Patients and Caregivers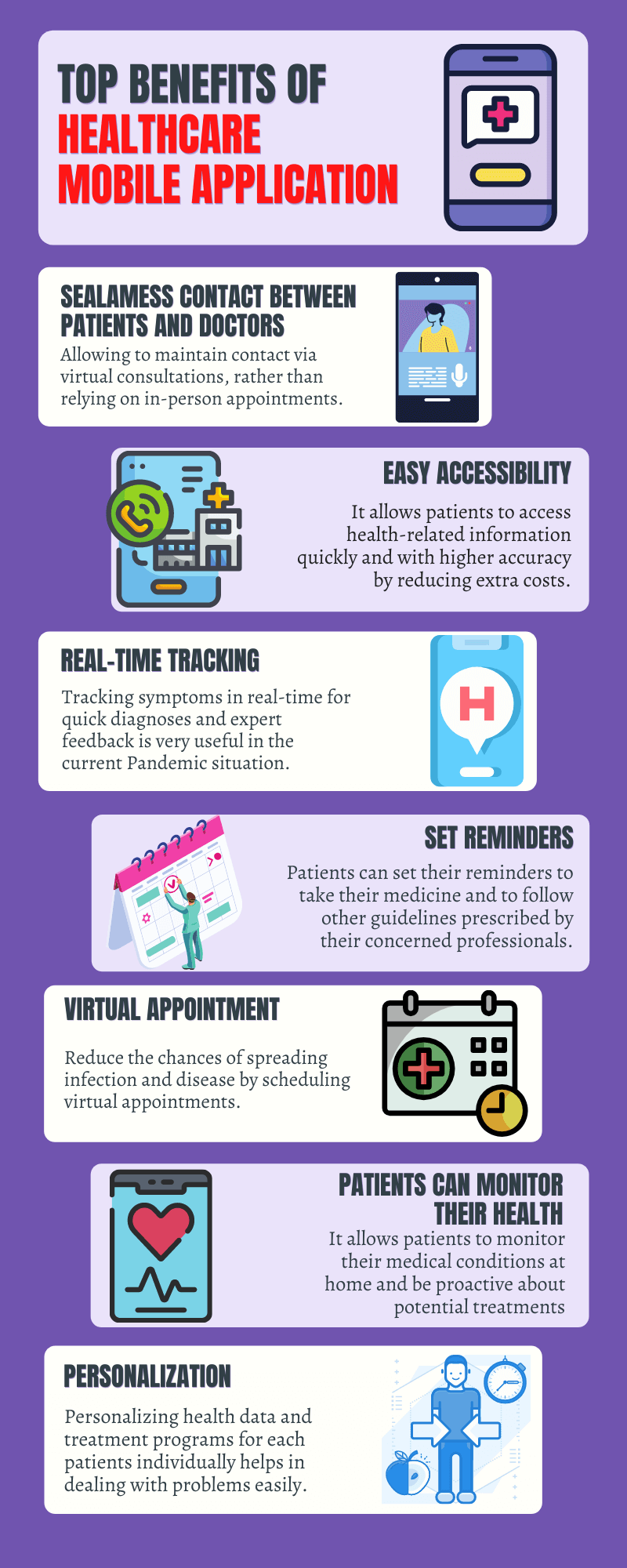 Easy Accessibility
First of all, health applications have made the lives of patients and healthcare workers more convenient. Global users acknowledged that mHealth apps provide them easy and immediate access to the required information.
Cater to Personalised Experience
Every patient's health journey is different, that's why every individual needs specific attention and of course, relevant treatment. With customized mobile apps, it becomes easy to manage a horde of patients as practitioners can quickly look after patients' records, pinpoint solutions to their health issues, and give personal attention to every individual.
Patients Can Monitor Their Health
The healthcare applications have modern features that enable patients to check their health status personally. Users can check the vital health initials like blood sugar level, weight, cholesterol level, heart rate, blood pressures, etc to the on-time medical assistance if there is any fluctuation.
Enhanced Efficiency
Using mHealth applications, patients can get access to the information about medicines they take, chat with a doctor, look through all prescriptions, etc. without going out of their home. In turn, medical professionals can improve the efficiency of their workflow, reducing manual/paperwork and switching to a mobile application where integrated machine learning algorithms keep track of the information and do a major portion of work. It saves a lot of time, and helps doctors spend more time on patient care.
How to Develop a Healthcare Application?
To develop a successful healthcare app, you need to address genuine pain points of the medical industry and patients. Not only because it can boost your healthcare business but to save lives. While developing healthcare and fitness app keep the following points in your mind:
Decide The Type of Healthcare App You Want to Build
Before developing the application, you must decide where your idea fits within the e-health space. Just look at the below things you could do with your healthcare app:
Diagnosis chatbots
Mobile medication alerts
Phone-to-text capabilities
Geolocation or geofencing
Familiarize yourself with the different options in healthcare apps and find where your app ideas will fit into the bigger picture:
Clinical assistance apps
Scheduling and reminder apps
Telehealth and remote monitoring apps
Medical resource and consultation apps
Health and lifestyle apps
Which Functions Will Serve Users The Best?
Here are the few functions that you can introduce in your app that user might desire:
Dashboards
Healthcare app dashboards are useful for both solo practitioners and medical service providers to easily gather patients' records on a single platform. They improve clinical efficiency and administration.
Reporting and Charting Functions
Consider developing an app that covers analytics information to conveniently track patients' medical progress or monitor their activity. It decreases reporting mistakes and improves the level of care.
Payment Portal
Payment portals offer convenience for remote patients to make payments, or for lifestyle users to purchase subscription packages or products.
Doctor Profiles and Geolocation
These are quick ways for prospective patients to find doctors near them, to review credentials, and, later, to use GPS to get to the clinic or medical facility where their doctor works.
Patient/User Portal
Close to the dashboard, this is a patient-facing feature that notifies users via messages, alerts, and other reminders from their concerned practitioner or mentors all in one place.
Real-Time Chat and Video
Real-time chat and video options enable patients to connect with on-site physicians during emergencies, discussing treatment options and diagnosis.
Privacy and Compliance Research
Privacy is the biggest concern while developing e-health apps. Unlike many other digital privacy and security concerns, healthcare apps are subject to fierce legislation for the sake of healthcare workers and patient's data protection. You will be required to get certifications through the Health Insurance Portability and Accountability Act (HIPAA) that ensures the security and privacy of patients.
Here are certain steps you may take to further protect your patient:
Analyze the security pros and cons between iOS and Android
Create an informative and adaptable privacy policy
Maintain updates to avoid network interruption that compromise protected health information (PHI)
Add user passwords or other forms of user authentication
Install and implement encryption on mobile devices
Choose Development Platform
Online health services must be supported on the right platforms and operating systems. Decide whether you want to develop an app for Android, iOS, or Web.
Design For Users
The target audience of medical and fitness applications is quite extensive. If your goal is to get maximum reach, keep your app design simple and user-friendly. To nail it, you can follow app design standards:
Optimize the client's journey inside your application
Reduce the number of actions users should take to reach the destination or to complete the goal
Show chief pieces of information at the beginning of the user's journey
Consistency is the key when mapping out your patient's pathway
Address the patient's pain points to provide a glitch-free experience
Maintain uncomplicated, clean, and clear graphic design
Every healthcare application should offer features and functionalities that meet the customer's expectations. Since they store a huge amount of client's data, they must be integrated with standard security features. But, out of these critical features, what are the other modern features that add more value to a versatile application? Let's have a look.
What Are Key Features To Include In Healthcare Apps?
Tracking
This feature in any healthcare app enables monitoring of a patient's blood pressures, heart rate, blood sugar level, pulse, calorie intake, etc.
Scheduling & Reminders
This feature offers glitch-free appointment scheduling. It can also set reminders for water intake, daily calorie consumption, medicine intake, sleep, and so on.
Social Login
Social media login features allow quick login to the patients. Many patients avoid sharing confidential information with social media platforms, so you will have to clarify in your app privacy policy the level of access to personal profiles by social media. This feature offers hassle-free doctor appointments.
Practitioner Information
Through this feature, patients can look up doctors by specialty, availability, location, and other parameters. They can also research a doctor's profile in detail before booking an appointment.
Patient Information Database
This feature enables the software to store prescriptions, medical history, reports, and other sensitive data that both patients and physicians can access at any time.
Real-time Chats
Through this feature, patients can engage with their physicians in real-time and get the timely assistance. This feature can facilitate easy access to healthcare and can establish trust between doctors and patients.
Geolocation
Imagine a patient is away from his usual healthcare clinic and needs immediate assistance. This feature with integrated map services (Google Maps or any other 3rd party map service) can inform patients about nearby medical institutions, clinics,and hospitals.
Forums
The online portals or forums encourage users to have a discussion. They improve collaboration and better engagement between patients and doctors. Forums are linked to well-being for associated stigmatized group members. It allows app users to participate in online discussions and find better answers to their questions.
Reviews & Ratings
Through this feature, patients can provide valuable feedback and share their treatment experiences with other patients. This will help patients to take the right medical help, build credibility and patient loyalty for the healthcare service.
Payment Gateway
Mobile payment integration with the latest digital payment features (wallets, credit/debit cards, net banking, etc.) enables patients to initiate fast and secure payment transactions. Patients can also receive the copy of bills for the further process of documentation.
Privacy and Security Standards
There is a huge amount of data stored and processed in the healthcare application for e.g. patients' medical history, contact details, payment transactions, address, etc. A supreme app complies with strict security measures and legal regulations.
Depending on requirements, you can also add features like:
Photo Gallery
Analytics
Prescriptions
File sharing capabilities
Voice & video calls
Access to information (medicines, patient history, diseases)
Access to EHRs/EMRs
Appointment Booking
Push Notifications
Wearable Integration
One-Click Emergency Service
Report Management
Tech Stack For Healthcare Application Development
Programming Languages
Java
Python
C#
C++
Scala
Objective-C
JavaScript
PHP
HTML5
Operating System
iOS
Android
Cross-platform
Database
MySQL
Oracle
PostgreSQL
Memcached
MongoDB
Web Frameworks
DevOps
GitHub
Jenkins
Selenium
Rollbar
Bitbucket
Business tools
Utilities
Google Analytics
Stripe
Elasticsearch
Big Data Tools
Cloud Storage and Hosting Providers
Amazon S3
Amazon EC2
DigitalOcean
Back-end
Servers
Frameworks
Cloud Hosting
Database
Front-end
Cross-Platform
React
Flutter
iOS
Android
Trending Technologies
Cloud computing
5G
AI
NLP
IoMT (Internet of Medical Things)
AR/VR
Which Are The Factors That Determine The Cost Of Healthcare App Development?
When budgeting for mHealth app development, you need to consider factors like:
App Features
The cost of an advanced healthcare application with complex features and functionalities will always be higher than a basic application with limited features. It's vital to know the market demands, what your target audience is looking for, and their area of interest. You must gauge whether your audience will like the features and functionalities before adding them to your app.
Development Platform
There are a variety of platforms available for health application development out of which iOS and Android are the monthly adopted by app developers. If you want to develop a single app with the potential to perform on multiple platforms then you can go with hybrid app development. Every platform supports different development approaches, tools and technologies. Hence, the cost varies.
Regulations & Compliance
Healthcare and medical apps need to be HIPAA (Health Insurance Portability and Accountability Act) compliant. Avoiding this step may harm your work and lead to legal action. Depending on the frequency and severity of the lapse fines can be charged. Companies need to get fully-compliant and need to pay a certain amount for it.
Time To Market
Time to market is strongly tied with cost, after all, time is money! What is the estimated time to develop your app? Make sure that your app development follows the rapid development process without unexpected delays. Project delays and extended deadlines impact the overall cost.
In-House vs Outsourced
This is one of the most crucial factors that influences the app development cost. Many reasons favor the in-house development team but it all boils down to team size, knowledge, and expertise. The smaller team has to deal with a lot and most cases lack the budget, time, and focus required to deliver an app that includes zero bugs. Whereas, large teams can arrange and afford the required resources.
Why Investing In App Development Is The Smart Decision For The Global Healthcare Industry?
Increase Operational Efficiency
Caregiving is not only about talking to patients but to understand their pain points. With proficient healthcare application businesses can enhance their operational efficiency, from managing inventory like an uninterrupted supply of medicine and injection to proper coordination with administration, mhealth app development is the best option.
Immediate Access To Healthcare Services
With the best healthcare mobile application, medical institutions and healthcare centers are easily accessible. In case of any emergency, the feature-rich app is a go-to place to get an immediate prescription, medication, appointment scheduling, and other assistance required.
Prevents Errors In Diagnosis
There are maximum chances of errors in manual diagnosis. One wrong diagnosis can lead to a wrong treatment. The wrong diagnosis can cause severe damage by giving the wrong medication to the patient. The medical app innovation can reduce errors, accurately decipher test reports, and help practitioners to prescribe medications accordingly.
Easy Transaction
The mobile app provides the most convenient option to make payments. Today, people are going cashless and looking for digital payment options. Healthcare apps with secure payment gateways and mobile payments have taken over the medical industry by storm. It allows patients to choose their preferred mode of payment to pay their medical bills.
Healthcare Apps Are Blessing In Remote Areas
Today, every service is reaching home to home. The rural and far-flung areas are also benefiting from the power of healthcare applications. Developing a healthcare application can help medical service providers to connect with peoples living in remote locations and provide them medical care and assistance.
Wrap-up
App development for healthcare is vital for both medical business owners and patients. It gives all the vital things like time-saving, quick medical assistance, accurate diagnosis, secure payment transaction, and much more. Today, a single medical app fits in performing different roles and responsibilities. Due to this, we can witness the remarkable growth of healthcare mobile app development. A robust healthcare app can monitor a patient's health, suggest proper nutrition, and establish seamless communication between healthcare services providers and patients.
Experienced Technology Partner For Modern Healthcare Application Development!
Creating viable healthcare solutions is teamwork. Also, the fitness and healthcare industry is adopting modern tools and technologies more efficiently. It is necessary to develop a healthcare app that matches with higher clients' expectations. If you want to develop an application that simplifies healthcare, fitness, and medical operation then choose a certified and experienced professional who can cover all the vital aspects to create a successful application.
Do you have a healthcare app idea? Have you been thinking about launching a healthcare and fitness solution for a long time? Any questions that are not covered in this article? Contact Sparx IT Solutions, a renowned brand for developing spelding healthcare mobile applications. We believe the life of every individual is precious and everyone deserves to get the right treatment at the right time. Our team is committed to meet the client's expectations and make digital healthcare services more advanced and fruitful.
Useful articles, updates, offers and guide boon from SparxIT Team
NEWSLETTER
Categories
Let's discuss your project idea.
Featured In