A successful project is one that starts working for you, rather than you working for it!
The idea of a successful project comes from the right project management approach and seamless team collaboration. But the question is, how to balance key project management steps at a time? How to tackle complex and large projects in the right direction? Is the allocation of required resources enough to complete a project? I believe project completion depends upon multiple factors that you cannot ignore.
For project managers, it is the biggest challenge to manage all the project related tasks and meet all the specifications at a time. It becomes a struggle for them to keep track of every project without using any project planning app and due to this they sometimes lose control over some tasks. The mismanagement of the project may cause severe damage to the company's reputation and cause project delays.
Let's find some important facts and figures that cause project failure
If management takes much time to make decisions, the failure rate of agile projects is expected to be 22%, and 53% chances that it will produce unsatisfactory results. 

Amid pandemic 2021, 58% of organizations faced the issue of managing projects due to remote work management. 

54% of projects of companies have to deal with over budget due to improper project management.
It is recommended that to give equal value to all your projects and to ensure proper project management, the right project management approach must be followed. Basically, the project management process includes the following phases that need to be addressed properly
Integration

Scope 

Quality 

Human Resources 

Time 

Communication 

Risk procurement

Cost 

Stakeholder management

Associated knowledge 

Following the organized development approach
To eliminate the chaos in project handling, the project management app comes to the rescue. Entrepreneurs can hire project management app development company that provide them a single tool to perform multiple project tasks. All the steps included in the project development life cycle can be followed via a single application. It serves all the project-related requirements on one plate.
Organizations must learn the great importance of versatile project management applications that simplify the job of candidates involved in the project development process. 
Points that indicates your business needs to switch to modern project management application immediately:

Absence of a centralized database due to which your team finds it a big challenge to access required information efficiently.

Your team members are opinionated using different tools to track various aspects of your project.

You are unable to get timely updates and enough transparency of the project progress.

Complexities and errors are not tracked and risks are not addressed on time to prevent future damage.

You are spending more time on project data analysis to create reports.

Your team is investing huge time in writing emails and making reports and not getting sufficient time for on-time deliverables.

You are continuously struggling to remind your team members about the deadline and required milestones that need to be achieved on time.

Your business requirements have outgrown the capacity of your current software.

You are dealing with complex software that creates inefficiencies like taking much time for resource allocations and reducing the development speed.

Improper team collaboration.
How project planning apps can benefit organizations? Let's begin the discussion!
Seamless Workflow
There is a very mutual challenge for project managers is to get the whole team to work as one. A proficient tool helps organizations to overcome this challenge. Using the right project management solution, project managers can keep their eye on every individual performing on the project.
From measuring performance to checking the workflow, the leading person can keep track of the entire work process. Businesses can boost their productivity by using a suitable tool for managing projects. It also leads to increased profit and maximized revenue.
Furthermore, some projects need more employees to achieve the milestones. This is where the project manager can adjust the team size to collectively work on the big and complex projects. To sustain an organization's bright future, seamless team collaboration is a vital factor.
Shared Documents, Calendars, and Contacts
The tool builds to manage projects have the potential to store and organize various project records and documents. The majority of projects have a big set of documents that need to be managed for easy accessibility. With a centralized database, every team member can quickly access data, edit or modify them. This feature is extremely supportive in the case of outsourcing projects to individual employees or a team of professionals.
It eliminates the need to spend thousands of emails along with attached excel sheets or documents. Also, the ease of calendar access makes employees coordinate in a better way. It allows team members to schedule meetings that match the schedule with every individual employee. Team members should make sure to share the documents wrapped with contact details to ensure seamless communication between remote workers.
Easy Project Planning
The task for project planning takes a great deal of time as you need to outline every one for the significant steps that need to be taken for timely completion. A modern project management tool provides the capacity to handily set up the project plan for effective completion.
It helps project managers to establish a hierarchy of tasks and simplify the development process. It shows which steps are successive and what tasks are dependent on each other. The development team finds it easy to manage their work. This is a time-saving approach as the project leader can easily allocate tasks and resources when he/she will be aware of the priority of tasks.
Looking For Mobile App Development Services
Contact Us
Efficient Task Management
Small or big, every project includes various tasks that are required to complete by the team members. It is very complex to create a sheet or notes for the completed and pending tasks. In the case of long-term projects, it's quite impossible to maintain a project status in a sheet that can be easily accessible. This is where you can opt for task management apps. Using such a tool will help you to assign tasks based on the priority to the employees and keep track of their performance individually. 
It becomes easier for businesses to manage tasks and resources on a single platform. Also, proper task management leads to collaborative work among team members. Hence, it results in a smooth development process and fruitful results. 
Tracking Project Progress
Time has the greatest value! Tracking time spent on each task of the development process is required to estimate the overall project completion time. Using a feature-rich tool you can track the data of employees working on the project. This will allow you to make future plans related to the next step required to take and time estimation. This is the greatest convenience offered by project management solutions for better performance and on-time project delivery. 
How project management app help businesses manage a variety of business operations successfully?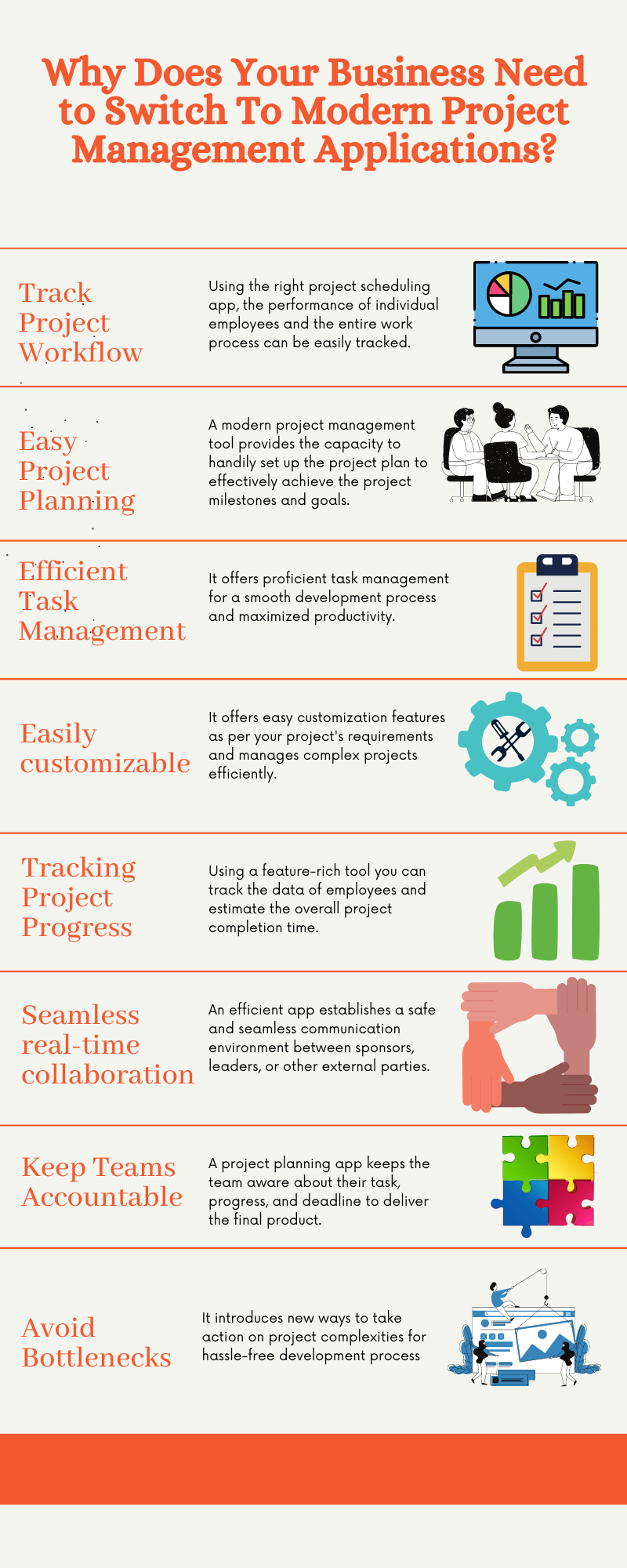 Cloud-based solution
Across various industry domains, cloud-based solutions are on the list of favorites. This is the most amazing feature and benefit of using a project management system. The cloud-based solutions help in establishing seamless collaboration especially in the case of remote working with bigger team management. 
Combine development process in one place
It allows the organization to focus on other aspects of the business rather than managing multiple tools. A proficient tool maps tasks, establishes seamless communication, allows document sharing, and clear layout of the project plan.
Team collaboration
The year 2020 forced a lot of companies to work remotely under the shadow of a global pandemic. The biggest challenge for organizations was to manage large projects via remote working. Establishing uninterrupted communication, quick file sharing, and scheduling online meetings have become the need of the hour. The modern app is beneficial to deal with such challenges in one go.
Keep teams accountable
Team productivity depends upon the responsibility of every individual. By working on a single project management platform, the team will be aware of their assigned task, deadline, and their progress to meet the project objective. 
Easy documentation
Advanced apps help businesses to connect files to Google Drive, Dropbox for more data storage and document organization features. It simplifies the way to manage and access documents accurately and efficiently.
Make meetings more productive in the following ways:

Schedule check-in meetings

Set time for starting and ending the meeting

Create tasks for meetings

Create projects dedicated to meetings

Maintain notes for various projects to be discussed

Send out meeting agenda in advance

Schedule  one-on-one meetings
Avoid bottlenecks
Avoiding bottlenecks is like playing chess! To win, you need to think two or three steps forward. The advanced app for managing project tasks is introducing new ways to take actions on project complexities to boost productivity. It allows you to track the project progress, address real-time issues and have an overview of the project timeline.
Why are companies strongly recommended to invest in developing project management apps?
Easily Customizable
The most beneficial thing about developing a project management software or app is that you can customize it the way you need. You can add features, functionalities and customize its look and feel based on your project needs. You can either develop a basic project management tool or follow the standard mobile app development process to develop an app that can easily manage complex projects and a large team.
One-time investment
Once you successfully develop a feature-rich app that can manage projects for your company, you don't need to pay any additional charges. Like you will no longer be required to pay any monthly charges to avail the required features and benefits. You can take the advantage of the app anytime, anywhere as per your project needs. 
Seamless real-time collaboration
Today, the work culture for different industries is entirely changed. Organizations are focused on managing everything remotely. From handling projects, scheduling meetings to sharing documents everything is getting done remotely. In such a scenario, application for project management plays a lead role. It helps in taking all the people involved in project development in one place.
Project-related decisions hinge on regular collaboration. An efficient app establishes a safe communication environment between sponsors, leaders, or other external parties. Team members can collaborate with each other regarding project tasks and updates with strong internet connectivity. Project managers can schedule a meeting in advance for discussing weekly project updates. 
Modify product as per business needs
Project requirements can be changed anytime. In this era where technology is unstoppable, the requirements change rapidly. Organizations that opt for project management solutions can modify their product anytime as their needs change. They do not need to work with an old or outdated version. They can modify the features and functionalities of the app as per their requirements. 
Increased Agility
Project management apps maximize agility by automating the business workflow. It makes sure that the project meets the deadline. The team can emphasize their allocated tasks and specifications. Agility is the key factor that every organization tries to achieve to beat their contenders. The fast delivery of customers' products without compromising with quality is what makes organizations lead the market.
Top 6 essential features that you can add to your project scheduling app:
Project planning and scheduling
Prioritize tasks based on urgency and assign them to the team members. In your project scheduling app you can include time slots that quickly make room in your  planned schedule without rescheduling the entire project plan manually
Team Collaboration
Adding options like team dashboard, Sharing the customer data, group chats and communication, and file sharing establish a seamless team collaboration within all the external and internal bodies involved in the project.
Time Tracking
Time is the major factor to determine the project completion. Adding a time tracking feature allows you to track the performance and time taken by individual employees to complete their tasks. 
Reporting
For the fast and successful completion of your projects, it is vital to be aware of shortcomings and address the issues to fix them quickly. A modern project planning app gets you reports on expenses, team member's performance, and achieved milestones. The reporting feature enables a quick view of the entire project progress and updates. 
Documentation
With easy and quick data accessibility from a single database, you can easily share reports with team members. This is the major advantage of developing an app for project management to gather all the information on one platform.  
Resource management
Under this feature, you can outline the need for a number of resources and their cost of utilization. This eliminates the conflicts of lacking resources and ensures that everyone has enough resources to meet the project completion deadline.
There are a variety of apps for project management available in the market. Below are the top 5 apps listed that you can refer to: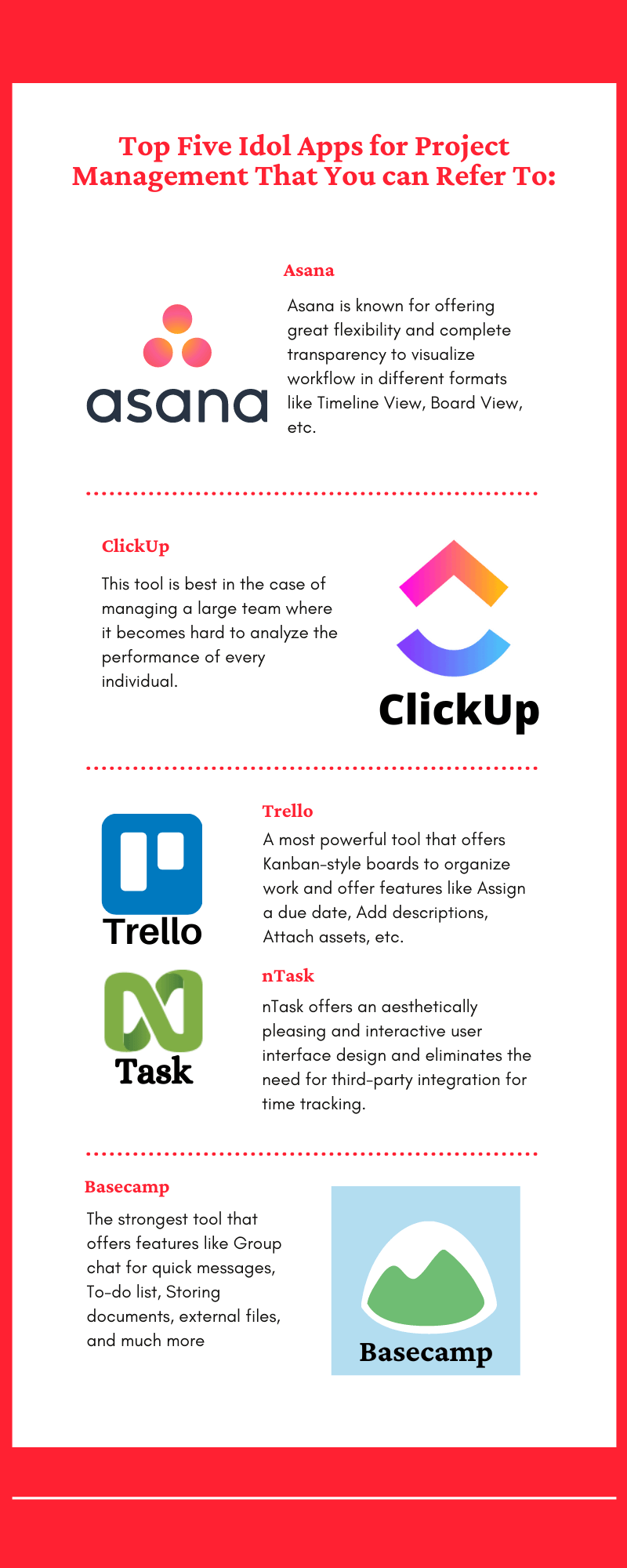 Trello
Trello is the most popular and powerful tool to manage projects. It helps businesses to organize their work into visual boards. Trello is well-known for providing Kanban-style boards that allow project developers to drag and drop task cards as they schedule their workflow. What separates this app from its competitors is its user-friendly interface. 
But when it comes to managing complex projects and large teams, Trello gets pretty messy. At times due to more participants and when the bulk of tasks added it becomes slow and less responsive. The power source of Trello is adding third-party apps but, these features ask you to pay additional charges. 
Features offered by Trello:
Add tasks or cards to the projects 

Assign a due date

Add descriptions

Attach assets

Create checklists

Make labels

Assign tasks to fellow team members
Trello is available for the below platforms:
Android

iOS 

Mac

Windows 

Web
Tech-stack to develop app like Trello:
JavaScript libraries
Analytics
Twitter Analytics

Snowplow

Linkedin Insight Tag

Google Analytics
Analytics, Advertising
Font Scripts
Webmail, Email
Marketing automation
Tag manager
CRM
PaaS
Reverse proxies
SSL/TLS certificate authorities
If you want to create an app like Trello then you can hire an experienced app developer to convert your project management app idea into reality.
Asana
Asana offers great flexibility to manage projects with a wide array of features. It offers complete transparency to visualize workflow in different ways like:
Timeline View 
If provides a project display as a series of tasks on a timeline. You can connect tasks that depend upon each other. This view is similar to Gantt charts.
Board View
Displays tasks on a Kanban board divided into several columns (just like Trello).
Calendar View 
Allow project display on the calendar which ensures your project process is in the right direction
List View
The name says it all! here you will get the projects displayed in a form of a list. You can easily segregate lists into different sections to make them more organized.
Features offered by Asana:
Assign due dates

Comment on tasks

Third-party app integration

Divide to-dos into subtasks

Attach Files
Asana is available for the below platforms:

Tech-stack to develop app like Asana:
JavaScript frameworks
JavaScript libraries
Web frameworks, Web servers
Widgets
Analytics
Caching
Programming language
Webmail, Email
Marketing automation
Tag manager
CRM
PaaS
Cookie Compliance
A/B Testing
Based on your project needs and the target audience you can get the app for a particular platform. If you want to create an app like Asana then you can hire Hybrid App Development then can create the app of your choice. 
ClickUp
ClickUp is more than a project management tool. It allows companies to visualize their project status using calendars, boards, Gantt Charts, and lists. Moreover, this powerful tool also offers a box view where you can witness the performance of each team member on their assigned task. This tool is best in the case of managing a large team where it becomes hard to analyze the performance of every individual. 
Features offered by ClickUp:

Combine to-do lists

Flexible project management

Screen Capturing

Gives a broader view of your project with goals
ClickUp is available for the below platforms:

Android

iOS

Mac

Windows

Linux

Amazon Fire

Web
Tech-stack to develop app like ClickUp:
JavaScript libraries
Widgets
Analytics
Linkedin Insight Tag

HubSpot Analytics

Segment

Matomo Analytics

Intercom

Hotjar

Google Analytics
Webmail, Email
CDN
Marketing Automation
Advertising
Tag managers
PaaS
SSL/TLS certificate authorities
A/B testing
Want to create an app like ClickUp? Get in touch with a superior mobile app development company to get your dream app equipped with the latest features and functionalities.
nTask
nTask is another hit in the list of best project management apps. It allows you to break down your project into workspaces that include different tasks. Each task has its own defined goals and productivity. nTask offers an aesthetically pleasing and interactive user interface design. This versatile tool eliminates the need for an outside resource for time tracking. 
Features offer by nTask:

Time tracking

Schedule meetings

Add to-do list

Set start and end project dates

comments
nTask is available for the below platforms:

Tech-stack to develop app like nTask:
JavaScript libraries
Slick

jQuery

Modernizr

Axios
Video players
Databases
Live chat
CMS, Blogs
PaaS
Widgets
Analytics
Web servers
Programming languages
Operating systems
CDN
jsDelivr

Amazon Cloudfront
Web server extension
When it comes to developing apps, Android and iOS grabs all the attention. If you want to create an app like nTask you can hire an iOS app development company or avail to of android app development services based on your preferences. 
Basecamp
Last but not least! Basecamp is giving tough competition to other apps by offering breathtaking features and functionalities. It breaks down the entire project development process into small tasks. It offers features like automatic checks where team members are prompt to avoid unnecessary meetings with management and report on their progress. 
Features offered by BaseCamp:

Message board

Calendar

Group chat for quick messages

Storing documents, spreadsheets, and other external files

To-do list
Basecamp is available for the below platforms:

Android

iOS

Mac

Windows

Web
Tech-stack to develop app like Basecamp:
Programming language
Web servers
Reverse proxies
If you are willing to develop an app like Basecamp then hiring a reliable project management app development service provider is the right idea. Developing a project planning app requires strong technical knowledge. It is recommended to hire an app development professional for modern business options.
Factors that determine the project management app development cost for managing and scheduling projects:
Development Platform
Three supreme platforms are highly preferred for developing an app – Android, iOS, windows OS. Before you choose a platform, know your target audience and their requirements. Based on their needs you can choose a platform. The mobile app development cost varies for different platforms. Before you choose any platform make sure that it matches your business requirements and market demands.
Research
The prime need of research is to identify the market demands. Research before executing a project plan is necessary for the success of your app. This is the most sensitive phase that causes quality product development. 
Human Resource
People working on your app development project are the key resources that influence the cost. To develop an app for any business domain you need to hire a mobile app developer, app designer, and a project manager who can supervise the overall project. You can opt for off-shore or in-house developers. Both the options will vary in terms of cost. 
Native Apps or Hybrid Apps
The choice of developing a hybrid or native app depends upon your business specifications. If you want to target a particular platform then you can go with Native apps. Whereas hybrid apps can perform on multiple platforms. Native apps offer fast performance as compared to hybrid apps. The type of app you choose to develop will greatly impact the cost.
Testing
Testing is the key element that determines the project quality and cost. Following the right mobile app testing approach is key to delivering bug-free products. It is quite complex to modify your product based on the customer's feedback. It is suggested to follow standard testing methods from the start to the end of the project for quality satisfaction. 
Updates and Maintenance
Professional developers are committed to the finest technology for their clients. The cost of maintaining an app goes hand in hand. The cost of maintaining an app depends upon how frequently you launch an update of your app. If you hire a mobile app development company then you can ask them for these services. Availing of an app update and maintenance service will require paying additional charges. 
Features and Functionality
Features and functionalities are the key factors that determine the overall cost of mobile app development. Either you want to develop an app with limited features or an app with complex features and functionalities, it highly impacts the cost. If you want to add advanced features like automation and social media incorporation, it will cost you more. Based on your business requirements you can add features to your app
Licensing and Copyright
Licensing and copyright are the most important things to do before the final launch of your product in the market. It requires paying a certain amount to the app store.
Summing-up!
Small or big every organization aims to deliver projects quickly without compromising on quality. It not only helps them to build a potential client base but also makes them a reliable brand for proficiency and quality. Building feature-rich project management software has become a need of an hour.
Organizations must think of spending more time focusing on different aspects of their business rather than investing time in making project plans and development. Let your project planning and scheduling app do this for you. Choosing the right solution for project management is the best way to save time and money.
In this modern generation, you cannot survive in the digital realm with the old or outdated approach of project handling. You must think in a new way and take action to boost your productivity and performance. There was a time when most of the tasks were handled manually. Now the project management process is reshaping with smart automated methods. Business giants are looking forward to advanced and modern tools to perform tasks like reporting, team collaboration, task and resource allocation, enhanced productivity, and seamless communication while working remotely.
Sparx IT Solutions believes in adopting changes. Catering to international business with the modern business approach they don't believe in following the outdated and time-taken approach. Being a renowned mobile app development company, team Sparx has highly qualified app developers who are committed to delivering excellent project management products for different industry domains.
Useful articles, updates, offers and guide boon from SparxIT Team
Categories
Let's discuss your project idea.
Featured In