The global mobile app development is projected to be worth $407.31 billion in 2026. Considering the CAGR between 2019 and 2026, the market is growing at 18.4%, mentions Allied Market Research.
However, there are other statistics that may surprise you.
67.8% of the mobile applications have shown less than 1000 downloads.
Only 0.5% of the apps succeed which means more than 9 out of 10 people are failing at their mobile applications.
There is a high probability that you may FAIL at getting the results you expect your mobile app may deliver.
That's not a pessimistic opinion but what numbers are telling us.
So, how do you escape this most common situation and become a favorable odd?
There are three things you can do- Validate, Validate, Validate.
Now we know you are having a bunch of questions such as;
What are the stages of app validation?
What are the different parameters to consider for validating an app?
Why is validating your app idea important?
How do we validate your app idea?
This blog post answers all of the abovementioned questions. At the end, you will probably understand how, why, and from where you should avail app validation services.
Let's dig in.
Stages of App Validation
Every time you want to ideate something new, you brainstorm things. Working on your app vision is one such instance. You need to find ways to strategize what and how you want to deliver to your audience.
An app validation company working on your vision would discover different ways through which you can deliver a robust product.
You launch your product to the market where your competitors might already be offering what you are about to.
But, the market does not only revolve around the competitors. You need to identify and implement the trends that will make you competitive, trending, and future-ready.
An app consulting company will perform SWOT analysis and use a growth-share matrix that will help you become market-ready.
App experts would extract information from forums, groups, and other sources to understand what market has to offer to the type of product you offer.
It's the market that tests your app's compatibility with the audience corresponding to other available options.
You will need to identify what the market expects from your app in terms of features, functionalities, business model, payment terms, and scalability.
Such a strategy will help you build a market-ready app that fits well to the evolving needs of the audience.
Deciding whether or not to develop an MVP is crucial for business owners having a low-scale budget and time. These administrators cannot afford delays, continued risks, high-scale investments, and everything an established business enterprise could bear.
Minimum viable product (MVP) is a version of your product that comprises the core functionalities.
Also Read | A Step-by-Step Guide to Build a Minimum Viable Product (MVP)
Product prototype is a lightweight representation of your mobile application. An app development company can use a prototype to visualize what the end product of their client's choice will look like.
It helps escape any conflicts in terms of meeting the end-goals.
App Marketing and Monetization
Once your app is developed, you get an opportunity to market it. You can use marketing automation tools or other popular and effective techniques to reach out to an adequate volume of audience.
App monetization allows you to ensure that you adopt the right ways to generate revenues from your mobile application. It begins from choosing the primary pricing model and identifies additional ways to increase overall earnings.
Different Parameters to Consider For App Validation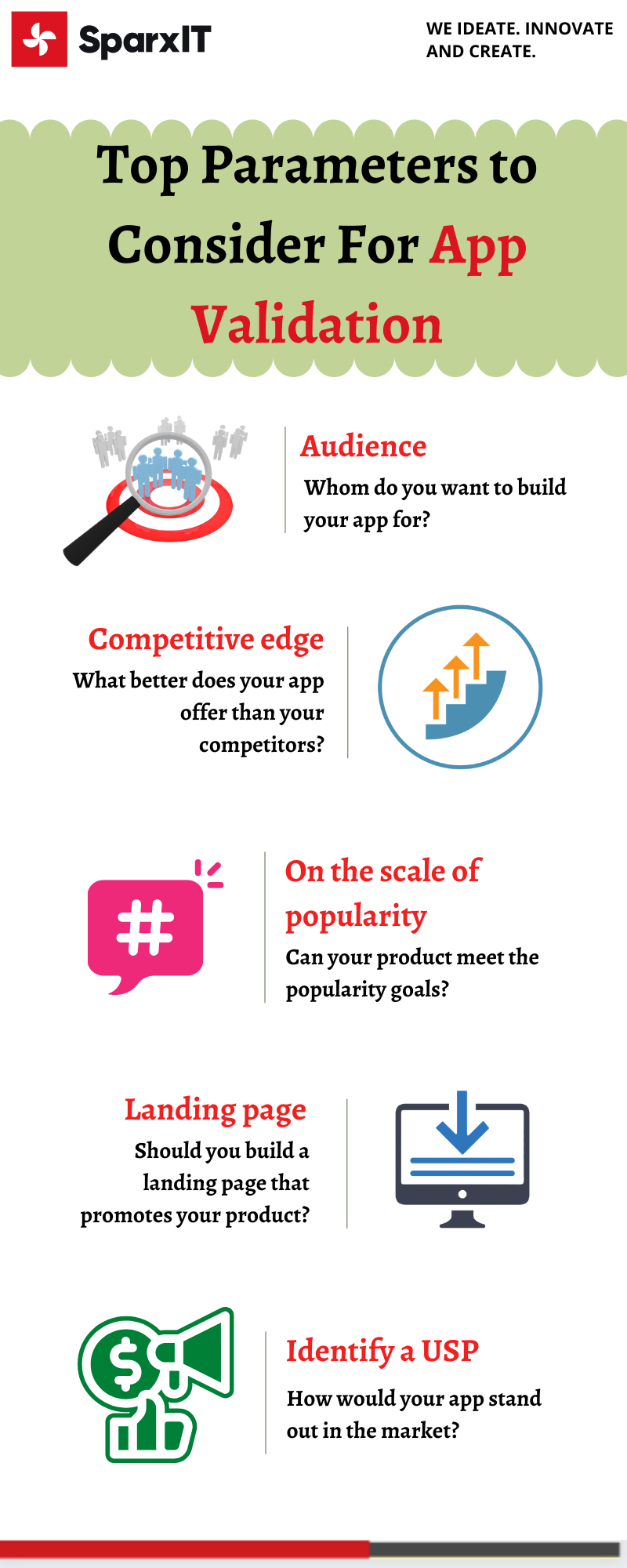 While you validate your mobile app, it becomes crucial to comprehend who your audience is, what they expect from a product like yours, and how well you can cope with their requirements.
It begins from writing the app story and comprehending the user journey.
You can identify the crucial loopholes in the process and include the advanced tools that empower the fundamental structure of your mobile application.
Since the goal is not merely to create an app but to make it stand out in the market and meet the end-goals.
Without considering a competitive edge, you will always end up missing something new that your competitors may offer better than you.
You cannot overlook anything that lures your audience and must consider packaging it with your app.
Alongside this, you must identify where your competitors failed so you can avoid the most common mistakes made by them.
On the Scale of Popularity
Why does popularity matter?
Because it eases your marketing efforts. It helps you sustain your product in the market.
By adopting the trends, building a strong product, and choosing a smart marketing strategy, you can enable your app to catch the eyes of a large section of the audience.
Building a landing page can be an effective way of promoting your product to your prospect even before its launch. You can create a small base of users that you can utilize in order to gain early sign ups.
You can list the features of your app to build a credibility base.
Building a USP can take your app to new heights. App experts work alongside clients to identify the USPs of their mobile applications.
All the above-discussed parameters will help you identify what makes your app a unique addition in the market.
Why Is Validating Your App Idea Important?
App validation saves your resources that you may have to spend if the delivered app is not up to the mark or does not meet your project goals.
By visualizing the design, features, and everything that your prospect will interact with, you can predict the customer journey.
By predicting the customer journey, app development companies get a chance to work on the blockers your customers may face while using the app and rectify them well before the delivery of the final product.
One Step Closer to Success
You want to ensure that your app is a success. You always want to keep growing your ROIs.
App discovery services help you counter possible failures in your applications and get one step closer to success.
By validating your app's overall structure in terms of design, development techniques, features, functionalities, customization, and personalization, you can remain well ahead in the competition.
In an outpacing market, staying competitive becomes a foundational need for every product.
Validation comes handy even while planning to avail app maintenance services as you require a thorough plan of implementation that demonstrates every elemental component while scrutinizing the existing architecture and restructuring the product.
How Do We Validate Your App Idea?
Every app development company working on a project will consider undergoing the app discovery phase, so do we here at SparxIT.
Our experts will prepare a functional scope document to structure your app's feature. Moreover, we identify how you want to approach the design and development of your application.
We create a well-optimized budget plan so you engage in cost-efficient creation and deployment.
To visualize the final product before getting into the real development, our app designers create a clickable prototype that replicates your app.
Our team of app marketers will finalize the marketing and monetization strategy for your application so you truly understand what you will do with the app post delivery.
Afterward, our app designers and developers will use their technological skills to build a real app inspired by or emulating the prototype.
Conclusion
Validating your app is a complete win-win situation for every client. However, many overlook the process and end up facing foundational issues in the end.
The app market is becoming increasingly competitive and you can work with the experts to help you incorporate dynamic capabilities to your product.
You can share your app plans with our team of experts, and validate your idea.
Useful articles, updates, offers and guide boon from SparxIT Team
Categories
Let's discuss your project idea.
Featured In