Don't design for brands, design for users interacting with brands. Web design is an art of creating authentically cogent websites to attract visitors. Web design services consist of two parts which are the look and functionality of websites. The website design is majorly focused on appearance, layout, and engaging content. When we talk about "trends'' it is a constantly changing factor. Knowing the latest trend doesn't define your knowledge base but to know which trend is the best fit for your project is a professional way of working. In today's high tech world, modern website design is in huge demand. The electronic gadgets are reshaping to fit in your palm.
Nobody wants to carry a big desktop or measure a long path to get needs fulfilled. Every next entrepreneur in the market is looking forward to hiring a website designing company that can create a lead generating web design. People are more into using mobile phones. They expect to get their required information served on their fingertips. The ultimate reason for creating a web design with a lower bounce rate and higher conversion count is to make it mobile-friendly.
When you hire web designer make sure he is crystal clear about the goal of web design. The developers must be focused on creating a website that behaves according to screen resolution, platform, and business goal orientation. It is practically needed to have one design for different devices and screen resolutions. Keep in mind that a website that generates huge traffic be at the top of the Google ranking. Nothing is more attractive than a user-friendly website.
Interactive web design can maximize revenue generation and also provides a great user experience. First, let us know about some interesting facts of web design that shows how it can impact your business and user experience:
Your website is far more than a shop window for your business. Businesses are getting so much to explore in online gleam, whether you are an e-commerce, b2b, or b2c business holder, your company needs a site that can be a long last source of lead generation and conversion. The business has nothing to do without a website. Are you thinking why I sound like a one who is "website obsessed"? Why am I giving extreme importance to web design services? Here I will be answering all your questions. Let's know about what are those factors which help your business to grow online:
Benefits of an Effective Web Design For Your Business
Establish an online presence
If you have a physical or home-based business location then having a website will provide a digital storefront for your business. The online business promotion will undoubtedly increase your customer reach and result in great revenue generation. Having an online store will legitimize your business by providing a reference to your target audience.
Boost brand awareness
Using a website as a tool to provide information is a great idea. Whatever services or products you are selling, a website will serve all the relevant information to the users instantaneously. It will not only save your time but also provide ease to the users as all their required details will be available on their fingertips. An online introduction to your brand is a way to increase your customer reach.
Increase Sales
Online business stores are not time-bound. Both Entrepreneurs and users are not required to look into the market for estimated timings. The website works for you 24*7 even when you are not physically involved in your business. It gives users a major comfort of shopping any time they want which somehow results in drastic sales increments.
Maximize Lead Generation
An appealing business website holds tremendous power to get you maximum leads in a short interval of time. The end goal of any business is to generate leads and revenue growth. You can accomplish your goal by putting up your business right in front of people who are looking for your services and products.
Conversion Rate Optimization (CRO)
In internet marketing, a convincing website provides smooth navigation to users. It tracks the action taken by the users and stops them to complete the desired goals. Web design services provide interactive web design to optimize the conversion rate for your business growth. You can say this is the primary reason why business owners have a hunger for highly professional websites. It is a door to welcome their visitors and convert them into a regular customer.
Trust Building
Websites give a face to your brand. Today, every user does prior research before taking any service or products. Adding a portfolio with details about your business on the website will help users to know about where you stand in the market. They will be able to decide whether they are going with a worthy or worthless service provider. Your website should be a storyteller of your business. You should hire a website designing company to design a website that creates a bond between your brand and users.
Why does user experience matter?
A website with less user interactive design will no longer sustain in the online environment. Yes, because the user experience is related to how users grasp your site. UI/UX is specifically important for user's retention and provides them a positive experience. Check out the below-mentioned factors which define why it is mandatory to have great user experience:
Increase ROI
Every business is aimed to earn money. The success of any business can be measured by its profit figure. Your investment should be made by considering the user's point of view, high demands, and requirements. A website with satisfactory user experience can give a considerable return on investments.
Positive Reputation
"Your customers won't love you if you give bad services, your competitors will" by Kate Zabriskie. An online business environment is a highly competitive world on its own, and it gets more challenging when your business niche is not unique. Convenient user experience design, clear navigation, minimum load time, and other elements that contribute to great user experience comes under priority. All these factors will be responsible for the positive feedback across platforms for open discussions like Quora, Forum, and social media sites that build up a positive reputation for your business.
Strengthen Your Market Demand
Don't let your brand leave a negative remark in any individual's mind. People have conversations to share ideas. Single satisfied users can convince next coming users to convert into your client. This will not only increase your brand promotion but will also increase your demand in the market.
For investors, we strictly recommend proceeding with a web designing company that is deeply involved in providing high-end web design services. There are various web design inspirations in the market that will help you out in creating a successful website. In this blog, we will also discuss what is the next big thing and future trends in the market that contribute to the extra-ordinary user experience design.
Now let's cover the most critical area in website design which is "Web design trends":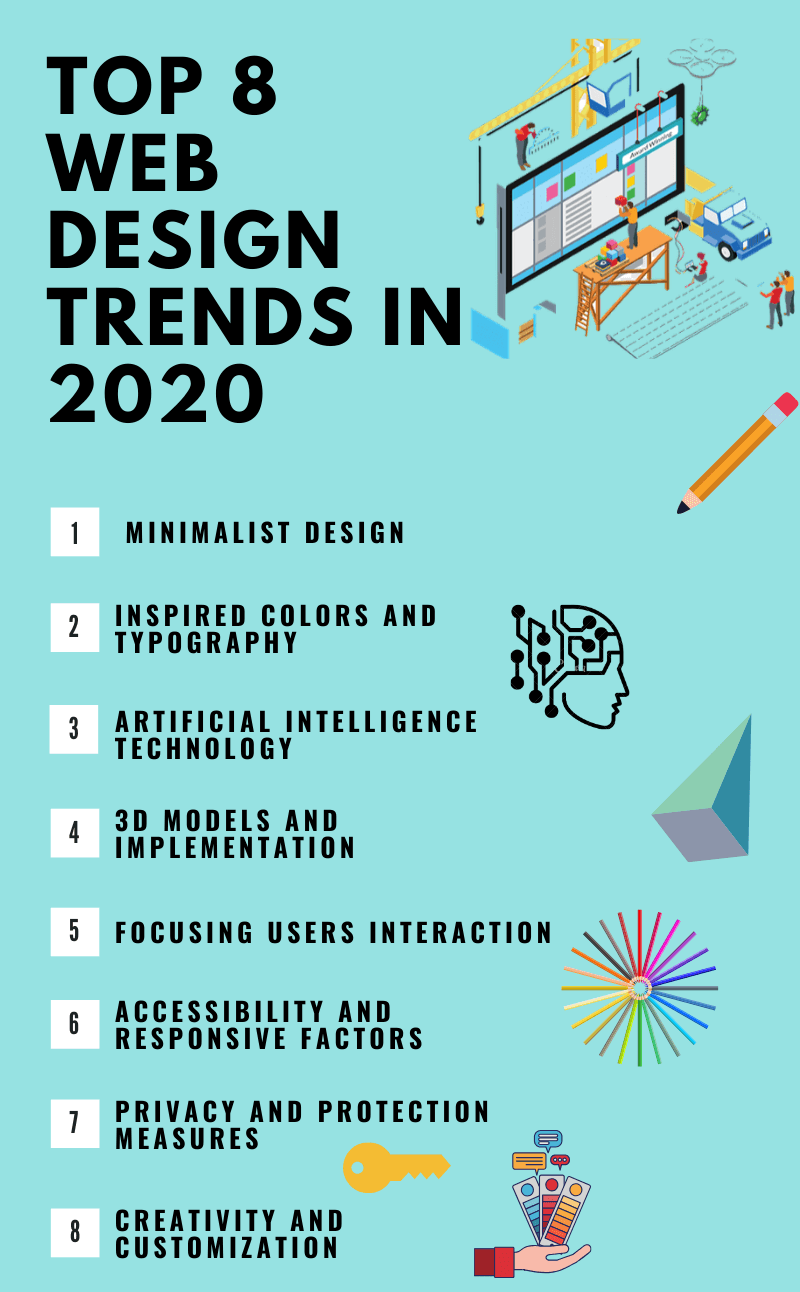 Word "trend" cross your mind? What do we call trends? The pattern which is running currently in the market? Or something which is most appropriate for your business? Let me tell you a very minor thing which creates a major impact. Web design trends constantly change in accordance with the business needs in the market. In the nearby 1990s, the first website came into construction and designers try to find out how the website looks. The entire site was based on text with minimal images without any real layouts for an alternative to your text.
Tim Berners Lee launched a website in 1991 which consists of texts and links. The site was all about giving information for the World Wide Web. Later on, HTML, CSS, introduced in the market with advanced structure, theme, and functionality. Now, the year 2020 gives room for inspirational web design trends. Let us have
a detailed discussion about Latest web design trends:
Minimalist design
The prime focus for minimal web design is to establish the excessive features and gimmicks to serve the precise information for the targeted audience. Minimalism is an art of taking away any complexity involved in reading and navigating the website. It adds value to your website by adding precision and
relevant brand information.
Inspired colors and typography
The web design service providers declared color and typography as the central stage for interactive website design. These two factors have strong visual strength expressiveness which increases user engagement.
AI technology
Artificial Intelligence (AI) can be considered as the future of web design. AI is offering advanced usability and user experience by automating the web design and development. Leading business giants like Adobe, Firedrop, Squarespace, Bookmark, Wix are already involved in AI for a strong online presence. AI's latest intervention has enabled designers to create UI/UX ultimately more human.
3D models and implementation
3D web design models are the new frontier for advanced business sites. 3D models take a room to make the design more realistic and presentable. It acts as a wow factor in terms of visual and compatibility. The 3D model was launched in 2011 to eliminate the plugins and render 3D graphics with a compatible browser.
Focusing users interaction
Maximum user interaction is the focal point in the latest web design trends 2020. Focusing on different criteria for targeted users like age or any user with any physical disability, the new web design trends follow advanced modules and features. Adding audio video is one of the major parts to let the users understand your business message who cannot read or who don't have time to read long text. To maximize the user interaction it is mandatory to serve advanced features to serve different types of potential customers.
Accessibility factors
The accessible website introduced to eliminate the barriers in the tech world. Accessible websites are designed to serve users with any type of physical disability. The accessible website is designed to serve all people whatever their ability. The accessible web design encompasses disability factors that badly affects web accessibility including:
Visualization
Auditory
Speech
Neurological
physical
Cognitive
Privacy and protection measures
The website security breaches are not desperate to steal your data or web layout but to use your server, or set up a temporary server to dissolve illegal or infected files. Using HTTPS, Validation on server and browser both sides, protection against cross-site scripting (XSS), keeping software updated are some basic security hacks. Additionally, it is suggested to change the default configuration setting during a particular interval of time, proper password management, continuous monitoring, and deploying firewalls.
Creativity and customization
Modern design, set of codes, grid layout, and real photo selection is the path to create a creative web design. A customized website talks directly to the customer without any glitch. Smartly structured and easy to navigate websites make users stay on the site for a long time. Creativity and customization create a connection between user and website. For flexible web design with improved browsing experience, it is strongly recommended to customize it according to the user's need as it leaves a positive impact. We can also say that customization is one of the major influencing factors for the industries and users.
Website designing company must have a professional team of developers with the following expertise:
– Well versed about the fundamental principles of coding and markup languages HTML/CSS.
– For a functional and interactive website, he/she must have strong hands applied to JavaScript.
– Knowledge of Photoshop for designing, editing and stylizing your website to look more attractive
– Should have mastered WordPress. Millions of websites functioning on WordPress.
– To hone the online presence, the developer should understand your target audience.
– Should be involved in creating a compatible website for optimal user experience.
– Updated knowledge about web design trends to implement the best one according to your business goals.
Why are industries and users drastically moving towards appealing and convincing web design?
Every next entrepreneur is hiring a website designing company involved in creating advanced and futuristic web design not only to boost his brand awareness but because it is also highly preferred by users. Users are getting more friendly with the mobility featured website as lots of web browsing takes place on the mobile device. Clear navigation, call to action, engaging and precise content, efficiency, strong readability, interactivity, and most importantly converting visitors are the prioritized reasons to go with CRO web design. Lead generation in itself plays a major role in promoting rich quality web design services.
As per the above discussion, you must have a clear picture of the trends followed by web designing company to serve the needs of entrepreneurs and users both. Web designing is categorized in different ways like accessible web design, adaptive web design, and responsive web design. As per the latest trends and demands, the entrepreneurs choose the right web design model as per their business needs. All web design models are a masterpiece, it's up to you which one to choose for better brand promotion. Web design trends are nothing if the strategies are not well implemented to serve trendy market requirements.
Useful articles, updates, offers and guide boon from SparxIT Team
Categories
Let's discuss your project idea.
Featured In