Magento has already provided information that all kinds of support for Magento 1.x will be ended by June 2020. Now, the time is very close, so this is the perfect time to migrate your website before it's too late. After the end of support for Magento 1.x, all the existing sites running on Magento Commerce 1.x or Magento Open Source 1.x will be running on outdated eCommerce platforms. And, your website will face significant risks if you continue using Magento 1.
To keep up with the latest technologies in the industry, many Magento development services companies have started working only with Magento 2 and stopped developing eCommerce stores on earlier versions for clients. Hence, by continuing with Magento 1, you will not only miss out on the benefits of the latest technology but also you will not find help when you later decide to redesign your site for the existing platform.
Reasons to migrate to Magento 2 from Magento 1
Now that the company has notified users about the end of support for Magento 1, then using this eCommerce platform is not recommended. If you still choose to use this platform beyond the date, then you will face many problems while managing your site. The following is a list of disadvantages you will experience if continue with Magento 1:
No Quality Fixes
Magento will no longer provide fixes for Magento Commerce/Open Source 1.x, so the functionality of your site will be broken due to lack of maintenance. Also, you will not be getting the full benefits of the platform with Magento 1.x, as there will be a lack of extensions being maintained.
No Support
All the official support that merchants had been receiving till now will not be available to them anymore after Magento 1.x is defunct in June 2020. As a result, it will be tough to find quick technical support when there is some issue with your website. In that case, considering Magento development with the latest version is the best option.
No Security Patches
As soon as Magento stops providing support and releasing security updates for the Magento 1.x platform, you will lose access to your payment gateways due to an outdated platform. With the absence of the latest security updates, your eCommerce store will become vulnerable to hacking and malware attacks. Not only will hackers be able to gain access to your site quickly, but also it will no more comply with PCI standards.
No Third-party Extensions
In the absence of proper maintenance, the current extensions will not be compatible with the new patches available for the core platform. Also, your extensions will not be receiving new security updates that will dig a hole in your website security as the site will become vulnerable to hacking.
These are all the difficulties that you will face if you do not upgrade your website to the Magento eCommerce platform above 1.x editions. It is high time to look for Magento web design services and migrate your store to the newer version.
Benefits of Choosing Magento 2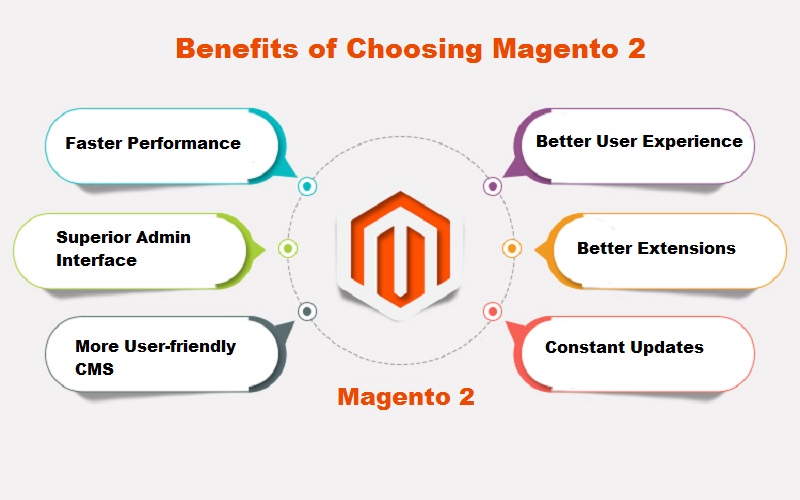 Magento 2 comes with excellent features and functions that make it a perfect platform for eCommerce development. It is competing with top eCommerce platforms like WooCommerce and Shopify. Here is the list of benefits that users get with this eCommerce platform.
Faster Performance
The new Magento 2.x versions are improved for performance, and they run faster on an average than Magento 1.x versions. Further, Magento 2 comes equipped with full-caching capability that enables pages to load very quickly, i.e. only in 1-2 seconds as compared with 5-10 seconds for non-caching pages. Also, it can handle many catalog pages without compromising on speed.
The loading time for the homepage, product pages, and category pages is less than 1.5 seconds, even when there is no front-end caching. Numerous technologies were integrated with Magento 2, resulting in reduced server response time, more effective backend operations, and page optimization for faster speed.
Superior Admin Interface
The newer admin panel found in Magento 2 makes website management faster and easier. It's very user-friendly and easy to learn for new users. Admins can also customize this panel as per their preferences to access the necessary information quickly. So, the admin panel can be tailored for every admin user to enhance productivity while managing customer data, orders, and products.
The new admin interface also offers a much easier way to create products. With the capability of drag-and-drop layout editing, Magento 2 provides an easy way to modify your eCommerce store's appearance without having extensive knowledge of coding.
More User-friendly CMS
Magento 2 is not only designed to be customer-focused, but it is also suited to administrators and website owners. One critical problem with Magento 1 as compared to other eCommerce platforms like Shopify was that the admin interface was confusing. But Magento 2 provides a cleaner and more straightforward admin interface that makes website management a painless job.
Choosing the Magento development service with the latest eCommerce platform enables you to create a more user-friendly and intuitive eCommerce website. The new admin interface comes with more logically organized sections, search function, faster product creation, and more.
Better User Experience
Magento 2 comes with several improvements in user experience that offer to build attractive websites. It provides the following benefits from a user experience perspective:
Optimized checkout: Checkout process optimization is Magento 2 is an impressive improvement. It provides a 2 step process that is quite easy to navigate and view, option for creating accounts on the confirmation page for guests, and orders summary with images of products. It also provides a means for sending abandoned cart emails.
Fully responsive: When you choose Magento web development services with Magento 2 platform, you will get a fully responsive website. This eCommerce platform comes with a responsive theme out-of-the-box. As a result, all sites are optimized for both mobiles and desktops.
Enhanced payment integration: You can more tightly integrate payment gateways like Braintree, PayPal, and Authorise.net. Also, with your Enterprise Edition, you use WorldPay and CyberSource.
Better Extensions
The quality of extensions has improved with the team of Magento monitoring extensions after Magento Connect was replaced with Magento Marketplace. So, the extensions for Magento 2 go through strict quality review, and they have to be approved by the team before appearing in the marketplace. Hence, now you can make sure that the extensions you purchase for your eCommerce store are of high-quality. So, you will obtain high-quality extensions for your eCommerce store.
Constant Updates
Magento 2 comes with constant updates to make sure that users get the best of technology. Your web development company can take advantage of the latest advancements to create a more robust, secure, and high-performing eCommerce store for you. So, you will be able to harness the latest technology to keep your store aligned with your customer's interests.
Process of Migrating to Magento 2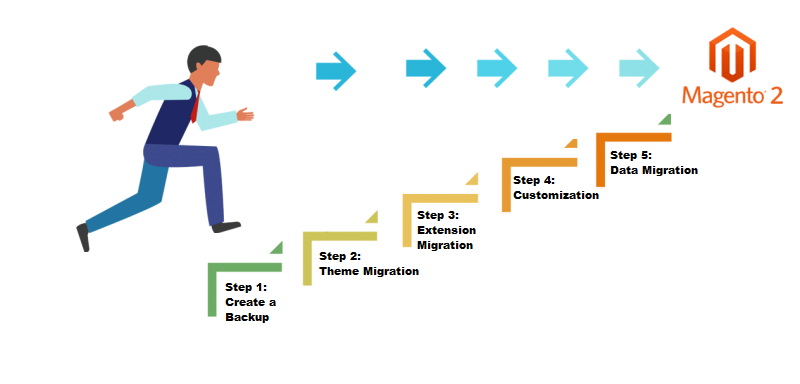 The process of migration from Magento 1 to Magento 2 platform is not easy and requires professional help. We recommend hiring a developer to complete the migration without breaking anything. Let's take a look at what steps are needed for migrating your site from Magento 1 to Magento 2.
Step 1: Create a Backup
Since the migration process is very complex, you may likely lose some data. Therefore, backing up your existing data is crucial to make sure that when things go wrong, you will be able to recover quickly. You can backup your site on an external hard drive, cloud storage, zip drive.
Step 2: Theme Migration
Magento 2 provides enhanced technologies and methodologies to deliver a better experience for merchants and improved shopping experience for customers. There is not a one-size-fits-all method for migration of every Magento website as it may vary from one website to another. You will need to create a new website theme for your new eCommerce store and make it mobile-friendly to provide a more excellent user experience. You can also buy and install a website theme from the marketplace. A developer can help you with theme migration.
Step 3: Extension Migration
The next step is to add the required functionalities on your site by adding extensions from the marketplace. You need to remember that your Magento 1 extensions will not work with the new Magento 2 store due to compatibility issues. So, look for the extensions that are relevant to your website on the marketplace. You can choose a Magento development agency that can help with extension migration.
Step 4: Customization
The custom code on your Magento 1 website may likely work with Magento 2 site, and there is a Code Migration Toolkit from Magento that you can use for this purpose. However, there are structural differences between these two eCommerce platforms, so you may need additional work to ensure that the custom code is integrated successfully. Custom Magento development services company helps to migrate your system safely.
Step 5: Data Migration
In this step, you need to migrate the data and settings of your existing website to Magento 2. There is an official tool from Magento for data migration, and it is called the Data Migration Tool. The tool allows migrating data and settings using CLI commands. It simplifies the process and helps to move data related to orders, products, categories, store settings & configuration, etc.
Challenges of Migration
Migrating from Magento 1 to Magento 2 is not a cakewalk as there are a lot of challenges in doing this task. The most critical problem for non-technical people who perform the migration without the help of a professional developer is the possibility of losing data. Thus, hiring a Magento website development company helps you eliminate that possibility and enables you to migrate without any data loss.
The migration will hurt the loading speed of your eCommerce store. You will need to optimize your website to improve the site speed. With the help of a developer, you can optimize your new website and make it ready to handle heavy traffic.
Besides data loss and slow loading speed, the migration may also disrupt your SEO ranking. It might be due to many reasons like change in the URLs of the product pages.
Final note
Web technologies are changing rapidly and providing better solutions for website owners and users. Magento 2 is an upgraded version of Magento 1 that comes with lots of benefits and excellent features that enhance the overall experience of the users and webmasters. Since the support for Magento 1 is going to be stopped soon, migrating your existing website to Magento 2 has become inevitable. If you want a helping hand in the migration process, you can count on Sparx IT Solutions. We are a leading Magento eCommerce development company with 10+years of experience in the industry.
We have highly-skilled and certified Magento developers who will take the pain of migration and move your existing website to Magento 2 while ensuring that your website data, configuration, performance, and appearance remain intact.
Useful articles, updates, offers and guide boon from SparxIT Team
Categories
Let's discuss your project idea.
Featured In