The Novel Coronavirus hit on the world economy has forced everybody to change their vision to look forward before making any decision. The impact of this pandemic pushed industries to revise their business strategies.
This unexpected change also left something positive that is advantageous for both industries and users. Yes, it's Android mobile applications that are in huge demand.
Due to millions of mobile device users, the mobile app development industry has already broken the digital ground with great success. But amidst pandemics, the need for mobile applications phenomenally increased. To avoid going outside, people started using mobile applications for ordering their required products and services at the doorstep.
We are aware that most industries have already shifted to the digital era, which has led to increased consumption of mobile devices. Developing mobile applications benefit businesses in numerous ways. Due to the changing market trends in online shopping and integrated customer experience, the mobile apps market has witnessed skyrocketed growth. On-demand mobile application development services like grocery apps, entertainment apps, money transfer apps have conveniently fulfilled customers' requirements.
When it comes to mobile apps, Android app development grabs a large part of the attention. The user-friendliness of the Android platform is becoming the thumb rule to lead in the upcoming years. With the changing demand and supply of services and products, the mobile app development space is emerging with the latest trends and technologies.
So, let us move ahead and discuss how Android App Development Trends for 2022 will transform the business model.
Top Trends that will Rule the Android App Development in 2022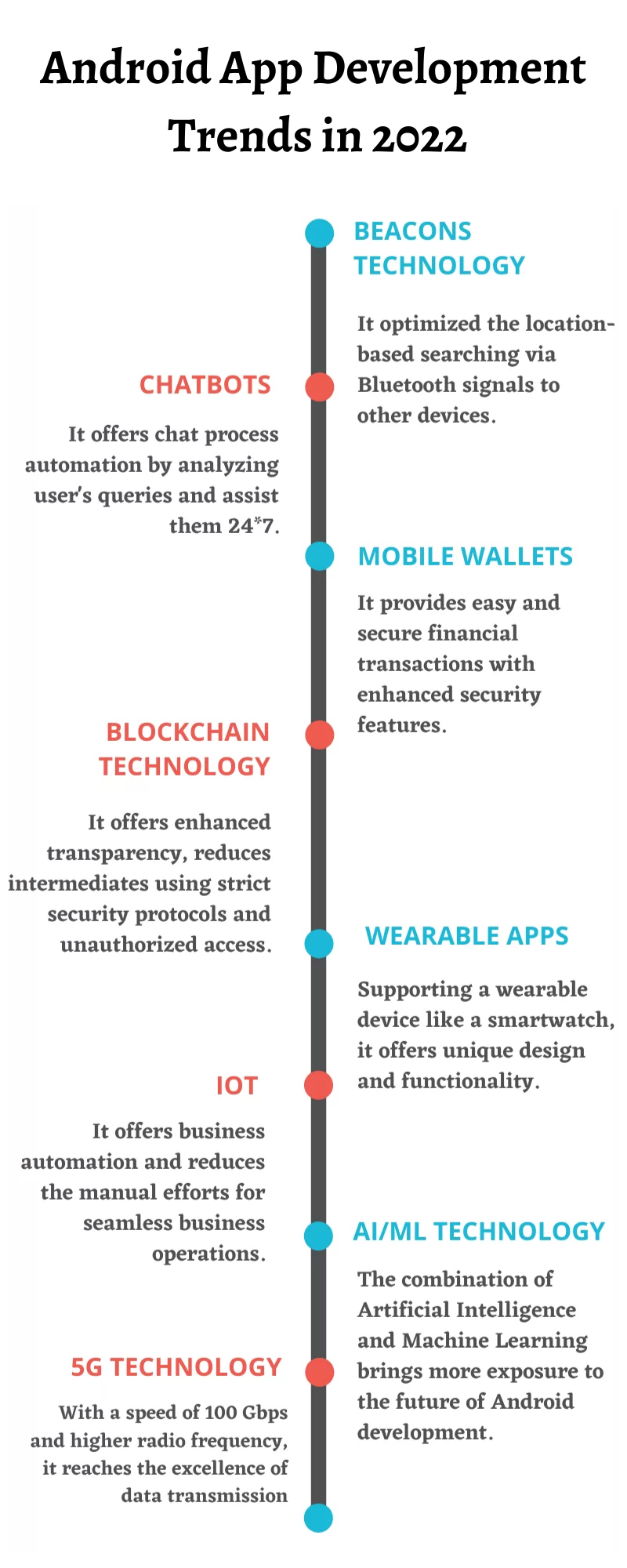 5G Technology
As compared to 4G networks, 5G technology is much faster, which is beyond your imagination. With the speed of 100 Gbps and high radio frequency, 5G technology reaches the excellence of data transmission with 1.4 billion mobile devices across the globe. You can hire an app developer who can implement 5G for a feature-rich app that enhances business performance.
Beacons Technology
It optimizes location-based searching via Bluetooth signals to other devices. It offers robust mobile app solutions by implementing potential product displays and designing clear mapping. It is the best option for delivering more personalized services offered to the targeted audience. It plays a lead role in maximizing user engagements.
Implementing AR/VR
After the inception of ARCore and ARKit by Google, Android mobile applications have gained momentum. Being an entrepreneur, it can be a core requirement to maximize your company's sales and revenue these days. Industries like healthcare, retail, education, travel, and so on are leveraging AR and VR Development Services for enhanced user experience and maximized revenue.
Chatbots
AI-powered chatbots offer automation to customer service operations. It provides proper assistance to the mobile app by analyzing users' queries and sending quick responses. Due to 24*7 customer assistance and much faster response user queries, chatbots integration in Android applications are at a peak.
Blockchain Technology
It offers decentralized app development solutions that enhance transparency, reduce intermediates using strict security protocols and unauthorized access. It is an ideal Android app development choice specifically for the financial sectors like currency exchanges, banks, and so on. A professional Blockchain App Development Company can develop ultimate blockchain solutions as per your need.
Below are the key benefits offered by blockchain:
Distributed data for better functionality in case of network failure.
Blockchain android applications are way safer and secure for data encryption.
It minimizes data loss.
Enhance IoT Development
IoT is the lead player behind business automation. Industries are moving towards optimizing human efforts and want to automate business operations. Investing in IoT Android app development becomes essential for business owners to capitalize on it. IoT devices are beneficial for both household and commercial purposes. With the implementation of AI and voice assistant devices, digitally connected devices can be managed remotely.
eCommerce
With the rise of Android mobile phones, the eCommerce mobile application generates more than half of the revenue. With the growing consumer's preferences for online shopping, they are more likely to download e-commerce android mobile apps for their desired services and products. The future benefits offered by mobile e-commerce apps are beyond your imagination.
Have a quick look at some USPs of e-commerce applications:
Higher conversion rate
Better customer loyalty
Competitive advantage
Personalized experience
Push notification for products, offers, and announcements
Secure payment gateways
Mortar stores with GPS features
Cloud-Based Android Apps
One of the biggest advantages of developing cloud-based Android apps is that it keeps an adequate amount of data safe. As we know, the Cloud is a big and safest platform to store plenty of data securely. Mobile applications based on this platform can potentially access data stored in the Cloud and process it simultaneously.
Wearable Apps
With the increased demand for wearable devices like a smartwatch, the demand for Wearable App Development Services got a sudden jump. Like other apps, it also uses the Android SDK but has a unique design and functionality. Hiring a Wearable App Development Company can help you avail the key services you need. Wearable mobile apps support smartwatches and give hardware access like GPU and sensors.
In the digitally transforming world, mobile apps are becoming more revealing, and developing a mobile application for your business results in constant advancements. As we discuss the top mobile app development trends now, it's time to focus on how to build a custom mobile app development tailored to your business needs?
Services a Professional Android Mobile App Developer Provides
Developing mobile apps based on the latest trend and technologies can affect your computing power and network bandwidth. Developing an app with the trendy requirement is both complex and easy at the same time, and it depends upon who the developer is. Yes, for interactive applications or to create an enterprise application that can perform on multiple devices, you can hire a mobile app development company.
Hiring a mobile app service provider will benefit you from app design to deployment. All you need to do is share your ideas about what key features you want in your desired mobile app. Whoever you are going to work with, make him/her familiar with your vision and business objective to get your dream mobile app.
Let's discuss the core services you can expect from a professional Android mobile app development services provider:
Android App UX/UI Design
An expert app designer implements the best design techniques to ensure 100% quality. He/she makes sure that the app has potential and interactive UI to attract visitors and offer a seamless user experience.
Custom Android App Development
Convert your vision into reality! A professional developer understands your point of view and business requirements. According to the business need, he/she customize the app with advanced technology. By optimizing the development cost, you will be able to accomplish your business goals.
App Support, Maintenance & Optimization
From designing, feature enrichment to high performance, hiring an app development company will benefit you with Android app maintenance and support. You will get your app optimized enough for feasible use.
Android App Modernization
With the cutting-edge modernization service provided by professional app developers, you can improve the productivity and ROI of your business. Mobile app modernization helps you to meet user preferences and boost up your sales.
Quality Analysis and Testing
Hiring an experienced developer will never let you compromise with quality. You will get a rich quality product with high performance and zero bugs. An expert developer follows the best security and testing practices to avoid any future glitch.
A professional mobile application development company will make sure to perform the following testing technique before final product delivery:
Beta testing
Regression testing
Installation and Update testing
Hardware specific testing
Local storage testing
Compatibility testing
Performance testing
Usability testing
How to Select the Right Company for Android App Development?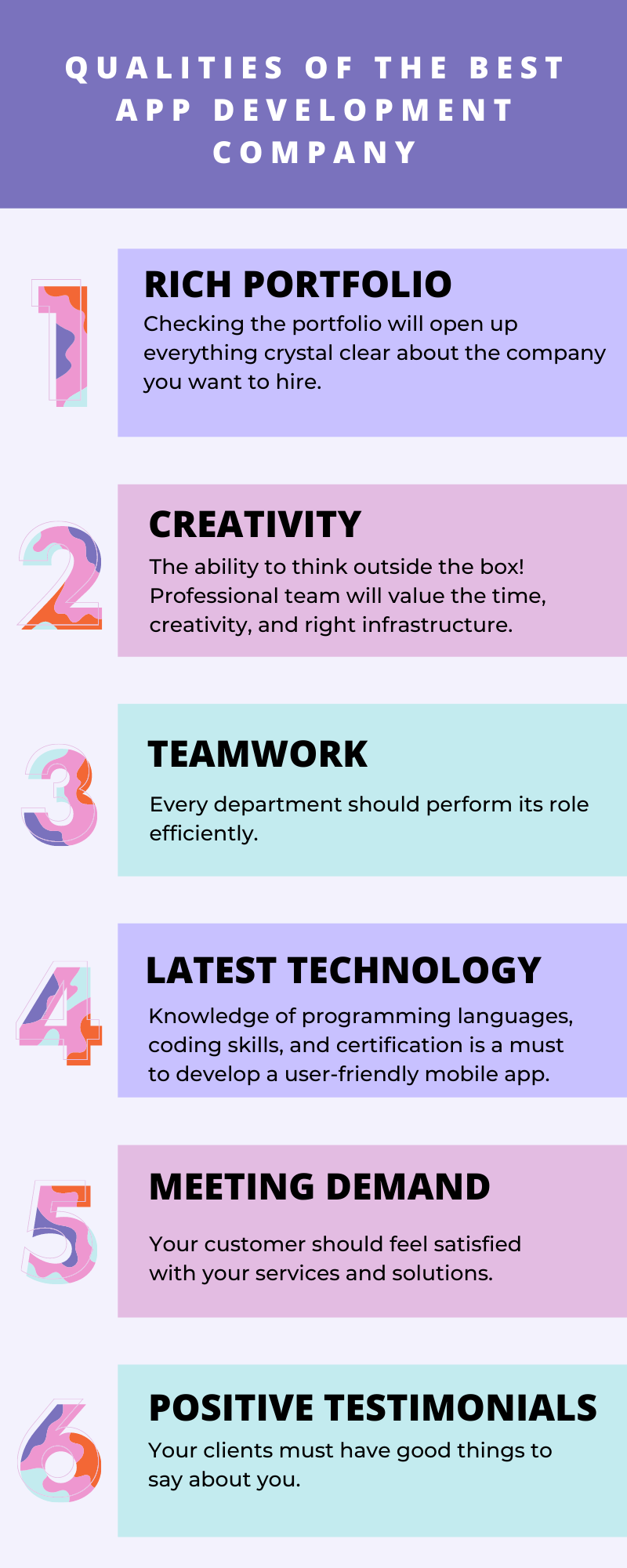 After getting familiar with the ultimate benefit of hiring a mobile development agency, you must be thinking about which company is the best option to choose. Yes, after all, there is not one or two, but thousands of options available. It's a bit complex to find the one that best suits our business needs.
Well, almost all the IT companies are into Android application development but, not all companies will deliver what you need. Instead of picking an option randomly, it is strongly recommended to follow a checklist for hiring an Android app development company.
Let's find out!
Check Portfolio
Checking the portfolio will open up everything crystal clear about the company you want to hire. A precise portfolio is wrapped up with every detail like work experience, product delivery and development time, fair idea about budget estimation, and how much experience the company holds in delivering the same services.
Social Reviews
Going through social reviews will help you to get detailed information. You will get the live experience shared by the existing clients. From service quality, work culture to the way of handling clients, you will come to know about everything.
Thorough Online Research
The right partner firm doesn't need to be your neighbor! You must make a research pattern to shortlist the list of top development companies. Once you have optimized the list of professional IT service providers, it will be easy for you to opt for one option. To simplify your research process, you can search on search engines or ask for references from your friends and colleagues.
Communicate
Conduct direct communication with the concerned person to have a clear idea-sharing. Faster and efficient means of communication is a must because the mobile app development process requires constant updates and suggestions throughout the development cycle.
Quality Over Cost
The best option does not mean an expensive option!. No matter how expensive a service you are acquiring, it's not mandatory to have quality assurance. For quality products, you must choose a certified and experienced team. A professional team will value the time, right development methodology, creativity, and right mobile app development infrastructure.
Technical Expertise
Knowledge of programming languages, coding skills, and certification is a must to develop a user-friendly mobile app. The developer you will hire must be aware of the right mobile app development framework, programming language, and agile development methodology for a technically sound product.
Conclusion
So, we come to an end. Hope you found the above-mentioned information fruitful. The year 2022 is going to be of creative technological advancement. You can receive ultimate Android app development services for the future growth of your business. It's all about customers, and every development revolves around their needs!
If you want to satisfy your customer's needs and deliver what they are looking for, you can hire Sparx IT Solutions. Working with international clients on numerous projects, we know what mobile app development trends will fulfill business requirements. Taking an expert decision will give a new dimension to your business.
Useful articles, updates, offers and guide boon from SparxIT Team
Categories
Let's discuss your project idea.
Featured In