Do you know 35% of the internet is run by WordPress? Its flexibility has allowed this CMS to grow exponentially since the launch in 2003. Today, WordPress has become the most used and celebrated Content Management Systems in the world.
You can hire WordPress Developers to create any kind of website from a personal blog to full-fledged e-commerce websites. Top-notch brand names from The New York Times, The Obama Foundation, The Disney Walt Company, BBC America to popular games like Angry Birds websites are made with the help of best WordPress developers.
When we compare WordPress to other CMS, it is crystal clear that WordPress is way ahead of its competitors. According to the W3Techs findings, as of April 10'2020, WordPress shared 63% of the total Content Management Systems' market share.
You must be wondering what makes WordPress beat other CMS with such a large margin. The flexibility and dynamic features of WordPress are the major reasons behind this preference for WordPress over other CMS. You must get detailed knowledge on WordPress VS Joomla VS Drupal to know what else makes WordPress the best CMS. Here are a few reasons why WordPress is the best CMS:
After every 152 days, a new major version of WordPress is released. Since its inception, 32 versions have been released.
The official WordPress directory has 50,000+ plugins which make WordPress development interesting and customizable.
There are free and paid WordPress themes for different niches.
WordPress is highly secure. There is a plugin called Sucuri to manage security issues for WordPress websites.
These benefits have resulted in a constant increase in popularity for WordPress. This, in turn, has given rise to the number of developers who have relevant experience and knowledge of this CMS. Out of the millions of developers its tough to make the selection for the top WordPress developers for your website.
Step 1: Your Top WordPress Developer Must Have These Qualities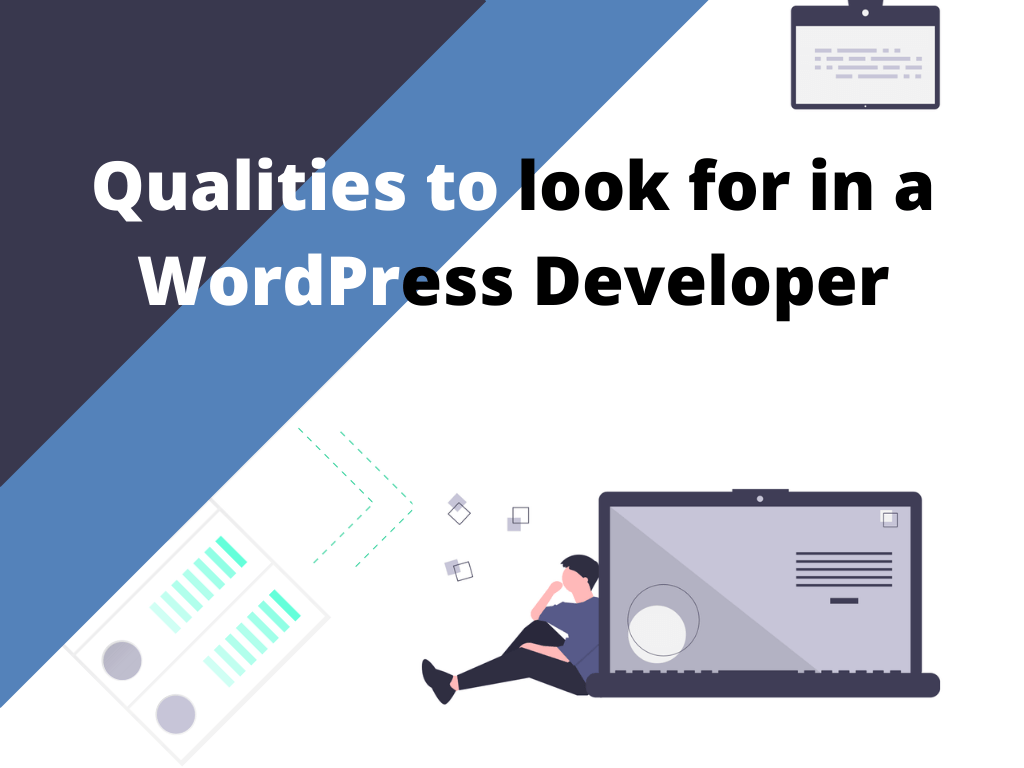 A WordPress developer is often regarded as a WordPress architect who uses this dynamic CMS to build websites. Anyone can become a WordPress developer as it is user-friendly but if they possess these 5 qualities then they are the recommended WordPress developer:
In-depth Knowledge of WordPress
Any developer who consistently works on WordPress will possess technical knowledge about the platform's themes, plugins, tool building, command line, etc. A naive will not be able to suggest the right themes and plugins for the appropriate situation.
If the top WordPress developers you are hiring cannot use their experience and knowledge to create customized websites for your business then their hiring is a complete waste of time. WordPress is an open-source platform that is easy to use, without technical knowledge a WordPress developer cannot offer what you are looking for.
Technical knowledge makes them experts to create dynamic, vibrant, and customized websites for businesses in different domains. Apart from this, make sure the developer you are hiring has active participation in the WordPress community.
Understands WordPress Security
You, being an entrepreneur, can work on WordPress as an experiment. But WordPress developers should have thorough knowledge about the security threats in WordPress. This is one of the most important qualities of these developers for which you need to hire WordPress developers.
If they suggest you download plugins from well-known piracy sites or choose the cheapest hosting then you should beware of them. Knowledge about security is essential to become a recommended WordPress developer.
Aware of the latest WordPress trends
Can you do business successfully if you are not well-aware of the strategies trending among your competitors? You cannot work in a vacuum, right? Similarly, the WordPress developers that you are hiring must have the knowledge of all the latest trends about WordPress.
A proficient WordPress developer will have knowledge about all the latest versions, plugins, and themes launched in the market. This helps them in debugging and customizing the website. With these qualities, they will be able to provide a flawlessly functional website. 
Looking for WordPress Development Services?
Contact Us
Technical Knowledge
An efficient WordPress developer will not be dependent upon the themes and plugins. They are experienced and smart enough to create their own theme widgets so that users like you with lesser technical knowledge can use them without any issue.
Moreover, apart from being proficient in WordPress, they would have already learned PHP codes. A good professional does not limit their learning and scope. By possessing technical knowledge, the WordPress developers will have the potential to follow competent web development processes.
Experience in various domains
To gain experience, you should perform challenging tasks. By using WordPress, you can create websites ranging from a personal blog to an eCommerce website. Make sure the eCommerce development company you hire has worked on as many domains as possible.
An efficient web developer has plenty of experience in developing websites for a different niche. You do not need to search for a WordPress developer who has the experience, particularly in your niche. But, they must have created different types of websites.
Step 2: The WordPress developers you choose to hire must provide these SERVICES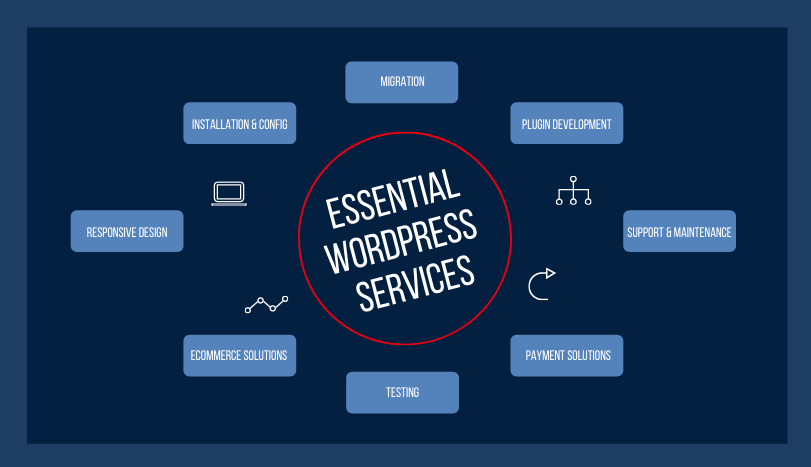 After checking their proficiency in WordPress development, it is crucial to check whether they are providing the services that you will need or not. Here are some popular services that the best WordPress developer should give:
Installation & Configuration
WordPress is an open-source CMS but its installation and configuration can be complicated for a non-technical person. So, to be on a safer side, make sure the website designing company you are planning to hire will use their industry experience to perform installation and configuration processes seamlessly.
Responsive Design
Do you know there are 5.19 billion mobile users in the world? You will have to get a website developed which caters to their needs too. Hence, it is necessary to make your WordPress website responsive with the help of the proficient WordPress developers. Therefore, the WordPress eCommerce development company must ensure that your website will work seamlessly on different devices and provide a smooth navigation experience to all the users.
Migration
Migrating your website to WordPress can be a lucrative choice for an entrepreneur. But developers find it tough and risky to do. Hence make sure to hire a website designing company that has complete confidence in their proficiency. They must ensure that their WordPress developers will not let any kind of data get lost during migration and perform this process impeccably.
Plugin Development
As explained in the previous step, a proficient WordPress developer will think beyond the tools they have in-hand in the WordPress directory. Your WordPress eCommerce development company must ensure to provide custom plugins according to your needs. These plugins will play a great deal in enhancing the functionality of your WordPress website.
eCommerce Solutions:
We all know, WordPress CMS can create wonderful eCommerce websites with seamless scrolling and loading speed. The eCommerce development company you hire must have experience in delivering such eCommerce development services. Integration WooCommerce with WordPress can create robust web stores.
Payment Solutions:
To integrate payment gateways in a website is one of the most crucial tasks not only for WordPress developers but also for the cyber regulating authorities. It is a major concern for entrepreneurs, developers as well as customers. Hire web developers who can implement payment options to your WordPress website efficiently with complete security measures and assurance.
Support and Maintenance
Constant support is crucial for anything to work seamlessly for a long time period. The same goes for WordPress websites too. You need to hire WordPress expert who is proficient enough to handle the maintenance part of your website diligently. They can work on this by giving regular attention to your site as well as the latest WordPress updates.
Testing
Do you think anyone should launch a website without ensuring it is bug-free? It's close to impossible to create a software product flawless in one go. You need testing experts to ensure it is bug-free and robust enough to be launched. An eminent WordPress development company will always have rigorous testing before finalizing their development.
Step 3: Hire WordPress developers who can provide these PERKS
WordPress development company providing the services mentioned in Step 2 is a great option to go for. Adding to these services, choose to hire WordPress expert who is ready to give the below-mentioned perks:
Quick loading:
According to a survey, 47% of the users want the website to load in just 2 seconds. This stat clearly suggests that loading speed can be a major reason that can drive your site to the grave. How are you going to ensure quick loading? There can be various reasons for the delay in loading of a web page, it can range from heavy images to coding. When you hire an efficient website designing company then they can assure faster-loading speed with optimum site optimization.
SEO-friendly websites
Do you know WordPress is highly SEO-friendly? It does not take much effort to optimize your site for search engines while availing WordPress eCommerce development services. A reliable and experienced website designing company takes essential care of this aspect. They design and optimize your WordPress site efficiently to make it search engine friendly.
Strict NDA
Safeguarding the crucial information and ideas is the utmost priority for any organization. Not all web developers are professional enough to take a pledge for ensuring complete confidentiality for their clients' information. Hence, always hire web developers who are ready to sign a strict Non-disclosure agreement to protect all your confidential data under a contract.
HIgh quality
Who does not need premium quality website designing services? It's a universal need of every entrepreneur but a not-so-universal feature of every service. You have to hire a WordPress expert to create a site with optimum performance and superb features. Check the quality of WordPress websites developed by them in the past before taking a final call.
Advanced features
The world is evolving, so are the trends in WordPress website development. There are a plethora of technologies being launched every now and then. Integrating the latest tech to provide advanced features to a website is what only experts have the potential to do.
Therefore, make sure to hire WordPress expert who knows about all the latest plugins, themes, and trends of WordPress. This allows them to adhere to the latest standards and create exceptional websites with advanced features.
Step 4: Ask these FIVE Questions to top WordPress Developer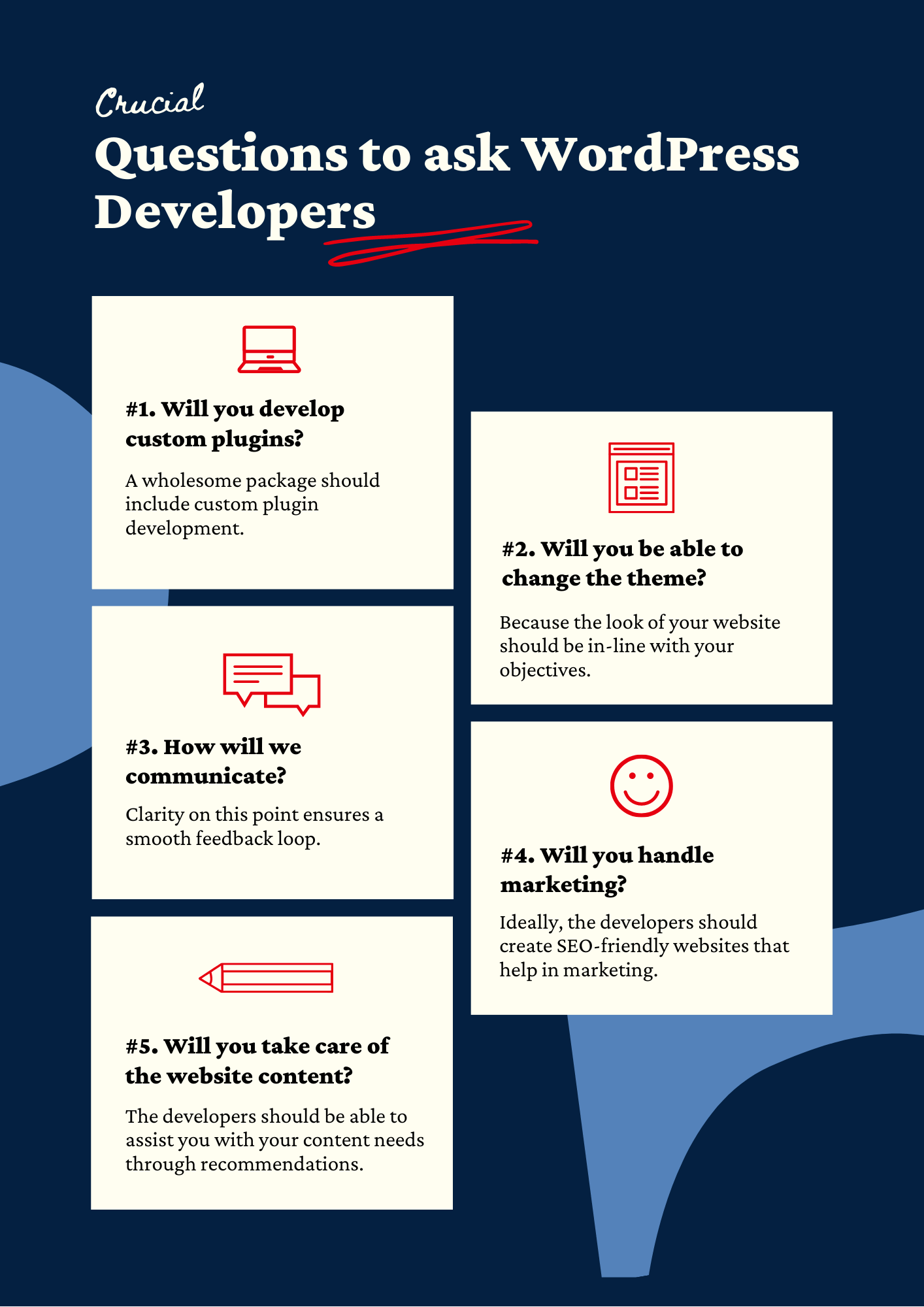 It is always better to ask your WordPress development company whatever you want to. Here are five questions that you should ask for sure:
Will you develop custom plugins?
Ideal Answer: Yes, our expert WordPress developers will use the appropriate plugins for WordPress development services. Apart from that, they also develop plugin widgets to provide an easy-to-use website to you. The custom plugins are developed according to the needs of the clients.
Will you be able to change the theme?
Ideal Answer: Yes, we can change the look of your website with a suitable theme. A new theme will change the color, font, and other aspects like menus of your site.
How will I communicate?
Ideal Answer: Our clients can communicate anytime with the WordPress development team. You can use any medium like skype, messenger, etc. to communicate.
Will you handle marketing?
Ideal Answer: Our WordPress developers will create websites according to the search engine perspective. The site will be SEO friendly which helps in marketing.
Will you take care of the content on the website?
Ideal Answer: Yes, we can take care of your content. There are both the options, you can either provide us with your own content or avail of our content services.
Step 5: Freelance VS contract VS full-time WordPress developers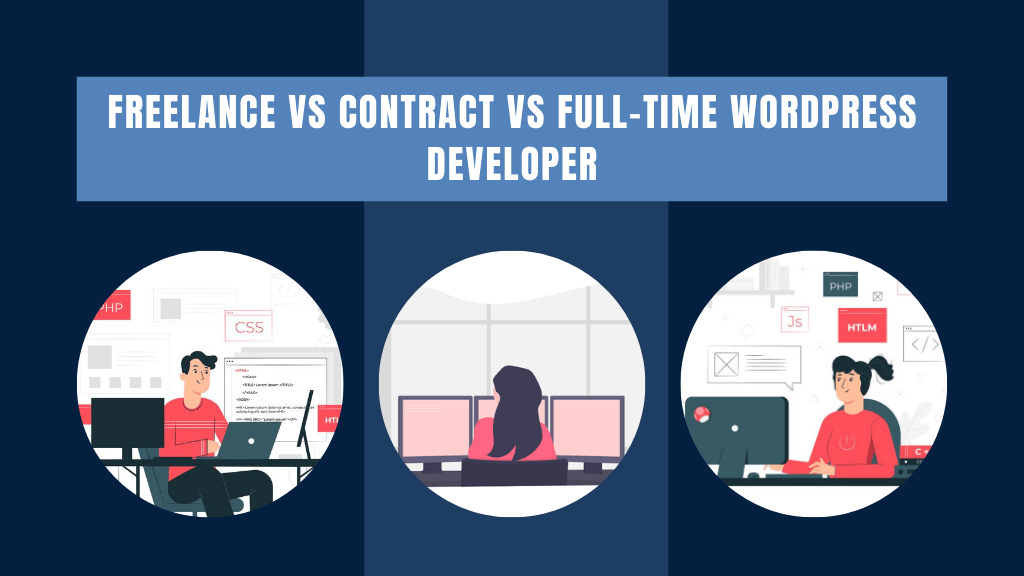 We all know that web developers can be hired from various sources and contracts. Let's check the pros and cons of hiring WordPress developers from three different sources:
Freelance Developers:
If you choose to hire web developers who deliver their services as a freelancer, you can get cost and quality benefits. Their experience is much more in numbers and quality as compared to a full-time developer. Although, it can be tough to trust their eCommerce development services. With the lack of proper background records, it can be a wrong decision to trust them with your confidential information.
Full-time WordPress Developers:
100% reliable web developers. When you will hire web developers full-time, they will be there for you always. This can be a pro as well as a con. It can lead to excessive expenditure as you will be liable to pay them even during the times when there will be no work. Apart from this, you might have to face quality issues as they have not worked with as many different clients as a developer who takes freelance projects or work on a contract basis. Hire WordPress expert from this source only when you are sure to get the maximum out of your expenditure on them.
WordPress development company (Contract basis):
There are web development companies that are offering services of WordPress developers on a contract basis. These can be an hourly basis, monthly basis, or yearly basis contracts. This resolves both qualities as well as cost issues. You will be paying for the time the developers devoted to your site development. Unnecessary expenditure will go down to zero.
Moreover, website development companies have clients from various industrial domains. This ensures optimum exposure to their web developers. To check the reliability of the website designing company, follow these tips:
Check their reviews and ratings on various sites and search engines
Scrutinize their website to know about their services
Go through the portfolio, case studies and client testimonials
Step 6: Consider the complete package of WordPress developers: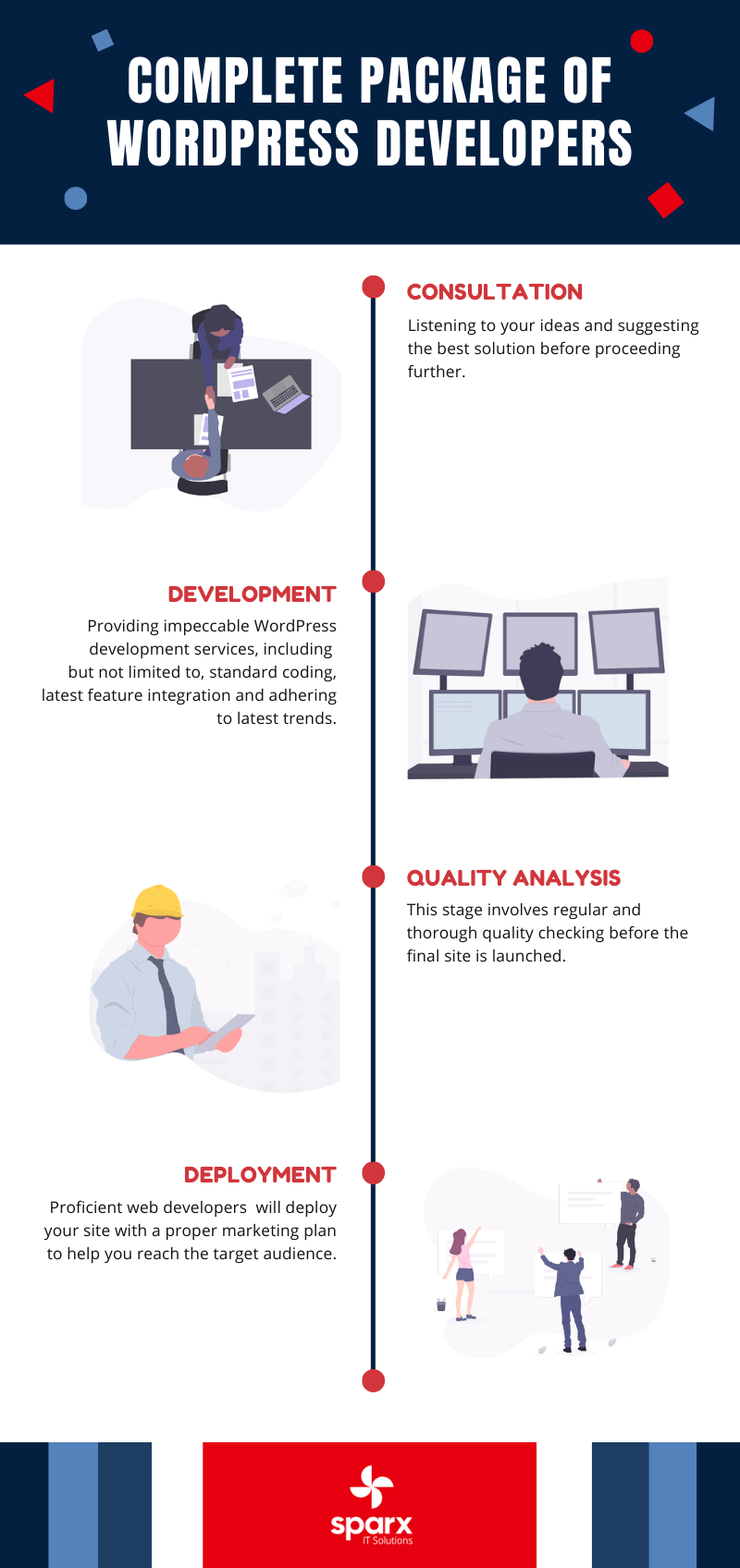 It is always recommended to hire WordPress expert who is offering end-to-end WordPress development services. This means that they must have the following stages in their services:
It is always recommended to hire WordPress expert who is offering end-to-end WordPress development services. This means that they must have the following stages in their services:
Consultation – Listen to your ideas and suggest the best solutions before starting with the further process.
Development – Provide impeccable WordPress development services which include standard coding, latest feature integration, adhering to latest trends, etc.
Quality analysis – This stage involves a regular and thorough quality check before launching the final site.
Deployment – The work of a proficient web developer will not end in development, they will deploy your site with a proper marketing plan to help you reach the target audience.
These stages of WordPress development services should be executed by following an agile approach. Always hire WordPress experts who are ready to follow agility which allows you to give feedback on every stage of development.
This ensures quick delivery of WordPress development services along with supreme efficiency. The collaborative efforts among cross-functional teams and clients will ensure optimum outcomes.
Useful articles, updates, offers and guide boon from SparxIT Team
Categories
Let's discuss your project idea.
Featured In