The technology world is moving towards the decentralized internet, also identified as Web 3.0.
Web 3.0 is a technology space where technologists and internet leaders can use decentralized technology like Blockchain to create more connected, distributed, and transparent applications.
Blockchain is far beyond cryptocurrencies and has a lot to offer to the enterprise mobility industry.
As per the data available on Fortunly, 74% of technology enthusiasts have shown their faith in the futuristic potential of Blockchain technology.
Mobile app development companies are utilizing the technology to keep up with the transforming industry demands.
From NFT marketplaces to cryptocurrency exchange apps, Blockchain is the underlying technology for functioning futuristic decentralized applications.
This blog post will discuss the estimation, cost-driving factors, and everything providing a better understanding of Blockchain app development costs.
What is a Blockchain Application?
A Blockchain application is any application using the principles of Blockchain technology at the core of its functionalities.
Blockchain development companies use multiple platforms to create and set up Blockchain applications catering to diverse user requirements.
Blockchain applications can be significantly useful in different industry domains, such as Healthcare, eCommerce, EdTech, FinTech, Energy, Manufacturing, supply chain management, and more.
Cost-Driving Factors of Blockchain App Development
Estimating the cost of Blockchain app development can be an ambiguous process where the final number relies upon several elements.
From considering the project goals to hiring a Blockchain development company, cost estimation remains an important factor that demonstrates multiple things about a Blockchain app.
Let us understand the role of different cost components in the final pricing.
Different industries may have varied requirements based on application, stakeholders, and the end-goals. If you are planning to create a Blockchain app for a healthcare project, you may need to invest anywhere between $50,000 to $150,000. For any other industry types, you may also need to invest from $40,000 to $100,000.
When you reach out to a Blockchain development agency, it is recommended to be clear of the industry-oriented requirements.
Blockchain is an evolving technology. Those working on Blockchain projects for years are still exploring new concepts added to the technology structure. It is always good to consider past experience in handling related subjects.
The more experience you bring to the table, the more cost you may need to bear in creating your Blockchain application.
For different applications, there can be different scales of complexity to indulge in. The utilization of user-oriented features in the app architecture can lead to a simplistic user experience.
To hire a team of Blockchain developers with mid-level experience, you may need to spend from $50,000 to $200,000.
You can consider a Blockchain development agency that can help you discover the potential of your Blockchain app idea. You may also explore new app ideas by consulting a mobile app development company designing, developing, and managing Blockchain app projects.
Also Read | Mobile App Ideas to Boost Your Business Growth
Blockchain is a technology that proposes incorporating the concept of decentralization into traditional digital solutions.
As the NFT market grows, we see a surge in the demands for secure and feature-packed NFT marketplaces. An NFT marketplace development company can design and develop a deployable product.
We are moving towards a space where we may see business leaders investing in DeFi development services with the goal to decentralize delayed and conventional financial processes.
If your Blockchain app requires more resources, you may need to invest more funds.
You may look for an organization that fulfills the resource needs in terms of quality and quantity.
For a basic project, you may need a small team of four or five professionals which may include one Blockchain developer, one app designer, one backend developer, one QA, and one project coordinator.
For a large-scale project like developing and setting up a Decentralized Autonomous Organization (DAO).
To meet the varying customer demands and gain high ROIs, it is important to consider developing a personalized Blockchain application. You can add features that enhance the end-user experience by using unique design strategies.
Personalization in Blockchain application development is crucial as most of the users using this application might not be familiar with using DApps. An aspiring business cannot afford to lose early customers because of a factor as marginal as adding the right set of features.
Blockchain Development Cost Based On App Types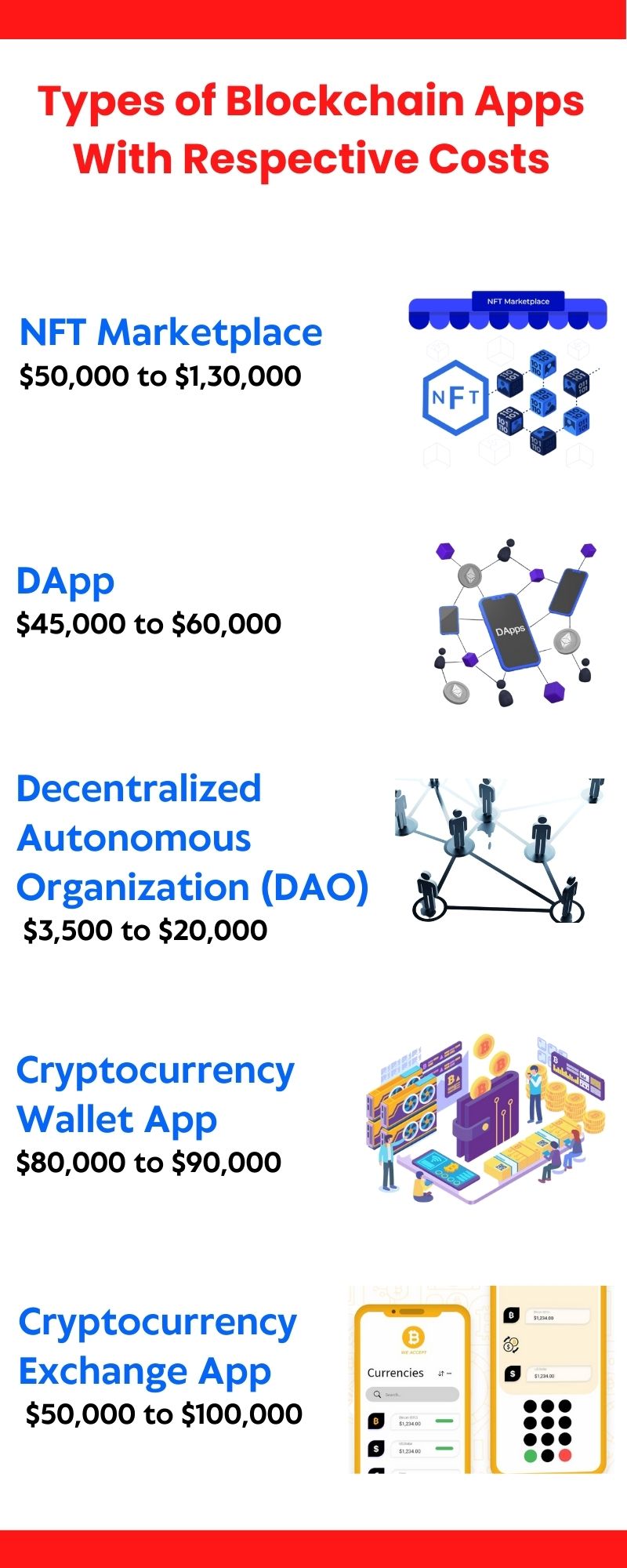 As we discussed all essential factors driving the cost of Blockchain app development, let us now understand how much the popular Blockchain app types may cost.
NFTs are emerging as a popular investment among the modern-age business enthusiasts. From leading fashion brands like Gucci, Gabbana, Louis Vuitton, Adidas, and Nike to technology giants like Facebook, Twitter, and Microsoft are investing their time and money in the development of this highly ambitious cryptographic asset.
If you are planning to develop an NFT marketplace, you need to hire an NFT marketplace development company that can validate your idea, estimate development costs, and design and deploy a result-driven platform.
It may cost anywhere between $50,000 to 1,30,000 to create an NFT marketplace.
Also Read | Your Ultimate Guide to NFT Marketplace Development
Decentralized applications (DApps) utilize decentralized technologies to deliver user-oriented functionalities. These applications have no intermediary regulating the transfer of data and utilize a distributed ledger to record transactions.
A DApp development company can consider your needs to create a result-oriented mobile application.
It may cost anywhere between $45,000 to $60,000 to create a DApp.
Also Read | Ultimate Guide to DeFi App Development
A decentralized autonomous organization (DAO) is an encoded organization running in the digital and decentralized infrastructure.
You can hire a DAO agency to help you create and establish DAO for your business.
It may cost anywhere between $3,500 to $20,000 to create and set up a DAO from scratch.
Cryptocurrency Wallet App
Businesses are utilizing cryptocurrency wallets to score crypto tokens, initiate cryptocurrency transactions, and manage data effectively.
These wallets allow users to use a wide range of cryptocurrencies to create and manage unique transactions.
You can hire a cryptocurrency wallet app development company to help you create a dynamic and feature-rich application to manage your data on crypto transactions.
Cryptocurrency Exchange App
A cryptocurrency exchange app allows users to trade crypto tokens using a secure and robust application infrastructure. The cryptocurrency exchange apps market is growing at an impeccable pace.
A cryptocurrency exchange app company can help you turn your crypto plans into a successful and revenue-generating mobile app.
App users are embracing these applications to utilize transformative digital resources and utilize new-age technologies to allow crypto enthusiasts to trade flawlessly.
It may cost from $50,000 to $100,000 to design, develop, and deploy a cryptocurrency exchange app.
You can read the cryptocurrency exchange app development guide to explore the fundamentals of this market.
Cost of Implementing Blockchain Model
Once you have coded your Blockchain app, it is time to deploy it in the decentralized infrastructure. The process depends upon the type of Blockchain framework and technology stack being used. The complete estimation of cost for Blockchain implementation comprises other segments such as project management, continuous integration, maintenance, etc.
It may cost anywhere between $3,000 to $5,000 to implement the Blockchain model in your mobile app.
Blockchain App Development Cost- Final Estimation
Now that we understand the complete cost structure, we can determine a probable estimation by analyzing different components.
The final cost for designing, developing, and testing a Blockchain app from scratch may fall between $50,000 to $300,000.
Conclusion
The Blockchain app market is growing at an impeccable pace and is projected to reach $4.9 billion in 2022.
Hiring a Blockchain app development agency can help you get a precise estimation for your project.
The cost estimation may vary depending upon the real-time needs and technological upgrades in the market but the need for a constructive discussion remains indispensable.
Frequently Asked Questions
How long does it take to complete a Blockchain app development project?
The duration of any development project varies depending upon the project complexity. Project complexity can also be affected by a diverse range of features that are to be packaged within the Blockchain app.
How much does it take to develop a DApp based on Ethereum Blockchain?
Ethereum is a popular Blockchain platform choice to build DApps. However, the cost to create an Ethereum-based DApp may vary as per the project scope.
How much does it take to create a Polygon-based NFT marketplace?
Polygon has done wonders as a Blockchain platform in the NFT marketplace development space.
Can you help me estimate the cost of developing my Blockchain app?
Yes, of course. You can reach out to us with a basic abstract of your Blockchain app idea. One of our Blockchain business experts will reach out to you with a plan of implementation. You can get a dedicated cost estimation for your project.
Useful articles, updates, offers and guide boon from SparxIT Team
Categories
Let's discuss your project idea.
Featured In