We know you are in love with them and ready to spend all your earnings on their happiness. Sincerely, not trying to overrate but this is exactly what every pet's parent feels. Pet owners spend their heart out when it comes to their fluffy family members.
This is what the statistics reports of Statista claim; the pet industry expenditure on an average is rising at the rate of 560 percentage every year. Just like in other chores, people demand automation and comfort in pet care also.
Our long time comfort-enhancing partner technology has handled this demand diligently over the past decade. Mobile app development in the pet industry has seen a great increase in recent times and the craze for pet apps is rising heavily among owners. Let's check the current situation in the industry.
Before, During and After Pandemic: Global Pet Care Market
Before the outbreak of the COVID pandemic, pet care was one of the fastest-growing e-commerce categories. As per the pre-COVID findings, the global market size of the pet care industry was forecasted to surpass 202 billion dollars by 2025.
This amount is huge but unfortunately, like every other industry, the pet care market has also experienced the impact of the pandemic. The sale of essentials like pet foods on online platforms and telemedicine for veterinary services have seen a sudden surge.
Looking For Pet Care App Development Services
Contact Us
On the contrary, other services like pet grooming have seen a decline in their demand. There are speculations in the industry that the aftermath of a pandemic on the pet care industry is not going to be harsh. The industry is reviving and reshaping itself into a technically-sound one.
For this, there are many digital platforms that are taking care of the needs of pet owners. The online pet care platform development is revolutionizing and entrepreneurs are coming up with innovative ideas. Let us read about some of them.
6 Digital Platforms Booming in the Pet Industry During the Pandemic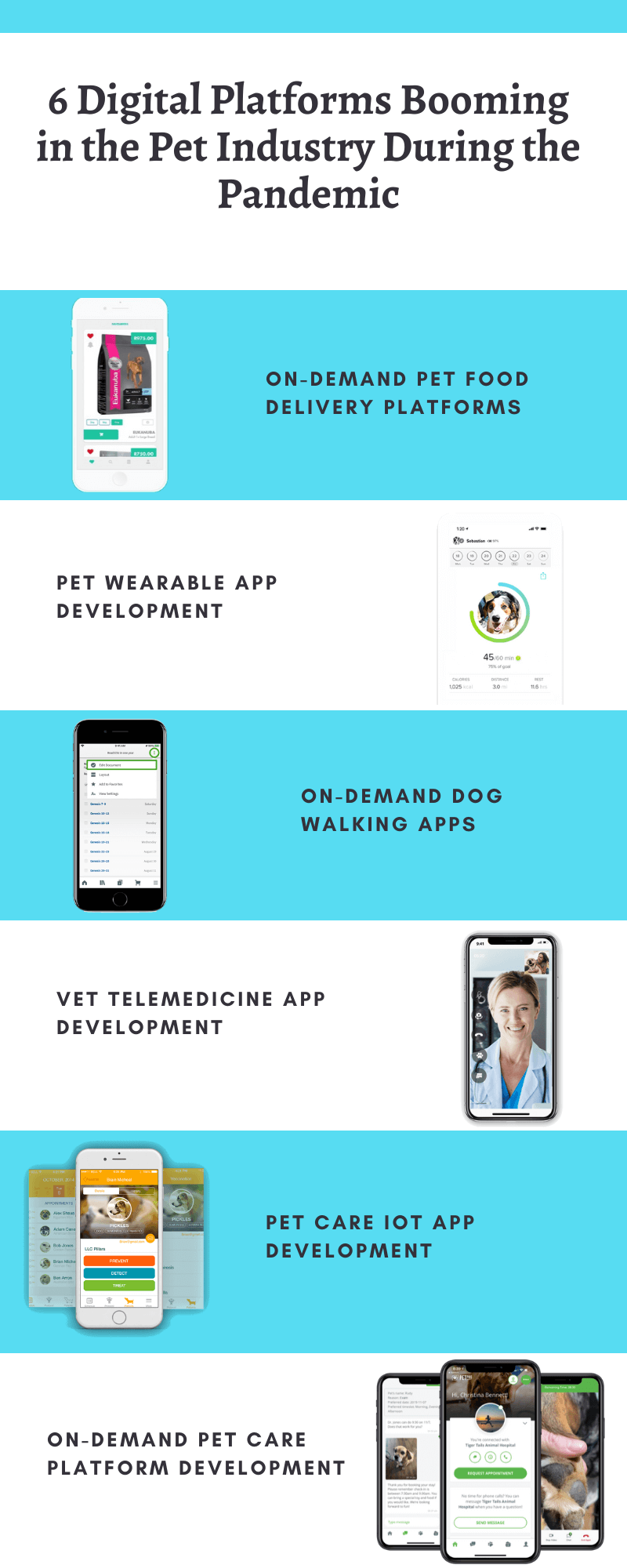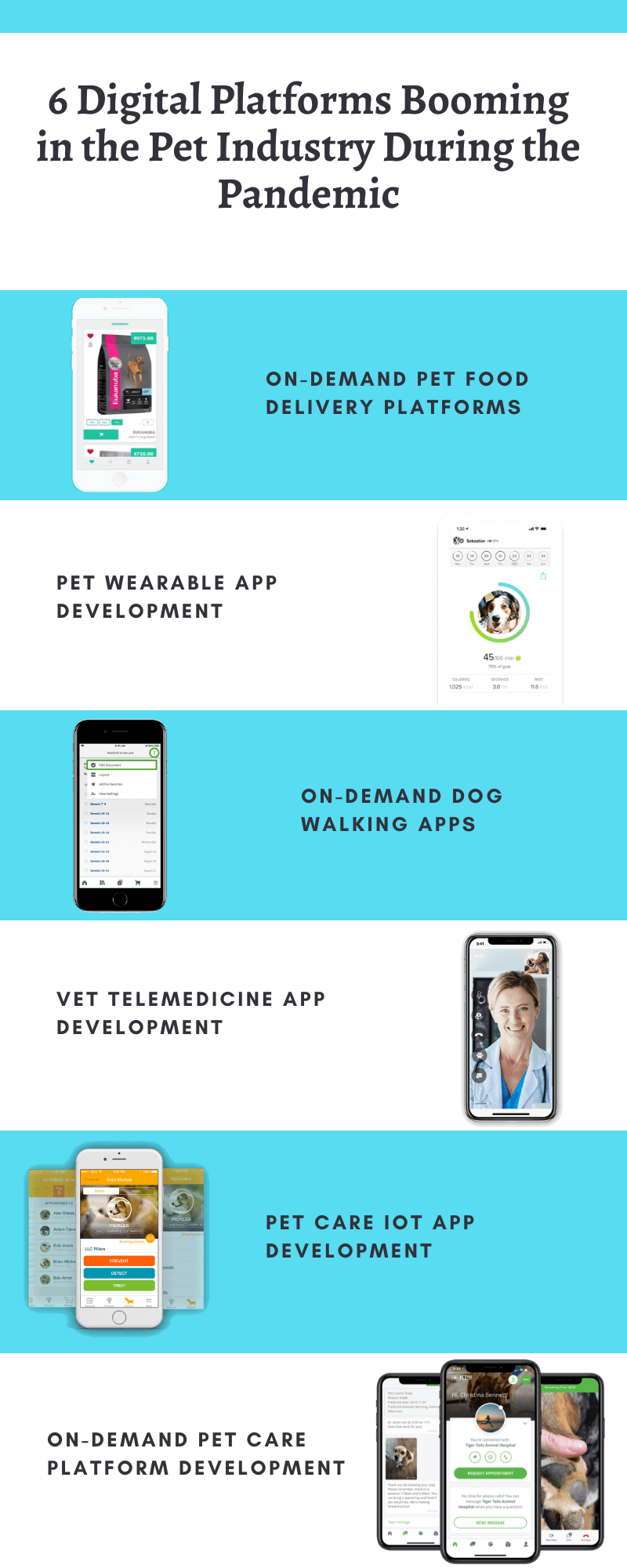 On-Demand Pet Food Delivery Platforms
Amid the lockdown in the four walls, people are reluctant to walk down the market to purchase their pets' essentials. The food tops the list of essentials for our pets followed by clothing and medicines. The on-demand delivery needs of these products are rising during the pandemic months.
Even before the outbreak of coronavirus, the pet food and supplies market of the US was expected to reach 6.13 billion US dollars by 2025. During this pandemic, more people are going to increase their dependency on online pet food delivery which gives entrepreneurs a boost to create on-demand pet food delivery platforms. It is time to revamp your offline pet food store according to the norms of 'new normal'.
Pet Wearable App Development
Have you ever got a wearable app developed for humans? If not then you might have been a user of a wearable device like Apple watch. Wearable technologies are extensively used among people to track their health. Similar products have been launched for pets as well by tech-savvy entrepreneurs.
The wearable app development for pets is gaining popularity for the past few years. As of now, there are very few companies indulged in the manufacturing of wearable devices for pets. These wearable devices are not created for health purposes alone.
They are also meant for keeping a security check and location tracking of the pets and livestock. It is speculated that in the future, pet wearable app development will be able to help people in sending their pets for a walk alone and staying indoors to control coronavirus spread.
On-Demand Dog Walking Apps
Previously, pet owners required such apps due to a hectic schedule but now they look forward to these apps for a safer lifestyle. Do you know 48% of Americans have dogs? The huge demand for assistance in this activity has increased the needs of on-demand dog walking app development services.
Have you heard about the on-demand dog walking app, Wag? These apps are doing well as people have started trusting on-demand apps immensely. They provide a hassle-free option for dog owners who cannot afford to take their dogs on a walk.
The safety and security needs of pets and their owners are taken care of by these apps with high-end features. A usual on-demand dog walking mobile app development will require to integrate features like fetching background details of walkers, GPS tracking, photos, etc. These features along with trusted payment gateway integration make this app safe.
Vet Telemedicine App Development
The demand for online veterinary services surged when a pet tested positive for coronavirus in the USA. veterinary doctors are moving towards the online healthcare system to treat animals amid the fear of coronavirus spread.
Therefore, telemedicine app development for pets is a lucrative business option right now. Explore the opportunity and think about serving the pet owners with an efficient, proficient, and safe telemedicine app that is specifically designed for veterinary services.
Pet Care IoT App Development
The use of IoT devices in home automation is not a new concept. The needs of pets and their owners have been well-served with high-end IoT enabled automation devices. These devices help the owners to monitor and connect with their pets even if they are not out.
Amid the pandemic, traveling is restricted. A number of people are out of their towns for work purposes. This raises the needs of such pet care IoT app development services. These apps allow quarantined pet owners to stay connected and take care of their pets 24×7.
On-Demand Pet Care Platform Development:
The basic purpose of these platforms to assist pet owners in taking care of their pets. You will be amazed to know that 68% of Americans are pet owners and 59% of those who do not own a pet say that they will own a pet in the near future.
The large portion of the population is a pet parent and offering them an effective on-demand pet care platform can be an intelligent choice. Although people are reluctant to go for grooming services, that is the real challenge for every entrepreneur.
You will have to ensure that your app has every required feature to make pet owners believe it is safe to be used amid the pandemic. The already existing platform needs a revamp with the help of experts offering On-Demand Pet Care Platform Development services.
In Which Pet Care Platform Should You Invest?
To be honest, no one can answer this question. It is only you who will have to find out the most feasible option. It is crucial to analyze the above described digital platforms working in the pet industry according to your business needs, scope, and budget.
Every category of pet care platform has success as well as failure stories. Keeping in view the changing order of the world due to COVID, it is important to focus on how to make your digital platform a safe pet care service for pet's parents.
Connect with experts at Sparx IT Solutions; a renowned mobile app development company, to discuss your prospective pet care platform development. Our professionals know how to create, ideate, and innovate distinctive digital platforms for revolutionizing industries like pet care. Together we can make a difference, (woof woof), right?
Useful articles, updates, offers and guide boon from SparxIT Team
Categories
Let's discuss your project idea.
Featured In