Fitness has always been a crucial part of our lifestyle. With the emergence of the internet and smart devices, the user base of digital fitness resources has expanded widely. As the awareness for fitness increases, the surge in the demand for feature-rich and intelligent fitness apps becomes more evident.
A fitness app focuses on guiding, monitoring, and analyzing a user's day-to-day fitness activities. There can be diverse use cases in the fitness app development sector, but what stands constant is the need for maximum personalization.
The fitness market is indicating a staggering growth at a CAGR of 17.6% from 2023 to 2030, mentions GrandViewResearch. With expanding user base and increasing revenues, the fitness app development market has become competitive.
In such a competitive domain, you cannot miss out on the basics, trends, and implementation of an advanced technology stack. Developing a successful fitness app the best workout app is not only about comprehending the end-user requirements but also about using innovation to create next-gen digital fitness solutions.
But, from where should you begin?
First, we will have a quick snapshot fitness app market, and then we will move forward with the app development process.
Types of Fitness and Workout Apps
After reading the adverse impacts of COVID-19 on traditional fitness infrastructure, you can easily comprehend why the best workout tracker app are in high demand. However, there are several types of fitness applications used for different practices such as yoga, workout, meditation, music therapy, gym app, consultation, etc. You can consult an experienced wellness app development company to discuss your fitness app ideas.
Let us find out the most particular types of fitness apps available in the market.
Fitness is about self-awareness of our body. We should not wait for detrimental concerns to care for our body rather it should begin from any point in time. It can begin with activities like running, cycling, working out, and others. For fruitful analysis of their activities, users can use app to track workouts to review and manage a variety of insights i.e. steps count in a day, average pulse rate, heart rate, blood pressure, etc.
App Examples: Google Fit, Runcoach, MyWindsock, SamsungHealth, Strava, etc.
Personalized training has become an important trend inspiring people to better their fitness without stepping of their homes. Personal training apps are equipped with interactive features to educate users through virtual characters as well as feature video tutorials allowing them to explore key activities they would need to perform in their hustle for good fitness.
App Examples: Fitmo, Handstand, Fiit, Daily Burn, Jefit, etc.
A nutritious diet plays a significant part in good fitness. A comprehensive diet plan allows users to analyze streamline their nutrition goals. The diet and nutrition engage in an appealing providing adequate information on dedicated parts of the diet plan. These applications can be significantly useful in managing workout performance as per diet consumption.
App Examples: 8fit, Nutrients, MyFitnessPal, MyPlate Calorie Counter, SuperFood, etc.
Self-awareness exists in the foundation of self-care. Self-care leads to established fitness. Streamlined support, guidance, and resourceful applications help users to perform lightweight exercises and even reliable sleep management techniques. The fundamental goal of self-care apps is to complement stress management exercises with small activities like meditation or sleep tracking.
App Examples: Calm, Headspace, Unplug, Talkspace, MoodKit, etc.
Must-Have Features To Include in Fitness App Development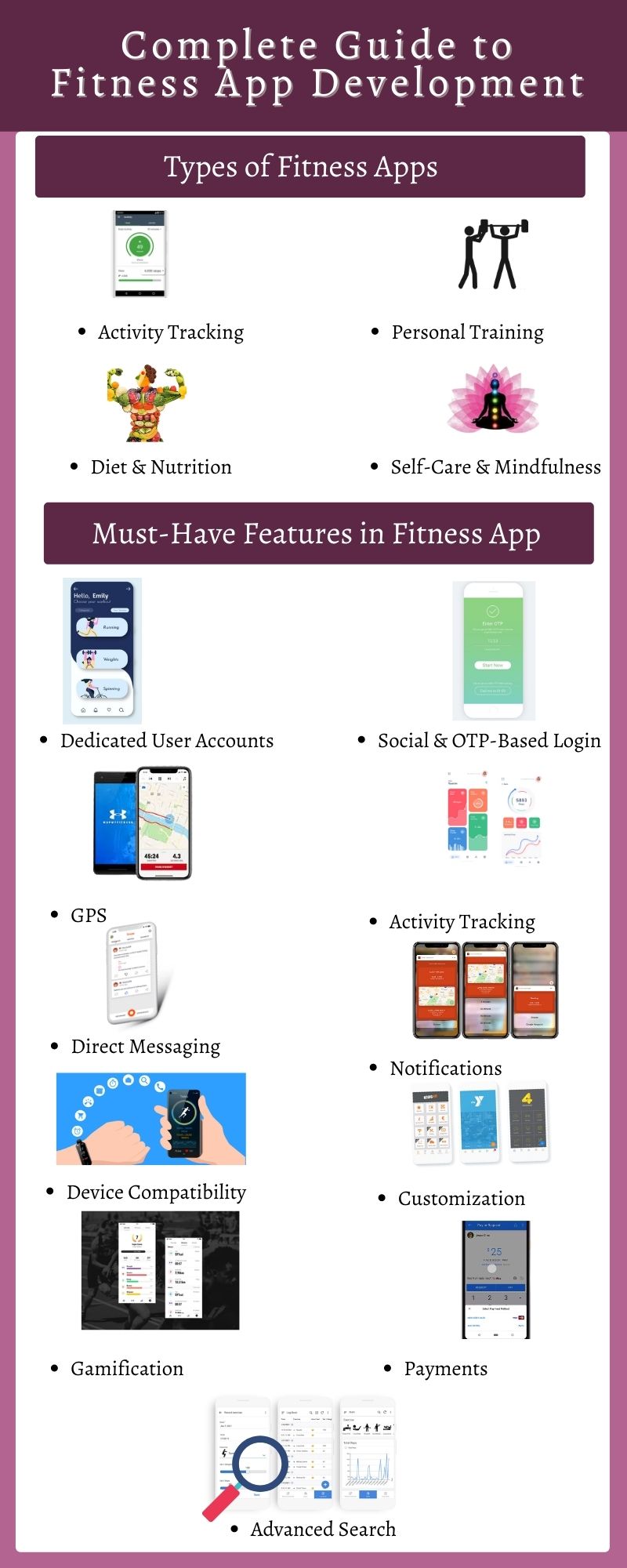 There are already numerous mobile apps focusing on fitness. So, how do you make your fitness app stand out among others?
We are listing popular user-oriented features that you should not miss out on your fitness mobile app development plan.
1. Dedicated User Accounts
Users using your fitness app can manage their personal information more interactively. Fitness app designers create feature-packed user dashboards presenting both app data and user-generated content comprehensively.
2. Social & OTP-Based Login
Users prefer logging into the applications in faster and simpler ways. Social features allow fitness and wellness apps to be more personalized. Users can effectively create and manage user-generated content through a variety of tools and options within the app.
3. GPS
Both app users and administrators can utilize the high-class and interactive location-oriented features. One GPS integration enables app users to find courses or programs in their nearby locations. It allows app administrators or business owners to create location-oriented ads and showcase themselves to a sophisticated chain of customers.
4. Activity Tracking
Activity tracking assists app users to list, schedule, monitor, and managing their day-to-day fitness activities effectively using the fitness applications.
5. Direct Messaging
Messaging within the app infrastructure helps users to communicate with their trainers, counselors, and even fellow batchmates or fitness enthusiasts using an interactive messaging interface.
6. Notifications
Notifications and reminders are the most instant way to reach out to app users with updates or information that concern them.
7. Device Compatibility
Good fitness apps interact with a range of devices that include wearables, LCD TV screens, smart devices like smartphones and tablets. These apps need to run smoothly over a range of device orientations and environments.
8. Customization
Customization is among the most significant features that make or break a mobile app. The best workout routine app has a versatile audience that includes people of different age groups, genders, ethnicity, and a lot more. Any user may require different themes, content, and other customizations.
You can ask the hired mobile app development company to help you engage in maximum customization to your fitness app.
9. Gamification
Adding game elements in workout calendar app make the app easier to use. It provides it a more lightweight user experience by integrating elements like leaderboards in daily-workout, strength training, and meditation.
10. Payments
With integrated billing and payment system, you can execute easy transactions. You can share payment information of the programs purchased by app users more comprehensively.
11. Advanced Search
Since your fitness app would comprise a large stack of information, it is up to the developers to build and implement a more personalized search button with adequate filters.
Tips Before Availing Fitness App Development Services
Hey, business owners!! We know that you want to create something that stands out. And, we are going to help you by sharing our expert tips to create your own workout plan app that is rich-featured, user-friendly, revenue-generating, and market-ready. Here we go.
Before investing in a sum of money and time, you must be aware of what you wish to deliver and get in return. You need to set your goals meeting which will be a priority for you.
Post comprehending your expected deliverables and goals, you must estimate how much time and money you can invest in the project. Lacking energy, time and funds can hinder the growth of your fitness app despite having potential ideas.
Never Overlook Technology Demands
With the inclusion of technology-oriented features, the user demands become more extended, specific, and personalized.
Onboard Third-Party Collaborators
Mobile app developers onboard third-party applications to extend the functionalities without hampering the design and other crucial elements within the app.
Create a 360-Degree Monetization Strategy
Fitness brands providing an app often sell their official merchandise using the application. There are in-app purchases which can also be a potential monetization option.
How To Create a Fitness App? Step-by-Step Process
You have ideas, you understand the features and budget, and other important factors that make it a successful app.
Now, we turn to the implementation of ideas and all available resources that would pave the path to build your own workout app.
1. Market Analysis
Comprehending user demands are the first step. It is less about delivering what you wish to deliver but more about understanding what your targeted audience requires.
2. Identify Your Audience
You can create and personalize your fitness app better when you know your audience. You can figure out what your competitors are offering to the customers. You can study the customer reviews that would help you identify the scope of improvements.
3. Plan an MVP
If you have a limited budget and timeframe, you can plan to create an MVP that would showcase the core functionalities of your idea to the audience. An MVP can help you get a constructive market opinion of the early customers.
4. Discovery
You can reach out to a fitness and healthcare app development company to identify the potential of your idea. You can also define a complete technology stack for the project. The fitness app developers would provide you with an app prototype so you can visualize the final product.
5. Develop
The best way to build an app is to code the features and combine them into a fully-fledged fitness application that takes care of the fitness hustle. By hiring a fitness app development company, you get a complete team of experts who have incubated, designed, developed, and even marketed fitness apps.
The right implementation of the technology stack would allow you to meet results more sophisticatedly.
6. QA Testing
Once a well-designed and developed fitness app, we move towards the testing process where we scrutinize the application on a set of parameters that include functionality, usability, responsiveness, design, and other important factors.
7. Kickstart
Since your product has been tested, it is time to make it a big launch. You can distribute the fitness app through app distribution platforms like Play Store, App Store, GetApps, and more. Email marketing is also another superior way of offering your app to a large audience.
You can refer to our mobile app development guide to comprehend the basics of the standard process for creating a mobile app.
How Much Does It Cost to Develop a Fitness App?
Fitness app development costs may vary as per diverse project requirements.
There are several other factors that may affect the final cost estimation such as;
Features
Discovery
Technology stack
Post-development service requirements
The geographical location of the service provider
Another question most a client may ask is, how long does it take to develop a fitness app?
It depends upon the hiring model you choose. It can be on an hourly basis or time and material-bound.
The hourly rates in Europe may range from $50 to $200 per hour whereas the costs may range from $90 to $130 in the United States.
If we divide the cost into process segments, it will look something like this;
| | |
| --- | --- |
| UX/UI Design  | $5,000 to $20,000 |
| Custom Development | $40,000 to $200,000 |
| Quality Assurance  | $5,000 to $25,000 |
| Project Management  | $7,500 to $35,000 |
| Business Analysis | $2,500 to $15,000 |
The overall cost estimation may fall anywhere between $60,000 and $300,000. You can also read our comprehensive guide on healthcare app development costs to understand better costs related to the fitness segment.
Fitness App Development Best Practices
Due to our vast expertise in fitness app development services, we can suggest a few features to differentiate your app:
By enabling users to follow one another and share their various meals on the app, etc., you can strengthen the community.
To provide voice control and integrate with Siri and Google Assistant.
Add gamification components.
Use CDN techniques to make interactions with videos and pictures more fluid
Think carefully about the UI design—(would an obese person find an app featuring sports models on every screen appealing?)
For a different take on your fitness app ideas, contact our app developers.
Our Expertise in Fitness App Development
As a top-grade app development service provider, we provide state-of-the-art fitness app development solutions catering to our client's particular requirements. With a group of skilled project managers, designers, and developers, we have a comprehensive grasp of the health and fitness industry. Our specialty is developing feature-rich apps that include exercise tracking, individualized training regimens, nutrition monitoring, and seamless wearable device integration.
We ensure reliable speed and cross-platform compatibility by using tools like React Native and Swift. We prioritize user engagement, user-friendly design, and data security, which enables us to provide healthcare app development services that improve user experiences and promote company success.
Frequently Asked Questions
Q- How long does it take to build a fitness app from concept to launch?
The time it takes to create your own fitness app from concept to launch differs based on the complexity, features, and team size. Development, testing, and deployment might take anything from 4 to 8 months on average.
Q- What technologies and frameworks are used in developing a fitness app?
Fitness app development tools and frameworks include React Native, Swift, Kotlin, Firebase, and MySQL. These technologies provide effective cross-platform development, real-time data management, and strong backend support.
Q- Can workout apps be integrated with wearable devices or fitness trackers?
Yes, the workout planner app may be integrated with wearable devices and fitness trackers to improve the user experience and collect precise health data. The integration allows users to track their exercises, monitor vital signs, and sync data seamlessly between the app and wearable devices.
Q- Are there any legal considerations for health and fitness app development to be aware of?
Developers of health and fitness apps must know legal factors such as data protection requirements (e.g., GDPR), medical device regulations (where applicable), and guaranteeing user permission and privacy rights.
Q- Can SparxIT scale my fitness application project with additional features in the future?
SparxIT, as an app development company, can provide scalable solutions for fitness application projects. By understanding your needs, we can help you expand your app with additional features and functionality to ensure the growth and evolution of your fitness app.
Useful articles, updates, offers and guide boon from SparxIT Team
Categories
Want To Build a Fitness App?
Featured In