On demand mobile app development gave this competitive tech world a platform, where the businesses can satisfy their targeted users with personal service platforms. The apps are called on demand because of their features and functionality of serving the users with necessary services at any time they need. Considering the growing smartphone usage and customers demand, utility businesses introduced a variety of apps, including taxi booking, online shopping, beauty services, online food delivery services, etc. To be honest, the apps are winning customers trust and simultaneously benefiting businesses with maximized profit.
Basically, apps that are specifically designed to cater to the needs of generic people are on demand apps. The businesses that are looking to improving their customer services by rendering them the personal experience started tilting towards on demand Android app development concept. They consider outsourcing on demand mobile app development company to get the work done professionally and timely.
Competition resides everywhere these days! Right from transport, logistics, healthcare and many other sectors, the service demand is getting high, which ultimately increases the burden of businesses to serve the customers with the best ways possible. Here comes the on demand apps in the picture that solve both the businesses and customers problems on the go. It's all because of the technological advancements that have led the era towards the mobile-driven world.
Why targeting a specific audience through on demand apps is beneficial?
On demand app development economy is touching the momentum with the proliferation of the mobile apps. This ultimately increases the need of on demand app developers. If you run a business to target local customers, you need to first own an app, which is particularly created to fulfill customers on demand requisites. This is an absolute way to win the trust and loyalty of the customers. You can connect with a reliable on demand app development company to accomplish this.
For example – If you run a taxi service providing business, having an on demand online taxi booking app will help you in great manner. Whenever people are in a hurry, they search for fast, affordable and convenient transport to reach the destination. Here, getting your online ride booking facility will not only render them a pleasant rid, but also save their time to go out and search for the transport.
Vogue Of On Demand Mobile App Development –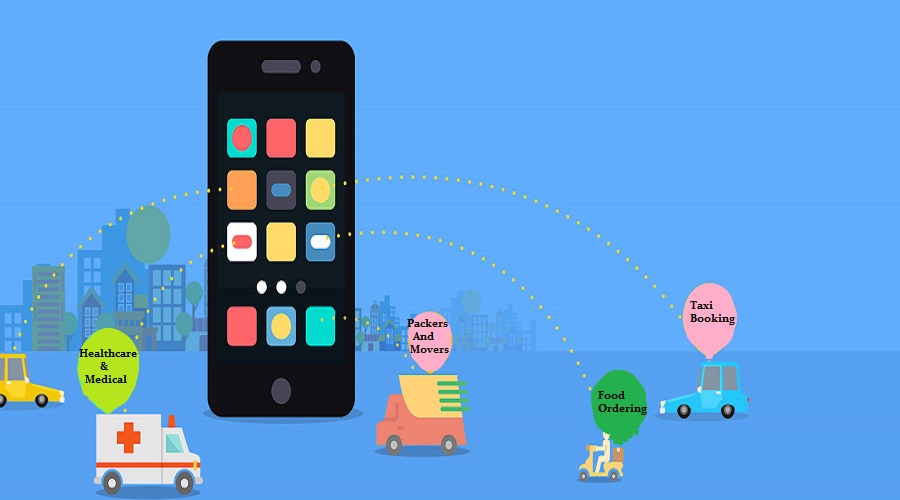 It's necessary to build on demand app platform to cater on demand services of today's smart generation. It's typically a big step which has been increasing the customer services by ensuring exceptional productivity, flexibility and efficiency of different service-based businesses.
On demand apps are also customized thus benefit different businesses with many facilities. Let's discuss a few sectors that are being benefited by having on demand mobile app development –
Transportation And Logistics
When it comes to private on demand transportation services, nothing can beat Ola and Uber taxi booking facilities. Besides these two, many more transportation businesses started showing the interest in having on demand taxi booking app development to reach out to local customers. Transportation plays a big role in making logistics a convenient experience for courier companies. On demand apps also won the race by informing the customers about their order placement, dispatch and expected delivery status.
Packers And Movers
In this busy schedule, home relocation and set-up have also become a hectic task for people. They most probably search for helping hands to get rid of collecting, packaging and relocating the home utilities with safety. Packers and movers companies provide that hand in terms of offering safe packing and moving services. It's an on-demand service, which generates the need of on demand packers and movers mobile app development. Using these apps, individuals get the facility to search trusted packers and movers near them.
Healthcare & Medical
It's not about how far or close you reside from a hospital and doctor's clinics, on demand healthcare apps provide online information accessibility whenever needed. Where on demand doctor consultancy services are on the peak, on demand medical apps are also hitting the grounds with their easy, fast and accurate medical-related information access. Here, patients will get everything they demand in terms of their check-ups, reports and doctor's availability.
Travel & Ticket Booking
There's nothing better to treat travel lovers with exciting holiday packages to groom their tour experience. Travel companies are making the best out of it with the adoption of on demand travel and ticket booking apps development. They introduced robust travel apps justifying their hospitality services. And, unsurprisingly, these apps are gaining tremendous niche among the customers, who prefer advance online booking to have an hassle-free holiday experience.
Food Ordering
Today, when everyone loves to have restaurant food from the comfort of their home, on demand apps food ordering apps finely bridge the gap of waiting in the queue to have food orders. Now, food lovers can order a variety of food and get them within a short time at their doorsteps. Zomato and Swiggy are the biggest food delivery apps are hitting the grounds with their competitive customer grabbing strategies. If you're also a restaurant owner, on demand food delivery app development can assist you to bring quality customers.
Time To Reveal The Business Benefits Of On Demand Apps –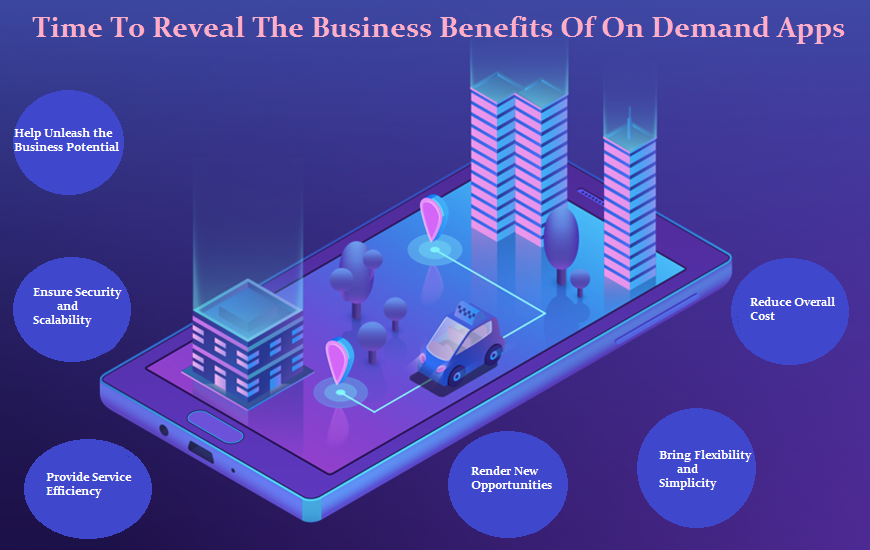 Help unleash the business potential
Embracing the mobile platform is the best choice to increases business value. Today, around 70% of people using their smartphones to get their chores done by using on demand apps. If you have launched any on demand app for your business, it's the time you can unleash the power of your brand by reaching maximized customers.
Ensure security and scalability
In on demand apps, security is all about managing the service payments made by customers. Suppose, you're a food delivery service provider and also owns a restaurant to serve customers with fresh on the spot. Now, what if you have a lot of instant food dine and home delivery orders. Outsourcing on demand app builder partners will give you an exceptional app, which possesses the features to align all the orders with first come and first serve structure. As the apps are customized, you can make the future modifications as per business needs.
Provide service efficiency
On demand apps not only added a craze among the customers to get their task done with customization, but also become the reasons to increase the overall business efficiency. These provide easy to use and operate functions to proceed with the service actions. Further, the apps make everything easier for employees as they can get the orders done faster and without trouble.
On demand apps are also called the mediums to generate new business opportunities and optimum revenue. When you hire app developer to build on demand app interface, you'll be focused to get it developed by keeping customers needs in mind. The apps are specialized for catering particular customer demands with ease and as per their specific requisites. In short, having on demand apps to serve customers with personalized experience can become the ultimate growth factors for a venture.
Bring flexibility and simplicity
As discussed, the on demand apps are specifically created to get targeted customers in confidence. If you succeed in doing this, you can beat others in this competitive market. Therefore, when you choose an on demand app development, explain them to keep the app layout as simple and flexible as possible, so that users can easily get the options to proceed with the defined services. The confusing app interface can make the users switch the app to others which reduces your app downloads and business conversion rates.
A business gets benefited if it receives maximum revenue by investing comparatively low cost. What do you consider would the app development cost of an on demand app? These apps are cost-effective and render extremely easy experience to the users. Simple interface and user-friendly design is the best thing, which makes an app worth-exploring. Also, the businesses can use such apps for promotional purposes by pushing exciting deals and discount offers to the users using the app. With on demand apps, you will be able to easily run the loyalty programs and that too at minimal overhead cost.
Ending Note:
This is the era of on demand app development, where every business is putting itself ahead on the basis of business-oriented apps. So, if you're thinking to boost the revenue and customer of your business, you should have a robust app that can compete with the competitors and provide you all the business benefits you were looking for. Giving a second thought to your decision will delay your business progress. Get an on demand app right now to provide an extended pace to your venture.
Choose Sparx IT Solutions as your ideal technological partner to make your dream of having next-generation on demand app. We are the pioneer in developing quality-approved apps that not only serve like pro but also guarantee a better business platform that the users can easily avail personalized benefits. It would be a great pleasure if you give us a try to get your dream app accomplished by our industry app experts. Connect us to get a brief of your project!
Useful articles, updates, offers and guide boon from SparxIT Team
Categories
Let's discuss your project idea.
Featured In