During COVID-19, the need for the online video streaming market witnessed drastic growth when people were locked down and could not go outside, hang out with friends and watch movies in the theaters.
It is not surprising that technological advancement continues to transform the entertainment industry in every aspect.
The entertainment companies are exploring new ways to adapt the digital landscape to be a better part of the decade. Businesses are putting all the effort into offering new user experiences and connecting with their customers in the best possible ways.
What Do The Numbers Say?
Do you know that approximately 60% of millennials watch streaming videos daily? Platforms like Amazon Prime Video, Netflix, Disney+Hotstar, and YouTube have registered a sudden spike in viewership across the globe.
The drastic growth in digital content consumption from different sources like TV streaming, gaming, and mobile apps has been observed in Europe and the USA. The quick adoption of mobile applications to access social media and other entertainment platforms is anticipated to boost the online streaming market.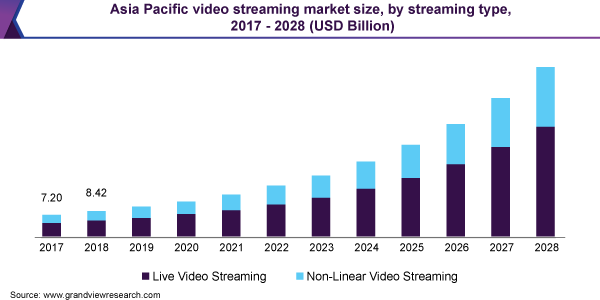 Source : grandviewresearch
Let us understand how digitization will impact the entertainment industry in upcoming years. It will help you understand the current state of digital transformation in the entertainment industry.
The video streaming market is expected to reach $223.98 Billion By 2028, with CAGR at 21.0%.
The rising technologies like Blockchain and Artificial Intelligence are the significant reasons behind the growing demand for digital content
Reportedly the over-the-top (OTT) segment will rise at the highest CAGR over the forecast period
Technologies such as 3G, 4G, and LTE have substantially led to the expanding use of video streaming.
Lead players like Netflix and Amazon have encountered massive spikes and dominated the global entertainment market.
According to PwC research, the subscription video-on-demand (SVOD) and over-the-top (OTT) video market, including streaming services, is expected to reach double the box office in 2024.
The most potent nation China alone is expected to register a revenue of $83.9 billion in the next five years.
Due to growing online video consumption, the TV share was expected to drop from 33.9% in 2017 to 31.6% in 2018.
As per PwC research, by the end of 2021, fixed broadband can reach 1 billion households.
Latest Use Cases in Media and Entertainment App Development Market
The evolution of the internet is leading the media and entertainment app development industry towards the development of digitally transformative and independent resources. The utilization of feature-rich mobility in the entertainment industry has personalized the tools immensely.
With faster and more versatile consumption of the content, the demand for potential technology-led solutions in the entertainment industry increases.
NFTs
Through digital assets like NFTs (non-fungible tokens), you can own music, artwork, and other collectibles. The generation of Blockchain-based tokens is transpiring security, decentralization, and transparent yet protected ownership. You can use an NFT marketplace to buy and sell the work.
If you are looking to read more about NFTs, you can read our complete guide on NFT marketplace development.
Audio Streaming
Enjoying tunes on the cloud has been there for a while now. The industry has taken a new shape with the adoption of new functionalities and business models. Even with different levels of enhancements in the audio, the music streaming app creators segregate different business packages.
Video Streaming
The video streaming app market is projected to reach $932.29 billion in terms of revenues by the end of 2028. The app creators are using AR and VR features to indulge in advanced personalization in entertainment applications.
You can hire an entertainment app development company to help you with a mobile application that comprises futuristic features.
Business Models an Entertainment App Development Company Can Utilize
There are many different ways through which businesses can function their operations. The industry is becoming more competitive. The unique business models can drive growth for your entertainment app.
Let us explore some of the most popular business models an entertainment app can follow.
Over-The-Top (OTT)
Delivering content over the cloud has become a trend. Different service providers are creating and delivering different types of content through these mediums. These services can be availed using a variety of mobile devices including smartphones and tablets.
Music
Users are leveraging lightweight resources for listing their favorite music on interactive mobile apps. The most popular examples of online music streaming apps are Spotify, Apple Music, YouTube Music, etc.
Pay-TV
With the growing demand for meaningful and quality video content, the TV subscription plans took a backseat.
Pay-TV is a multichannel television module where users can access television services through the internet. This business model has significantly impacted the market of conventional cable service providers.
Advertising
The entertainment industry has a large user base. It creates an opportunity for businesses to utilize this exposure to showcase their offerings through online advertising.
Business enthusiasts can choose from a range of monetization models to charge their users such as freemium (provide free access to basic services and charge for advanced services), premium (charge to create economically favorable perceptions), or subscription-model (provide free trial for a certain period of time and then charge recurringly).
The digital transformation of the entertainment industry is prompting business owners to consult entertainment app development services providers and leverage this fast-paced market growth.
Technologies Revolutionizing Entertainment App Development Market
Consumers are constantly moving towards multi-platform applications. Entrepreneurs must know their target audience and their areas of interest. Where the entertainment industry is reshaping at a rapid pace, modern tech innovation and devices have become the center of attraction.
On the other hand, content is the master key in every aspect of the entertainment sector. The advancement of Smart TVs, wireless music systems, smartphones, cameras, and automated computing processors have introduced a new way of content delivery.
Do you have an Entertainment App idea? Let's plan a quick discussion.
The fast internet connectivity and ease of reaching customers have entirely changed the interaction between users and content creators. Technological growth is strengthening digital streaming services. Video and audio streaming has led to users' behavioral changes and enhanced the delivery of all media types.
Let's highlight innovative technologies that transformed the way of content creation and transmission in the entertainment industry.
Augmented Reality (AR) & Virtual Reality (VR)
Augmented Reality and Virtual Reality have grabbed all the spotlight in the entertainment industry. The most promising tech innovation enhanced the connection between viewers and content creators.
Pokemon Go has set an example that lifts the power of AR and VR. Business giants like Google and Facebook consider AR/VR to bring accessibility, mobility, and pricing to the table. Whether it is story-driven content or live streaming, Virtual Reality and Augmented Reality app development boosts the user experience like never before.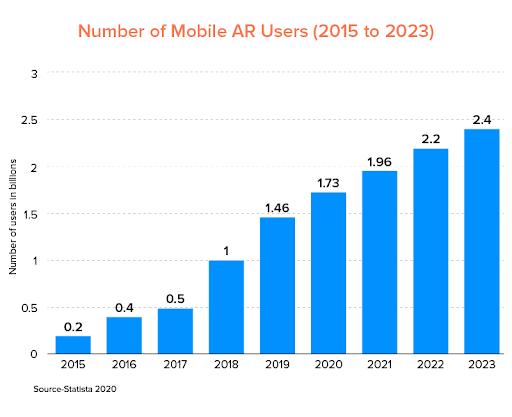 The entertainment app development industry is adopting AR and VR in multiple ways:
Replaced expensive keypads and delivered a fantastic gaming experience at the same time
Helps in the development of enterprise-level media software for education and learning system management
Reinforces the digital affection into movies and box office vai immersion
Innovate wearables for consumers who move into art galleries, museums and present incredible artifacts with additional information and features.
Artificial Intelligence
Not even a single sub-set of the entertainment industry is untouched by the impact of AI. High dimension animation, OOH (Out-of-home) advertising, radio, VFX, or realistic visual effects are some of AI's reflections. The entertainment platforms firmly utilize AI-driven solutions in intelligent data streaming for rapid delivery of the content. Do you know that the global AI software market is expected to reach 118.6 billion by 2025? AI is strengthening entertainment platforms in the following ways:
Enhanced Advertising and Marketing Landscape
Personalized User Experience
Extensive Usage of VR and AR
Facilitates Real-Time Streaming
IoT
The digital entertainment industry has adopted Internet-of-Things (IoT) to get a new way of success. When global businesses were dealing with strict lockdown, companies like Amazon and Netflix were playing in billions. Their shares were all above the ground in the share market. Undoubtedly, IoT app development is causing significant rifts in the entertainment industry. Let's closely look at the benefits of IoT in the entertainment sector:
Conduct targeted advertising campaigns
Creation of Impressive Content
Wider Reach & Expansion to the global Audience
Improving the personalized content
Wearable Technology
Wearable technology is the most powerful source to make the entertainment industry a lot more immersive. It introduces new ways to users for easy accessibility of content. Wearable devices enable users to watch augmented reality videos, listen to music, and play virtual reality games.
With the advent of wearable app development, the delivery of content gets simplified. It ensures that the content is delivered into the trimmed-down format without missing out on the whole story.
Video Creation Technology
No doubt that video streaming is the primary addition in the entertainment industry. Visual representation is the master approach for the correct content delivery but it is not easy to create multiple video pieces for various audiences. Here comes video developing technology like API solutions and automated video creation solutions to simplify the process.
Automated Journalism
Automated journalism or robot journalism is nothing but computerized programs that generate new articles, stories, and interpret data to produce relevant content automatically. Automated journalism is the best way to free journalists from timely reporting.
Automation in the media industry provides institutions more space to deal with complex tasks. It is the most affordable and time-saving tech innovation that produces the bulk of information at a quicker speed. It is best for new outlets battling with budget constraints but still want to maintain comprehensive coverage.
Voice Search Technology
Ignoring voice search technologies can lead to the most significant loss for the entertainment business. Smartphone users are continuously using voice-driven solutions and smart speakers for quick findings.
With the combination of Artificial Intelligence and Machine Learning, voice recognition technology is constantly working for content optimizations and giving a more transparent and personalized user experience. Google assistants like Siri, Amazon's Alexa, and Microsoft's Cortana are the ideal examples of successful voice recognition solutions.
Blockchain
With its supreme qualities, Blockchain is breaking conventional barriers in the entertainment industry. Blockchain potentially revamps the system of revenue sharing, royalty payments, pricing, and publicity. The rising technology offers benefits like optimized paid content payment models, secure and efficient royalty payment distribution.
The addition of blockchain apps in the entertainment sector makes content royalty distribution more transparent, efficient, secure, and automated. The technology enables quick and secure payments that are more efficient and less expensive than traditional systems.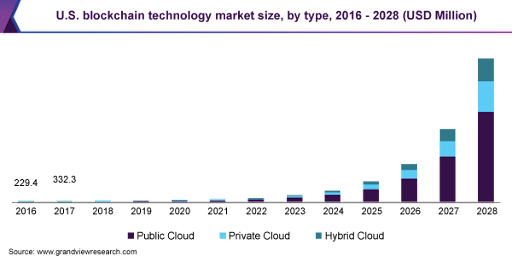 Source : grandviewresearch
Facial Recognition
The combination of Artificial Intelligence and visual recognition enables businesses to get real-time data based on users' behavior. Facial recognition works with high accuracy to analyze personal behavior in private or public spaces. This technology is used explicitly in live concerts to capture real-time images caught by all surveillance cameras and give feedback based on the real-time footage.
Cloud Security Management
The entertainment industry is not untouched by cyberattacks. Recalling the unfortunate incident of the Sony Pictures Entertainment breach in 2014, when 40 gigabytes of highly confidential and sensitive business data including personal emails, were hacked and posted online.
To prevent the entertainment application development industry becoming vulnerable to such illegal attempts, mobile app development companies are using cloud security management tactics to fight against any security threats. It avoids piracy by authenticating and eliminating illegal online content streaming.
The cloud management system monitors the production networks, customer data, access control, and IT rules. Factors like cloud workload and data encryption will join the center stage as more and more entertainment bodies migrate to the cloud in the public domain.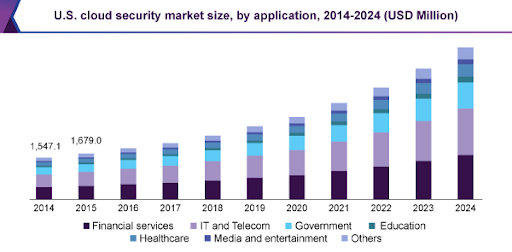 Source : grandviewresearch
What Are the Top Digital Entertainment App Examples?
Entertainment applications make big bucks! Brands like Spotify, Apple Music, Netflix, YouTube are generating revenue in billions. Do you know why? Because they put prime focus on remarkable user experience. Where quality content is the masterstroke in the entertainment industry, thousands of applications are developed to grab user's attention with a fantastic experience.
For the growth of any business, UX matters to all stages of the customer lifecycle. It clearly defines the way users interact with a brand. The top three leading media and entertainment brands are setting an example of great UX to engage users.
Netflix
Netflix offers easy accessibility and a perfect user interface. The look of the Netflix interface utilizes a portion of engaging visual components that gives a superior user experience. It offers a seamless user interface. Let's look at the five points that conclude how Netflix provides a great user experience:
Factors like interface optimization as per the devices you are streaming on, flexible search options, home screen features, recommendation and genres, and side-scrolling categories made this app easy to use and less complex.
Netflix offers a toggle feature in profile management. Parents can look after their children and control what they are watching on the app. With a key-only profile or interface, Netflix suggests animated movies or shows specifically created for kids. Parents can easily control their kids from watching adult content.
Netflix facilitates its users with a network check feature. Users can check their internet connectivity in case of buffering issues. They can test whether the problem is with their internet connectivity or in the app.
Netflix has the option to register up to four different devices to watch their favorite series, tv shows, or movies simultaneously. It keeps tabs on all the registered devices that allow users to check the list whenever they log in. Users can check the connected devices or replace them with new devices as per their needs and membership plan.
Remember that if all your devices are registered with the same account, it is not possible to manage it via single devices. Users can sign in on multiple devices using the same account, but no concurrent video streaming can be done.
Netflix smart download features enable quick download of the next episode whenever your device comes under internet connectivity. Also, it will delete the episodes that you have previously watched to manage the storage in an efficient manner. When we talk about user experience, there is no doubt that Netflix wins!
If you are looking to create a video streaming app like Netflix, you can consider creating an app clone that emulates the business model followed by the OTT application.
Hulu
Hulu has gradually been making outstanding digital content customers experiences and is equally competent. A band like Netflix has taken all the credit for great user experiences, Hulu is progressively building innovative and personalized solutions.
How is Hulu giving lessons for building unique user experiences?
Users always want to watch something unique, something they never watched before, and they are ready to pay for it. Hulu is primarily known for its exceptional content quality, including a wide variety of documentaries, cutting-edge dramas, and quirky comedies.
Customers make an opinion about any entertainment app within a few seconds of navigating the entire app. Hulu offers organized content and removes the clutter. It delivers categorized content that shows what's trending and suggests more options that users might be interested in. The dedicated home screens for various events like March Madness, Olympics, and seasonal content grabs users' attention.
Hulu takes care of its user's likes and dislikes hence, offers personalized experiences accordingly. It provides accurate recommendations based on the areas of interest of the users. By combining algorithms, users' feedback, and according to their search criteria Hulu delivers refined results.
The app supports a wider array of services ranging from commercial-less live streaming or ad-based content. Users are free to change their plan as per their interest or what on TV. For example, some users acquire live sports plans during an event called March Madness. Hulu offers great flexibility in creating a plan as per the user's need.
Hulu offers unique features named "Hulu Watch Party." This Co-viewing feature allows family and friends to watch series, movies, or their common choice of media from different locations. This feature is staying in tune with the current trends, and somewhere it is also connecting people on digital platforms.
Tubi TV
Tubi TV is giving tough competition to HBO Go and Netflix. Tubi TV understands the fact that users are more likely to watch what is entirely different and new. The app's home screen grabs users' attention as they look at such a thing that they can't find elsewhere. It is one of the most well-designed and easy-to-navigate apps. It offers a clean home screen with a myriad of categories. Tubi TV continuously works on enhanced user experiences.
Tubi TV avoids excessive scrolling and offers flexible menu options. Users can directly choose their preferred category and can see a wider range of options of shows and series relevant to the chosen category.
Utilize the wide variety of streaming options
Tubi Tv offers consistent user experience on different devices like laptops, tablets, and mobile phones. It ensures no drop-off in streaming quality and user interface while accessing on different devices.
How To Determine The Cost Of Building An Entertainment App?
Multiple factors come into consideration while determining the cost of availing entertainment app development services.
Some crucial factors of creating a digital entertainment platform include development efforts, team experience, design requirements, personalization, and even the geographical location of the app development company.
The cost estimation also relies upon other app parameters such as business model and technical specifications.
Let me brief you about the key components that influence the overall app development cost:
App Features
It is simple, the more features you add, the more it costs. If you have budget constraints, then choosing the indispensable elements will be the right approach. Later you can customize your app as per your target audience's needs.
App Design
No users want to pay attention to complex apps. Ensure that your app is filled with engaging visuals and offers excellent UI/UX. Keep your app design simple and tempting that can potentially grab users' attention. The design not only makes a significant impact on users, but it will also affect your pocket.
App Platform
There are three popular options available for you while choosing the app development platform.
iOS applications will connect you with technology-friendly customers. If you want to target iPhone users, then iOS app development will be the right option. Also, for strong security features, go with the iOS platform.
Android apps have a wide array of customer bases, but you need to raise your budget when it comes to Android app development.  Android apps have to go through many Android devices for testing purposes to remove the app issues.
If you want to target a wide variety of users, then invest in Hybrid app development. You can offer the combined features and functionalities of both iOS and Android via a single application.
Based on your business needs, you can choose a suitable platform. The cost and app development process may vary from one platform to another.
App Development Team
The cost of the development team you will hire will be determined by the geographical area. But, it also depends upon your budget; if it is pocket-friendly, then you can outsource your mobile app development project anywhere across the globe. The app development team is formed by multiple tech professionals that includes
Project manager
Programmer / app developers
Quality analyst
App designer
Conclusion
The current era of digital entertainment is dabbed with personalization, and the entertainment industry is no exception to it.
From listening to music, content creation, playing video games in high dimension visuals to watching favorite TV shows, and much more, the entertainment industry meets the needs of individuals of all ages. Every individual can watch their preferred content stories, movies, etc.
The last few years have redefined the true meaning of entertainment with technological developments in the market. Technology has taken the entertainment sector to the next level.
If you are looking for some reliable consultation on availing entertainment app development services, we recommend you to connect with our app development experts.
The relation between the business of entertainment and emerging technologies is far from being exhausted.
Stay tuned!
Useful articles, updates, offers and guide boon from SparxIT Team
Categories
Let's discuss your project idea.
Featured In