Magento has been a popular choice for eCommerce businesses since its launch. It has been updated constantly to provide the latest functionalities to these stores. Last year, it was announced that Magento 1 is no longer safe, hence, we need to migrate to Magento 2.
Magento 2 has become the latest choice for eCommerce and plenty of them have already started migrating to the new version. With many other features and enhanced functionality, Magento 2 has also brought with it Magento PWA.
When the world was moving towards progressive web apps to give their users an improved version of their website or app, Magento 2 PWA came as an add-on for businesses operating in the eCommerce sector. Let's evaluate Magento 2 PWA in various aspects.
What is PWA?
Progressive web apps are application software that can be accessed by any user through a web browser, mobile, etc. It works perfectly on all devices. In a nutshell, it is a website that works as a native mobile app.
They have a feature called push notifications that allows websites to send notifications just like apps. These apps need low bandwidth to perform really well as they follow the process of caching in advance. This feature allows them to work even if they are offline.
Here are the top benefits of PWA for businesses: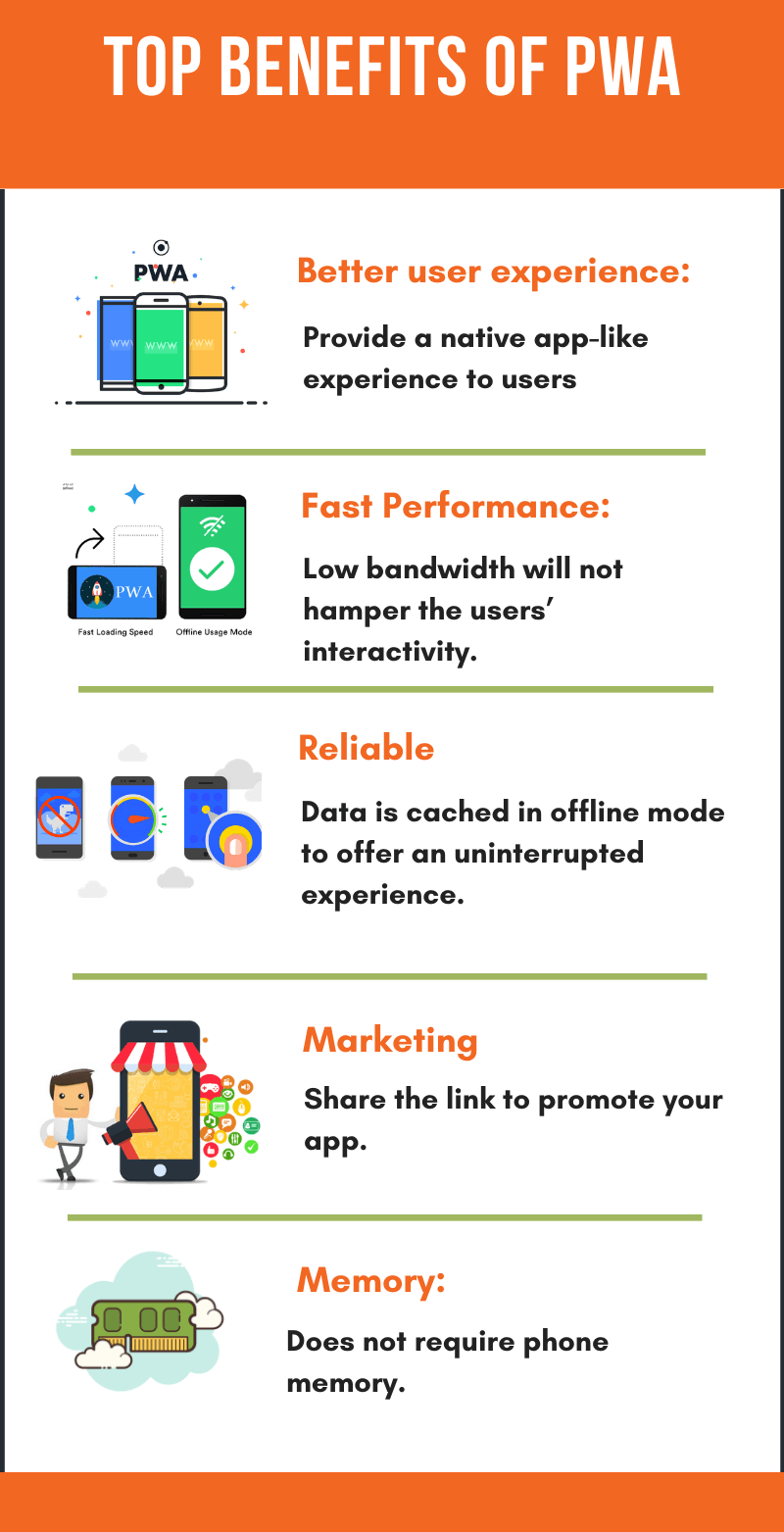 Better user experience: As they provide a native app-like experience, it enhances the overall experience of the user to explore your app.
Fast Performance: With offline accessibility, the user does not have to wait if their internet connection is slow.
Reliable: If a user is interacting with the app and they face an interruption in connection, their requests are saved online. Moreover, they can even fetch new pages.
Marketing: You can spread the word about your app by sharing your link. Unlike other apps, it is not limited to be downloaded by app stores.
Memory: Unlike native apps, PWAs do not utilize your phone memory to save their data. Like websites, it can be accessed without any memory space requirement.
To know more about progressive web apps, check this blog "What Is Progressive Web App And Why Are They Popular?" It will help you understand what all PWA and Progressive Web App Developers can do for your business.
What is Magento 2 PWA?
Magento PWA is an advanced technology that allows businesses to provide an amazing shopping experience. It offers an app-like experience through desktops as well as smartphones. Along with an eCommerce store, Magento has given this liberty to merchants to create a PWA.
Magento Development Company like Sparx IT Solutions can utilize the tools and various benefits of the storefront to provide a commerce store with a great scope of conversions to clients.
The front-end technological tools are offered by the PWA storefront of Magento. Apart from this, an extensively rich suite for back-end development is also offered. Moreover, it is specifically designed after considering the needs of commerce businesses.
Why is Magento PWA better than Progressive Web App development?
Progressive web apps have various benefits for your business. Similar to these benefits, Magento 2 PWA also offers immense advantages. Being an eCommerce development platform, it is highly lucrative for eCommerce businesses.
Experienced Progressive Web App Development Company like Sparx IT Solutions suggest their eCommerce clients get the Magento one developed because; specifically, for them, Magento PWA has many over-the-top benefits.
Fast Development:
The tools offered by Magento 2 are highly useful. They allow the developers to create PWAs with high-end features, optimum performance, and seamless work process. The extensive list of tools is very well explored by experienced developers so far to create profitable PWAs. With the availability of handy tools and extensions, developers are able to create Magento 2 PWAs relatively faster than usual technologies.
Customized Development
With this storefront, strong GraphQL API, and modern architecture, the developers can create a high-performing PWA. The final product will deliver studio-based experiences. You can also get a highly customized front-end when you avail of Magento eCommerce Development Services.
Easy Content Management
Whenever you enhance your eCommerce store website, the content management ease and comfort is the top-most priority. Magento 2 provides this with a PWA studio-based content management. It allows the quick and easy drag and drops of content with the integration of a page builder tool. This gives the marketers to have strong control over the changing of content as per the real-time search engine ranking changes.
Cost-effective
It is highly cost-effective in various ways. The tools are enough to support all kinds of custom development needs for your eCommerce store. Moreover, you will not be required to rely on a third-party cloud hosting service for your back-end. This will make the development of your Magento 2 PWA studio-based storefront cost saving for your business.
What are the tools used in Magento PWA?
Magento is known for its extensive support in the development of a web store. From thousands of plugins and extensions to SEO-friendly features, Magento has always taken off the needs of the businesses in the eCommerce sector and offered lucrative add-ons.
Similar to its past practices, Magento 2 PWA storefront also has a variety of tools to offer a seamless delivery of Progressive Web App Development Services. These tools are of great help to us. Let's read about them in detail below:
Service Worker
The caching that takes place in progressive web apps at an advanced level is done using the Service Worker script. It allows quick resource retrieval and runs continuously in the background while a user interacts with your Magento PWA.
GraphQL
In a progressive web app, the data is requested and sent with the help of GraphQL. It works on both the client-side and server-side. On the former one, it is a specification for a data query language, and on the latter one, it is a service layer.
Application shell
This is one of the most crucial tools for creating Magento 2 PWA. It offers a complete structure for the user interface of your PWA for your eCommerce business.
CSS modules
This tool in your Magento PWA studio will allow creating conflict-free CSS styles. These modules can be reused by your developers which enhances the speed of project completion.
Component data binding
As progressive web apps are of dynamic nature while interacting with users. They use this tool to flow the data between the UI component and the source dynamically.
Client state, reducers, and actions
In the case of any web app, these concepts are used to manage as well as handle their state. Read more about them from here.
Performance patterns
Businesses switch to Magento 2 PWA to enhance the performance of their eCommerce store. There are extensive performance patterns and strategies available in the Magento 2 PWA studio that helps them enhance PWA performance.
Container extensibility
A container is an HTML component that can be re-used and altered by different members of the Magento community without changing the source.
What are the benefits of Magento PWA for eCommerce businesses?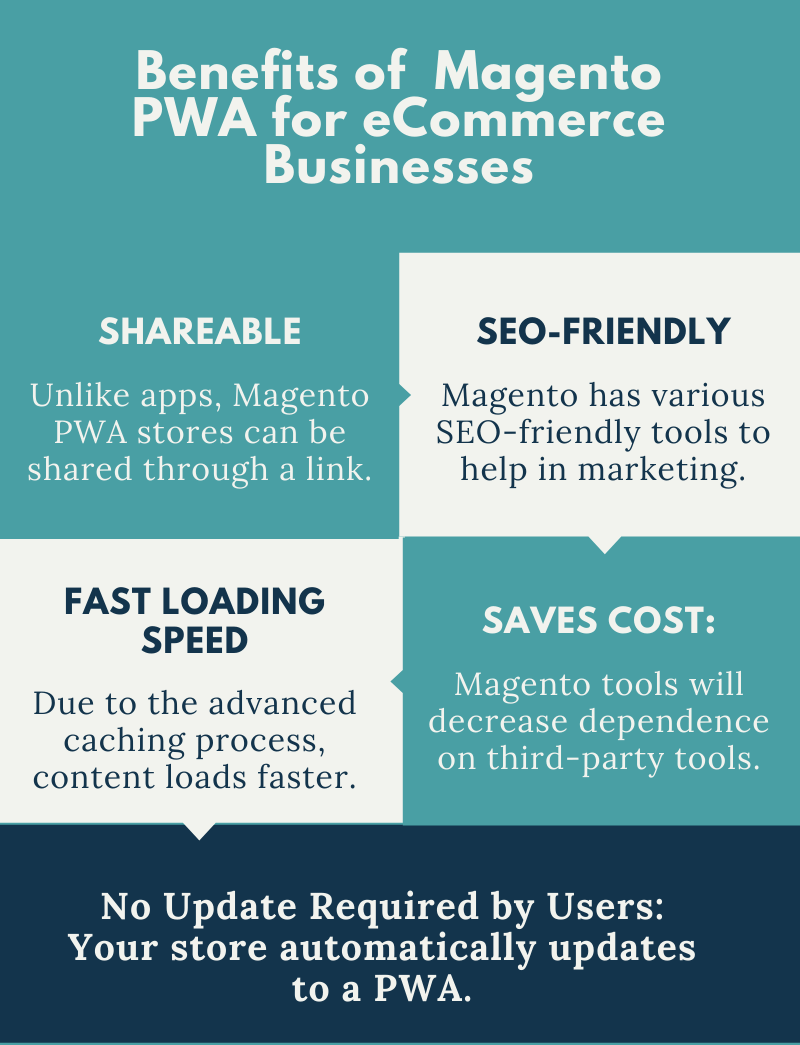 We already read about the benefits of progressive web apps and how Magento 2 PWA is more beneficial than ordinary PWA. This section is created for the eCommerce businesses that are still doubtful whether they should get their Magento store converted to a PWA.
This section will answer many of your doubts about how the customers will update your store, how you will spread the word and how will you acquire more customers. Check these benefits to know why Magento 2 PWA development is a beneficial option for Magento store owners.
Shareable
By enhancing your Magento store into a PWA rather than an app, you can share it easily. This makes spreading the word of mouth through your social network also easy. Unlike a native app promotion, you can share the link of your PWA just like a website.
This makes not only sharing seamless but also makes the marketing a fruitful job by the marketers. By choosing Magento 2 PWA development, you can make marketing your app a successful strategy.
SEO-friendly
As we all know, Magento is a platform that is extensively known for its SEO-friendly plugins and extensions. By using the Magento 2 studio-based PWA storefront development tools, you can maintain the content creation process with page builder tools.
This allows for great control of the SEO semantic codes during the eCommerce app development process. The SEO-friendly attributes of this eCommerce development platform make it an ideal tool for PWA creation for your web store.
Offline Access
Progressive web apps can be used at a low bandwidth as well. The way a user interacts with the Magento PWA, the app caches the data in advance. The cached data is served to the customer when they are offline. The service worker script allows the PWA to offer this feature to these apps.
Fast Loading Speed
As PWA caches the data in advance, it works at a faster speed than its counterparts. This improves the app's interactivity multiple folds. Ultimately, the user retention rate increases as slow loading speed has always been one of the greatest reasons for losing customers before the final checkout for eCommerce store owners.
No Update Required by Users
Unlike in native app development, your users will not require to download a new app or update it through a play store. Without even their knowledge, your eCommerce store will start offering better performance as a PWA. the no manual requirement for updates, make your Magento PWA seamless access to the old users.
Saves Cost
With a headless architecture where multiple tools for front-end as well as back-end development are provided, Magento 2 PWA development becomes highly cost-effective. Moreover, you will not have to rely on any kind of third party API for a customized feature in your eCommerce store.
Is it the right time to get a Magento 2 PWA developed?
Magento store owners are often recommended by their developers to one or the other service. It is due to the dynamic nature of this eCommerce platform and its constant up-gradation requirement. Recently, we advised our clients to migrate their Magento 1 store to Magento 2 to safeguard their stores from security threats.
Similarly, today is the era, when eCommerce businesses must move to PWA and offer their customers better engagement and user experience. Magento store owners have this cost-effective liberty to transform their store into Magento 2 PWA.
Therefore, it is an opportunity that needs to be availed to enhance your eCommerce store performance. We recommend such businesses to take assistance from experts associated with a reputed Progressive Web App Development Company like Sparx IT Solutions.
We have been offering competitive PWA development to our clientele for the past 13 years. Let our Magento 2 experts guide you on which extensions can make your PWA most cost-effective and high-performing.
So, the next time when you think about getting eCommerce web development, remember that Magento 2 PWA is the most lucrative option for your business. It comes across the progressive way of your eCommerce store.
Useful articles, updates, offers and guide boon from SparxIT Team
Categories
Let's discuss your project idea.
Featured In