What if I tell you that the market of the online marketplace is hyping its growth by 10x by 2025. Of course, this is not the only reason why you would be planning to have your own marketplace like eBay. Keeping no doubts, let me tell you that despite many business giants trying to overtake its growth, eBay is still among the most popular online marketplaces in the world. So, if you are trying to create your marketplace, you have made the right choice by idealizing eBay.
Alongside the ceaseless growth attained by eBay through the years, there might be your own business objectives to develop an online marketplace. Thus, I shall provide you adequate information about developing and managing your own eBay-like marketplace from top to bottom.
What Makes eBay & Etsy Stand Among the World's Best Marketplaces
With millions of vendors selling their products to customers across the world, eBay can be a real inspiration for those wanting to create a marketplace that grows, sustains, and evolves. The reason why eBay is still competing hard with other contenders in the market such as Amazon, Alibaba, Walmart, etc is that it is still evolving. It is adopting new user-friendly features and processes.
Some users who have migrated from other marketplaces consider eBay more simplified, easier-to-navigate, wide-scale customization, and personalization of the product listing. Coming to the interface, the look and feel of eBay the marketplace is more colorful and appealing. It engages many users to the platform and makes them leave the site after checking out the products of their choice.
The leading marketplace platform launched its valet services to help its vendors with the facility where your products not getting purchasers are handled by professionals at eBay who would help you to find a seller. In this direction, items' pricing is lowered gradually till it does not get a buyer. Moreover, eBay can add descriptions and answer buyers' queries on forums.
Must-Have Characteristics of eBay & Etsy-Like Marketplace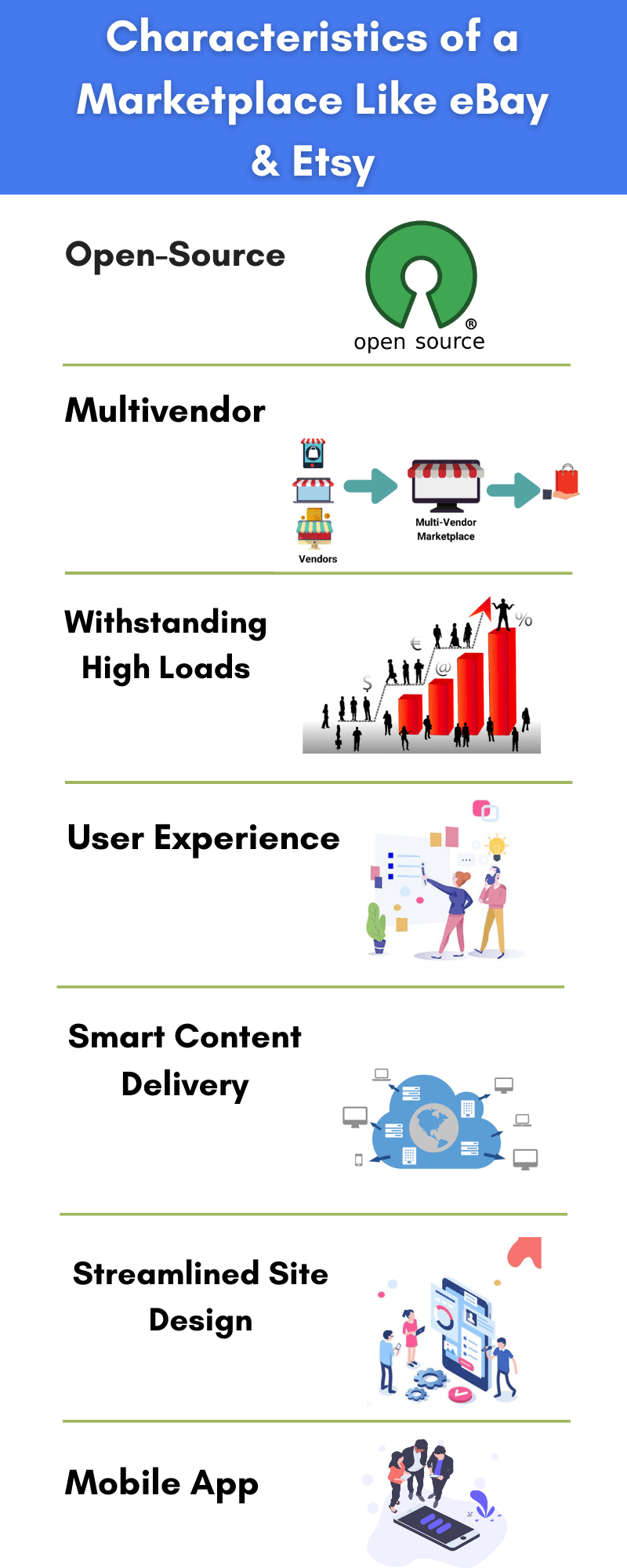 If you are willing to create an online marketplace like eBay, you should understand the popular, well-recognized, and foundational characteristics of the marketplace.
Open-source marketplace means more flexibility, more agility, speed, and ability. In general, by making your application open source, you make its code freely available. It is generally considered that open-source platforms make it easy to integrate third-party features. There are several options when it comes to security, personalized features, and customization in marketplace development.
A multi-vendor platform allows a marketplace to enable multiple vendors to use their platform. It is the most used type of online marketplace. Businesses can create their own storefront on the platform with the admin's approval and add their products afterward. It provides businesses a layout where they can customize the elements like search filters and categories.
For any successful marketplace, it is important to get more customers and sustain the user experience. It means that there should be no impacts on the functioning and internal process of the process. The marketplace should be capable of dealing with from thousands to even millions of customers.
With features like easy-navigation enabling a rich user experience, a marketplace can become a go-to choice of the vendors using the platform. A high-scale user experience allows the users to list their products with ease. Such a property enhances the security of the platform to the maximum extent.
Delivering the requested content with immediate and precise responses is what every successful online marketplace needs. To engage in the speedy transmission of content, developers can use a content delivery network (CDN), a distributed network of data networks, and proxy servers.
To keep your interface personalized as per your users' expectations, you can consult developers with an apt understanding of scripts, designs, and user experience. From adding user-friendly navigation tools to choosing relatable themes and templates, you can engage in a design best-suited to your needs.
Having a mobile would increase opportunities for a marketplace. It brings the business closer to the audience. Getting a place in your customers' pocket is a crucial advantage a marketplace can leverage over its contenders.
Top Features to Include in Your Marketplace Based on eBay & Etsy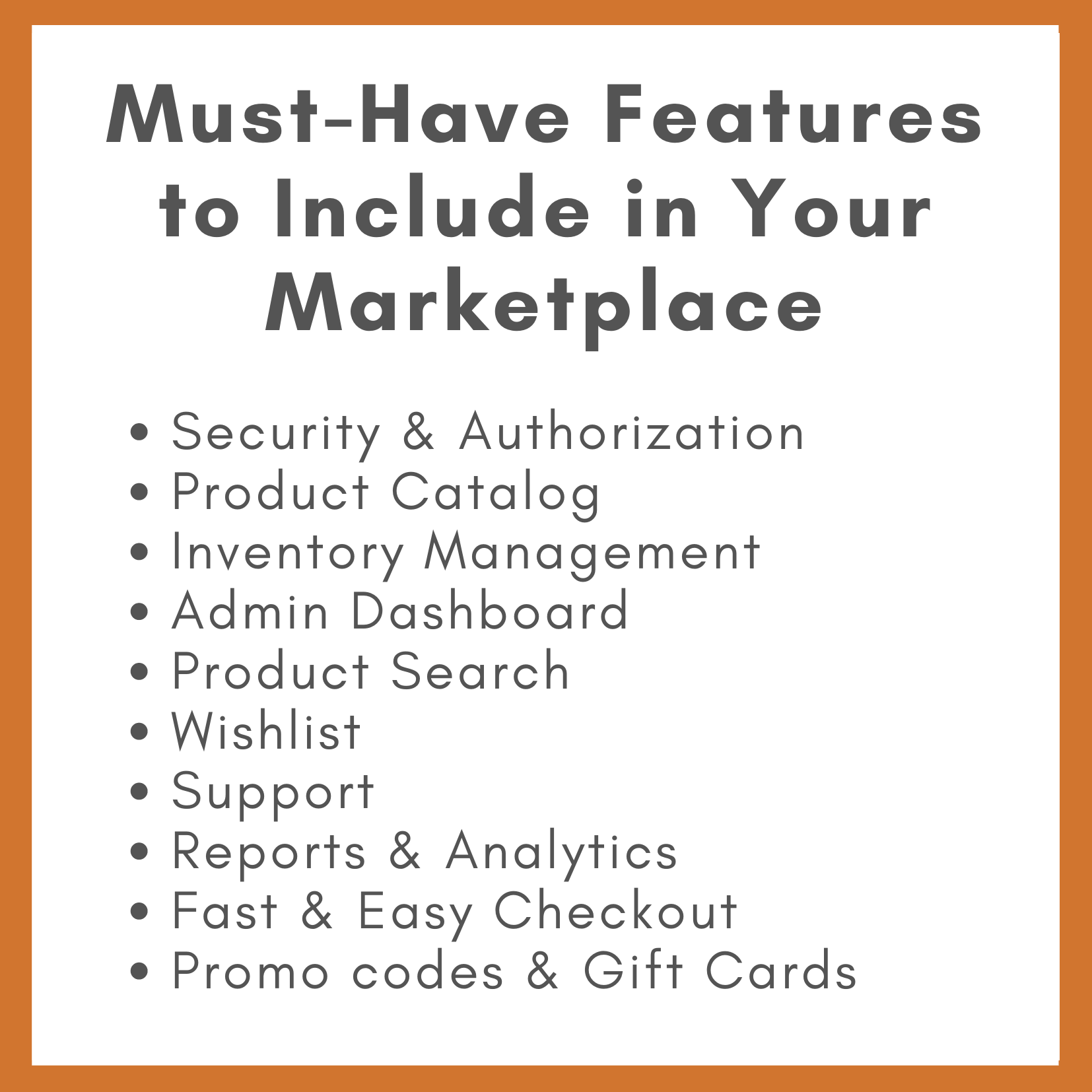 To make your marketplace count and gain a competitive advantage, you should ensure including the main features consist of eBay & Etsy. Here are the prime features you should include in your eBay & Etsy-like marketplace.
A leading company would always focus on developing a marketplace with next-level security standards. From user login to dashboards and secure payment checkouts, a marketplace should comply with all the security needs of the users. The more secure your marketplace seems to users, the more credible you become in their eyes.
Easy inclusion of new products and their maintenance is the WordPress web development trend any successful marketplace would not want to compromise on. A complete and appealing product catalog is the need of the development plan for a well-functioning and user-friendly online marketplace.
To escape untimely stock-outs or overstocking, developers create compatible and rich-featured inventory management tools. The objective of these applications is to engage in easy and centralized management of all products listed on respective vendor accounts.
It is always necessary to showcase a credible image of your platform to the customers. The advantage of allowing your customers to post reviews and ratings would provide you a way to understand the areas of improvement in your marketplace. It makes your platform more credible and interactive to the users.
Though it may seem a small or common component of any website or application, it plays a crucial role in engaging the visitors right from the front. It helps users to filter or reach desired product pages listed by the vendors interactively.
A customer likes a product but does not want to purchase it at the moment. In such a case, they can put the products into a wishlist so they can review the product when they are ready to purchase it. Also, the products that were out of stock, can be put into the wishlist and get notified whenever the product is in stock.
To help customers find resolutions to the issues related to the product and the platform, you can include a 24/7 helpline or an interactive bot to manage the complaints registered.
Admins can review the insights related to sales, purchases, and traffic. The main objective of having this feature is to review the results of the efforts put in by the professionals to make your application stand out.
Hassle-free checkout experience may not be noticed when a customer completes the order but it is surely be noticed when it has concerning obstructions in there. Thus, it is inevitably an important feature to focus on while creating your marketplace.
Including gift cards and coupon codes always help you engage in more customers. It provides you a way to gain a competitive advantage over what your contenders offer.
Platforms for Developing eBay & Etsy-Like Marketplace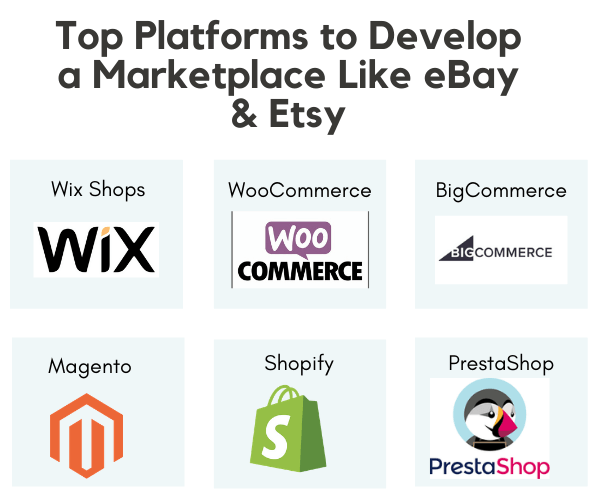 There are plenty of options you might be offered from the website development company you have chosen to develop your marketplace. However, it is always the best approach to have an understanding of what these options are prior to sitting in front of techies. You can understand the technological and business prospects of the technologies or platforms available by yourself. It will simplify and enhance the interests of both parties discussing the marketplace.
Wix provides businesses with a set of plugins and tools to create a fully-fledged marketplace. They can create appealing online stores to interact with a versatile audience. You can add individual product pages using the platform. An eCommerce website development company can help you leverage the best of this platform.
It is a WordPress eCommerce plugin that helps a WooCommerce development company to include appealing themes and templates. With hundreds of extensions and thousands of plugins, WooCommerce development services have become eCommerce developers' choice for any WordPress development services provider.
Among the most popular eCommerce platforms, BigCommerce has earned a name in the field of marketplace development. Its rich-featured apps and integrations have helped the developers to create a marketplace that stands out.
Magento eCommerce development services are widely known for their dedicated eCommerce features. The platform has been the key technology behind the success of some of the leading marketplaces in the global market. With its versatile range of themes, templates, and eCommerce extensions, any Magento development company has been a prime choice for clients.
Shopify development services comprising multi-vendor marketplace plugins have enabled businesses to migrate their eCommerce websites to the fully-fledged marketplace where admin can add vendors. These vendors can add products using the expertise of a Shopify development company.
It is a leading name in the eCommerce market. PrestaShop development services providers have gained wide popularity for using premier marketplace builders and eCommerce modules. It has several automated tools that simplify the user experience.
Take These Steps for Developing eBay & Etsy-Like Marketplace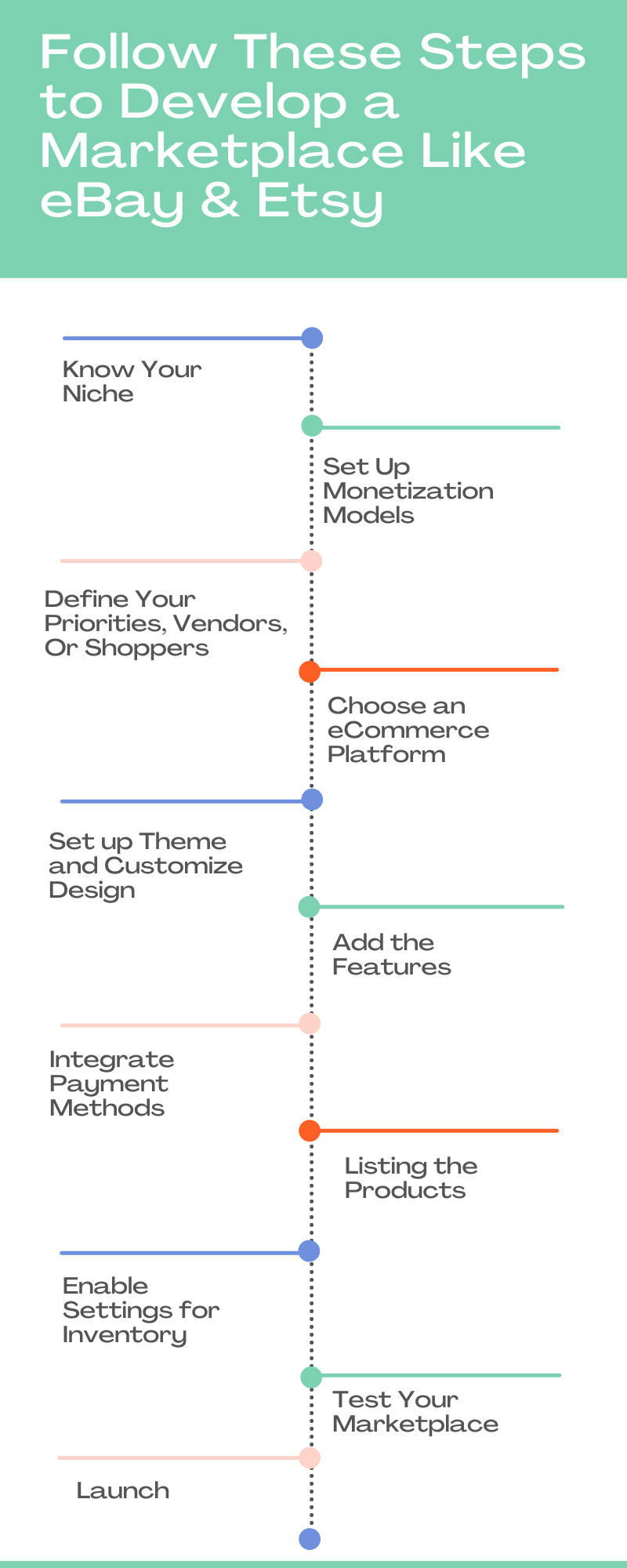 Now that you know the features and characteristics of your marketplace, it is time to learn the steps you can follow to create your own marketplaces like eBay and Etsy.
It is considered the best approach to have a development plan before reaching out to the developers. It helps you to be skeptical about things.
Let's have a look;
The first significant thing to do before availing of eCommerce website development services is to know what niche you want to target through your platform. Choosing a niche for your marketplace will help you utilize the best-suited business model to meet your business objectives.
Today, when we see Amazon doing so well as a marketplace, we consider it of a general niche. However, it was started with a single niche of books.
Set Up Monetization Models
To provide the vendors different ways to make money through your marketplace, you need to adopt several monetization models. The top three monetization models include commission, subscription, and listing fees.
The vendors may pay a small amount fee to avail the services of a marketplace platform. To justify the amount paid, the marketplace ensures to provide them complete support to help them sell their products.
There can be product listing features and relationship management tools to indulge in a smooth and flexible process.
Define Your Priorities, Vendors, Or Shoppers
While developing your marketplace, it is significant to define your priorities. It means that you should understand whether your marketplace indulges in features that would be more useful for the vendors or shoppers. However, it is evident that you cannot overlook either of them.
Like eBay and Etsy, you can keep your marketplace's arena compatible for vendors. They provide the features that help the vendors gain maximum results. It never means that you can demean the expectation of the end-users because even the vendors would not want a marketplace that does not engage in or help their customers.
Choose an eCommerce Platform
There are plenty of platforms to choose from. You being a business professional would have to choose a technology platform that is efficient, effective, updated, and budget-friendly.
It depends upon your own consideration of different platforms and your priorities. I have mentioned six top platforms you can choose from to develop your marketplace. However, it is also a good practice to discuss and compare all the platforms in brief with the web development company you hire.
Set up Theme and Customize Design
All the platforms included in this blog provide thousands of themes and templates. When it comes to creating an eCommerce website, you might consider the web design services being the only factor. Whereas, to develop an online marketplace like eBay and Etsy, things may be a little more complex.
You do not only think about the design but also the scalability. You may have to include various product pages on your marketplace so you need to choose a theme or template that can cope with versatile website design services options and views.
You cannot make it centralized on a single color orientation as it may restrict the flexibility to adopt new pages of new product page design orientation in the future.
Since we are idealizing eBay and Etsy, I added the prime features of both the platforms combined. Developers can include these features by creating native code or integrating their respective APIs available.
If you are consulting a WordPress development company, you can focus on including features that seem important to you but were not included in the beginning.
Features may help you determine the scope, budget, and applications of your project. The aim should be to create a high-class marketplace that is personalized to the versatile needs of the users.
Integrate Payment Methods
Payment integration is one of the most crucial components behind the success story of a marketplace. It provides your user with a realization of simplistic solutions they would be leveraging through your application.
You might be using different platforms to develop your marketplace but that thing keeping all of it relevant is the availability of options you offer to your customers.
The next step in the marketplace website development process is to engage in an easy, fast, and hassle-free uploading of products listed on your website. The developers may utilize different approaches to offer you a light-weighted yet interactive platform to keep your audience up with your project.
You can utilize the product listing functionalities of any of the platforms listed in this blog i.e. Magento, PrestaShop, WooCommerce, BigCommerce, and Shopify.
Enable Product Inventory and Shop Settings
To keep your product records up-to-date with the processes, we utilize product inventory and shop setting as a prime factor in the process. We utilize their rich-featured tools to interact with the needs of your versatile clientele of different industry backgrounds.
There can be different filters, look and feel, or orientation, so keeping things dynamic, we never compromise with the scalable characteristics of the platform as a whole.
Once we are done with development, we tend to test the functionalities, experience, and results of the application developed.
We utilize 360-degree tools to keep up with the needs of our customers and generate maximum business outcomes. With such an approach, we tend to detect and rectify the bugs and errors that exist in the marketplace and come up with the most viable business results.
After accomplishing all significant steps in the process of development, we step forward to the launching of our online marketplace like eBay and Etsy. Alongside the size of the project, we consider technical expertise and another crucial factor to market a marketplace.
It becomes significant for every member in the process to understand what the marketplace will do and what its outcomes can be like. The main purpose of the marketplace is to align with the goals of the vibrant audience spread across different industry domains and a large number of customers.
This can be your thought process before you launch your marketplace as a fully-packaged business application.
Planning the Budget for Your Marketplace Like eBay & Etsy
To develop a marketplace like eBay & Etsy, we consider factors that define the estimation of website development cost. These factors include basic to advanced features, experience-level of developers, tech stack, customization, etc. Post-development, your website marketplace may require maintenance and promotion.
Before you get a development company onboard, it is considered the best practice to create a budget plan for respective elements of the estimate. It is the reason why you may realize variations in the cost of developing a marketplace from company to company.
What Statistics Say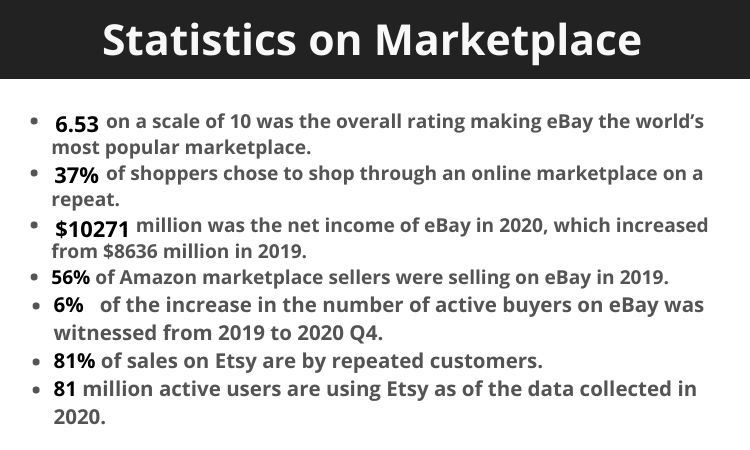 eBay was the most popular online marketplace in 2020 with an overall seller rating of 6.53 on a scale of 10. (Statista)
37% of the online shoppers prefer to shop on an online marketplace repeatedly. (Statista)
The net income of eBay increased from 8636 million USD in 2019 to 10271 million USD in 2020. (Statista)
56% of Amazon marketplace sellers were selling their products on eBay in 2019. (eMarketer)
With an increase of 6%, the number of active buyers went up from 174 million in 2019 to 185 million in 2020 Q4. (Marketplace Pulse)
81% of sales on Etsy are by repeated customers. (SaaS Scout)
Etsy has 81 million active users. (Expanded Ramblings)
Conclusion
Developing a marketplace is a task that requires a versatile viewpoint so you can consider the challenges and upgrades. The objective of this guide was to help you understand the most significant and complex subjects of the content. You can view our website development guide to comprehend the basics and technicals of marketplace development.
There are ways to do your own research on things. From budget plan to tech stack, you can analyze everything over the internet using the resources available.
Useful articles, updates, offers and guide boon from SparxIT Team
Categories
Let's discuss your project idea.
Featured In