Is Clubhouse the next sensational audio-only social media platform?
Every one of us spends a lot of time online searching for our required services or products. Whether it's about entertainment, education, fashion & style, or healthcare consultation, we are heavily dependent on social media platforms. Whether it is Facebook, Twitter, or Instagram, there is something to do for everyone. But, it's a highly competitive world, that is why tech experts try to introduce something new everyday.
After such eminent social media platforms like Facebook and Twitter, another new app is in the queue: that is Clubhouse. The clubhouse is an audio-only social media application that requires the new user to be invited, join the chat room and connect via audio.
In this article, we will find out some lesser-known facts about this popular audio-based social media application.
What is Clubhouse? – An Exclusive Audio-only Social Media App Creating buzz on the Internet!
Developed by Paul Davison and Rohan Seth, Clubhouse is an audio-only social media application that allows users to share their thoughts and ideas without typing long texts. It is a platform where users can share their thoughts, stories, ideas sharing, make friends, and strengthen their social networking.
It creates a virtual room for every individual where they can speak and listen to the audio clips playing automatically. In other words you can say that it is like a virtual forum where people are joining discussions for the topics they are interested in.
It permits users to create separate rooms anytime they want or join different rooms as per their convenience. Clubhouse claimed that people who experience the app have discussed things like entertainment, day-to-day life, and politics. People can join the discussion as per their area of interest.
Why is the Clubhouse application getting huge popularity?
The key thing that separates Clubhouse from other social media platforms is the audio-based mode of communication. It's an application that allows users to share interesting content via audio only.
The audio-only and removal of the camera environment is a very special medium. You can convey your thoughts, emotions, and views on particular things with your voice only. It is a great way to connect with others by establishing a healthy conversation.
On the other hand, it's very interesting to make friends who you don't know personally, not even seen their face, just with a voice exchange you make online friends. With this voice only application, there is often a potential to create more empathy.
Let's have a look inside at the unique audio-only social media application Clubhouse
The Clubhouse app is categorized into three segments. Once you enter the app, the things are settled in the below format:
Right after getting into the app you will find a list of real-time discussions and conversation scheduled for later as well.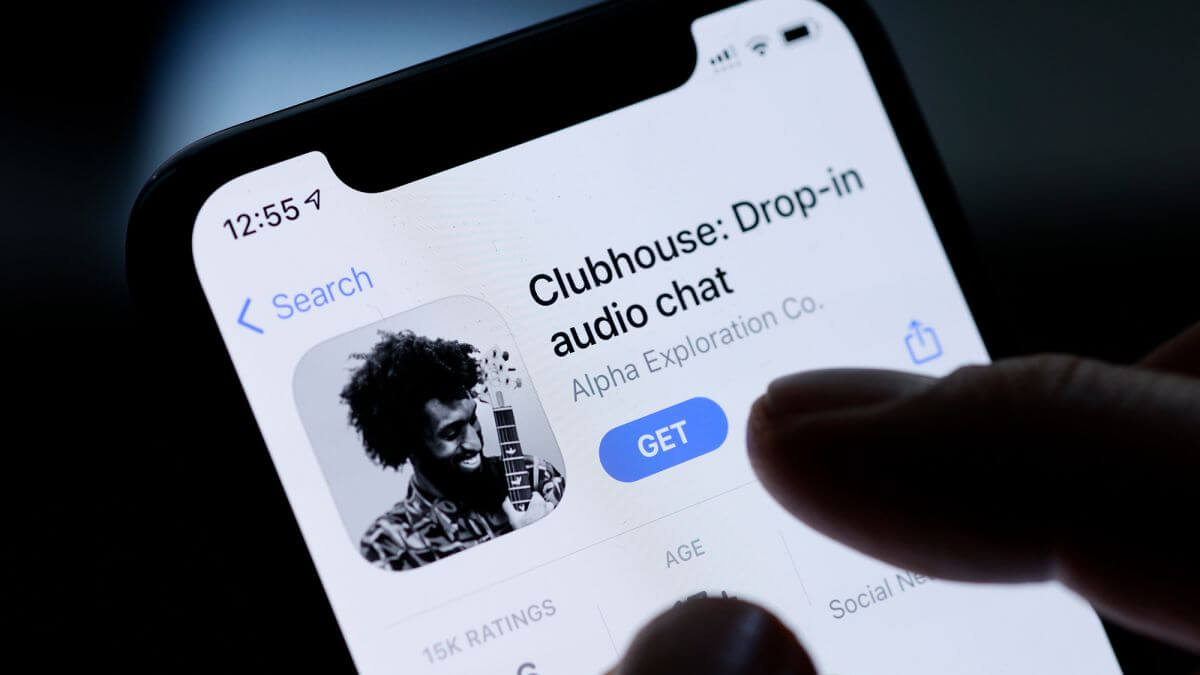 Depending on your field of work/interest/friends, you'll see chat rooms hosting virtual conferences to talk on film, culture, music, technology, and beauty.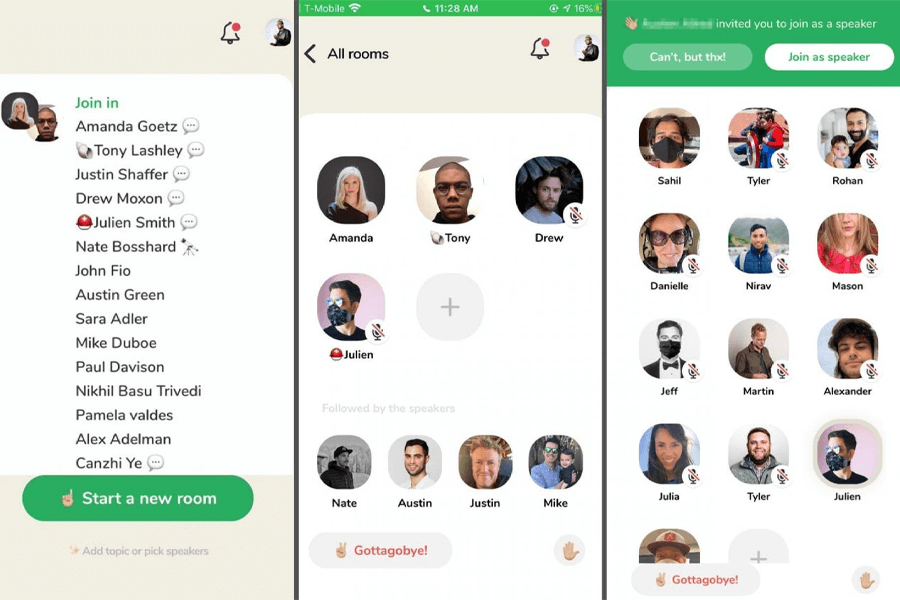 Scheduled panel talks are being queued in the feed.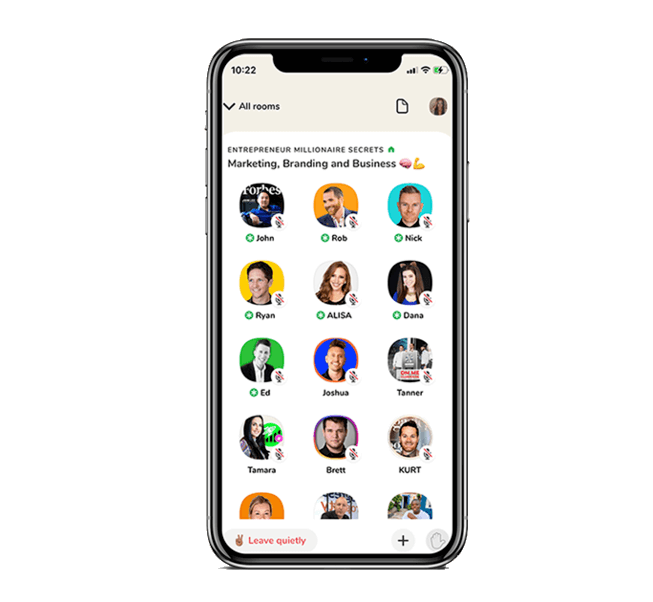 You can consider these segments as the feature of applications. But how will you start? What is the initial point to get into this unique application?
Two way to get Started on Clubhouse:
Personal Invitation
When a person decides to experience and join Clubhouse, they are given an invitation they can send to another person using their phone number. Of course, it means that app users will send invites to those they already know. Once a person is a part of Clubhouse and joins successfully, he/she is eligible to do broadcast and moderations. It will get you more invites to share with other candidates and grow your connection.
Waiting List
Clubhouse application is only iOS device supportive for now. iPhone users can download the app and save their username. If your friends are the existing users of the Clubhouse app then they will get a notification when you join and can connect you and send your invites.
When we check out any new app so the first thing that strikes into our mind is how to use it? We navigate the app and try to understand the better way to use it. Because Clubhouse is based on the new ideology that is an only voice-based app, so users want to know the right way of using the app. Let us figure out the steps to start with the Clubhouse application.
How to Use the Clubhouse app?
The Clubhouse app is highly popular among celebrities, and you can also join to connect with them. You can have a conversation with them and get an interesting piece of entertainment. But if you are an entrepreneur or public influencer and expecting to generate leads using this platform then you are in the right direction. The clubhouse is beneficial for business owners to generate leads, boost sales, increase brand awareness, and enhance market reputation.
Where Clubhouse is doing extremely well in network and community building. It allows users to share informative and educational content, gathers insight, hosts virtual events, grows social networks and collaboration, and many more. The clubhouse is a social platform that gives you a chance to connect with experts in different industry domains and establish a spontaneous conversation with them. But to draw users' attention you must create an engaging and compelling profile.
So let's understand the key steps to start using the app, like Clubhouse:
Set-up a Profile on the app.
The Hallway (main feed where you will find real-time conversation)
Member Search (Search members through user name, biofields, and name)
Sending Invitations (Send invites to other members and grow your connection)
The Calendar (shows a list of upcoming rooms or events)
Viewing Notifications (This will show you a list of actions involving clubs and rooms you're following as well as activities performed by your friends)
Rooms (where everything happens in Clubhouse app)
How to Start a Room on Clubhouse application?
Open Public rooms that anyone can join or view.
Social: Social rooms are joinable and viewable by only those who are existing followers.
Closed: Private rooms can be seen and joined by only those who are invited.
Club: Rooms hosted by a club that isn't on the events calendar.
Listeners, Speakers, and Moderators
Clubhouse Club : (There are four types of membership within a club)
Founder: A club's founder is the head of the virtual cloud. The founder can edit the description, invite members and modify rules. The app asks for a minimum of one recurring conversation.
Looking for Social Media App Like Clubhouse
Contact Us
Admin: The Admin role is assigned by the founder of the club to the members of the other club. Admin can remove and confirm the member to the club or set their privacy either private or public.
Members: Members can create private rooms as well as view and participate in both public and private rooms.
Followers: A follower can follow the public club activities but has no right to create a separate room.
Clubhouse application is a few months old, still performing well and competing with other social media platforms. But being a unique voice-based app it has gained surprising popularity. Many VIPs in the high profile industry are using this app, which means it has a supreme client base. If you are a business owner and want to create an app like Clubhouse then first you need to know everything about this innovative app. You can also read the online Mobile App Development Guide to get detailed information.
Why should businesses invest in developing social media applications?
I will share this pic right away, did you check his recent post?
These are very common things to hear from people these days. It's all because of the hottest social media trends. People are highly influenced by social media that makes entrepreneurs think differently. Because social media is being used on a wider scale, it has become a necessity to develop user-friendly applications that meet the user expectation on digital ground. It helps businesses to grow faster and earn more. There are a lot of advantages associated with social media mobile app development.
Here are the major benefits every organization can achieve by investing in audio-only social media app development like Clubhouse:
Maximized user engagement
Strong purchasing power
Advanced targeting options
Track ROI of your business and make necessary changes
Additional features for business profiles
Increased web traffic
Strong social networking without paying anything
Easy content delivery
Enhance brand awareness
Also, you must consider the key factors of budget estimation and know how much it will cost you to develop an app like Clubhouse.
What are the cost influencing factors to create an app like Clubhouse?
Platforms and Devices
Mobile apps built for a particular device or platform directly affect the cost. For example, developing an app for a specific platform will cost less compared to the app build for multiple platforms. Similarly, developing companion mobile apps for connected wearable devices and TV will increase the overall cost of app development.
Hybrid v/s Native
A native app is specifically built for a particular operating system whereas a hybrid app can perform on multiple OS. Based on your target audience and business model you can choose the right option between Native v/s Hybrid.
If you want your app to support multiple devices then Hybrid app is the right option for you. You can hire a Hybrid app development company. Hiring a firm can offer you React Native app development services. React Native is the renowned platform to create Hybrid apps, you can hire professional React Native app development company for a superior cross-platform mobile app.
The Features and Functionalities Required
The more advanced features you want in your app the more you have to pay. You need to pay according to the features and functionalities you want. Like if you want the following feature then it will cost accordingly:
Managing user profiles
Social integrations
Processing capabilities
Dynamic vs static data
Add-on SDKs
Navigation
Chat or messaging
Portrait or landscape view
Geolocation
In-app purchases
Payment integration
Maps integration
App Design
The design of your app is the first thing that users notice. It should be attractive and engaging. The mobile app design should compromise wireframes, brand logo, brand images, and so on that should be placed in a proper format. You can hire a mobile app designer for a perfectly designed app.
Cost of Hiring a Mobile App Developer
Hiring a professional and experienced developer is always a best option for a technically sound product. If you hire mobile app developers on an hourly or monthly basis, then you need to pay accordingly. You can hire developers as per the suitable hiring model. You can hire social media mobile app development company or avail iOS app development services to create the best iOS based mobile app. You can contact a reputed Hybrid App Development Company for quality services.
Conclusion:
In this digital era, social media is a unique world with a strong user-base. If you want to create a community that grows itself then build a social media app. It's a place where individuals come at one place. It helps you to reinforce a strong bond and healthy relationship with your customers. Developing a social media app like Clubhouse can get you many benefits to boost your sales and productivity.
Sparx IT Solutions is a leading mobile app development company equipped with a talented pool of developers. You can hire an experienced app developer to build productive mobile app solutions for all your business needs.
Useful articles, updates, offers and guide boon from SparxIT Team
Categories
Let's discuss your project idea.
Featured In