Your website is the face of your online business. It's where potential customers learn about your products or services and make purchasing decisions.
Therefore, the website must be fast, intuitive, and visually appealing.
The good news is that businesses are recognizing the importance of their website as a sales and marketing tool, and as a result, website redesign is becoming more popular.
But this also means the competition is getting stiffer, and marketers must step up their game to stay ahead. That's where website redesign services can help website owners immensely.
However, the cost of a website redesign can vary greatly, leaving many companies needing clarification on what they should pay and expect for their money.
Well, don't worry! We're here to provide you with the answers you need. This blog will break down the website redesign costs, discuss what factors impact the cost, and more.
Whether you're a small business looking to revamp website on a budget, or an enterprise-level organization needing a custom website design, we've got you covered.
So, let's begin.
What is Website Redesign?
Redesigning your website can mean tweaking existing features or starting from scratch with a brand-new design. You might want to add a dynamic new homepage, integrate social media feeds, or change your branding and domain name.
It depends on what your marketing team thinks is best for your business.
So, if you're wondering whether it's worth the cost to revamp a website, here is a list of top reasons for visitors to leave a website, as per a survey by GoodFirms.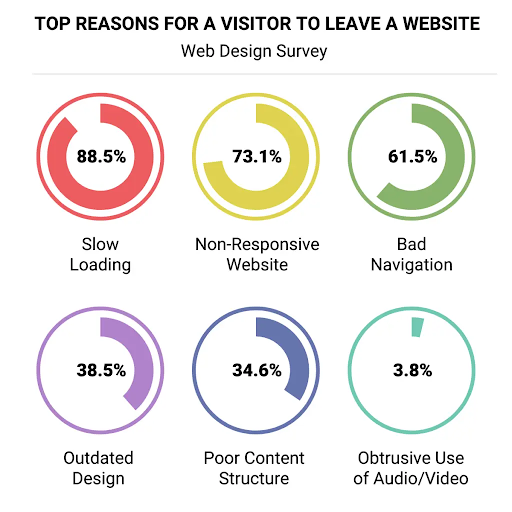 Source: GoodFirms
Different Types of Website Redesign Services
The design process alone is a complex task, but it's worth noting that it typically takes half the time for a brand-new website's development phase.
But, as with any project, website revamp cost can vary based on your specific needs. There are four different types of website design, each with unique requirements and an average cost for website redesign.
Whether you're looking for a simple refresh of your existing site or a complete overhaul, it's essential to understand your options.
1. Redecoration
Redecorating involves minor to major web design and layout changes. From changing your color scheme, adding new images or videos, sliders, and carousels, to updating your logo.
One thing to keep in mind is the power of color psychology. By carefully choosing the colors you use on your site, you can influence how visitors feel and interact with your website.
Remember that an expensive web developer may cost more, even for a simple website. Of course, the price may increase if you're looking for a more customized experience. And as with any project, choosing the right website design company for the job is essential.
Hence, if you're looking for a quick and cost-effective way to give your site a facelift, redecorating might be the perfect solution for you.
Redecoration of the Website Design
Changes in the logo, features, and design concepts.
It will depend on the business objectives of an enterprise.
2. Rewiring
Consider rewiring your site by updating its backend services with the latest technologies.
For example, switching to cloud systems can provide better accessibility and security, while upgrading to feature-rich content management systems can enhance the user experience.
It's critical to note that this process typically incurs higher costs than redecoration. It is due to necessary expenses like subscriptions, migration plans, plugins, UX design updates, and other technical components.
Rewiring the website design
Updating Backend Services
Enhancing the functionalities of Hardware and Software
3. Remodeling
A remodeling project can increase traffic, improve click-through rates, and boost your online presence. But it's not just about being creative – you also need the technical expertise to pull it off.
To achieve the best results, you'll want to work with a team of experts, including a web designer, a backend developer, and a tech specialist.
The cost of website remodeling may be high, but it's worth the investment.
Low-quality work will only drive up the website revamping cost and yield unsatisfactory results. So, hire a custom web designer to deliver quality work that meets your needs.
Remodeling the webpage design
Remodeling = Redecoration + Rewiring
Updating the entire website backend.
Need a top-notch website design and development team.
4. Rebuilding
Think of this approach as a rebirth for your website. The code, design, and feel will be recreated from scratch.
You can rebuild your website design when your business is undergoing significant changes, like a complete rebranding or a shift in business strategy.
The website redesign costs for this approach will be similar to building a new website because that's what you're doing.
You can create a new website from scratch. It's an investment that will pay off in the long run.
Rebuilding the webpage design
CMS
Codebase
Database
Servers
These are the four types of web redesign services that you should understand to get started.
But that's just the beginning.
For the website development process, it's crucial to identify the reasons for doing so.
So, let's dive deeper and discover the reasons to redesign your website!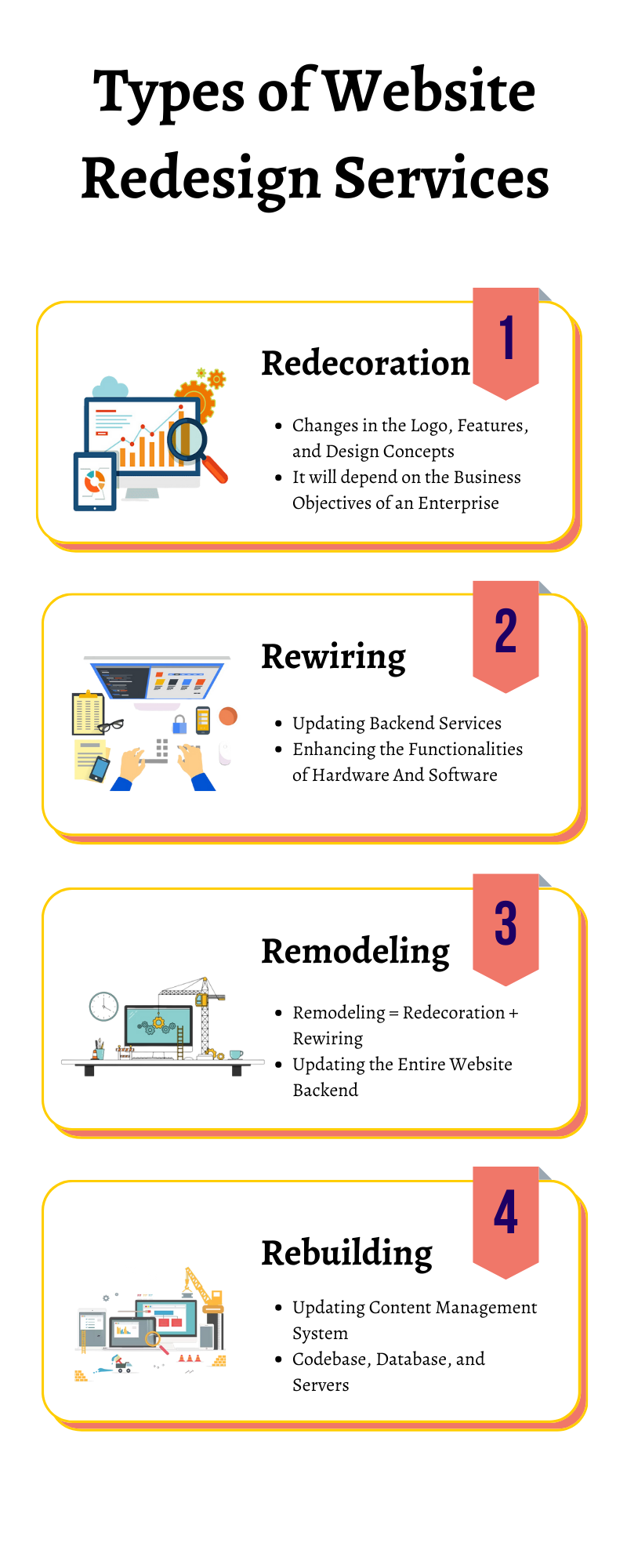 Key Reasons Why You Should Consider Redesigning Your Website
Higher Bounce Rate
Is your website not performing up to the mark? It could be due to several reasons, such as –
Slow page loading speed
Cluttered design
Lack of relevant information
Did you know – 53% of users leave a website that takes more than 3 seconds to load?
It can be a significant setback for eCommerce websites looking to drive conversions.
The solution lies in balancing robust performance, intuitive design, and the latest technologies.
Pro Tip:
A combination of redecoration and rewiring can help fix the slow page loading speed and design issues. However, it's essential to factor in the cost of these improvements when planning your website redesign.
Low Conversion Rate
Your website communicates with users through images, layout, colors, and more. If your site is not engaging, your message may be lost.
The solution? Implement effective brand communication strategies.
Start by analyzing your website data to understand your customers' behavior better. This information can help you determine the necessary action and understand the website redesign cost.
Pro Tip:
Improve your content and redesign your website's layout.
Use negative space effectively to give your site a clean and modern look.
Follow the F-layout design to lead users to the most critical content.
Improving your website's communication can reduce your bounce rate and increase conversions.
Slow Performance
Sometimes, the issue may not be in the front-end layout but rather in the backend support structure. The database, servers, CMS, and hosting service are all essential components that keep your website running smoothly.
Pro Tip:
Go for rewiring!
Updating the servers and working on the backend systems can significantly boost your website.
Changing the CMS can improve integration levels and enhance your site's overall performance.
Choosing the best website design services provider for your needs is essential for the best results.
No Results and Conversions
Are you tired of your online storefront not bringing in the results you hoped for? If you do not see conversions, leads, or a good SEO ranking, it's time for a major overhaul.
Instead of just tinkering with minor changes, consider a complete website rebuild.
Pro Tip:
With a new website, you can start fresh and implement all the latest design trends, user experience practices, and backend systems. Plus, you'll be able to reflect your brand's identity.
Professional website designers can turn your liability into a significant asset. You can also read a comprehensive website redesign guide for more insights.
Crucial Factors that Impact the Website Redesign Cost
Website Size
Do you want to revamp your website but need to know how many website designing services will cost?
Well, the size of your website plays a vital role in determining the final cost.
The number of pages, the size of each page, and the frequency of page loads are all critical factors to consider.
More pages require more work, and even simple tweaks like updating images and content on each page can quickly add up in time and cost.
If you are planning to build a custom website, it will involve even more expenses, including project management and team maintenance.
However, investing in your website can ultimately bring you better returns, increased traffic, and improved user experience.
Therefore, understanding your website's size and related costs will help you make informed decisions and plan your budget accordingly.
Complexity of the Website
Redesigning a website is an intricate process that involves various factors, and content is just one of them.
Multiple elements determine the complexity of a website. It includes-
The number of features and integrations.
Quality and diversity of content.
Responsiveness of the design.
Marketing expenses.
Use of databases.
Implementation of a content management system (CMS).
Each of these aspects can impact the cost of redesigning a website in its unique way. For instance, having multiple integrations or advanced features may require specialized development and additional expenses. Implementing a CMS may help streamline content creation and management but also add to the cost.
To truly understand the web design pricing of your website, you need to consider all these elements and determine which ones are essential for your business's online success.
Complexity of the Design
Regarding website redesign, the design aspect is crucial and can greatly impact the final cost.
Do you want to stick with stock images or use custom, eye-catching graphics, and infographics?
Are you planning to incorporate animations or videos on your website?
The more intricate your design requirements, the higher the costs may go.
Complicated designs could also slow down your website's loading speed, leading to a poor user experience. However, there are ways to mitigate this risk, such as applying code optimization and server enhancement techniques.
Though, these modifications often require additional time and effort. So, while a complex design can improve your website's appearance, weighing the costs against the potential benefits is essential.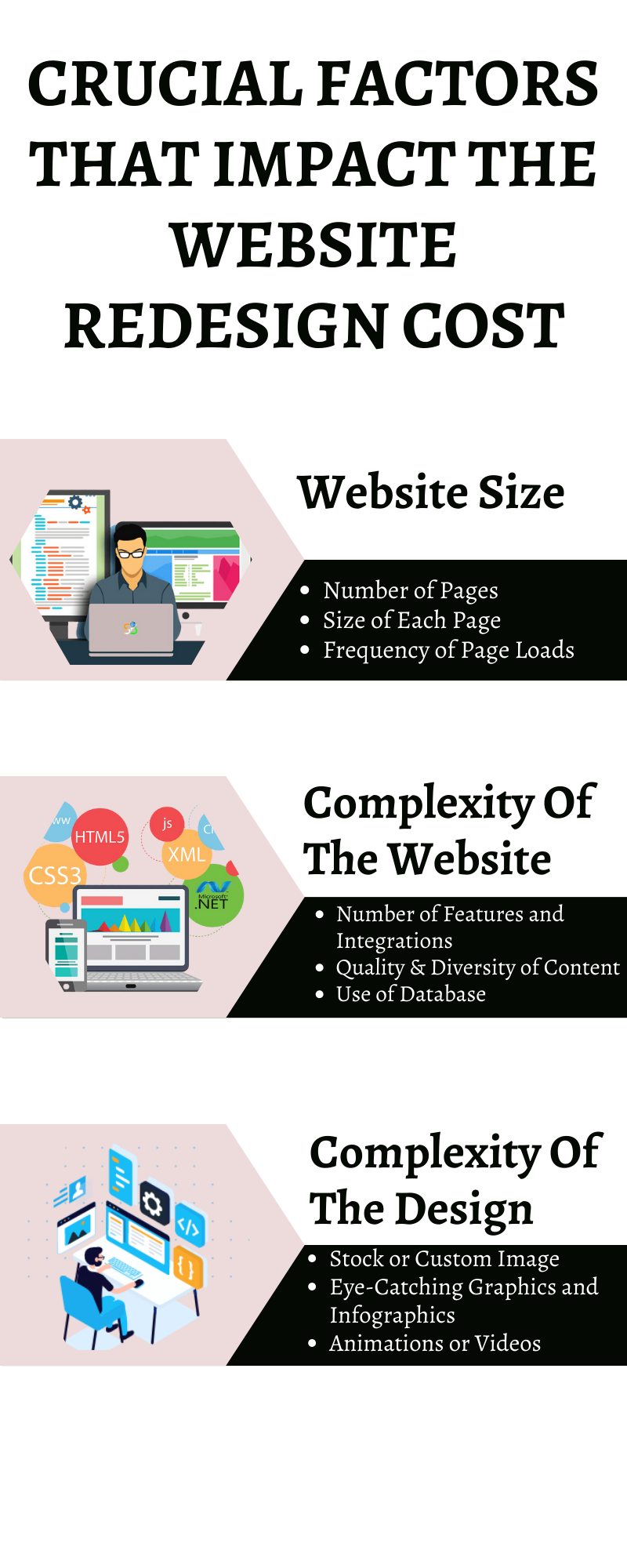 Options Available for Completing Your Website Redesign
The Cost of Hiring a Website Design Agency
Hiring an agency might be the solution you need. Sure, it's the most expensive option, but it also provides you with a team of professional website designers who have vast experience.
With a simpler website redesign, you can expect to pay anywhere from $13,000 to $28,000, while more extensive websites with custom features and unique requirements can cost $35,000 to $70,000 or more.
It may seem like a hefty price tag, but agencies spend equal time on everything from content and user experience to conversion rate optimization.
During the redesign process, the agency will work with you to map your sitemap architecture, giving you a clear understanding of your website's structure.
By hiring a website development company, you're gaining access to top-notch web developers who can help with design, development, strategy, content, testing, etc.
You will have more than one finite resource at your disposal. Moreover, outsourcing to offshore web developers can be a game-changer if you have an in-house team unfamiliar with the latest web technologies.
Hiring an offshore team saves you the trouble of hiring and training new employees. It offers access to a larger pool of talented developers with extensive experience in different technologies and frameworks.
The Cost of a Do-It-Yourself (DIY) Website Redesign
Are you a business owner on a tight budget? Don't worry!
You can still build or redesign your website without breaking the bank. Using a template is the most affordable option, ranging from $100 to $3,500 or more.
Many cost-effective website themes, mainly WordPress, range from $30 to $100. Once you find a theme that fulfills your requirements, ensure it has positive reviews and a strong track record, enabling you to edit without technical expertise.
However, keep in mind that it can be time-consuming and frustrating. Moreover, you'll be restricted in terms of functionality if you lack coding expertise.
Despite this, it's still an excellent option for startups, providing small businesses with the most affordable website design costs.
Website Redesign Costs of Hiring a Freelancer
Hiring a freelance website designer can be a great option if you want a professional-looking website but don't want to spend much.
Freelancers have different levels of experience, and their rates vary accordingly. You can expect to pay between $2,000 to $5,000 for a simple website and between $10,000 to $20,000 or more for a more complex website with custom features.
When working with a freelancer, you'll get a result tailored to your specific needs and aligned with your vision.
However, working with freelancers can have downsides, such as longer project timelines if they do multiple projects and less input on aspects outside design and development.
Therefore, consider hiring a web development agency for more complex projects.
A web agency offers a broader range of services and expertise, and their team-based approach ensures that your web development project will be completed on time and to a high standard.
How Much Does a Website Redesign Cost?
You need to consider various factors to identify the cost of a website redesign. A web designing services cost can range from a few hundred dollars to $70,000.
Do-It-Yourself (DIY)
$100 to $3,500 or more
Hiring a Freelancer
$2,000 to $5,000 for a simple website

$10,000 to $20,000 or more for a complex website

Hiring a Web Design Agency
$13,000 to $28,000 (Simple Website Redesign Cost)

$35,000 to $70,000 (Complex Website Redesign Cost)
How Can SparxIT Help You with Your Website Redesign Needs?
As a prominent web design and development company, SparxIT can assist you with your website redesign needs. Our experienced team of designers and developers will work closely with you to understand your goals and create a website that meets your specific requirements.
We offer affordable pricing packages for website redesigns, with costs varying depending on the scope of your project. Our team can handle everything from simply refreshing your site to a complete overhaul with custom designs and functionalities.
In addition to our redesign services, we also offer ongoing maintenance and support to ensure your website stays up-to-date and secure.
We also have a proven track record of successfully revamping websites for high-profile clients, such as Hisense – the official sponsor of the FIFA World Cup 2022.
SparxIT takes a holistic approach to website redesign, incorporating content, user experience, and conversion rate optimization to create a valuable asset for our client's businesses.
Frequently Asked Questions
Should I hire a freelancer or a web design agency for my website redesign?
The decision to hire a freelancer or a web design agency depends on your budget, project scope, and personal preferences. Freelancers may be less expensive but may not have an agency's resources. On the other hand, agencies may offer more comprehensive services but at a higher cost.
How long does a website redesign usually take to complete?
The time it takes to complete a website redesign can depend on factors including the design's complexity, the website's size, the level of functionality required, and the type of CMS used. A simple website redesign can take a few weeks to a few months, while a more complex redesign may take several months.
Will I have to pay ongoing maintenance costs after my website is redesigned?
We provide ongoing maintenance and updates to ensure optimal performance and security. Ongoing maintenance costs can vary depending on the level of support required but should be factored into the overall cost of a website redesign.
Can I keep my existing website content when redesigning my site?
Your existing website content can be migrated to a new design. However, some content may need to be updated or optimized for the new format.
What should I look for when hiring a web design company for my website redesign?
When hiring a web design services provider, it is crucial to consider factors such as experience, portfolio, pricing, communication skills, and customer reviews. It is also recommended to clearly understand the project's scope and the timeline for completion before hiring a professional.
Useful articles, updates, offers and guide boon from SparxIT Team
Categories
Give Your Website a Brand-New Look!
Featured In