Have you ever realized how much your mobile app has changed in the few last years? With time passing, the mobile app design industry is exposed to new app design terminologies.
If you are a business leader, you would want your mobile app to navigate the users better through the interface and create an interactive user experience.
The mobile app design industry is vibrant and growing fast.
The global mobile app industry worthed $230 billion in 2020 which is projected to reach $613 billion by 2025, as per the statistics on Statista.
Among the most popular mobile applications we use today are the ones that have an impeccably user-friendly UI/UX. The goal is to design a mobile app that stands out to a diverse audience looking to cater to a wide range of benefits from these apps.
This blog post will focus on discussing the key pillars of the mobile app design process and the market as a whole.
Why Is Good App Design So Important?
If you have a mobile app idea, the best time to discuss it with a mobile app development company is today.
To make your mobile app more useful and understandable to your audience, you need to create an aesthetic and appealing design.
We can cut it short by saying that mobile app design can make or break success for you.
When you design, you focus on three important things that define a mobile app's success;
How do the app users feel while using your app?
For what reason, can your users use the app several times in a day?
Can your existing app users refer your app to their friends and knowns?
The one common answer to all three questions mentioned above is an app design that comprehends the diverse demands with more intuitive and inclusive design elements.
A good design is not only about how your app looks but also about the user experience.
You need to ensure that your app is easy-to-use and fast. It should not distress the users with non-avoidable and irrelevant popups.
Consider this example.
Push notifications are often considered an irritating marketing design element. However, the same app users would choose to receive news notifications, live scores of a sports match, and new releases on Netflix.
The key is that you need to put relevance with your app idea on the table. An interactive app design is a nice way of doing it.
What Is The Difference Between Web Design and Mobile App Design?
The difference is evident in their names. Web design is for web applications whereas mobile app design is for native, hybrid, or any cross-platform mobile application.
While designing a website, you focus on different elements such as;
If your navigation is nice enough so that users can quickly locate the content they want to see.
And, the website design plays a crucial role in setting page loading speed right to the needs.
While designing a mobile application, we focus on;
Screen gestures that enhance the user experience of the application.
Functionalities that identify unique design patterns and engage in a comfortable experience in different functions.
Less input, more work. A good app design reduces the user efforts and cognitive load by allowing more buttons, images, icons, and other informational components in the app design.
Types of Mobile App Design
Do you have an app design inspiration or want to create a completely new design?
You might hear the same question when you reach out to a mobile app design company with an app idea.
Time for your questions;
Why do they ask?
Do we have any options?
Yes, there are two types of mobile app design services you can avail of.
Native App UI
Native app UIs are designed considering certain design principles followed by the platform. Such mobile app UIs engage in a native user experience as per the local operating system that the mobile app runs on.
Developing a native UI can be easy, fast, and cost-efficient. However, such designs cannot be as appealing as a custom mobile app design. Since the mobile app design agency is bound to design with a limit of principles defined by the platform, designers may have to limit some features.
Custom App UI
Custom app designs can be native or completely personalized accordingly to the client's requirements. Such a design approach provides app designers the liberty of putting anything out of the box in the mobile app design.
The custom app design can include unique styles and illustrations that magnify the user experience and enhance user engagement.
Creating a custom mobile app design can be costly and may require a broadened skillset to meet the extended user demands.
Custom design can be unique and may feature more non-typical design components.
How to Design a Mobile App
You are well aware of how important a good mobile app design can be for your business' success.
So, how to get started?
Let us break this down into six steps;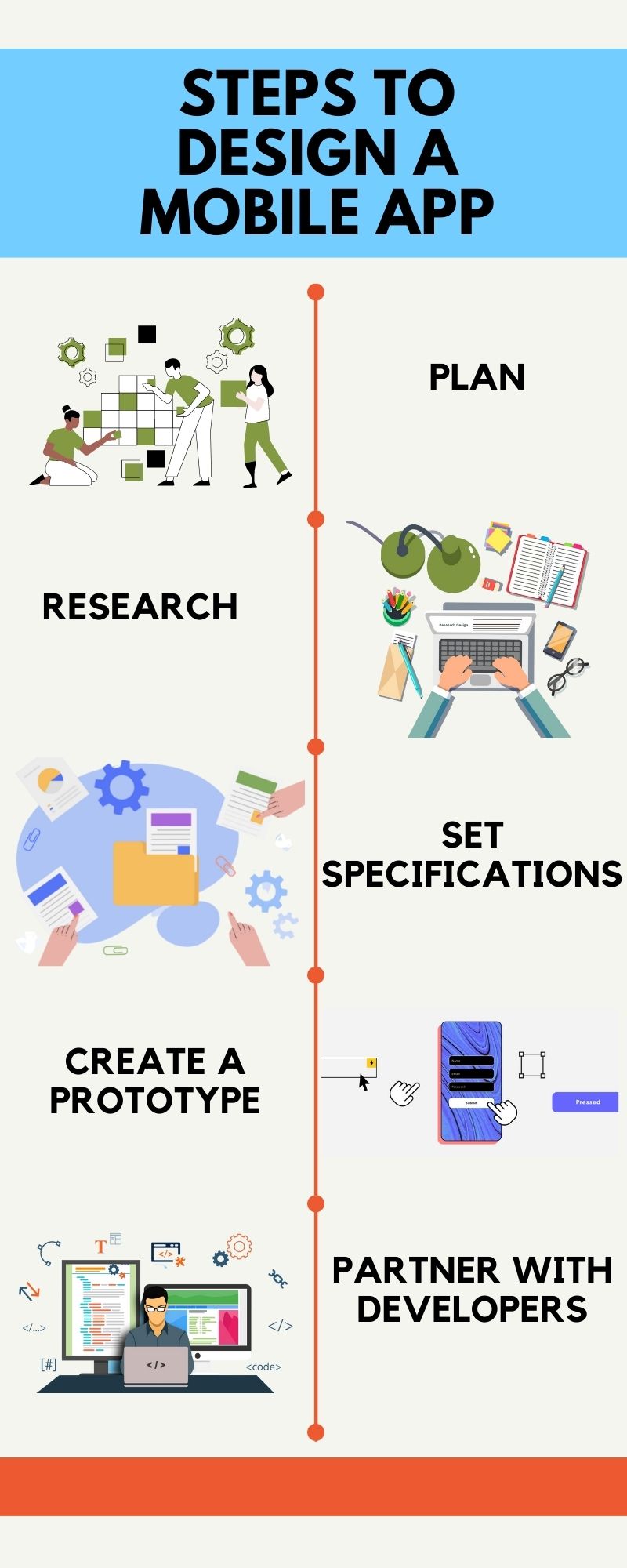 Planning
It all begins with a master plan.
Your mobile app ideas need proper planning. A good app design is a part of the process.
Hiring an app design agency can help you begin developing a mobile app that stands out to an extensive audience.
Research
Design research helps app designers to take the right inspiration for their projects.
Professional app designers can utilize their expertise to create an interactive set of design elements and turn it into a fully-fledged app idea.
Specification
Before you get into the technicalities of the app design process, it becomes crucial to finalize the design specifications to be considered.
Build a prototype
With clear specifications, proper planning, and in-depth design research, you can create a prototype.
The mobile app UI/UX designers can consider using this prototype to design your product.
Also Read | Difference Between Prototype and MVP
Passing the project to developers
Once the UI/UX of the application has been created, app designers can hand over the product to the app developers to make it a functional and operational product.
Top App Design Examples
A variety of app design projects has inspired the adoption of modern design techniques.
Different mobile app types may expect the designers to implement unique app design strategies to engage in a rich user experience.
Utility Apps
Utility apps focus on an impactful resolution of certain limitations that exist in the present service model. These apps are used by a common audience that may use these apps for general-purpose tasks.
With such an extensive audience, these apps need to engage in a lightweight design that is simple to access and adapt in a complex mobile app development process.
Lifestyle Apps
From fashion to fitness, lifestyle apps allow the app users to improve their day-to-day life patterns with the help of a digital guide as smart and dynamic as a compatible and capable mobile application.
Navigation Apps
Apps like Google Maps have been an incredible tool for helping commuters reach their favorite destinations.
These apps are used by normal commuters to professional drivers. Thus, it becomes absolutely necessary to keep the design highly interactive.
On-Demand Apps
The on-demand apps like taxi booking apps, food delivery apps, courier delivery apps, and more, help a diverse audience to pursue their demands through a fast and feasible digital medium.
Also Read | Comprehensive Guide to On-Demand App Development
EdTech Apps
As time passes by, the EdTech apps are helping millions of learners learn their favorite subjects at their fingertips. These applications are transforming the landscapes of conventional learning with their advanced technological capabilities.
EdTech app design should focus on the needs of both educators and learners.
If you are planning to create an app like Byju's, you must create a prototype that takes inspiration from this leading eLearning app.
Entertainment Apps
The entertainment app category is broad and diverse. You can develop both video and audio streaming apps where app owners produce and deliver content. The entertainment app development industry is going big and showcases an increased possibility for more dynamic technological adaptations.
Gaming Apps
Gaming apps feature high-quality graphics. These apps are developed using an advanced tech stack that includes conventional libraries, frameworks, and native platforms alongside the utilization of futuristic technologies like Blockchain, Big Data, Artificial Intelligence, Augmented Reality, and Virtual Reality.
Finance Apps
The finance app market goes with the increasing utilization of decentralized technologies like Blockchain and enriches transparency and democratization of assets.
Healthcare Apps
Healthcare applications are transforming the accessibility, availability, and affordability of healthcare services. Patients can now have detailed consultations with their caregivers and even receive the necessary accessories using an interactive interface.
News Apps
As per the statistics available on ThinkWithGoogle, an average user spends 31 minutes every day using a news app.
In a news app, users read or watch news broadcasted from different platforms. It can be available in different formats such as video, text, and even audio.
How Much Does It Cost to Design a Mobile App?
Cost of mobile app design is among the primary project queries any mobile app design agency would receive from their clients.
Mobile app design costs can vary depending upon several parameters such as;
Type of services
Vendor's hourly charges
Geographical location of the app designers
The mobile app design cost varies depending upon whether you are hiring a freelancer, or an app design company, or outsourcing a team.
Different service providers may charge differently. It can be either material or time-based hiring.
It may cost anywhere from $25,000 to $100,000, $30,000 to $50,000, $5,000 to $15,000, and $5,000 to $20,000 to hire an inhouse design team, design agency, outsourcing company, and a team of freelancers, respectively.
Region-Wise App Design Costs
United States

$30,000 to $50,000

Europea

$10,000 to $45,000

Europe
(UK, France, Italy, etc.)

$20,000 to $40,000

South Asia

$5,000 to $25,000

Arabic Region

$5,000 to $25,000
These cost ranges are tentative and may vary post comprehending the real-time project needs. It is best recommended to connect with a team of app UI UX designers and get a precise cost estimation.
Also Read | How Much Does It Cost to Develop a Mobile App?
Conclusion
With an increasing mobile app userbase, the app design market is set to boom faster in the upcoming times. If you are an aspiring business leader, it can be your call to ideate and create a mobile app design that not only appears more users but also brings more customers to the community.
In any mobile app's success, the journey begins with a good UI and ends with a bad UX. Make sure you do not become one of such instances.
Invest smart. Design smart. Build smart.
Stay tuned!!
Useful articles, updates, offers and guide boon from SparxIT Team
Categories
Let's discuss your project idea.
Featured In