Technology is a fundamental of our daily lives. It has a significant impact on almost every sphere of our lives. It has made a notable presence in the realm of business. From tourism to health, it has made an immense technological impact on the industries. Mobile app development has made its existence evident in the healthcare ecosystem to this extent that it is estimated that the market will grow to over 11 billion dollars by 2025. The technology improves efficiency and quality of service by providing better communication, accessibility and more.
Healthcare mobile app development companies are prospering in the industry. With the assistance of the mobile applications, not only doctors and patients, but hospital staff and pharmacists are also enjoying the reap of this modern methodology. The application can be helpful with logging appointments, diagnosis, online consultation, and other medicine delivery. Therefore, if you are a healthcare provider or owner of a medical industry business then hiring a mobile app development company would be a profitable investment.
Statistically speaking, 52% of smartphone users take information on their devices related to health. Yes, that's an impressive number but wait till you unfold all the advantages healthcare app development services can offer you. Technological advancement is beneficial to the doctors and medical staff to this extent that 93% of doctors believe that mobile apps can enhance the quality of patient health.
Now, the question is how the medical mobile app application can help the healthcare industry? To answer this, we have discussed a few benefits of availing services from a mobile app development company: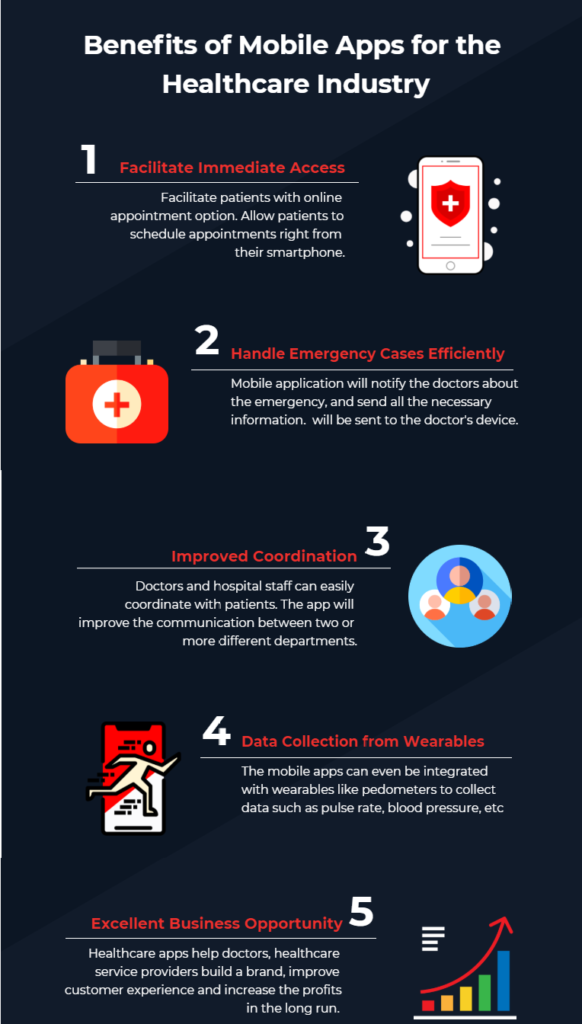 Expedite Immediate Access
Waiting in long queues is one of the most troublesome for patients but with access to custom mobile applications, this problem is eliminated. You can provide online appointment options to the patients which would help them manage time and don't have to leave the house beforehand to stand and wait for their turn. With efficient healthcare app development services, they can directly communicate in a hassle-free way.
Streamline Emergency Cases
A mobile application dedicated to an emergency situation can be an efficient way to deal with such a critical situation. A quick notification will alert the doctors and staff about such a situation so that they are prepared with all the necessary arrangements for the treatment. This will save considerable time for the doctors, which can benefit the timely treatment of the patient.
Looking for Healthcare Mobile App development
Contact Us
Wearables Benefiting in Data Collection
Another advancement of technology has made tools like pedometers easily accessible to people which help collect data like, pulse rate, blood pressure, etc. You can ask a healthcare mobile app development company to integrate wearable app development as well. The app can collect daily updates about a patient's health through wearable and save them for later checkups.
Let's discuss some of the technologies that help mobile application transforming the healthcare industry: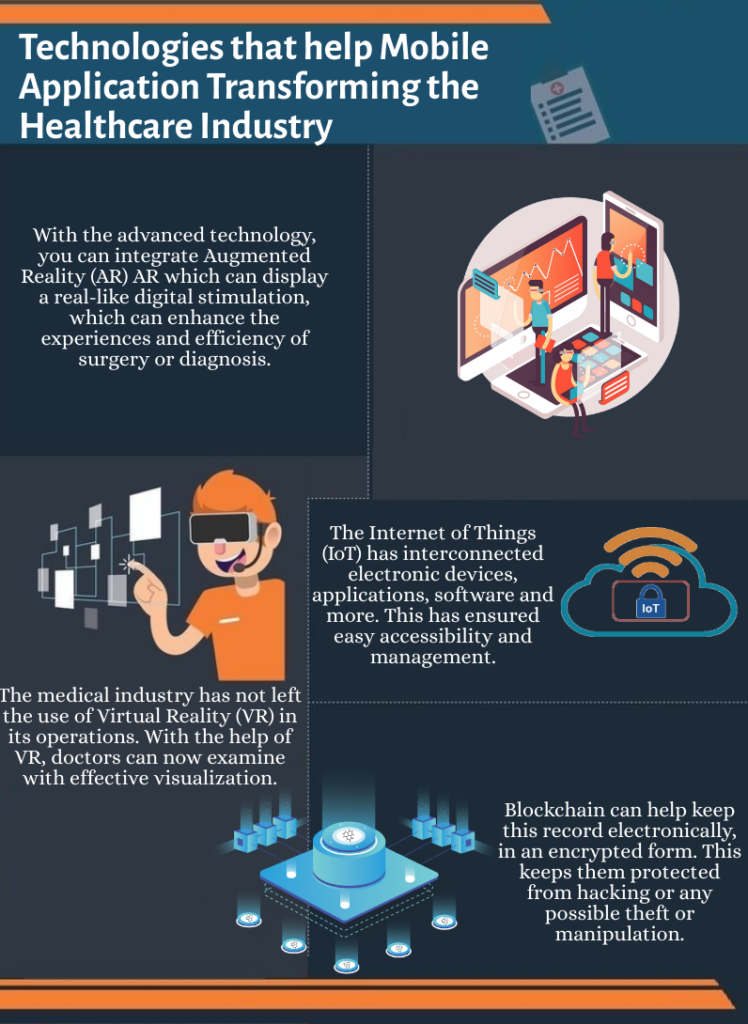 Augmented Reality
With the advanced technology, you can integrate Augmented Reality (AR) which can help medical professionals improve the training methods and hand-on patient care. AR can display a real-like digital stimulation, which can enhance the experiences and efficiency of surgery or diagnosis.
The Internet of Things
We are living in the age of the Internet where everything is about connectivity. The Internet of Things (IoT) has interconnected electronic devices, applications, software and more. This has ensured easy accessibility and management.
The accessibility to IoT in the medical industry with mobile applications has ensured vital patient information to the doctors. This helps exceptionally in the treatment while keeping a close monitoring of the recovery as well. You can access a patient report from anywhere at any time, and suggest treatment, medicine and.
Blockchain
The blockchain enables a peer-to-peer database that keeps an immense detailed track record that covers all transactions and more information that can be tracked and have it accessible to a large community.
In the health industry, there is always a large medical history of patients that is required to be maintained and have access to better treatment. Blockchain can help keep this record electronically, in an encrypted form. This keeps them protected from hacking or any possible theft or manipulation.
Virtual Reality
The medical industry has not left the use of Virtual Reality (VR) in its operations. With the help of VR, doctors can now examine with effective visualization. It can create 2D images that are used in MRI scans and doctors are now also using this technology for Dementia and other eyesight problems. One of the most prominent uses of VR in the health care industry is the use of visual training for medical operations. Aspiring doctors can train using VR without risking a human's life. Professionals can use this technology for a better understanding of human autonomy, infectious disease control and more.
Conclusion
We can say that it is pretty evident that the healthcare mobile app is unfoundedly a profitable investment. Therefore, if you are a business owner in the medical industry or belong to a medical facility, it would be beneficial to upgrade the functioning of your organization with Healthcare App development. We suggest hiring a professional mobile app development company to deliver an efficient application for you.
Final Words
We at Sparx IT Solutions can offer optimum results with our healthcare app development services. We aim to deliver the finest application that could help your medical business to work with better connectivity, and more efficiently. We adhere to deliver nothing but the best possible result as we understand how essential a mobile application can be for your business. Wait no more to build a health care mobile app, contact us today.
Useful articles, updates, offers and guide boon from SparxIT Team
Categories
Let's discuss your project idea.
Featured In