Magento 2.0 version has now been introduced officially and we, the Sparx IT Solutions' team is among the premiere service providers to offer the benefits with attractive discount. Having some of the remarkable features, this newly launched Magento version is packed with some exciting attributes.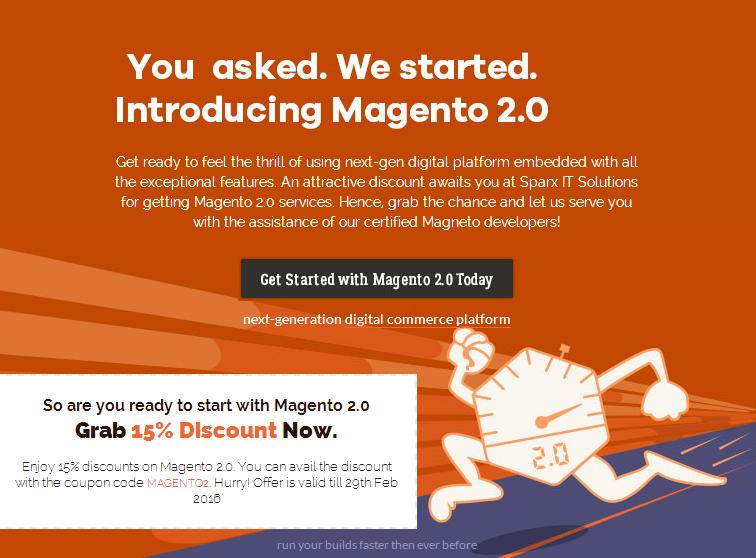 Our technocrats are ready to help your websites get upgraded to this exceptional platform and with an attractive 15% discount on our services with the coupon code MAGENTO2. The discount on the services is available just till 29th Feb 2016; therefore, a little time is left with the users to reap the real benefits.
Reasons to upgrade to Magento 2.0!
Let us bring you an insight of the benefits that comes with upgrading your current websites to this latest Magento 2.0 version!
Increased Speed
As compared to older Magento versions, this current version is 25% quicker to load and 52% faster in terms of adding products into the cart
Advanced Code Base
The latest Magento version is going to offer an exceptional experience to the coders with the advanced code base. There is also an option in the form of an extension to remove bad codes.
Improved Table Locking System
Table locking issues have been reduced considerably with Magento 2.0 version to help tackle the slow uploading of websites.
Upgraded Payment Gateways
There are some major improvements in Magento 2.0 in terms of payment gateways as it is closely integrated with BrainTree, Authorize.net, PayPal, WorldPay, CyberSource, and more.
Enhanced Page Caching
This built-in feature offers ease of developing web pages in static file system no matter web server are owned with slow database queries.
Slicked Checkout Process
The guest checkout process has been streamlined for the existing users, which now gives an option of logging in the website without remembering the password. This version can easily identify the credit card type depending upon the first digit.
Improved Backend Process
With this improved version changes like edit/add/remove products are easy to be done from the admin end. Additionally, there are features to create a great view within admin areas like SKU, Inventory levels, and Page Titles.
Exceptional Addition to Separate Databases
This newer Magento enterprise addition has an attribute that allows users to separate databases. The extended option also includes MySQL database accountable for integrating category, content, and products.
Glance Over The Bonus On The Respective Amount
Heavy 15% discount on Magento 2.0 services
Discount is available with the coupon code "MAGENTO2"
Offer valid till 29th Feb 2016
Discount is valid for every user (existing & new)
Assurance on timely delivery of the projects
The verdict!
Our developers at Sparx IT Solutions are familiar with the recent Magento 2.0 update. We have started delivering the benefits with feature-rich solutions based on the specific needs of the clients. We have remained successful in providing the solutions can further cater to leverage bigger benefits with more effective services.
Useful articles, updates, offers and guide boon from SparxIT Team
Categories
Let's discuss your project idea.
Featured In