It is the change that keeps us driving to adopt innovative techniques. These techniques further keep our interest alive and help us to see a new aspect of similar things. In order to offer the same feel to its clients, Sparx IT Solutions is all set to make a dazzling entry once again in the web with a captivating website. The site has been renovated to make it more appealing for the users as well as for our esteemed clients.
We have always remained quality-centric right from showcasing our profile to offering the services to the clients. The legacy has also been maintained this time with the designing of the new Sparx IT Solutions' website. The designed web pages are well programmed, tested and analyzed in order to offer a very new browsing experience to the users. We had been planning for this for quite long. The conceptualization of the perfect ideas in the most innovative way took this much time but now we have summarized the things in an appealing yet professional way.
It is basically the designing aspect that has been altered to offer the website a sleek yet professional look. The things over the website have been arranged in a way so that it could soothe the users' eyes and let them experience how it feels to have an interaction with an engaging client-centric web development service provider. Our new website truly reflects the capabilities of the developers at the company when it come to leveraging clients with the unique yet affordable web solutions.
Browsing through our websites will let the customers experience:
Unique web and UI design
Familiarity with online marketing trends
How it feels to be the clients of a user-centric service provider
The joy of hiring professional services at competitive cost
We are truly engaged in providing an optimal satisfaction with the web development services that have been showcased with an innovative aspect over the all new Sparx IT Solutions' website. With this effort, we endeavor to take the users' experience to a new level of satisfaction.
Blog Design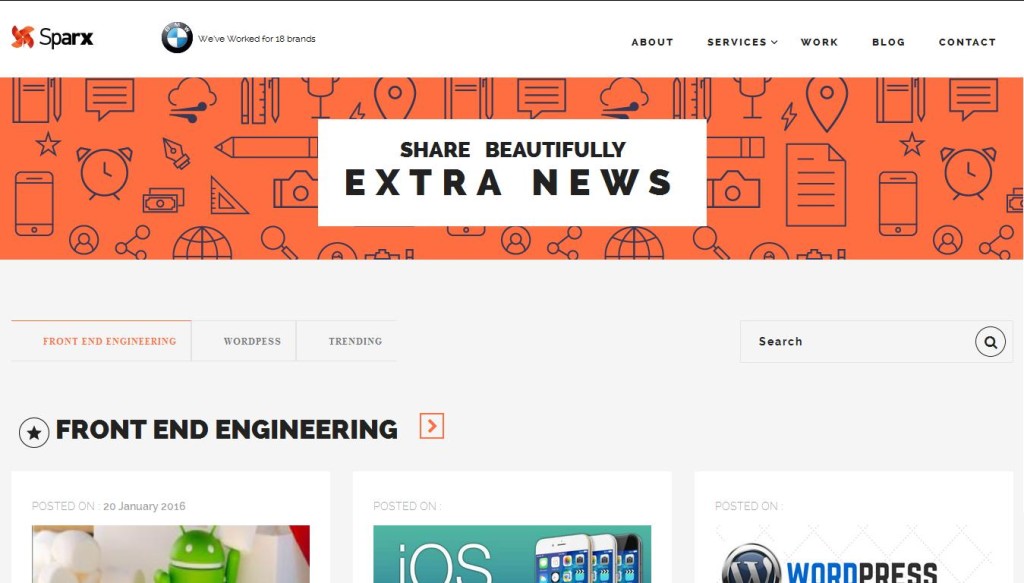 A proper introduction of the approaches that are ushering in the web is the first pillar of success for a newly launched service. As we have come up with the new Sparx IT Solutions' website, we have endeavored to familiarize the users with the approaches that have been embedded over our new professional forum. You can dive deep to perceive the updated in the industry and with in company that have been included in our new website through this blog.
Useful articles, updates, offers and guide boon from SparxIT Team
Categories
Let's discuss your project idea.
Featured In