FinTech apps utilize technology to simplify financial management. These apps make it simple for users to transfer and receive money while enabling budgeting and tracking spending.
The financial technology (Fintech) sector provides various services, including managing personal income, digital insurance, trading, mortgage services, risk management, auditing, and exchanging cryptocurrencies.
The FinTech industry is also changing thanks to cutting-edge technologies like AI, ML, blockchain, and big data. As a result, you'll need a Fintech app development company to create a reliable app that offers a personalized experience.
This guide will discuss the FinTech app development cost you require as business owners, entrepreneurs, and investors.
Let us look at what's in store for you in this blog:
Why it's a brilliant idea to invest in FinTech applications now?
How much does it cost to build a FinTech app?
Things to watch out for while developing a fintech app and more.
Now that you know the subject of this blog let's get started.
Why Should You Build a FinTech App?
FinTech apps have become increasingly popular over the past few years.
Don't you think that?
According to the FinTech Industry Report (2020-2025), the worldwide fintech market is expected to expand at a CAGR of almost 20%. By 2025, the market is projected to experience steady expansion and reach a value of about $305 billion.
So, what does the above stat indicate?
The FinTech market's value will rise, opening up opportunities for you to profit from it.
But how are you going to tap into the FinTech market?
The straightforward answer is creating a feature-packed and unique FinTech app that appeals to your target audience.
Some other figures back up the assertion that now is the ideal time to make FinTech software:
According to 67% of bank executives, fintech application is crucial for money transfers.
4.6 million new accounts were opened because of digital banking in 2021.
We hope you have now got a clear picture. Now, let's know the fintech cost structure in detail.
FinTech App Development Cost By Type, Team & Location,
The average cost of developing a FinTech app may range from $45,000 to $350,000. However, the actual figure relies on various factors. Below are the costs of making financial apps according to various factors:
Cost Based on Types of Apps
Fintech is a vast term that covers a variety of applications. We identified six primary categories of fintech apps and evaluated them feature by feature as the best fintech app security solutions.
Banking App
Client-side and admin panel features make up the cost of developing a banking app. The management of user-profiles and financial transactions is done through an admin panel.
Users may check their balance and transaction history on the customer side, make transfers to other bank accounts, schedule payments, send P2P payments, and do many other things.
Popular examples of banking apps are:
Monobank: The Monobank mobile app provides a range of alternatives, including cashback and shakes to pay in addition to free money transfers and credits.
Chime: Chime is another popular mobile banking app with many capabilities, such as mobile check deposits, real-time transaction notifications, and access to over 60,000 ATMs. Users can receive 1% to 20% cashback on their purchases.
Investment App
Users of investment apps can analyze and invest in various financial assets. By giving them access to analytical data, investment management solutions assist investors in improving the performance of their investments.
Popular examples of investment apps are:
Acorns: Users can automatically save and invest their spare change with the help of Acorns app. It gives customized suggestions based on users' objectives and risk tolerance and offers a variety of investment options, such as stocks, ETFs, and bonds.
Robinhood: Robinhood is a finance app that enables users to make commission-free stock, ETF, and options trades. It also provides tools and resources to aid users in making wise investing decisions.
Lending App
Apps for peer-to-peer lending link borrowers with lenders willing to offer money. These apps enable users to borrow a small amount of money against their subsequent payment.
Popular examples of lending apps are:
ZestFinance: It is an AI-based lending app that uses machine learning to compile information on people with little or no credit histories.
Dave: If a user needs extra funds (up to $100) to pay a bill before the next payment, this app can help. Users must pay a monthly membership commission, but the service has no interest in cash advances.
Also, read our comprehensive Guide on FinTech App Development
Insurance App
It makes dealing with insurance companies easier and aids clients in resolving current issues in the sector.
Popular examples of insurance apps are:
Jerry: The app is popular for saving money on your car and home insurance. It gathers and examines your current insurance.
myCigna: This app offers a convenient new way to access your vital health information easily. Users can view recent and old health claims.
Consumer Finance
This banking app's main job is to keep track of users' spending. They benefit users by providing data analytics, managing digital payments, and budgeting.
Popular examples of consumer finance apps are:
Mint: It is a useful personal finance application for budgeting, transaction monitoring, and bill reminders.
Finch: It is a valuable all-in-one app that combines the convenience of checking with the power of investing, providing a better method to grow your money.
Decentralized finance (DeFi) Apps
Decentralized finance eradicates the requirement for a centralized finance model. Through individual-focused trade services and personal wallets, DeFi apps provide consumers with more control over their finances.
Popular examples of DeFi apps are:
Binance: The app's QR-code scanner makes login quicker and simpler. Users can also customize home page icons.
Coinbase: Users of Coinbase can earn and spend cryptocurrency using debit cards. One can enroll in Coinbase earn program to earn free crypto by completing educational modules.
You can take the help of a leading fintech app development services to create a robust and secure FinTech app.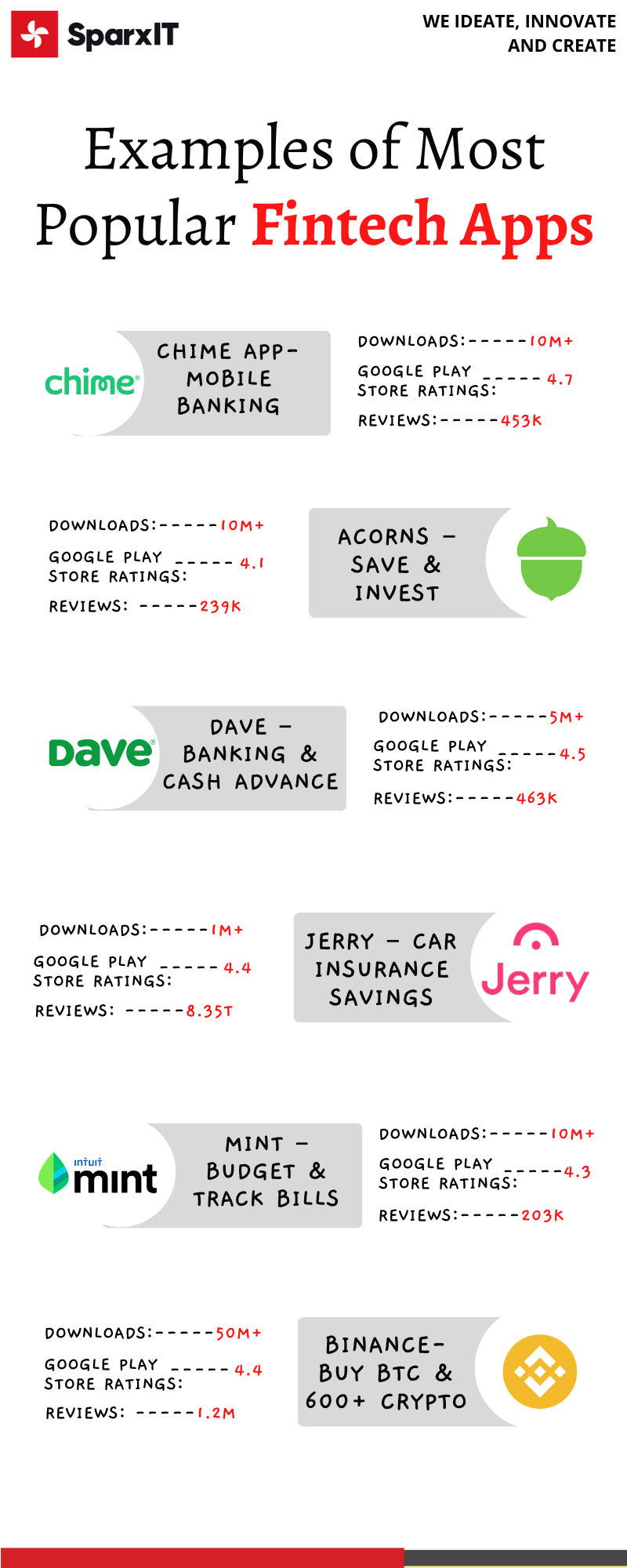 Cost Determined By Types of Teams
The app development team is a crucial aspect that affects how much FinTech software costs. You can choose from a variety of teams.
However, these choices are somewhat perplexing if you've done any research.
The objective here should be to hire the best fintech app developers for fintech mobile app development, nonetheless.
The teams that your startup can collaborate with are as follows:
Freelancers
You can hire independent FinTech app developers for a project. They are ideal for urgent and short-term projects. They can easily be found on freelance websites and social media channels.
However, the biggest drawback is that freelancers may leave your project in the middle if given a better offer. Since they will write the code and conduct the testing themselves, you have little influence over the project's quality.
In-house Team
In this, you advertise a position for developers or other positions you want to fill. Here, you oversee every aspect of your developer's work and frequently communicate with them. You evaluate their knowledge and pick the best candidate.
However, this alternative, though, can be tiresome. You'll be responsible for wages, taxes, workspace costs, licenses, etc. In addition, the hiring procedure is expensive and time-consuming.
Outsourcing App Development Company
An excellent alternative among freelancers and building a team is hiring an outsourcing development company.
Regardless of their team size, a software development firm has the opportunity to cater to your business idea.
It is an exceptional choice for mobile application development for fintech that need additional features like machine learning and blockchain.
Cost Based on Location
| | |
| --- | --- |
| Location | Approximate Cost (Per Hour Basis) |
| United States (USA) | $30-$150 |
| United Kingdom | $40-$150 |
| Eastern Europe | $25-$100 |
| Western Europe | $40-$120 |
| India | $20-$50 |
| Australia & New Zealand | $35-$150 |
Now, let's look at the approximate cost based on types of Fintech app:
| | | | | |
| --- | --- | --- | --- | --- |
| Type of FinTech App | United States  | Central & Northern Europe | Western Europe | Asia  |
| Banking app | $350,000 | $160,000 | $245,000 | $130,000 |
| Investment app | $175,000 | $122,000 | $210,000 | $73,000 |
| Lending app | $268,000 | $115,000 | $170,000 | $90,000 |
| Insurance app | $300,000 | $138,000 | $90,000 | $50,000 |
| Consumer Finance | $245,000 | $128,000 | $125,000 | $98,000 |
Note: The FinTech app development cost stated above are approximate and may vary according to the app complexity, features, design, and the mobile app development team.
Essential Aspects To Consider Before Building FinTech Apps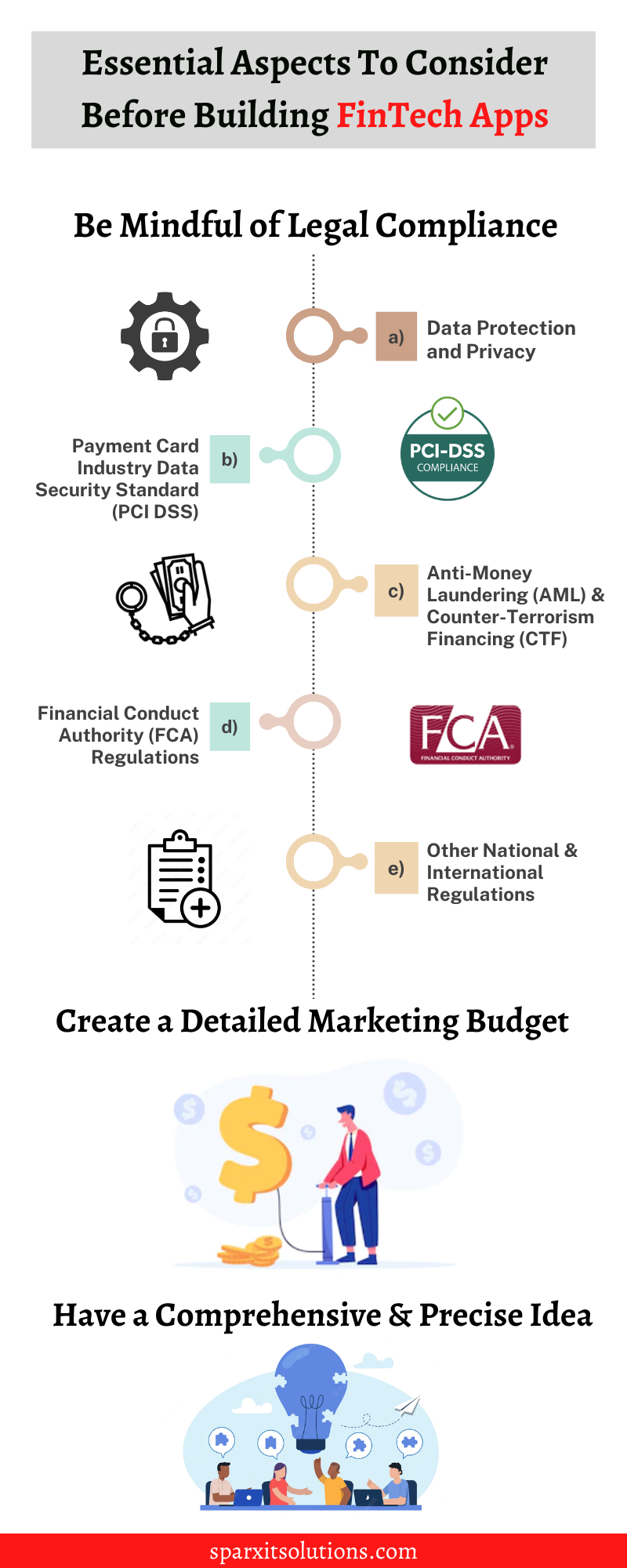 Be Mindful of Legal Compliance
Several regulatory agencies frequently have jurisdiction over the actions of FinTech companies. You must adhere to all legal requirements before creating a FinTech app.
Data Protection and Privacy
Your app will deal with sensitive financial data. It's critical to ensure you adhere to all applicable data protection and privacy rules. It can entail putting policies in place like encryption and safe user data storage.
Payment Card Industry Data Security Standard (PCI DSS)
You must ensure your app complies with the PCI DSS standards for processing card transactions. This standard specifies conditions for the safe processing of card information.
Anti-Money Laundering (AML) And Counter-Terrorism Financing (CTF)
The financial app must adhere to AML and CTF standards, which call for financial institutions to detect and report suspicious activities. Implementing procedures for spotting and reporting suspicious transactions may be necessary.
Financial Conduct Authority (FCA) Regulations
Ensure your app complies with the FCA standards if it provides financial services in the United Kingdom. To do this, you should apply for a license to the FCA and fulfill additional conditions like capital adequacy and reporting duties.
Other National And International Regulations
You might also be required to abide by other regional and global laws depending on where your app will be used, such as the US Gramm-Leach-Bliley Act (GLBA) and the General Data Protection Regulation (GDPR) in Europe.
Create a Detailed Marketing Budget
You must have a marketing budget if you are a startup. Your startup's marketing budget should include all the expenses in promoting your FinTech app. Regarding numbers, the marketing budget should be two to three times that of the app development budget. It will help you in determining fintech app development cost.
Have a Comprehensive & Precise Idea
You have a clear product if you can explain what it does, who will enjoy it, and how much people are willing to pay.
Follow these steps to develop a concise concept:
Participate in brainstorming meetings with your app development team.
Talk about the best features such as authentication, biometrics, chatbots, payment systems, etc.
Speak to your target audience
Major Challenges in FinTech App Development Process
Security
Data protection is of utmost importance to financial institutions. A single data breach, such as disclosing bank account information, is sufficient to drive your product off the market.
Therefore, build your financial product with a reliable mobile app development agency.
According to estimates from Statista's Cybersecurity Outlook, the global cost of #cybercrime is expected to surge in the next five years, rising from $8.44 trillion in 2022 to $23.84 trillion by 2027. pic.twitter.com/ifmDDUfLFL

— Statista (@StatistaCharts) December 12, 2022
Integration of Big Data and Artificial Intelligence,
The majority of FinTech processes are based on big data and artificial intelligence. However, they could be challenging to work with while developing an app.
It might be challenging to filter enormous amounts of data because it comes from many sources. It can make it difficult for developers to complete the app development process.
The only solution to this issue is to hire dedicated fintech app developers.
User Retention Problems
When users continue to use your FinTech product, you have user retention. A great marketing campaign frequently induces consumers to download an app. However, a bad service will cause problems with user retention.
Always strive to make your product better. Additionally, you must act quickly on customer feedback.
FAQs About FinTech App Development
How much does it cost to develop the MVP of a fintech app?
The cost to develop the MVP of a FinTech may range between $15,000 to $100,000. The price will depend on diverse factors like the complexity of the app's idea, functionality, design, and location of the MVP development team.
How much does it cost to build a basic FinTech app?
The average cost of building a basic FinTech app with minimum features (secure sign-in, account management, simple UI/UX design, digital payments, alerts, and notifications) may range from $30,000 to $55,000.
How much does it cost to develop an average FinTech app?
The approximate cost of developing a medium-complexity (regional language choice, peer-to-peer payments, personalized experience, customer service options) FinTech app may range between $55,000 to $80,000.
How much does it cost to create a complex FinTech app?
The average cost of creating a complex FinTech app with advanced features (biometric sign-in, user-first navigation, personalized UI/UX, voice-assisted banking, data visualization, gamification, etc.) may start from $80,000+
How much does it cost to hire outsourcing development company to develop a FinTech app?
FinTech app development costs of hiring an outsourcing development company may range starts from $30,000 to 300,000. The cost will depend on various cost-driving factors such as app design, complexity, platform, development team, location, and features.
Why Should You Choose SparxIT For FinTech App Development?
If you choose us, you can be sure that your financial solutions will leverage the best technologies, trends, features, and functionality.
At SparxIT, we assist businesses from the initial stages of conceptualization to the full deployment of resources. We provide cutting-edge app solutions that shape your brand.
We are an award-winning mobile app development company with more than 250 specialists who have provided services to Fortune 500 companies, startups, and SMEs.
Also, we are a leading, trusted, and gold-verified digital solution provider with 4.8 ratings out of 5 and 63 reviews on Clutch.
Furthermore, we also lead the industry in delivering winning MVP services to validate your unique app idea early in the product development cycle and, in turn, save costs.
Contact us to transform your mobile app idea into viable results. We'll be pleased to provide you with a free consultation.
Let's build your dream fintech app together!
Useful articles, updates, offers and guide boon from SparxIT Team
Categories
Want to Know FinTech App Development Cost?
Featured In