All the economic activities are witnessing a transformation phase this year. This change is unprecedented and it is the aftermath of the worldwide COVID outbreak. Every business is going through a transition, hence it is recommended to shift yourself to a welcoming approach.
Physical distancing, being the only remedy to curb the spread of the virus, has made businesses restructure their earlier ways of serving the users. Simultaneously, the demands of customers for advanced solutions that ensure safety against COVID are increasing.
Being an incredible online representation for any business, mobile apps are helping out the service providers to satisfy these needs of customers. Probably this is the reason that the market forecast for mobile apps 2020-2024 is still unchanged with only a 2% slump.
According to this research, market revenues will double in the next four years. And mind you, this fact sustains even after many mobile app categories have seen a sudden slump in their downloads due to the synchronized economic slowdown.
Do you also feel that leaning on the mobile app for your business is right? Apparently, it is the smartest decision of all to survive the cruel impacts of this crisis. The real-life instances and examples of many companies have proved this potential of mobile apps time and again. Let us check the Facebook Mobile App example.
How a Mobile App Helped Facebook to Revamp its Revenues?
In 2009, Facebook launched its first app and since then we have witnessed an amazing mobile evolution for the company. Despite being unsupportive for a majority of devices, the mobile app managed to get 100 million users every month of 2010.
With constant innovation in the mobile app industry, finally, the social media corporation opted for Android and iOS app development. If you will compare the launch date of their mobile app with the revenues, you will see a sudden surge in the revenues and net incomes.
There is a steady increase in Facebook revenues from 2009 to 2019. The complete one decade has made this company to rule the world with its successful innovations. If a mobile app works for them, it will work for your business as well.
Are you wondering what is there in mobile apps that make them increase the profits of businesses? We will answer this question for you. Apart from that, entrepreneurs who are keen to know the current state of the mobile app industry and how they can strategically use apps to boost their business.
In this blog, we are going to resolve all these queries with detailed answers. These answers are completely based on the facts and the latest industry research. They do not include any personal opinions.
Which Mobile Apps have been Severely Impacted by COVID?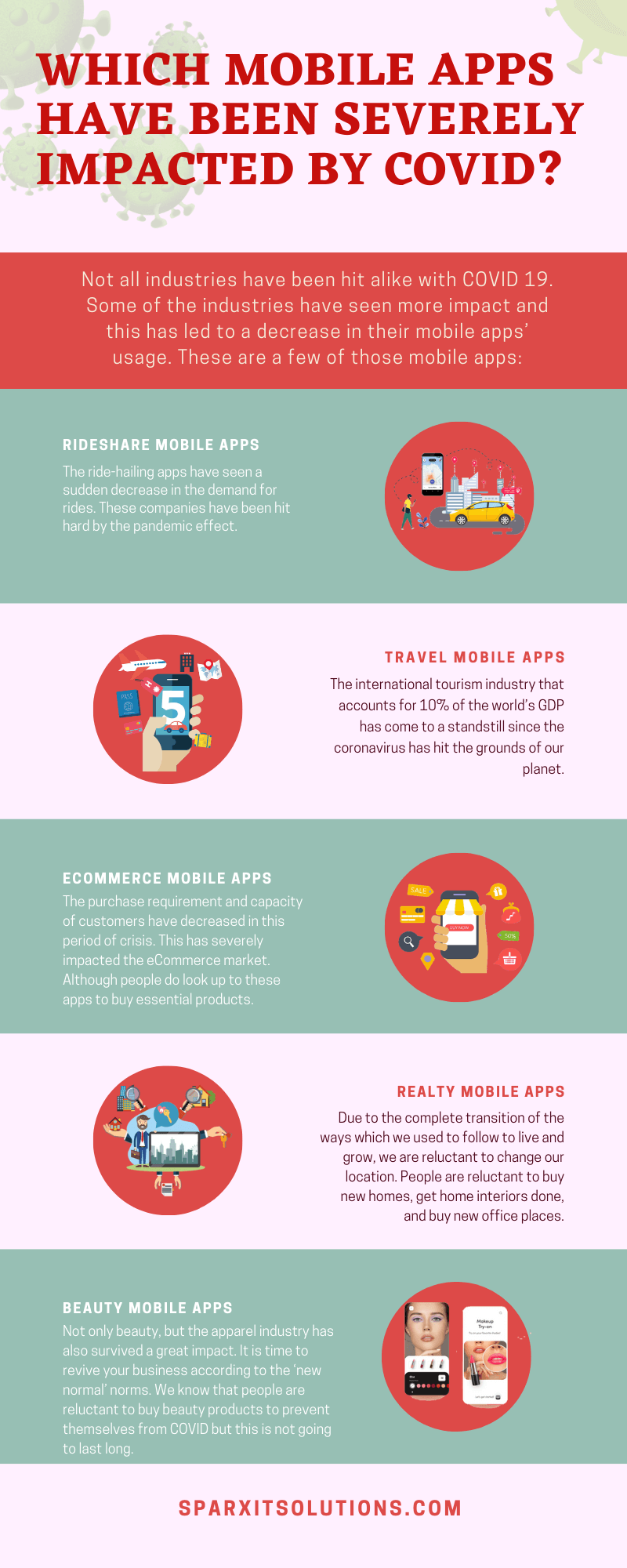 Not all industries have been hit alike with COVID 19. Some of the industries have seen more impact and this has led to a decrease in their mobile apps' usage. These are a few of those mobile apps:
Rideshare Mobile Apps
The ride-hailing apps have seen a sudden decrease in the demand for rides. These companies have been hit hard by the pandemic effect. The top-notch companies in this domain like Uber have laid off thousands of employees.
On the other side of the road, eventually, when the world will start getting adapted to the 'new normal', demand for rides will increase. This is because people will avoid using public transport like buses and metros. Hence, investing in a taxi booking app can be a smart choice right now.
Travel Mobile Apps
The international tourism industry that accounts for 10% of the world's GDP has come to a standstill since the coronavirus has hit the grounds of our planet. The travel industry in every nook and corner of the world is suffering and tourism entrepreneurs are living their worst nightmares.
The World Travel and Tourism Council has predicted that the total jobs that are at stake in this industry due to the pandemic are 50 million. The travel mobile apps have seen downfall too. Things will take time to get normal for the travel industry. Meanwhile, you can redesign your app according to the 'new normal' demands of the users.
eCommerce Mobile Apps
The purchase requirement and capacity of customers have decreased in this period of crisis. This has severely impacted the eCommerce market. Although people do look up to these apps to buy essential products.
One can say that this industry has seen a mixed impact. At once, it did hit the eCommerce market hard. Gradually, customers have shifted from offline stores to online stores. Vietnam is witnessing the largest shift to online purchases which is followed by India and China.
Despite this, the overall shift is only raising the demand of online grocery and other essential products. The eCommerce sale of luxury products like home decor items, jewelry, etc. have witnessed a sharp fall.
Realty Mobile Apps
Due to the complete transition of the ways which we used to follow to live and grow, we are reluctant to change our location. People are reluctant to buy new homes, get home interiors done, and buy new office places. The residential, as well as commercial realty, have been impacted equally. Mobile apps in this industry have become of lesser use for the people.
Beauty Mobile Apps
Not only beauty, but the apparel industry has also survived a great impact. It is time to revive your business according to the 'new normal' norms. We know that people are reluctant to buy beauty products to prevent themselves from COVID but this is not going to last long.
Being one of the industries that offer necessary products, beauty mobile apps will again see a rise in customers. Being a smart entrepreneur, you must consider redesigning your mobile app to fit the new demands. Tip: Sanitizer and vaccines can be your USP in contemporary situations.
Which Mobile Apps have Enjoyed a Positive Impact of the Pandemic?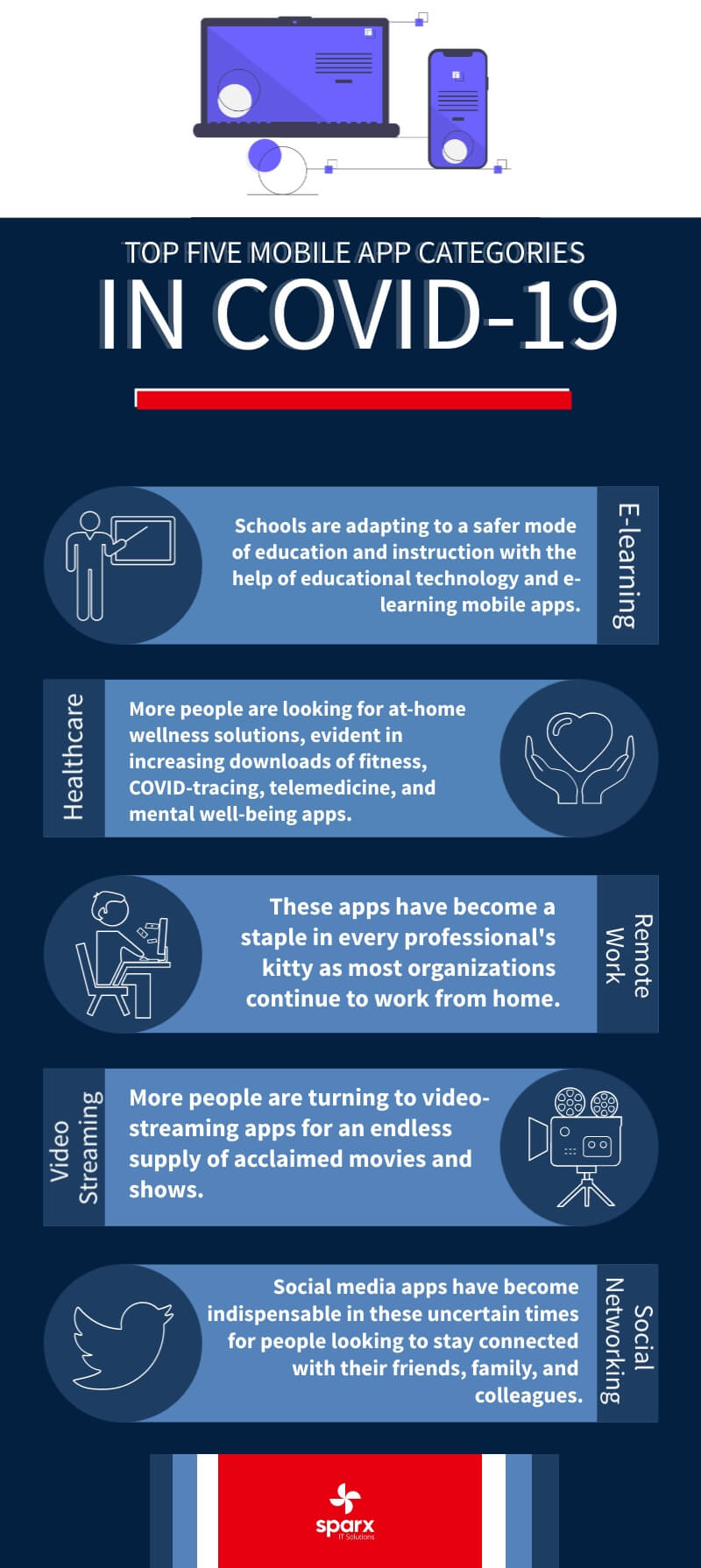 Some of the industries have not only been less impacted by the COVID outbreak but they have also managed to get the benefits of the 'new normal' rules. Here are those lucky mobile apps:
eLearning Mobile Apps
Traditional education systems have been completely scrapped by eLearning systems. Earlier it was a choice but today students and teachers are bound to take the assistance of eLearning platforms. Although they are facing various entry barriers to eLearning technology.
Hence, this industry has still a large road to cover before becoming as effective as the classroom session. We need more such platforms to satisfy the increasing demands of eLearners. You can consider getting e-learning platform development services to make your business flourish after the COVID pandemic.
Healthcare Apps
COVID pandemic has a major effect on the healthcare industry. The treatments of other ailments have been impacted due to the high requirements of COVID patients and their treatments.
The COVID contact tracing apps like Aarogya Setu have become the new choice for people among the different healthcare apps. Lack of movement has motivated users to install healthcare apps which have inspired entrepreneurs to think about a fitness app development.
Remote Work Apps
It is the most positively affected industry of mobile apps all over the globe. Do you know remote work apps have seen 1457% downloads increase in the USA in March? Almost every organization has opted for work from home amid the pandemic.
The mandatory requirements of the remote work have led to an incredible increase in their downloads. It seems like there is no end to this positive impact as many top-notch brands have already announced for a work from home extension till 2025.
Video Streaming Apps
Are you not using Amazon Prime and Netflix to entertain yourself? Amid the COVID pandemic, as of April 22, 2020, Netflix got 16 million new sign-ups. Out of boredom, people have shifted to video streaming apps from television. The unexpected rise has made this year a super successful one for the video-streaming apps.
Social Networking
Follow the norms of physical distancing but stay connected socially. Social networking apps like Snapchat, Facebook, and Instagram have allowed people to remain socially connected. The majority of apps that have seen a surge in their downloads during the COVID crisis are social networking apps. Just like video streaming apps, social media apps have also allowed people to burn their extra time with entertainment.
Why should I get a Mobile App Developed for my business?
Is the increasing physical distancing all around the globe, the only reason for choosing mobile app development? This is one of the most vital reasons but there are many other reasons as well. Here are the benefits of mobile apps for your business:
Marketing with Geo-Targeting
GPS technology allows companies to track the location of the users. The location-based marketing can be done with mobile phones as the devices are supportive of this technology. Based on the user's geographical location, businesses can filter the results of any search. Like, for example, a user in New York will be shown restaurants around her in a food-ordering app.
Increasing Mobile Users
Do you know, the total smartphone users in the world are expected to surpass 3 billion next year? Therefore, you have billions of people whom you can target to sell your services and products. This can only be done when you will have your own mobile app. Hence, one of the major benefits of mobile apps for business is the huge volume of potential users.
Better Customer Engagement
Do you know mobile apps are one of the most direct marketing channels for business? Through push notifications, you can keep your mobile app users connected with you in all the seasons. This leads to effective communication that retains your customers with your mobile app.
Enhances Brand Visibility
Ask an expert, what is the best way to increase brand visibility. They will surely name mobile apps as one of the best ways. Once a user visits a website, she may not visit again until when she comes across your brand name through advertisements or peers. Contrary to this, mobile apps keep your users stay connected as they mark their place in their smartphones forever.
Transforms the Purchase Experience
Unlike traditional offline stores, you can compare multiple products from different sellers. The innumerable options from different vendors allow customers to purchase that right product. We have all witnessed the improvement in purchase experience given by mobile apps. On-demand app development has been a major contributor to enhancing the purchase experience for users.
What Mobile App Development Trends Should I Follow for Assured Growth?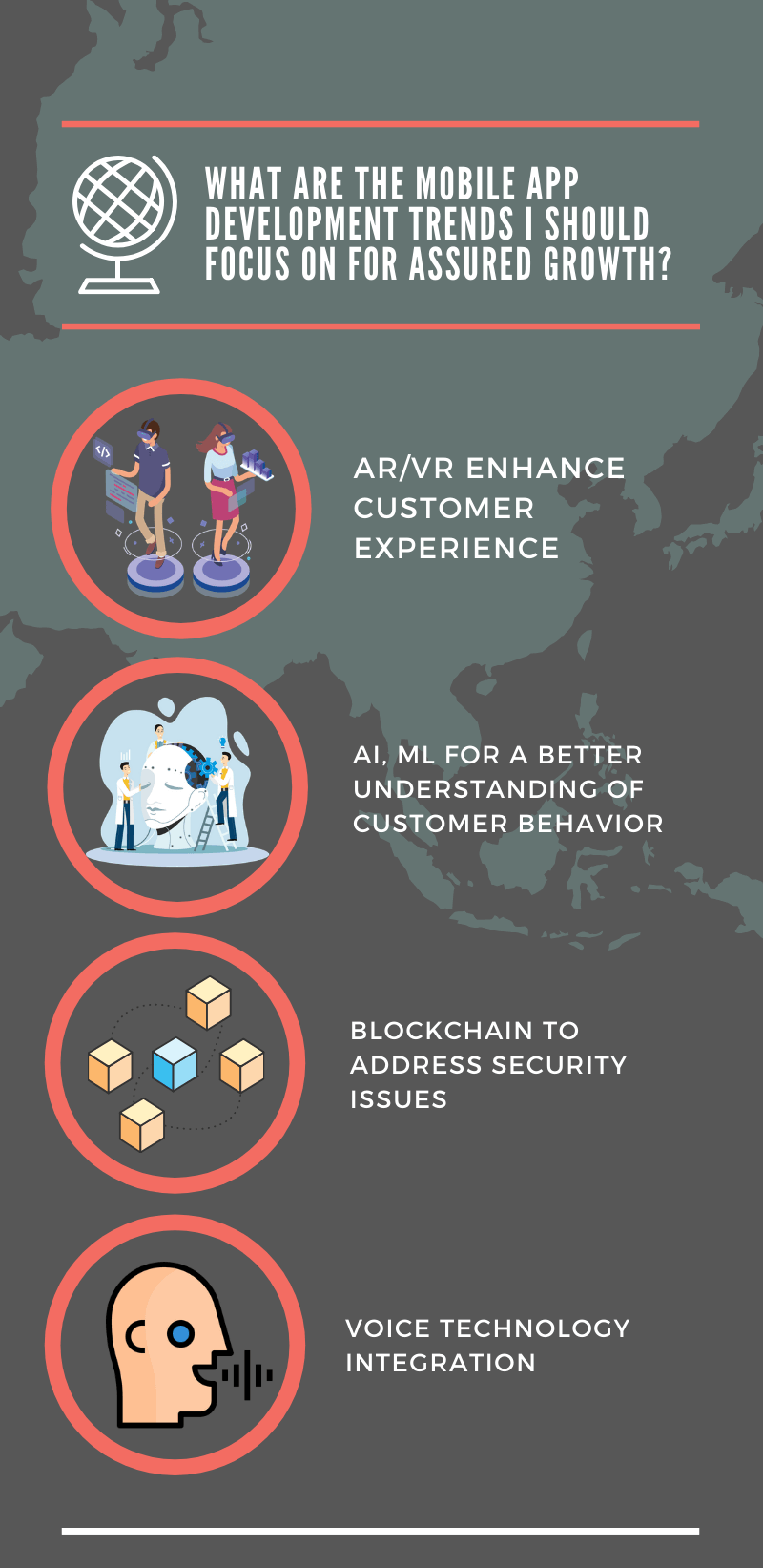 Being an entrepreneur, this will always come to your mind. Following the trends and being innovative in your offering is the only to make your mobile app stand out among the competitors. Every industry has some new trends, so is the mobile app development. Here are the top trends that you should definitely follow while creating a mobile app for your business:
AR/VR enhance customer experience
Have you used the IKEA app? It allows the users to check how a home decor item will look like after they actually buy it. The technology they have utilized is augmented reality. The mixed reality tech compromises of AR and VR.
These flourishing and advanced technologies can serve the users of a mobile app with high-end engaging features. Their application is extending to mobile apps in other industries also. Some of them are food apps, beauty mobile apps, healthcare mobile apps, etc.
AI, ML for a Better Understanding of Customer Behavior
Do you know big data and AI are the technologies expected to see the maximum percentage of innovation in the next few years? These technologies allow scientists to analyze the customer's behaviors.
For example, an eCommerce store owner can analyze which product is clicked the most or which color is preferred the most by users. Every answer related to customers' behavior is answered by AI and its subset ML.
Blockchain to Address Security Issues
Blockchain is the latest buzzword in the technology industry. The high-end security provided by this technology has made it immensely popular among entrepreneurs who wish to deliver a secure platform to their users.
Contrary to popular belief, blockchain is more than a supportive technology for the finance industry. No matter which industry domain your business operates in, every mobile app that is using cloud service connections for data storage must consider the deployment of the Blockchain technology.
Voice Technology Integration
Do you know voice tech is used at least once in a week by 31% of mobile users? The heavy shift towards voice search has made the integration with voice technology a mandate for the mobile app development company.
Moreover, the COVID pandemic has made users reluctant to touch their mobile phones again and again. Hence, it is speculated that voice technology is going to flourish with a jerk in 2020 and beyond.
In Which Mobile Apps Should I Invest to Ensure Maximum ROI?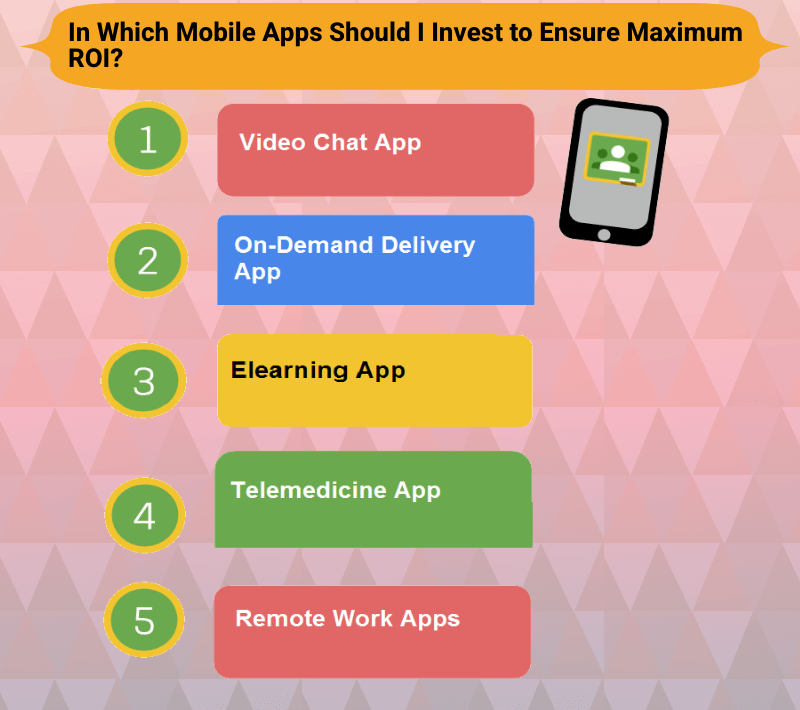 The answer can be as simple as the apps that have enjoyed a positive impact of COVID are lucrative options to invest. But it requires greater insight to decide what is going to survive for a long period of time. Here are the best mobile app ideas that you should consider investing in:
Video chat app:
The zoom calls, Google Duo, skype calls, etc have become an indispensable part of our professional as well as personal life. The downloads of video conferencing apps like Housparty have seen an incredible increase.
These are going viral since the outbreak of coronavirus and people are left with no other option during their stay at home. Hence choosing to get video chat app development will be the smartest decision. Trust us, you will not regret it as these apps are not going to lose popularity anytime soon.
On-Demand Delivery App
These apps are serving the users at their doorstep even during the COVID crisis. This is well-appreciated by the community at large. Hence, creating an on-demand app will let you go to your user's location and serve them with your service.
It is time to enhance home delivery with these newly and extensively adopted apps. From grocery to rideshare, on-demand apps are a rescue for businesses in every industry. If you wish to restore or revamp your business process then on-demand app development is something you need to opt for.
Elearning App
We have read about these apps and their increasing popularity under the query "Which mobile apps have enjoyed a positive impact of the pandemic?" eLearning apps like Course are going to see the equal surge in their demands in the post-COVID period also.
Even before this crisis, it was predicted that eLearning global market revenue will reach 243 billion US dollars in the next two years. The newfound safe mode to impart education will be adopted at a large scale in the near future. Investing in these mobile apps today will surely give high investment returns.
Telemedicine App
The unprecedented impact of COVID has shaken the entire healthcare system. Telemedicine apps have seen a sudden influx of patients during the first five months of 2020. The entire sector has weakened and to strengthen it, we need more telemedicine apps.
Even the WHO recorded telemedicine as one of the essentials to strengthening the healthcare sector after the outbreak of COVID. Being a responsible entrepreneur, you must consider investing in appointment booking app development.
Remote Work Apps
Since the COVID outbreak, companies in all major industries have started opting for work from home. Hence, remote work apps became one of the most required and downloaded apps by people around the globe.
Investing in one of the remote work apps will help in getting instant downloads. Moreover, the constant increase in the needs of work from home supportive technology will allow you to retain users. Think about this idea, it is one of the best choices for you as of now.
Conclusion
There are a lot of speculations about the various industries. Even the industries facing the darkest times will have some survivors at the end. Hence, a single mobile app genre cannot guarantee success. You need to explore your area of interest along with the current needs of the users.
Just like they helped Facebook and many other companies to top their respective markets. Mobile apps hold incredible potential to raise profits for your business. The idea is to not follow the trails of other businesses.
Create your own mobile app by integrating it with the latest tech trends. If you will face any issue in making the right decision then you are always welcome to consult our experts at Sparx IT Solutions (A leading mobile app development company). We will be more than happy to help you get the best mobile app for 2020 and beyond.
Useful articles, updates, offers and guide boon from SparxIT Team
Categories
Let's discuss your project idea.
Featured In