The share of WordPress powered websites is continuously increasing over the web because of the robustness of this platform. Being a superb content management system is an additional benefit associated with WordPress that makes it the most preferred choice for the website developers. Moreover, WordPress offers dynamic features that can easily be incorporated over the websites.
WordPress was kicked off by Matt Mullenweg almost 12 years ago and was introduced as a platform to power the blogs for his personal trip updates. However, b2 was the most used platform during the period, as a result of which Matt used the same as the base for the new WordPress platform. By visualizing the capacity that WordPress had in store, the platform then became the most renowned PHP framework that backed up the websites.
To encash the popularity of WordPress as a commercial platform, Mullenweg then founded Automattic – the commercial WordPress service provider company. With this same approach he and his team of developers kept on excelling in bringing out new technologies for WordPress.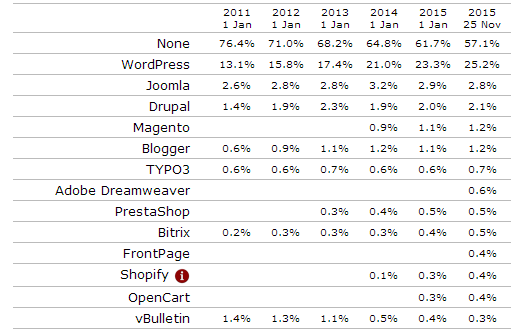 According to the posts of Mullenweg, the strength of WordPress lies in the features that this platform has with it. Here, it becomes prominent to mention the code base of WordPress that has remained the same over the years instead of addition of tons of patches and code reworks. The results are clear in the form of a robust framework that exceptionally runs on self hosted websites providing advantages to a number of users.
To address the users concern more sophistically, Mullenweg along with his team started working on new admin interface and begun the work with JavaScript rather than choosing PHP as well as popular database MySQL. For creating the new admin panel, a new project called "Calypso" used a thin layer of Node.js to serve the initial page on WordPress server. The community also used "React" a JavaScript framework by Facebook.
As per the developer page of WordPress,Calypso adopted Facebook's React view library early on, and has been heavily influenced by other open source work in the "React" community." Another great news besides this is that a new Mac desktop app has also been developed that allows publishers to easily add content to WordPress websites from the Mac OS.
As his one of the strongest wishes, Mullenweg is hopeful for Calypso to be a part of WordPress. However, he solely believes that it is a decision that must be taken by the developers' community. For now, Calypso has been released as an open source project on the GitHub.
Useful articles, updates, offers and guide boon from SparxIT Team
Categories
Let's discuss your project idea.
Featured In