Healthcare systems worldwide encounter considerable challenges in achieving the quadruple aim for healthcare: improving population health, enhancing patient treatment caregiving experience, and decreasing the skyrocketing cost. Thus, governments, payers, regulators, and healthcare providers are being pushed to innovate and transform healthcare delivery models.
The implementation of AI in the healthcare industry has the potential to alleviate some of these challenges. Mobile applications in the healthcare industry coupled with AI, IoT (IoT), data security, and the growing availability of multi-modal data (genomics, demographic, and clinical trials) will fundamentally transform healthcare delivery models.
As per reports, artificial intelligence in healthcare was worth around $11 billion globally in 2021 and is anticipated to reach $188 billion by 2030, increasing at a CAGR of 37% till 2030. Hence, there are massive opportunities for businesses, hospital owners, startups, and clinics to leverage the potential of AI-enabled healthcare apps into their workflows.
What is AI Software Development in Healthcare?
Artificial intelligence technology in the healthcare sector is used to enhance medical decision-making, improve patient care, and expedite procedures, which is called AI software development. It includes machine learning, natural language processing, data analytics, and AI algorithms to analyze enormous amounts of medical data trends and make intelligent predictions.
It is intended to cover various uses, such as automated administrative tasks, virtual assistants, patient monitoring, personalized medicine, medical diagnosis, and treatment planning. You can take the assistance of a reliable artificial intelligence development company to build innovation-intensive and AI-powered applications.
Benefits of AI-enabled Healthcare Software Development
AI software development in healthcare has been a boon for the sector, from providing an accurate diagnosis to increasing hospital efficiency. Here are a few benefits of AI revolutionizing the healthcare industry and accelerating its shift to digital transformation.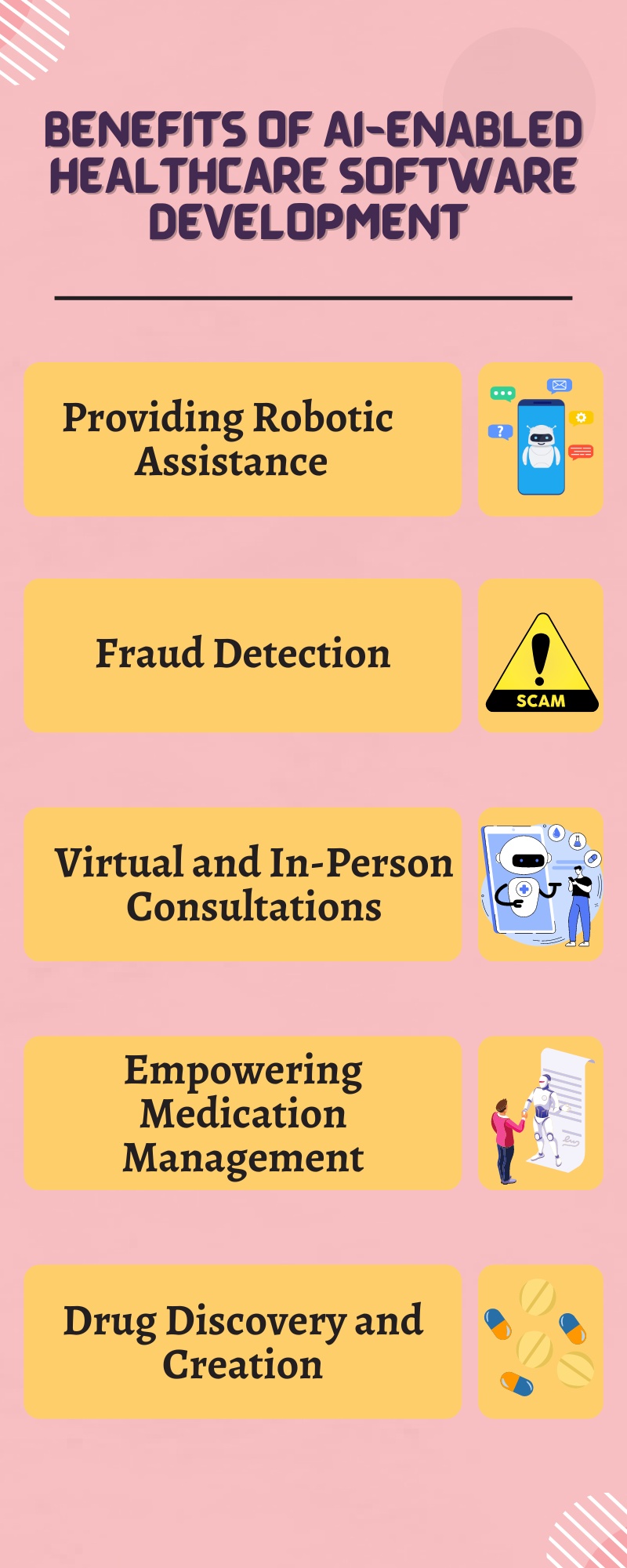 1. Providing Surgical Precision with Robotic Assistance
It is one of the most widespread uses of artificial intelligence software development in healthcare. Surgical processes have been transformed by AI and collaborative robots, which also lowers the chances of discomfort, blood loss, and other adverse consequences.
Moreover, with AI in healthcare, surgeons can perform difficult processes with more accuracy. It results in a comfortable post-surgery recovery.
For example, the Maastricht University Medical Center has been sewing small blood vessels that are only 0.03 mm thick with the help of AI-powered robots.
2. Unveiling Deceptive Practices: Fraud Detection
Healthcare practitioners may quickly assess, approve, and pay legitimate claims with artificial intelligence in mobile applications. AI-based healthcare software development stops insurance fraud and prevents patient data theft.
Leading healthcare organizations like Harvard Pilgrim Health use AI to detect healthcare fraud. They employ AI-based fraud detection tools to locate claims and identify questionable activity.
3. Transforming Virtual and In-Person Consultations
The Babylon App is a practical example of how AI applications in healthcare change medical consultations. The app provides the best AI-generated advice for online medical consultation and healthcare services.
Users of AI-based software merely need to report the symptoms of their illness; the app will then use speech recognition to compare the symptoms to a database of diseases. After considering their history and current situation, they provide a course of action for the patient.
4. Empowering Medication Management and Health Support
Molly, the first digital nurse in the world, was created by the medical firm Sense.ly. The mobile app uses machine learning to assist patients with chronic diseases between consultations. The mHealth app focuses on chronic conditions and offers tried-and-tested monitoring and follow-up therapy.
5. Drug Discovery and Creation
Clinical trial-based drug development can take years and cost billions of dollars. AI makes the process of essential drug development not only faster but also incredibly affordable. One such network that uses AI to extract therapies from molecular structure databases is Atomwise.
Atomwise utilized AI technology in 2015 to identify the existing drugs on the market that could be modified to treat the Ebola virus.
Use Cases of Artificial Intelligence Software Development in Healthcare
Discover how AI app development is transforming the healthcare industry. Explore applications such as disease diagnosis, patient care optimization, and medical image analysis for better outcomes.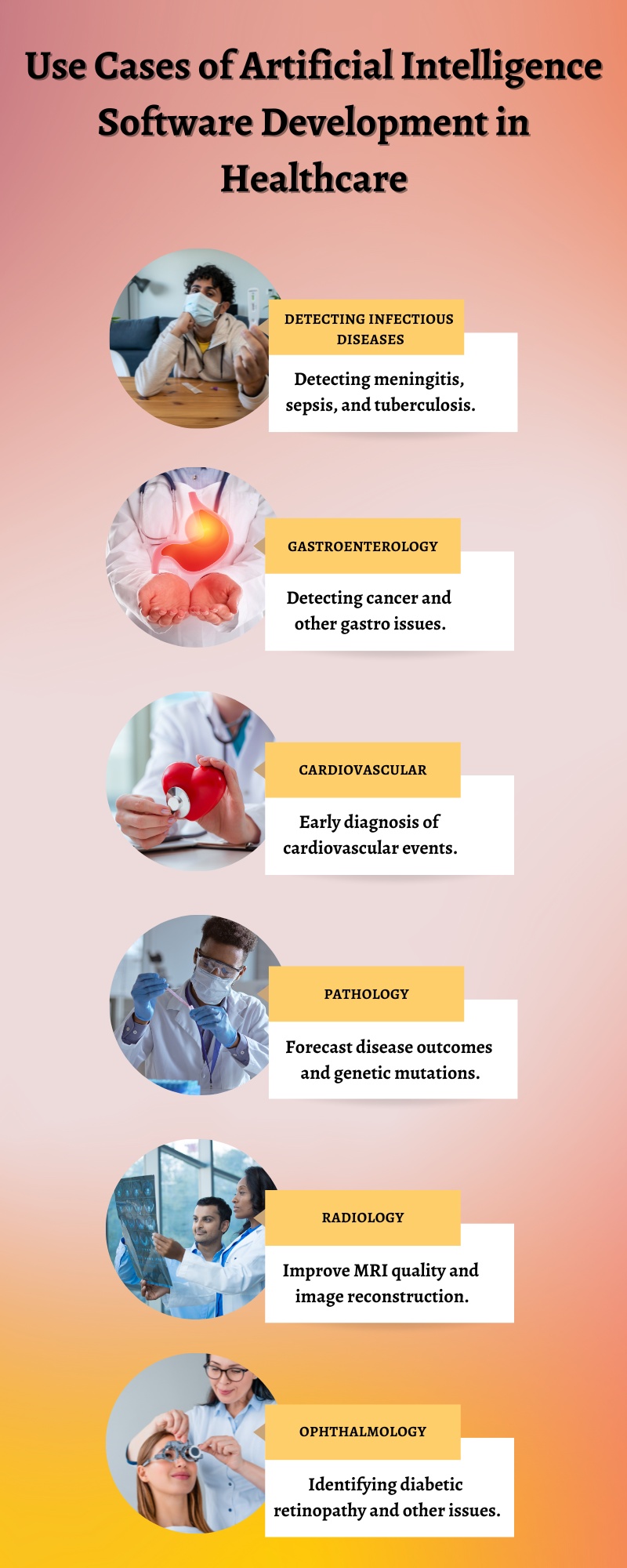 Detecting Infectious Diseases
Companies that are developing AI apps for healthcare have shown tremendous prospects in both the laboratory and the clinical trials of infectious disease medicine. Malaria detection from blood smears using machine learning and enhanced point-of-care testing of Lyme disease based on antigen detection is possible via artificial intelligence. AI has also been researched for its potential to aid in detecting meningitis, sepsis, and tuberculosis.
AI app development for healthcare in gastroenterology can benefit in several ways. Clinical professionals can quickly diagnose diseases, assess their severity, and see blind spots by augmenting these endoscopic procedures with AI. Early tests of AI detection systems for early stomach cancer have produced outstanding outcomes.
Wearables, smartphones, and internet-based devices have also demonstrated the ability to monitor patient's cardiac data points. It extends the amount of data and different AI models that can be used and potentially enable early diagnosis of cardiac events.
The development of AI-assisted pathology tools has made it easier to diagnose various diseases, such as breast cancer, hepatitis B, gastric cancer, and colorectal cancer. AI software development in healthcare has also been used to forecast disease outcomes and anticipate genetic mutations.
AI is being researched in radiology to detect and diagnose disorders using Computerized Tomography (CT) and Magnetic Resonance (MR) Imaging. AI can also improve MR image quality, reduce image noise, and produce high-quality images from low radiation doses. Image reconstruction is the main topic of future investigations into the application of AI in healthcare.
The integration of artificial intelligence-enhanced technologies in screening eye disease is prevalent. The U.S. Food and Drug Administration permitted the sale of the medical device that utilizes an artificial intelligence algorithm to identify a particular type of eye illness, diabetic retinopathy.
Types of AI in Healthcare
AI software development in healthcare involves a variety of different technologies, each with a distinct function. The tasks and procedures that various AI technologies assist may differ, even though the sector considerably benefits from them. Let's look at some of the most advanced AI technologies:
1. Machine Learning
One of the prevalent types of AI in the medical field is machine learning (ML). Machine learning mimics human knowledge using data and algorithms, gradually increasing accuracy.
The most notable use of ML in healthcare is precision medicine. It forecasts which therapeutic approaches will benefit the patients the most based on various patient characteristics.
2. Natural Processing Language
Natural language processing (NLP) includes text analysis, speech recognition, and other techniques. Creating and classifying clinical data and published research is a typical application of NLP in the healthcare industry. Unstructured clinical notes on patients can be analyzed by NLP algorithms, providing insight into how to improve procedures, comprehend quality, and provide better patient care.
3. Robotic Process Automation
RPA in the healthcare industry uses automation technology to understand, imitate, and carry out rules-based business procedures. They are less expensive, simpler to program, and more transparent in their behavior than trending AI technologies used in healthcare. They assist in healthcare by automating tedious operations like updating patient records or billing.
4. Rule-Based Expert System
The most basic type of artificial intelligence, a rule-based expert system, applies predetermined knowledge-based rules to solve a problem. The objective of the expert system is to take information from a human expert into many hard-coded rules to the input data.
Step-by-step AI Software Development Process
From concept to deployment, navigate the process to create intelligent solutions that drive innovation and efficiency.
1. Determining the Requirements
You must identify your problems as a healthcare provider and how healthcare software development can be the answer. Before collaborating with any AI software developer, you should be clear about your objectives. Only after determining your purpose will you be able to successfully invest in any healthcare app development projects.
2. In-Depth Research and Competitor Analysis
Once the need for creating healthcare AI software has been determined, you must thoroughly study it. You can select an experienced AI development services provider to help with the necessary research work. You can always choose to analyze your competitor's offerings to see what AI-driven methods they use.
3. Look for a Reliable AI Development Company
Finding the best healthcare software development company to use skilled developers for your project is a crucial next step in developing your AI software development. If you choose an in-house team, you will be left with the time-consuming process of interviewing, hiring, and training a full-time developer to meet your needs.
The budget will be increased, and the deadline for finishing your AI healthcare app development will be extended. Therefore, hiring dedicated mobile app developers from a reputed AI software development company is preferable.
4. Algorithm Development and Training Models
Your healthcare mobile application development team will select the algorithms depending on the available data type and the difficulty of the project. Your healthcare solution provider will use common algorithms like convolutional neural networks (CNNs), recurrent neural networks (RNNs), and support vector machines (SVMs).
The next phase is to build machine learning or deep learning models after selecting the algorithm. The model's architecture must be designed, the app development firm must select suitable layers and connections, and they must specify the input and output structure.
The models utilized in your AI healthcare software development must be trained using a sizable collection of healthcare-related data. The information can contain patient demographics, electronic health records, and other pertinent data.
5. Integration, Rigorous Testing, and Deployment
Your healthcare app development company will complete the integration to enable seamless data exchange between AI-driven software and your current healthcare system.
Once the application has been integrated, it's time to thoroughly test the AI software solution to ensure it operates without a glitch. Artificial intelligence app development experts provide human and automated testing techniques to demonstrate the software's accuracy.
Finally, once testing is complete and your AI application development services have determined that the created healthcare AI solution is fulfilling its purpose, they will deploy it.
6. Monitoring and Continuous Enhancement
It is crucial to monitor how AI software development for healthcare is performing. You should pick an app development agency that provides post-custom support services and consistently tracks the functioning of your digital product. Its continued success will be ensured by gathering input and making the necessary adjustments to the AI-based healthcare application.
Challenges of AI App Development for the Healthcare Industry
Delve into the unique challenges shaping this transformative field, including data security, regulatory compliance, and ethical considerations.
Utilizing AI trends in healthcare is hampered by the need for vast amounts of data from various sources, like electronic health records, pharmacy records, etc., to train the technology. Since the data is dispersed and patients frequently interact with multiple healthcare professionals, the data becomes more complex and challenging to understand, which leads to errors and higher costs.
The requirement for strong security measures to secure sensitive information in the enormous volume of acquired data is another major obstacle to AI software development in healthcare. Therefore, finding the best machine learning development services that can provide a wide selection of security alternatives to protect customers' data is crucial.
Sometimes, AI systems fail to identify possible dangers or create efficient treatment strategies. For example, an AI-based system may misidentify a tumor in a radiological scan or recommend the incorrect treatment to a patient, which could seriously affect the patient's health.
Regulatory challenges in AI app development for healthcare include-
Stringent data privacy laws, such as HIPAA.
Compliance with medical device regulations, including FDA approvals.
Adhering to ethical guidelines, especially regarding patient consent.
Implementing bias mitigation strategies for fair AI outcomes.
Future of Artificial Intelligence in Healthcare
AI is already transforming medical procedures, the patient experience, and pharmaceutical operations in the healthcare sector. Future AI technology will make it possible to create radio tools that are precise and detailed to change the need for tissue samples.
AI can also offer earlier warnings for illnesses like seizures or sepsis, which require rigorous analysis of extremely complicated datasets. Critical research areas for this innovative tech trend in healthcare are risk scoring, clinical decision assistance, and early alerting.
How Can SparxIT Help You in AI Software Development
Healthcare is being transformed by artificial intelligence by making it more intelligent, effective, and patient-focused. The application of AI in healthcare can improve treatment outcomes, optimize resource allocation, and streamline administrative processes.
SparxIT is a digital transformation services provider, actively collaborates with leading business innovators to create unique AI and ML-based models that improve customer experience and increase revenue at lower mobile app development costs.
With a team of qualified machine learning developers, we are prepared to develop future-ready AI-powered solutions that address the healthcare sector's particular problems and demands.
FAQs on AI in Healthcare
Q: How much does it cost to build an AI app for the healthcare sector?
A: The average cost of developing a mid-range AI healthcare app could range from $50,000 to $200,000. A high-end AI app development costs around $200,000 to $500,000. However, these are rough estimates, and the healthcare app development cost will depend on the type of AI technologies, platform, features, development team, and geographical location.
Q: What technologies does SparxIT use to develop AI software in healthcare?
A: SparxIT employs technologies like deep learning, machine learning, natural processing language, and robotic process automation to develop AI software for healthcare applications.
Q: How long does it take to create an app with AI?
A: The timeline for creating an AI healthcare application depends on its complexity, typically 4 to 8 months, but it could be longer for intricate projects.
Useful articles, updates, offers and guide boon from SparxIT Team
Categories
Want to build AI-based healthcare software?
Featured In