A healthy lifestyle is crucial in today's fast-paced world. With more and more people paying attention to their health, soundness, mindfulness, and well-being, wellness applications have become a key component to staying mentally fit.
Wellness apps are in trend nowadays, which will boost their position in the future. The mobile market backs the healthy living trend by delivering myriad solutions that fit a range of wellness objectives. Therefore, wellness app development services open promising outlooks in the wellness business.
Whether you're a tech enthusiast or an entrepreneur, be ready to learn how technology and self-care can coexist together. Let's explore how a trusted mobile app development company changes how we care for our health through innovative apps.
Wellness App Development Market Analysis: An Overview
The total market volume of health and wellness apps is expected to grow by $3,072M at a CAGR of 7.2% from 2019 to 2023.
According to GlobeNewswire, the global wellness app development market is expected to reach $15.6 billion by 2028, suggesting that workout apps are here for the long run. It is the best time to leverage the productive healthcare and wellness industry.
What are the types of Wellness Apps?
Explore the various landscape of wellness apps, each crafted to improve various aspects of your well-being. Discover how these digital companions cater to your overall health needs, from fitness trackers that motivate your workouts to meditation apps calming your mind.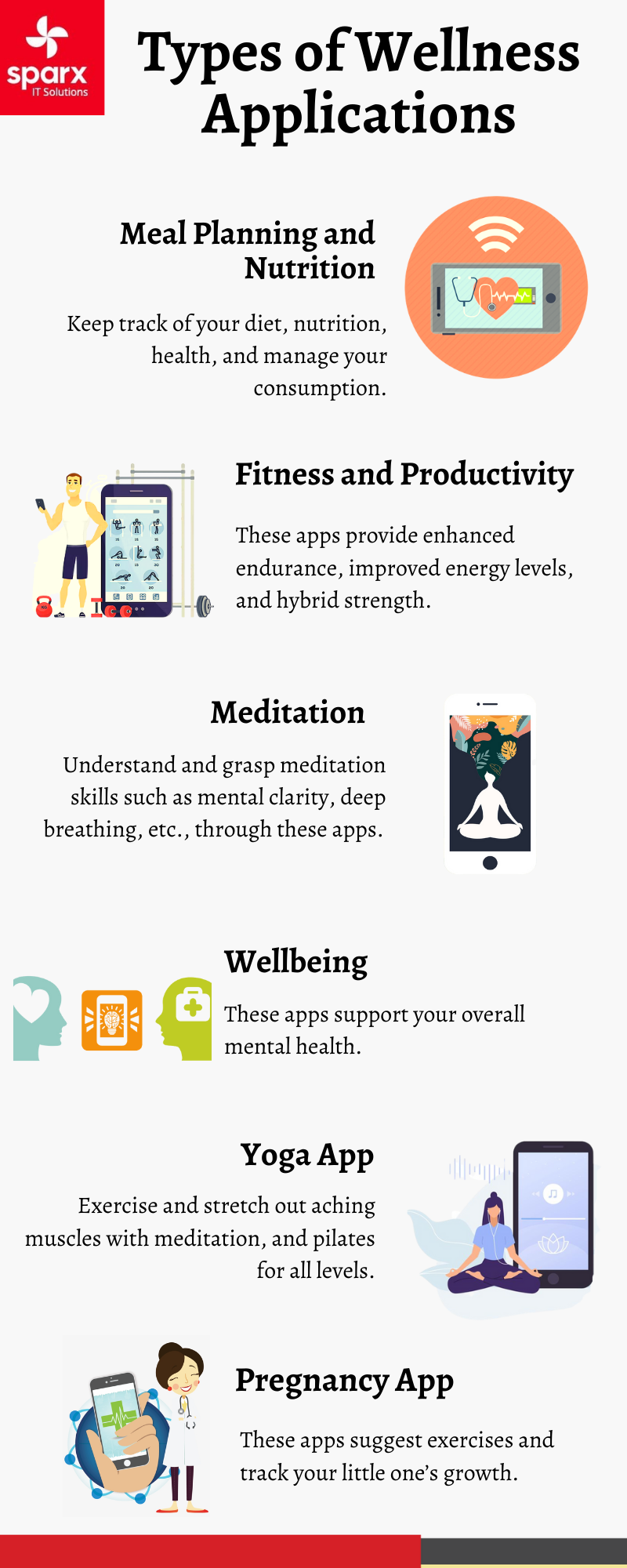 1. Meal Planning and Nutrition
Meal planning is an easy way to track your diet and overall nutrition. Users can carefully manage their consumption, reduce waste, try new recipes, etc. Meal and nutrition apps permit consumers to select precise meal plans, and recipes and track nutritional information.
Popular Meal Planning and Nutrition App: MyFitnessPal
Features of MyFitnessPal
Macronutrients by Gram : Easily set how many macronutrients you want to consume, in grams or percentages.
Food Analysis: MyFitnessPal app suggests whether your foods are healthy or not.
Different Goals by Day: Users can conveniently set calorie and macronutrient plans for each day.
Food Timestamps: This feature helps users to know how the timing of meal intake improves their energy and overall health.
If you require to make an app like MyFitnessPal, you can read the comprehensive ‌healthcare‌ ‌app‌ ‌development‌ ‌guide‌ for a better understanding.
2. Fitness and Productivity
Fitness and productivity apps provide numerous resources to streamline your wellness goals, like enhanced endurance, energy levels, hybrid strength, cardiac health, etc. Including a fitness routine in your day-to-day life allows you to be fit and productive. Moreover, wellness app developers create such apps to help you boost your physical activities and improve your concentration at work.
Popular Fitness and Productivity App: Freeletics
Features Of Freeletics
Daily Recap: One of the essential features of the Freeletics app is the daily recap. It will inform you what you have achieved after completing your workouts. It will motivate you and assist you in tracking your progress efficiently.
Comeback Week: Many reasons can keep you away from training. Hence, the comeback week feature helps users rearrange their workout goals. Users can select fitness programs and achieve the target in the desired timeframe.
Music: Custom healthcare mobile app development have seamlessly integrate Spotify account directly into the Freeletics app without switching.
Bonus: This feature allows users to share their achieved goals with family and friends. Moreover, you can share daily fitness and well-being reports to encourage them.
3. Meditation
Meditation is a method to refocus yourself in today's hectic lifestyle. Meditation apps assist you in practicing diverse meditation skills to attain mental clarity and focus. A wellness app development company can develop different tools, such as mood trackers, expert-guided meditations, etc., to help the end-users gain mental calmness.
Popular Meditation App: Calm
Features of Calm App
Meditations: Calm app is renowned for guided meditations. The app content is categorized into personal growth, emotions, sleep, inner peace, anxiety, etc. Every meditation category includes topic-related meditation packs. You will get features such as Panic SOS, Calming Flight Anxiety, and more in the anxiety category.
Daily Calm: Daily Calm is a critical feature updated every morning. It presents an instructed meditation session for 10 minutes that focuses on various wellness subjects.This feature can only be assessed by its premium members. Nevertheless, users using free trials can see daily calm highlights in the app.
Breathing exercises: Calm app supports six types of audio breathing exercises that prioritize focusing, energizing, relaxing, unwinding, balancing, and restoring. The Calm app allows you to adjust the volume and speed of every breathing exercise.
Sleep stories: The sleep stories feature on the Calm app provides you with a bundle of stories that vary from fairy tales to nonfiction. There is also an option for quick nap sessions.
If you are also planning to create wellness apps like Calm and want to integrate more advanced features, you can take the assistance of a reliable wellness software development company.
4. Wellbeing
Physical, mental, and well-being are vital aspects of the digital world. Well-being applications are developed to support your overall mental health. Healthcare mobile app development companies can provide solutions, tools, and activities to handle stress.
Popular well-being App: Moodfit
Features of Moodfit App
Mood Journal: A mood journal can provide many health advantages. It gives you a space to communicate and explore your ideas and emotions.
Gratitude Journal: One of the prominent features of the Moodfit app is a gratitude journal. Maintaining a gratitude journal has become efficient in balancing and seeing life more positively.
Cognitive Behavioral Therapy: The moodfit app identifies common distractions such as overthinking, personalizing, and sadness and help users to see circumstances more clearly.
Sleep and Lifestyle: This feature helps you to track and improve your understanding of crucial lifestyle aspects such as exercise, sleep, nutrition, and socializing, and notice how they are impacting your mood.
5. Yoga App
Yoga is a particular form of exercise and a simple method to stretch out aching muscles. Yoga app development service providers deliver tons of activities and yoga poses. These applications are developed for all fitness levels and yoga practices.
Popular Yoga App: Glo
Features of Glo App
Live Classes
Online yoga, meditation, and pilates for all levels.
Provides classes and teachers as per your requirements
Many courses to choose
6. Pregnancy App
Pregnancy activates various new emotions, physical changes, well-being, battling morning sickness, doctor's visits, and tracking your little one's growth. Fortunately, healthcare app development companies have developed pregnancy apps to answer some of your valuable questions.
These apps suggest specific measures, the safest foods to eat, and relaxing exercises, and come with dos and don'ts guidelines.
Popular Pregnancy App: BabyCenter
Features of BabyCenter App
It presents a kick counter and contraction timer.
Get 3D renderings of the baby's development.
Know the size of the baby
Tailor-made baby names generator.
Prepare for baby's arrival to-do list.
How To Create a Wellness App? Step-by-step Process
Let's look at the steps to craft a wellness app from idea inception and design to development to launch.
1. Select Your Wellness App Type and Platform
Choose your niche, do in-depth market research, and identify your target audience. Your target audience may like to use your app on multiple devices like smartphones, wearable devices, etc. Thus, selecting a reliable wearable app development company is necessary to build your app for smart wearables.
2. Inception Stage
Any development project begins with the product discovery stage. When you hire fitness app developers; they will initially do the following things:
Determine the project's scope.
Build the project roadmap.
Prepare resources and set the budget for MVP.
3. Discovery Stage
The discovery stage contains:
An operational specification development.
Design of UI/UX.
A prototype of your application to present you with an exact picture of the end product.
4. Technical Documentation
When creating a wellness application, the fitness app development company crafts the product's technical specifications based on the customer's needs. It contains use cases, platforms, and other relevant information for the health app developers to start preparing the wellness app.
5. Quality Assurance
Quality assurance is a mandatory step to test the bugs and fixes related to the fitness app. Besides checking code for bugs, developers also try the project's user experience and whether the app works per the client's requirements.
6. Release and Maintain
Now, you are ready to release the application to different mobile stores. However, your healthcare app development company should check app usage from a built-in mobile analytics tool after releasing the wellness app.
Choose a Suitable Monetization Model For Wellness App Development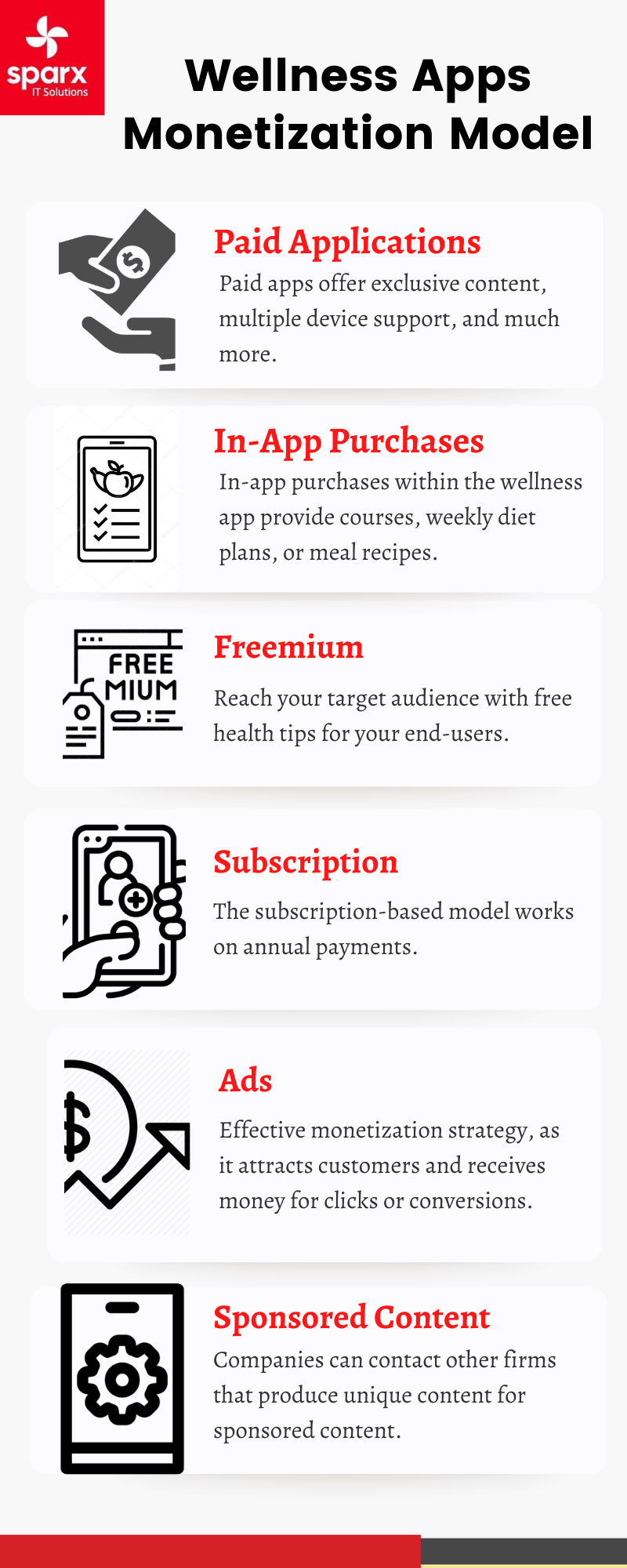 The paid apps are the most manageable monetization model. Your wellness app's pricing should be based on the application's type, features offered, multiple device support, content delivered, etc.
You can also read the complete fitness app development guide for more clarity.
In-app purchases are another popular monetization method. In-app purchases may differ from offering professionally planned healthy lifestyle programs to purchasing small entities such as courses, weekly diet plans, or meal recipes to create a health and wellness app.
A free downloadable app mainly contains fundamental features suitable for beginners. However, you can provide advanced features such as personal training, workout videos, and diet plans to your premium account users. The freemium monetization model is helpful to reach your target audience as it delivers free health tips for your end-users.
The subscription-based model works on annual payments. You can split the subscription price plan into weekly, monthly, quarterly, and half-yearly so that customers who cannot pay the whole sum at once can select a subscription plan at their convenience.
Advertisements are the most effective monetization strategy, as it attracts customers and collaboration with other firms at the same time. An enterprise can offer to display ads within the corporate healthcare applications.
The sponsored content monetization approach is similar to ads but is more partnership-oriented. Companies can contact gyms, coaches, and nutritionists who produce unique content. This strategy assists not only in building partnerships but also in constructing new fitness activities.
All the monetization models mentioned above have their advantages. It will depend on the company's business goals and which approach they select to get maximum profit from fitness app development.
How Much Does It Cost to Develop a Wellness App?
It is challenging to estimate the wellness app development cost accurately. It relies on the types of applications you choose, their complexity, and the features you incorporate into your wellness app.
However, creating an MVP may range from $25,000-$30,000 for fundamental health and wellness app development. A feature-packed healthcare app development cost could be around $60,000- $160,000, depending on what features you include.
Conclusion
Physical wellness and mental health are considered modern-day fitness goals. As a result, wellness apps are gaining more popularity. These wellness platforms and apps help users help in physical activities, lose weight, maintain healthy habits, improve mental health, etc.
Your application should have the latest wellness app features like a personal account, setting goals, real-time activity tracking, gamification, and integration with social media. Your app should deliver custom workout plans to users.
Therefore, the formula for profitable wellness app development is straightforward. You require to hire Android app developers to turn your business ideas into reality.
How Can SparxIT Help You in Wellness App Development?
SparxIT is your committed partner in creating cutting-edge wellness apps encouraging better lifestyles. As a prominent wellness mobile app development company, we convert concepts into user-friendly, feature-rich apps customized to your vision.
MyLifeWell (case study) focuses on a current partnership in which we conceptualized, planned, and created a holistic health app, increasing user engagement by 40%. Allow us to make your wellness app concept a reality. With SparxIT, you can improve happiness, increase engagement, and foster success.
Frequently Asked Questions
Q-1 What is wellness app development, and how does it work?
A- Digital platforms are developed as part of wellness application development to improve users' well-being. Building holistic wellness experiences includes designing, coding, and integrating fitness monitoring, guided meditation, and social engagement.
Q-2 What is the benefit of a wellness app?
A- Wellness apps facilitate a healthy lifestyle and motivate you via activity tracking, sleep analysis, nutrition management, etc. It helps you to increase productivity, stay calm, enhance work relationships, and remain stress-free by providing cognitive behavioral therapy.
Q-3 How to develop a wellness App?
A- Develop a wellness app in 9 simple steps:
1. Discovery Stage
Validate the idea
Create the project roadmap
Make a detailed budget plan
2. Select the wellness app platform
3. Choose the design & tech stack
4. Build An MVP (Minimum Viable Product)
5. App Deployment
6. App Testing
7. App Launch
8. After successful MVP, Release a Full-Fledged App
9. Support and Maintenance
Q-4 What key features should a successful wellness app have?
A- For a complete user experience, a good wellness app should contain features like personalized health tracking, goal setting, meal planning, guided workouts, community support, and data synchronization across devices.
Q-5 How does SparxIT ensure the security and privacy of user data?
A- By incorporating encryption, secure authentication, and adherence to privacy laws, SparxIT prioritizes protecting user data. We do frequent audits and use stringent data processing procedures to protect sensitive information about users.
Useful articles, updates, offers and guide boon from SparxIT Team
Categories
Want to build a wellness app?
Featured In