With a motive to increase the reach of businesses with a digital platform, on demand apps have come a long way. On demand apps have benefited businesses and customers using high-scale personalization on their devices.
'Convenience' has been the core element giving a boost to the growth of the on demand app development market.
From ordering food online to booking a cab or movie tickets, availing telemedicine, etc., customers keep on getting comfortable in asking for more convenience.
Entrepreneurs never let them down by diversifying the scope of on demand delivery app development. When the pandemic hit the world, it changed the essence of on demand apps as it transformed its role from 'convenience' to 'necessity'.
The on demand apps have become the need of the hour. Although different on demand delivery apps have seen different impacts, we have seen a generalized shift of shoppers to online platforms.
By 2025, the entire revenue of on-demand apps is likely to touch $335 billion. Moreover, around 50% of users actively leverage on-demand applications in daily life.
You will have to make your app competitive and safe to meet the needs of the users. There are various ways in which you can revamp your already existing on demand apps. This blog is not only confined to help you create on demand pet food delivery, car booking, hospitality apps or apps for any other purposes but will also address the ways in which you can make your app stand out in contemporary times.
Growth of On Demand App Development Market
Convenience and necessity are the two driving forces of on demand delivery apps. Nowadays, people want to procure their essentials from a safe medium, and on demand app development services are serving this purpose very well.
Rich-Featured
By developing a top-notch online marketplace app like TaskRabbit, service providers started helping their users in following physical distancing with a lot of advanced features such as fast checkout, interactive dashboards, and many more. People can stay indoors and order essential products online without coming into contact with the outside world.
Contactless Delivery
Since social distancing has become the "new normal", from on demand taxis to online food ordering mobile app development, customers are now preferring contactless delivery. On demand app development companies are leaving no stone unturned to achieve the safest mode of delivering their services using on demand apps.
Instant Service
How easy it was to visit the nearby store for groceries or toiletries! No work used to get stopped. This need of customers is very well understood by on demand app developers. Henceforth, they have implemented best practices to deliver essentials to users promptly.
Which Are the Best On Demand Delivery Apps to Invest In?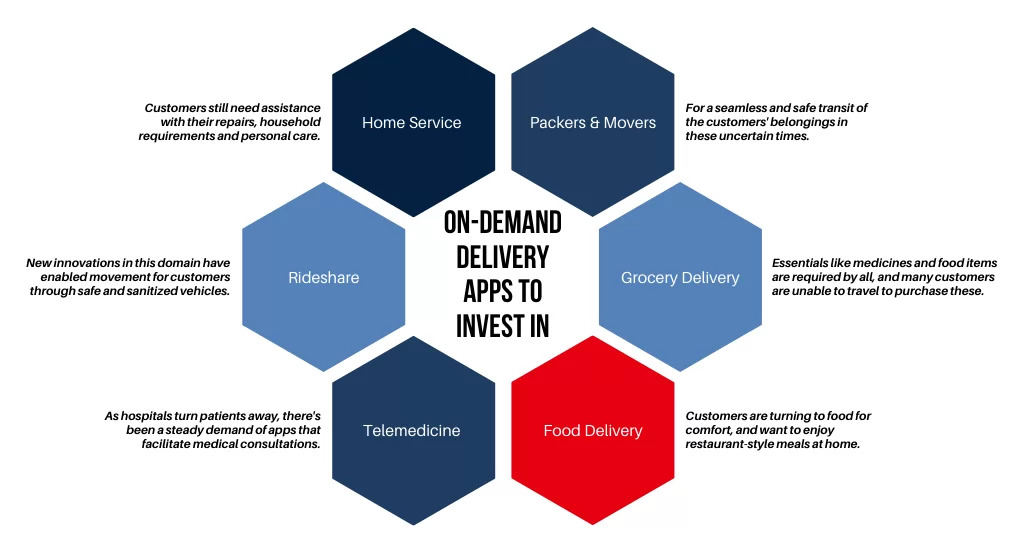 If on demand apps possess the potential to serve the needs of customers, this does not mean that every idea of on demand app development is going to work. You have to make an app that caters to the needs of your target audience, be innovative with top-notch features, and provide exceptional customer service.
Here are a few suggestions in which you must think about investing in your hard-earned money:
Online Food-Delivery Apps
Apps like UberEats gained immense popularity and aspire to do the same in 2023. Not everyone likes to cook by themselves every day. Hence, to experience the delight of restaurant-served food, on demand food delivery app development has been a remarkable solution.
Grocery Delivery App
Groceries are the most essential items for everyday use. The on demand grocery app development of applications like Instacart helped people in attaining groceries in the safest mode. Local deliveries have been severely affected, hence it is appreciated if more entrepreneurs will come forward with such solutions.
Home Services Delivery App
When visiting salons for self-care treatments became a rare thing to do, apps like Housecall Pro were considered as a choice by people. From electricians to hairstylists, high-end safety rules are followed by on demand home services app development providers while visiting customers' places.
Telemedicine App
Top organizations like the WHO are recommending strengthening Telemedicine app development services to empower the healthcare system.
Telemedicine apps like doctor-on-demand have seen tremendous growth in app downloads. It has become a safer option to get treatments for ailments. Hence, considering doctor on demand app development will not only give you profits but also ensure the welfare of the community.
Rideshare On Demand App
On demand taxi app development delivers convenience to passengers. You don't have to wait on street corners, hail taxis, and wait in long lines. With just a few taps on your smartphone, you can efficiently book a taxi anytime, anywhere. Cab booking app development companies ensure to provide your users with safer rides.
On Demand Tutor App Development
On-demand tutor apps improve education accessibility with a user-friendly UI connecting students and tutors instantly. These apps seamlessly schedule sessions, share resources, and ensure efficient learning.
On Demand Car Wash App Development
Revolutionize car care with a convenient app offering on-demand car wash services. Users can request a wash, track service progress, and enjoy a sparkling clean vehicle hassle-free.
Packers and Movers App
Nobody is thinking about changing their locations amid the coronavirus spread. What if it becomes unavoidable? Whom will they look up to? Packers & movers mobile app development companies provided them with solutions for their needs. The world is not going to come to a standstill, hence, start with this app. Keeping all the safety measures in mind, these apps can make you the pioneer in these services.
What Are the Advanced Features of On Demand Mobile App Development?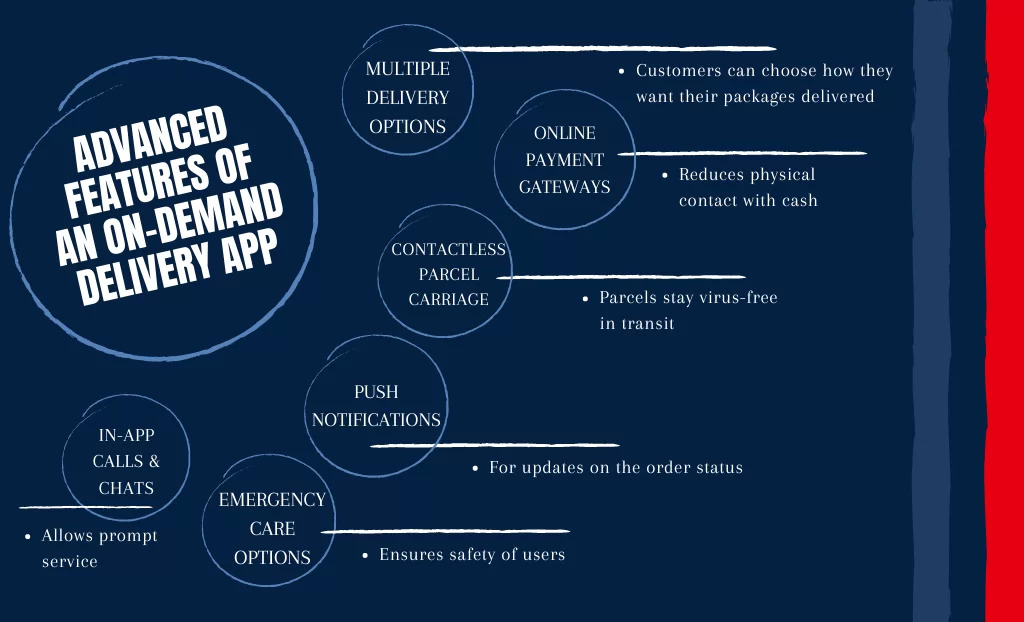 On demand delivery apps not only hold the potential to satisfy the general needs of the customers but also possess the ability to help them stay safe. If you already have an on demand app or planning to take app development services for the same, keep this list of advanced features of on demands apps:
Contactless Parcel Carriage
Not only contactless delivery but as a responsible service provider, you need to ensure that the parcel is safe during transit as well. Giving your customers the confidence of the contactless parcel carriage has become immensely important in current times.
Multiple Delivery Options
Amazon delivery person asks the customers through in-app calls about the choice of delivery spot, whether you want to get it delivered at the guard room. These options have allowed the on demand app development service providers to gain the trust of their customers. Hence, it is essential to give multiple delivery options for on demand delivery through your app.
Online Payment Gateways
What is the use of contactless delivery and parcel carriage if your app does not give options for cashless or payment without getting in touch? Make sure you do not leave any payment options that your target audience might prefer to choose. As no one is willing to pay cash amid this crisis, a lack of proper payment gateways can lead to a bounce rate on the checkout page.
In-App Calls or Chat
You can use this feature to provide enhanced safety to your customers. This will allow you to serve the users promptly. Moreover, the customers can use these features of in-app calls and chats to stay in touch with delivery personnel through your app.
Push Notifications
These notifications about an order, app, and delivery updates keep your users informed. Undoubtedly, staying in touch with them via these push notifications also allows users to stay engaged in your app. This not only improves your delivery process amid this crisis but also helps in increasing retention rates.
Emergency Care Options
If your delivery personnel does not follow the safety norms during delivery, how will your customers complain about this to the concerned authorities? This has made it necessary to ensure that there is an emergency care option in your on demand application development. With such a feature, on demand app developers help users to register their feedback, queries, or complaints within seconds.
What Are The Basic Features Of Custom On Demand App Development?
Apart from the advanced features, it is vital to have the basic features that make them part of your minimum viable product. You must include these features during your on demand app development.
These are a few basic features of on demand apps.
Customer's App
A complete history of orders, as well as the current order details, is vital for your customers. This allows them to keep a note of what they ordered. Moreover, it will become easy for them to check what they ordered previously and re-order the same product without any difficulty.
This is an important feature to include as real-time tracking allows the users to get on-time updates. You can integrate the Google Map API to facilitate this feature with more authenticity.
Your app must have multiple payment gateways to allow the users to make a payment without much effort. There should be safe and reliable payment gateways to make your users comfortable with online payment.
This feature allows your users to stay connected with the admin. Instant reviews and feedback can make them feel heard. Moreover, it will help your app services to improve.
Customer support service for any app holds immense value. You will have to extend prompt services to your customers because the nature of the app requires this. It is vital to make strong customer support to ensure the safety of your users.
Service Providers' App
The delivery personnel should be allowed to check the details of their past deliveries. This works as a summary of the past work of your delivery staff. You can also track their performance through these details.
This allows them to keep track of monthly wages. It will include details like tips, commissions, and other payments. This helps the delivery personnel to calculate their earnings.
Most of the time, business owners provide vehicles for delivery. A record of the fleet will allow better management. It is recommended to let the delivery personnel fill these details about the assigned vehicle to them.
Accept or Reject Delivery Tasks
Your delivery personnel must have a choice to accept/reject the delivery tasks according to their convenience. This gives them the liberty to work according to their situation and needs. Allow the package delivery person to work at his/her will.
This ensures that your delivery personnel will know the fastest or shortest route for the deliveries. Moreover, this is to ensure their safety during the movement. Apart from that, by following app guidelines they can improve their performance.
Admin App
Details of the Delivery Person
Every administration must have complete details of its employees. This feature of your app gives access to delivery personnel-related information to your admin. It includes age, address, wage, nature of the job, etc.
It is not similar to the order tracking feature in customers' or service providers' apps. In admins' app, this feature is meant to provide the track record of delivery personnel performance. This feature is vital from the business point of view.
Employers have to make payments for employees' salaries, delivery fees, etc. This feature will allow the admin of your on demand app to manage the payments seamlessly.
All the information related to upcoming deliveries, the name of the delivery person delivering a particular order, failed attempt to deliver, etc. should be a few clicks away for the admin. Detailed records of deliveries ensure a smooth work process.
What Are the Cost-Driving Factors of on demand App Development?
What is the cost to develop an on demand app? There can not be a single-lined answer to this question because there is not one but many factors that estimate the cost of an on demand application.
You can share your requirements, objectives, features, and size of the project with an on demand app development company for a comprehensive estimation of costs.
From wireframing, prototyping to design, development, and maintenance, there are lots of other things that can drive the cost and provide you with staggering variations in the costs between the first and second projects. Those who understand the complete mobile app development process help you perceive the right estimation of costs rather than just putting wrong information.
Basic Features
In the previous query's answer, basic features that must be a part of your on demand app are given. These features include order tracking, order history, payment options, etc. Without these features, you cannot launch your on demand app in the market. Hence, these features create the base of mobile app development costs. It is unavoidable and mandatory to be incurred for every on demand app development project.
Advanced Features
Certain features do not make a compulsory part of your on demand app. It is vital to include them because they are capable of making your app stand out among others. Some of these features are in-app calls, AR integration, push notifications, etc. The addition of every advanced feature will lead to an addition to the overall cost. Hence, make a wise choice for the same.
Mobile App Development Platform
There is a choice between different iOS app development services or developing their on demand apps for the Android platform. On one hand, where the Android play store asks for one-time subscription fees. On the other hand, the iOS app store asks for recurring subscription fees. This does not mean you have to choose the Android platform because it is cheaper.
To be honest, you cannot choose among them blindly. Thorough knowledge of your target audience is mandatory for this decision. It is recommended to consult with experts working with a mobile app development company.
They will be able to advise you on the right platform based on your requirements. The mobile app development platform does have a great impact on the overall cost but is not the only determining factor.
Hiring Model
There are plenty of engagement models options in the market. You need to choose the most lucrative one for your app development services. The different types of hiring models are weekly, yearly, hourly, or fixed cost basis models.
You will have to choose among them according to your budget and needs. Your hiring model will impact the mobile app development cost immensely. An ambitious business enthusiast requires availing on demand app development services from a company that provides a choice among these hiring models.
How To Build an On Demand App? Step-by-Step Process
Developing an on-demand app includes a systematic and agile development methodology to ensure its success.
1. Discovery
In this phase, we determine the app's purpose, target audience, and unique selling point.
2. Market Analysis
We then examine competitors, user preferences, and market trends to define your on-demand delivery app idea.
3. Feature Planning
This stage helps in determining core features and functionalities your on demand application will provide for a seamless user experience.
4. Design
Our on-demand developers create a user-friendly UI for an interactive user experience with intuitive navigation.
5. Development
We build the app utilizing appropriate technologies and frameworks, integrating front-end and back-end components.
6. Testing
During this phase, rigorous testing is done to check the application's functionality, performance, security, and user experience.
7. Launch
Our expert app developers deploy the app to app stores. We also ensure that your app meets the compliance and clears app store listing guidelines.
8. User Feedback
Post-launch, we gather user feedback and make essential changes for improved usability.
9. Scaling
Our developers keep monitoring app performance and scale server resources as user demand increases.
10. Marketing
The app development team promotes the application via effective marketing tactics to attract users and enhance adoption.
Navigating On-Demand App Development Costs
The fundamental mobile app idea for creating on demand mobile app development was to provide convenience to users in households, offices, or other small-scale operations.
You will need to work carefully on your idea, plan, and execution. There are possibilities that one mistake can crash your app completely. Our 16+ years of industry presence have allowed us to understand the pain of hard work going in vain. Understanding the costs of on-demand app development is essential for effective budgeting. Here's a breakdown:
| | | | |
| --- | --- | --- | --- |
| Type of App | Simple | Complex | Highly Advanced |
| Development Cost | $20,000 – $40,000 | $40,000 – $100,000 | $100,000 and above |
| Features Included | Basic | Advanced | Cutting-edge |
Factors like features, design complexity, and platforms impact the costs. Plan your budget accordingly.
Do not let yourself regret it at a later stage. There is no coming back from an app store where the users reject your app. Make your custom on demand app development flourish with maximum features at least cost. Exploit the opportunity of satisfying the "convenience needs" of the people.
SparxIT is a top on demand app development company that has helped hundreds of businesses boost their growth. You can consult with our professionals, who are certified and qualified to help entrepreneurs with the best solutions.
Frequently Asked Questions
Q.1 What is on-demand app development?
A- On-demand app development includes building a mobile app that provides instant access to services or products, catering to users' requirements.
Q.2 How long does it take to build on demand delivery app?
A- To create on demand delivery app, it takes 3 to 6 months. It depends on various factors like features, platform, and custom requirements.
Q.3 What technologies are used in on demand application development?
A- For on-demand app development services, SparxIT uses React Native for cross-platform compatibility, Firebase for real-time updates, and Node.js for scalable backend solutions.
Q.4 How to choose a trusted on demand app development company?
A- To choose a reliable on demand app development company, assess their portfolio, check client testimonials, examine technical expertise, communication skills, etc.
Useful articles, updates, offers and guide boon from SparxIT Team
Categories
Want to build an on demand app?
Featured In