Along with a major impact on the health sector, the COVID-19 pandemic has brought with it a coronavirus-induced recession. The abrupt decline in international trade, sink in tourism and a slump in commodity prices have mired the global economy severely. The global recession seems inevitable right now.
As the crisis is deepening, the stock exchange indexes are witnessing a steady fall for the past four months of 2020. Nikkei, Dow Jones, and FTSE; the stock average of three major economies of the world; Japan, London, and the USA respectively; can be seen getting plunged in the graph below.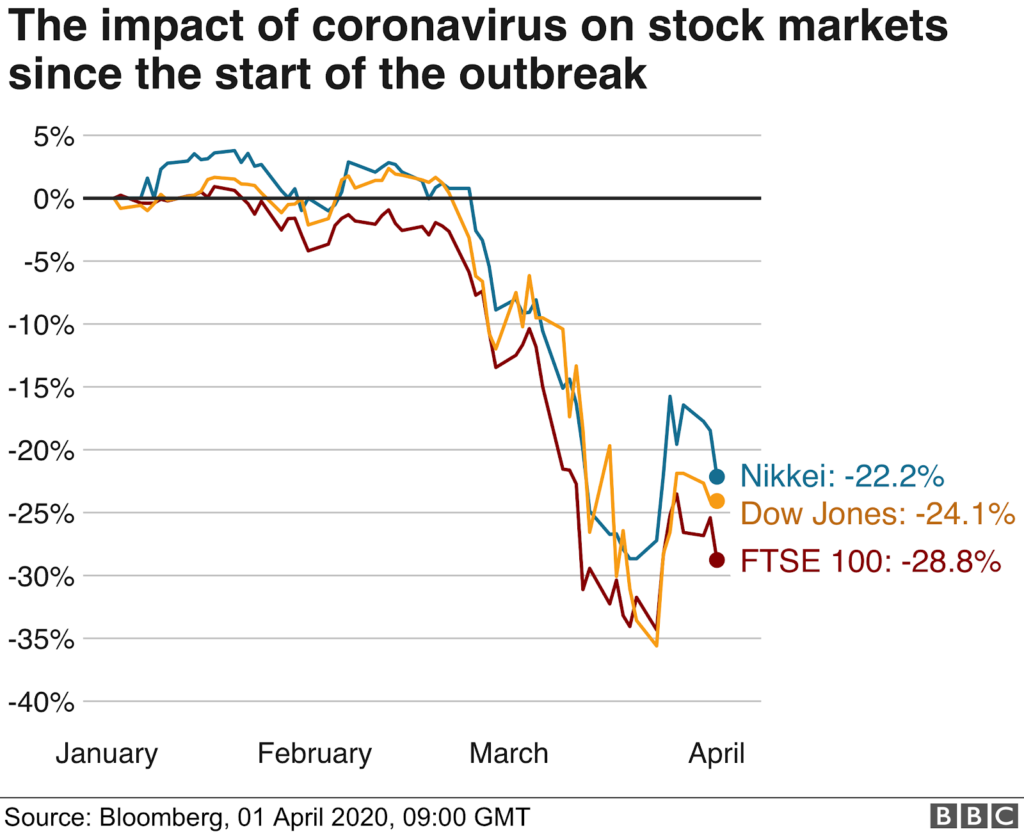 The world economy was already at stake for a long time. The IMF warning in October, last year, against a synchronized economic slowdown in 90% of countries seems to get worse this year amid the corona crisis.
The degree of impact varies for different industries. There might be chances that by the time we come out of our houses, we will not see the small businesses like restaurants, gyms, salons operating like before.
According to the surveys, during the corona crisis, 24% of small businesses have shut down temporarily and 40% are likely to get closed in the USA. In a nutshell, 70% of the small businesses have got closed or can get closed in the upcoming weeks.
These stats send chills down the entrepreneurs' spine. Government programs might not be enough to revive these endangered businesses. Not only as a humanitarian but also as an economically aware person, we all know that we do need small businesses.
The millions of Startups were not meant to get shut just because a virus went viral around the globe! If you are a Startup owner or an employee at startup; then know that the world needs you to operate. We need you to continue in between and after the COVID crisis goes away.
The good news for us is that the avenues of digital marketing are still functional. We can explore the potential of social media and search engine branding strategies amid the corona crisis. This will need digital marketing experts' assistance but do not worry, we are not suggesting you hire them.
Since these are the most challenging times for Startups, Sparx IT Solutions has launched a pandemic relief worth $100K under the name; "Startup Care Fund", to provide these services. You must be thinking about the cost of these services. We wanted to do something which is beyond the scope of monetary help. So, these are completely free of cost.
Our digital marketing services will help to restore the value, functionality, and growth of your startups. In our services, we are including social media marketing, search engine optimization, content marketing, web development, etc. You can avail of these services if you were using digital marketing services prior to the corona crisis and unable to establish the continuity.
Our motive is not to donate anything. We are aiming to increase our family size by giving what we know the best amid the worldwide economic crisis. Moreover, there is no point in donating money when you have services. If you or any of your acquaintances are interested in availing our Startup Care Fund then please make sure to apply through this form
We welcome every applicant which/who has been severely affected by the Corona crisis. For any queries reach out to us through the comments section. Also, share about this initiative as much as possible because this may or may not be helpful for you but it can create a great deal of difference in the life of someone else. Let's save every Startup that is on the verge of getting closed. Pray and act promptly!
Useful articles, updates, offers and guide boon from SparxIT Team
Categories
Let's discuss your project idea.
Featured In