As time goes by, businesses across the globe are experiencing varying demands of the customers. To keep up with the evolution of customer demands, digital transformation is used as a tool that introduces a set of tools optimizing the capabilities of your business.
Digital transformation in sales, services, and marketing have helped organizations to advance their work and product delivery approach. These transformations have strengthened the foundation of relationships between clients, service providers, and their employees. It is an approach that focuses on introducing new technological strategies with an aim to reduce spendings or efforts and increase results alongside.
In this blog post, we shall review how impactful AI can be for digital transformation in businesses.
Let us read.
Why Is AI-Led Digital Transformation in Business Important?
Artificial intelligence exhibits an unparalleled strength to accumulate data and use it in the welfare of people by simplifying processes. Its capability to identify patterned relationships between the entities of data has enabled technology experts to create useful business insights.
AI is transforming multilateral dynamics of business processes i.e. sales, marketing, technology, and R&D.
From smartening customer interaction to enabling the creation of innovative technologies, AI in business has proven a successful application in different stages.
AI-led digital transformation has boosted productivity, enhanced peer-to-peer security between data transactions, and opened doors for the adaption of new and advanced technology trends.
There are three important parameters on which AI has been proven advantageous.
Improving Customer Experience
AI can play a crucial role in identifying the customers' needs and implementing the right set of solutions. Understanding the buyer's persona has been simpler. Service providers are using AI solutions to carve effective strategies to serve their customers better.
AI is enabling service providers to create personalized solutions. Monitoring and responding to customers' queries have become more proactive with the implementation of AI solutions in the business processes.
To identify the process loopholes, businesses accumulate data and create useful insights on productivity and other key elements. A smart capitalization of data allows businesses to deploy tools that help businesses use advanced analytics for managing their customers, peers, and partners.
Implementation of AI analytics not only saves financial expenses but also centralizes an organization's efforts for leveraging the outcomes of a sustainable business in terms of revenues and productivity.
By eliminating process-related risks, managing resources with data-efficient tools, creating growth-oriented strategies, and enhancing efficiency, AI has contributed greatly to generating more revenues.
As per International Data Corporation (IDC), a marketing intelligence organization, the AI market is projected to grow from $327.5 billion in 2021 to $554.3 billion in 2024.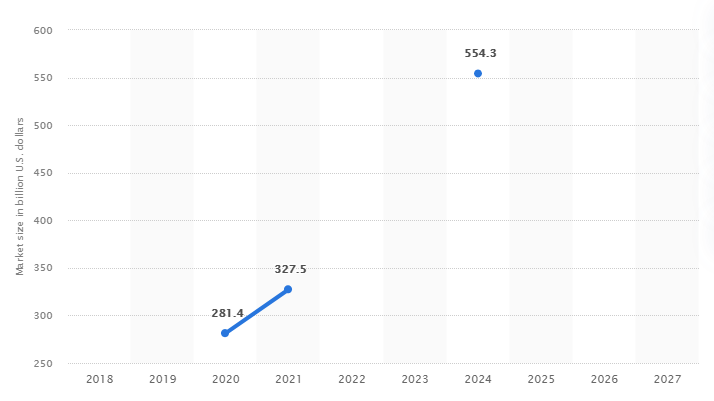 Image Source: Statista
Business leaders have leveraged an impactful transformation in their organizations in different process domains. Not only has AI transformed simplified the job for businesses but also contributed to real transformation on the ground.
Hereby, we are sharing the thoughts of our CEO, Mr. Vikash Sharma who has not only been an enthusiast techie but also a competent business leader.
Popular Use Cases of AI in Businesses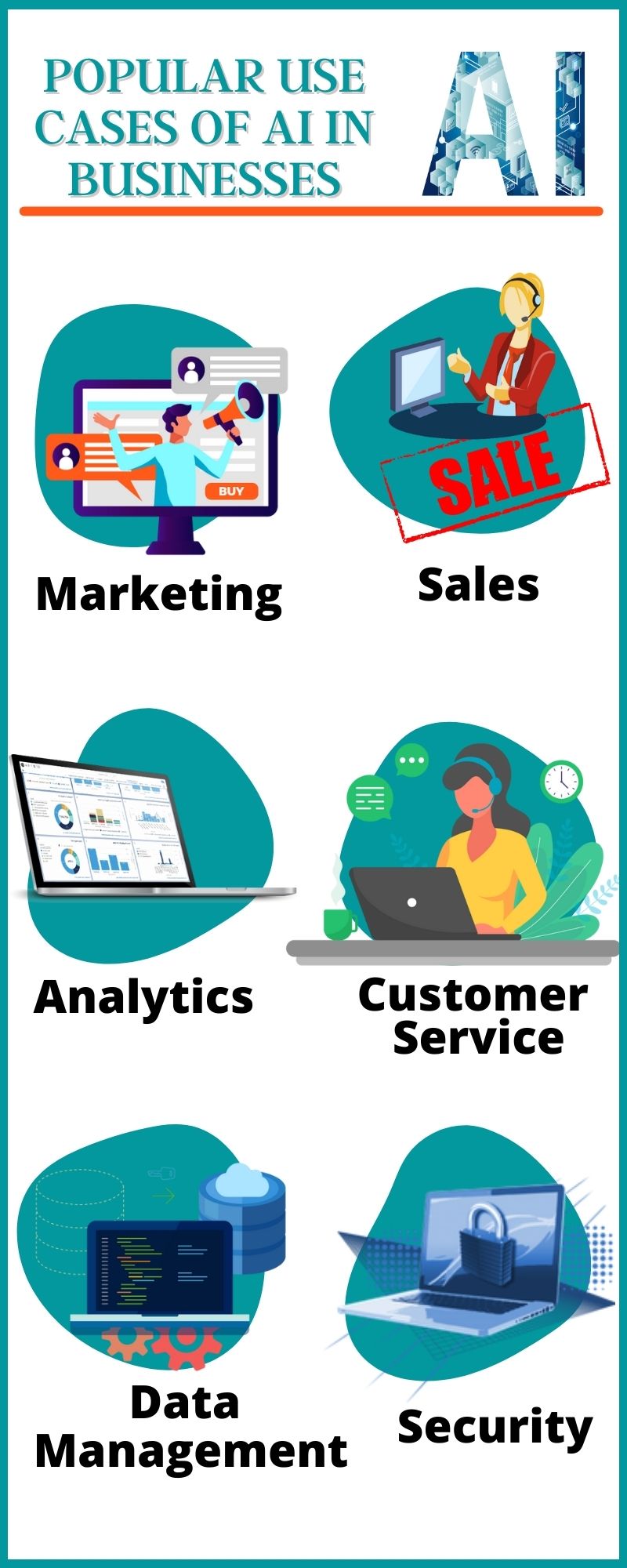 AI has empowered business institutions with its advanced, intelligent, and data-efficient capabilities. More industries are working towards implementing AI-based solutions in their processes. The ultimate goal is to transform and indulge in a connected, seamless, and paced process architecture using these advanced technology assets.
Some of the most fundamental and popular use cases of AI in business are;
Marketing is all about approaching customers with the right strategy at the right time. All it takes to prepare the right marketing campaigns is understanding customer behavior. You cannot interact personally with each person in your targeted audience but what you can do is collect insights and carve compatible, dynamic, result-oriented, and effective marketing strategies.
Marketing automation has utilized AI to collect data, do the analysis, present it in a comprehensive and interactive view, and suggest strategies based on available insights.
AI is being used for context-aware advertising where the tool would analyze the context, relevance, and overall quality score through Natural Language Processing (NLP) for your ads so you can attain maximum results through such campaigns.
Companies are using AI tools for boosting their sales. AI in sales has brought more efficiency and simplicity in sales efforts. Starting from the sales forecast, AI is helping sales representatives to forecast their sales in upcoming times. There are sales forecasting tools using AI to accumulate all insights and centralize them to provide sophisticated information on future sales.
Organizations are using tools to help them to identify potential customer contacts. This approach is reducing their efforts in approaching the right person.
AI-powered CRMs have helped sales professionals to create contacts by extracting customer data from social media and databases.
The digital disruption through AI is helping businesses to establish constructive business infrastructure. 
AI-based analytics is enabling businesses to shape diagnostic and predictive practices focusing on result-oriented solutions. Using the data collection features of software analytics, businesses are leveraging the power of data to create problem-solving strategies.
Not only AI analytics is helping businesses to monitor different insights of data but also enhancing productivity and performance.
It has simplified and empowered the incentive mechanism for sales professionals.
Once a product has been delivered, customers expect their product manufacturer or service provider to provide them a proactive and responsive support system. AI has allowed businesses to collect customer queries in a centralized space more efficiently and create interactive responses using NLP.
Conversational AI platforms have helped businesses to make their customer service model more intuitive, fast, and feature-packaged.
Some organizations are using voice authentication and call intent discovery tools using AI algorithms to authenticate customers, review their requests, and provide necessary resolutions.
From improving the visualization of data to present it in a comprehensive format, AI has helped businesses to manage their data effectively. It has eased the integration of data in different mediums. The major concern with data accumulation and management used to be security which has been encountered by risk assessment tools backed with AI.
AI-led digital transformation has transformed data preparation and validation platforms which simplified the integration of automation in modern-age businesses.
The advent of synthetic data is one of the most crucial business transformations led by AI. It has enabled companies to test and validate their products and AI development services with reduced efforts through advanced simulation of executable conditions and protocols.
AI analytics tools are detecting malware and other security threats in minimum efforts and resources. We can say that businesses are using AI not only to enhance their utilities but also as their security wall.
The multifaceted benefits of AI are transforming businesses from top to bottom. 
Any Artificial Intelligence development company might be using autonomous security, smart security, and deception security to counter cyberattacks and security-related vulnerabilities.
AI in security is protecting data, communications, people, and other resources in the organizational structure of businesses.
Future of AI in Business
From computing countless entities of data to automating thousands of instructions, AI is emerging the more visualized ideation of human tasks. It is transforming education, medical, space, corporate, retail, and a lot of other domains with its capabilities to simulate human intelligence and consciousness using the power of data.
Since all of the work being done by AI is done through computers and the internet, security becomes an indispensable and most necessary component in this process. To encounter security issues, AI became its own savior by indulging advanced risk assessment and security tools.
One of the most pragmatic instances of digital transformation has been AI revolutionizing mobile app development which has not only hyped the implementation of enterprise mobility solutions but also made it more accessible to the common people.
The future of AI lies in the multiscale sophistication and utilization of data-efficient resources. It indicates an era of automation where machines would have their intelligence by experience gained through data.
With the inception of synthetic data and improving networks, it is possible that in the future, AI will create intelligence by itself.
Conclusion
From healthcare to education, technology solutions companies are helping organizations across the world to utilize this dynamic, transformative, and innovative business model.
We hope that this blog post could help you identify the impacts of AI-led digital transformation in businesses. AI is an evolving technology and we as an organization are using it to serve our customers with the best of our technological capabilities.
Useful articles, updates, offers and guide boon from SparxIT Team
Categories
Let's discuss your project idea.
Featured In