Today, mobile phones have become an indispensable part of human lives. The users seek most of the solutions from this device, be it booking a cab or finding the nearest hotel. To get things done in an efficient way, people expect a seamless mobile experience similar to the one they get with the desktop.
As per the findings of Google, it has been revealed that 53% of mobile website visitors will switch off from the website if it takes more than 3 seconds to load.
When the customers are in a great hurry to shop for the product, they will not wait for slow-loading web pages. They will immediately bounce back from the website. This is why the idea of Progressive web apps came into the light. Google proposed this term in the year 2015 which is made to render a native-like feel to the users accessing a website.
Before moving any further, let's first get the basic idea of Progressive web apps and Responsive web apps.
Progressive Web Apps (PWAs)
Progressive Web Apps can be considered as an advanced form of responsive web apps. It has been designed to provide users with a native app-like experience. The best part is that it works even in the area of bad internet connectivity and provides a better response time to the user's interaction. PWAs occupies less memory space and updates similar to a web page.
Looking for Progressive Web App Development
Contact Us
Responsive Web Apps
Responsive Web Apps are built to function on any device as they deploy web technologies that adapt to the website elements based on the screen size, resolution, and the platform. These have a lot of similarities with PWAs but the only difference is that they don't provide offline support.
Overview of Current Market Trend
According to the latest survey, it has been revealed that 87% of digital marketers consider PWAs as an upgraded and improved version of web apps. So, choosing Progressive Web App development will be a smart decision. Many big and esteemed brands like Instagram, Pinterest, Twitter, Trivago, etc have opted for this development process and are enjoying its benefits to the most.
The best example is Twitter Lite. It has witnessed an impressive rise of 65% on-page per session and a reduction in the bounce rate. Even Google has transformed Chrome Apps to PWAs in 2018. This clearly shows that PWAs will have a huge market in the coming years.
What makes PWA different Responsive Web Apps?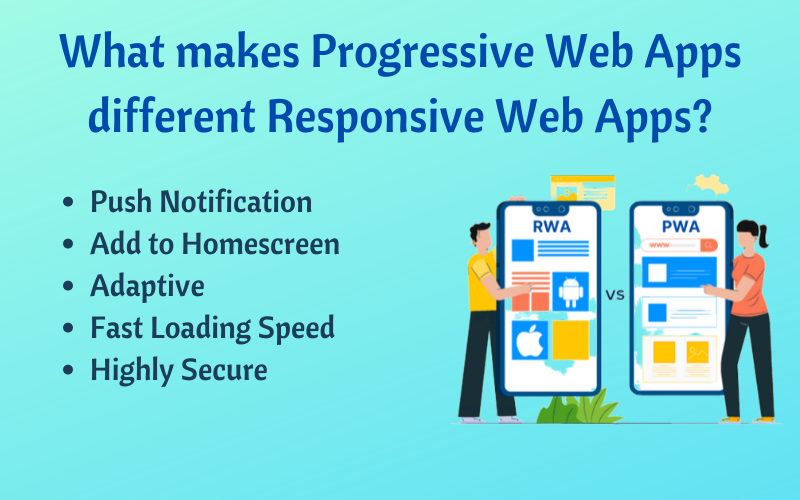 Responsive web apps have the same functionality just like Progressive web apps. You must be wondering how the two are different. PWA will be opened using a URL similar to a website. They are dynamic in nature and can be personalized as per the users' preferences such as push notification, camera access, facility to enable locations, etc.
Within this section, some of the world-class features of PWA are discussed which makes it a better option than a responsive web app. Let's have a look:
Push Notification
This is one of the biggest differences between Progressive Web Apps and Responsive web apps. With a web app, a pop up will come up for the users asking them to subscribe for the notifications. When the users will get subscribed, they receive a subscription ID that will have unique push notifications.
Add to Homescreen
PWAs can easily reside on your smartphone screen with a home screen icon. It will have a tappable icon that has a feel like a native app. If you are an Android user, then you will get the home screen icons of PWAs directly. In the case of iOS, the users will get icons when they will use the "Add to Home screen" feature.
Adaptive
As compared to a responsive web app, the responsive design of PWAs leverage them to perform seamlessly on any device. Your dedicated PWA developer doesn't have to build individual codes for different platforms (Android, iOS). Thus, making it a cost-effective development option overall.
Fast Loading Speed
PWAs make use of the "App Shell" architecture that consists of the code that will cache to the mobile device after loading it for the first time. Hence, making it faster just like the native apps.
Since the content is cached already, this allows PWA to function in the offline mode as well. This makes it quite reliable in comparison to responsive web apps.
Highly Secure
PWAs will be served under HTTPS that provides the highest level of security and privacy to the user's and site's confidential information. Along with HTTP, it also offers a secure connection that prevents data tampering. All the sensitive data is exchanged safely to different parties.
Final Notes
Both progressive web app and responsive web app comes with its own set of benefits. So, no one is the winner. You have to make any decision after considering your business requirements. If you want to offer users a seamless mobile experience, then progressive web apps will be a suitable option to go with. If you want to enhance the website's speed and availability, then a responsive web app will be the right option.
Whether you are looking for Progressive web app development or responsive web app development, you should choose Sparx IT Solutions. We have enormous working experience in both kinds of apps with perfection. Our developers keep a close eye on the latest app development trends to update their knowledge and skillset. They have successfully delivered a number of projects on the date of project delivery.
Useful articles, updates, offers and guide boon from SparxIT Team
Categories
Let's discuss your project idea.
Featured In